8 things to watch for in 2019
By : Justin Felisko
January 04, 2019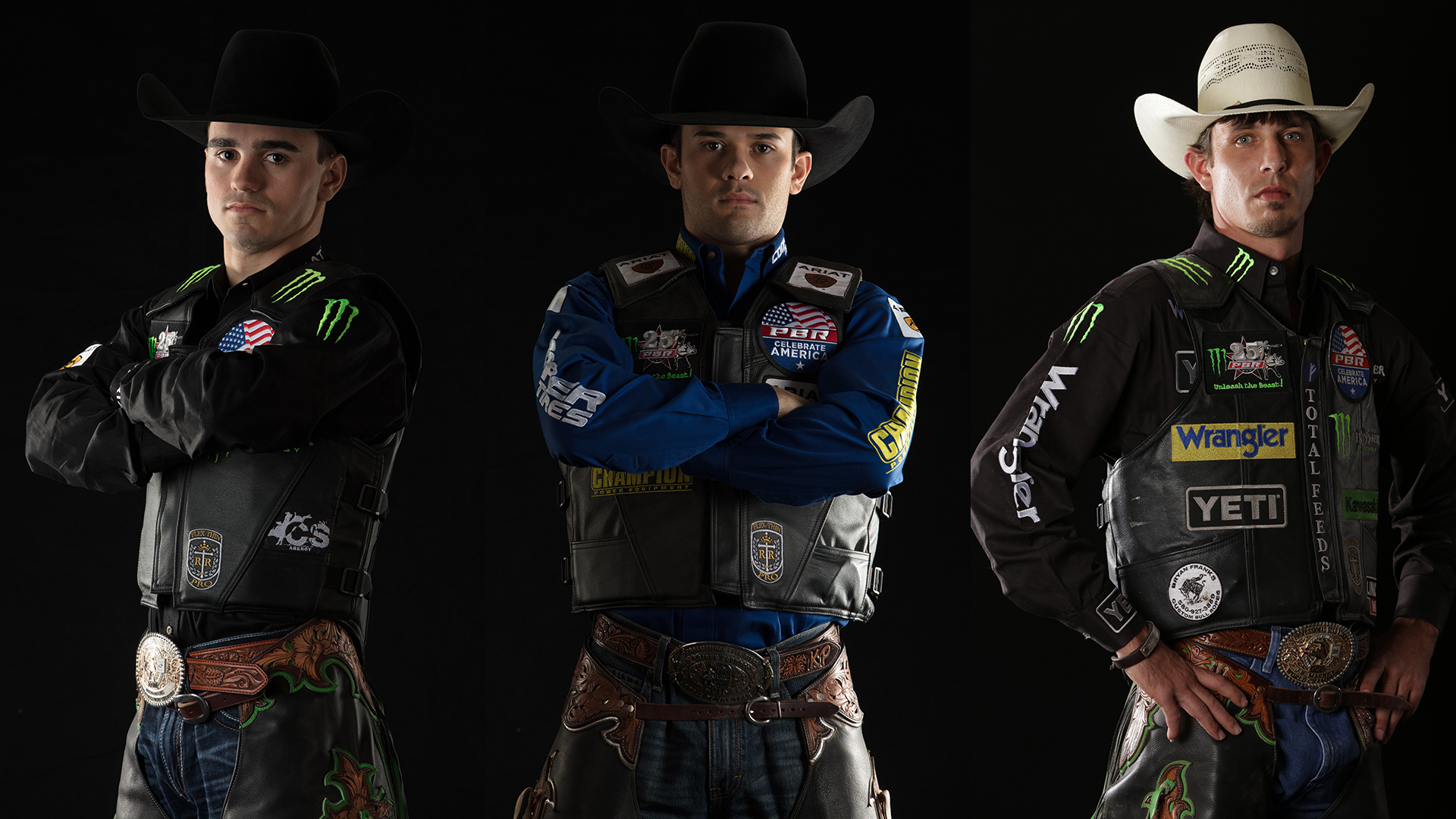 NEW YORK – The 2019 Unleash The Beast begins Friday night at Madison Square Garden, meaning the race for the 2019 World Championship will officially be underway in full force.
PBR.com takes a look at eight storylines to watch for in 2019.
When does Pacheco return and will he make PBR history?
Kaique Pacheco begins his world title defense season on the sidelines as he continues to rehab his left knee at home in Brazil after he tore his PCL/MCL during the Velocity Tour Finals the first weekend of November.
Pacheco was able to overcome the injuries at the 2018 PBR World Finals and held off Jose Vitor Leme by 422.5 world points to finally win his first World Championship.
Can the perennial world title contender now further his mark on PBR history and become only the second bull rider in PBR history to win back-to-back world titles?
"We will see how Kaique comes back," two-time World Champion and CBS Sports analyst Justin McBride said. "How quick he wants to come back and put himself in that position or if he wants to chill for a bit."
Only once in the PBR's previous 25 seasons has there been a back-to-back World Champion (Silvano Alves – 2011 & '12).
Pacheco is planning a return to competition at the end of January or the beginning of February.
RELATED: Season countdown: Kaique Pacheco
"This year one of the most interesting things is going to be what happens now," nine-time World Champion and CBS Sports analyst Ty Murray said. "You very, very rarely see the guys have the drive to do it again. I don't know what it is, but it is rare to see a guy come back and kick ass the next year."
Leme begins the season as the general World Champion favorite
There is one rider that continuously popped up in preseason conversations about the 2019 World Championship race.
Jose Vitor Leme.
The 21-year-old and third-year pro is the general favorite to win the 2019 championship, according to most PBR insiders.
Leme is 47-for-82 (57.32 percent) with eight 90-point rides in his career on the premier series. He has already surpassed $1 million in career earnings in 13 months.
PBR Director of Livestock Cody Lambert puts Leme at the top of the list of contenders for now.
"He is for sure the early favorite," Lambert said. "There is no doubt. I had a great deal of confidence in him after watching him at the 2017 Finals and it has just been confirmed."
Murray added, "Leme has shown some super, legit skills. He has shown to be pretty rock solid both on the physical side and on the mental side. He has shown to be pretty durable.
"If you are looking at the stable of riders, he is the one."
McBride echoed the thoughts of the PBR co-founders.
"There is Jose and then a lot of other guys that you can see step up there and challenge him," McBride said. "They are going to have to look high and low to find someone to kick Jose's ass."
Who challenges Leme?
With that being said, who challenges Leme?
McBride believes there is a handful or as many as eight riders that have the potential to join Leme in the top tier of the World Championship race.
But who will that rider be?
Likely contenders include the last two World Champions before Pacheco – 2017 World Champion Jess Lockwood and 2016 World Champion Cooper Davis.
Last year's Brazilian dominance could happen again in 2019 as well with Luciano de Castro and Claudio Montanha Jr. having another year of experience underneath their belt.
"Who is going to challenge Jose?" McBride asked. "If you can name for me who the No. 2 best bull rider is right now, I would tell you you are full of shit. It can be any of them. There is about 5 to 8 guys that can do it. We will see as the winter plays out which one wants to actually win a championship this year."
Additional names that came up as potential challengers included Cody Teel, Derek Kolbaba and Chase Outlaw.
Lambert said it is up to the field if they want to make sure Leme does not run away with the title.
"The thing is, guys can sit back and watch Jose win it, or they can do something about it," Lambert said. "And I think Derek Kolbaba can be one of those guys."
World Champion Bull race and SweetPro's Bruiser
The World Champion Bull race will officially begin on Friday night, but a big decision affecting the 2019 race has yet to be decided.
H.D. Page and D&H Cattle Company have yet to decide if reigning World Champion Bull SweetPro's Bruiser will return for a sixth season.
If Bruiser does not retire, he could attempt to become the first bull in history to win four World Championships.
Julio Moreno did confirm that 2018 World Champion Bull contender Spotted Demon will come back this year for one final season.
Lambert said it is too early to pinpoint any favorites for 2019, but he said if he was going strictly off the top of his head then he would keep an eye on 2018 ABBI Classic champion and Co-Bull of the World Finals Hocus Pocus.
"It is so early that I haven't given it much thought," Lambert said last week. "But off the top of my head, Hocus Pocus may be able to do something."
McBride brought up the bull that tied with Hocus Pocus – Legit – as one he has his eyes on.
"I will be interested to see on the bull side too," McBride said. "That Legit bull is just that."
"We haven't seen enough on either of them bulls to decide anything yet," Lambert added. "It is too early in the year."
2019 Rookie of the Year contenders
There are four riders competing in New York that could be eligible for the 2019 Rookie of the Year award if they can get seeded within the Top 30 of the world standings.
Alisson de Souza, Cody Jesus, Cannon Cravens and Ezekiel Mitchellare all competing for their first time inside Madison Square Garden, and all four riders could make a push for the Rookie of the Year title.
Souza finished 2018 on a strong note by winning the 2018 Velocity Tour championship. Souza finished 34th in the world standings after going 37-for-86 (43.02 percent) at all levels.
However, the 25-year-old struggled on the Unleash The Beast as he went 8-for-25 (32 percent).
Three-time World Champion Adriano Moraes believes Souza could also develop into a dark horse World Champion contender.
"If he gets consistent as he is in Brazil, he could be a contender," Moraes said. "Keep an eye on Alisson. He could be the underdog, but he can bite them in their heels and go for their necks."
Jesus and Cravens were second-half surprises in 2017.
Jesus competed in the PBR part time in 2018 and went 14-for-28 (50 percent) in only 12 events at all levels, including the PBR World Finals.
If Jesus rides full time in 2019, he could make a push at the Rookie of the Year title after posting a 52.63-percent riding average (10-for-19) on the premier series.
The biggest thing for Jesus will be how his body holds up for the entire season as he left the World Finals battling injuries to his shoulder, ankle and back.
Cravens purchased his PBR card in May and made his premier series debut in less than five months. The 18-year-old is expected to blossom into a Top-35 rider and the bull riding prodigy from Oklahoma nearly qualified for the 2018 PBR World Finals after placing second during his debut in Nampa, Idaho.
In Nampa, Cravens became the third rider in 10 years to win a round with his first qualified ride.
Velocity Tour point changes and impact on the Top 35
There were not many rule changes made during the offseason, but there was one significant change made.
The PBR's Executive Competition Committee decided to revise the amount of world points available at Velocity Tour, as well as international, events for 2019.
RELATED: Inside look at the 2019 world points revisions
Speaking specifically to the Velocity Tour, one rider can now earn 220 points compared to only 120 points last season. The overall amount of points for all the riders is now 450 (one-day event) and 535 (two-day event).
RidePass analyst Colby Yates said the change is one of his top stories to watch for in 2019.
"It is going to change everything, dramatically," Yates said. "Being that 220 points available to win on the Velocity Tour is so close to what you can win on the Unleash The Beast series is a game changer for not only the guys going on the Velocity Tour, but you are going to have to utilize the Velocity Tour points to win that world title."
Leme has already helped his 2019 world title aspirations by winning the Corpus Christi, Texas, event for 195 points already this season.
There is expected to be much more movement this season for the riders ranked from 25-50 in the world standings.
"The guys are super excited about it," Yates said. "It gives guys on the Velocity Tour the opportunity. It is not like they are going to be struggling all year to get to the Unleash The Beast. At the end of last year 780 points was No. 35. That is going to be different this year. It is going to be quite a different because it is so hard to earn points on the Unleash The Beast and it is not as hard on the Velocity level. The bull power and the competition level is different.
"There is going to be constant movement and new faces."
Velocity riders ready to make the jump/return to Unleash The Beast
Yates also pointed out a group of riders that could be on the Unleash The Beast very soon.
One rider, Mason Lowe, should be making a return to the premier series after being cut last season.
Lowe is a three-time PBR World Finalist and is still only 25 years old.
"As long as Mason Lowe can stay healthy, I think you will see him do good," Yates said. "Then you are talking about Mason Taylor and Cannon Cravens. They stand apart from everyone else. Cristiano Figueredo. I like that guy and he has a chance to do some good. He was dealing with some injuries last year."
Additional riders to keep an eye on are five-time NFR qualifier Joe Frost and two-time NFR qualifier Boudreaux Campbell.
Also watch out for brothers of Montanha and Souza – Rafael Marcelino Montanha and Alan de Souza.
The 2019 Velocity Tour season resumes on Saturday night in Oakland, California.
Fans can watch the event on RidePass beginning at 10 p.m. ET.
What happens with legendary bull riders J.B. Mauney and Silvano Alves?
Future first ballot Ring of Honor inductees Silvano Alves and J.B. Mauneyhad the worst seasons of their careers in 2018.
Alves went only 27-for-69 (39.13 percent) and finished 32nd in the world, while Mauney was 18-for-53 (33.96 percent) and finished 28th in the world.
What can fans expect from the two bull riders this year?
Was last year a sign of the end of an era for each, or was it simply bad luck and misfortune?
McBride said "there is no telling" what to expect from Mauney, while adding that he believes Alves' best days are behind him now.
Mauney is also one 90-point ride away from tying McBride for the second-most all time (74) and is one event win away from tying McBride for the most event wins (32) in PBR history.
Lambert said Alves could be a sleeper in the world title race if he could regain his previous drive.
"Silvano is still young enough to decide he wants to ride bulls and be the best again, or if he wants to coast through things like he has the last several years," Lambert said. "He is capable of doing it any way. It is totally up to him."
Regardless of what happens neither have anything left to prove, said McBride.
"They are both first-year Ring of Honor guys," McBride said. "They hold tons of records. They have five World Championships between them. Thirteen to $14 million between them."
Follow Justin Felisko on Twitter @jfelisko