Heroes and Legends honored at World Finals
By : Keith Ryan Cartwright
October 22, 2013
Chris Shivers and Bubba Dunn were officially inducted into the PBR's Ring of Honor Tuesday night in Las Vegas. Cotton Rosser, Flavia Moraes and Red Wolf were also honored during the Heroes and Legends celebration.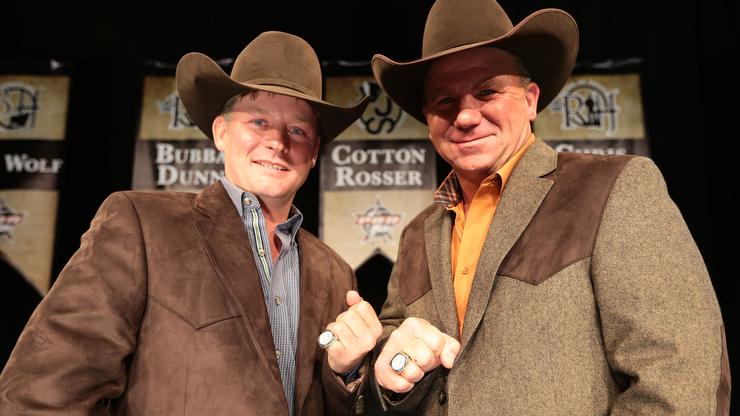 LAS VEGAS ― Seeing two-time World Champion Chris Shivers pause to take a few breaths as he held back tears was a reminder of just how important the Heroes & Legends ceremony is for those being honored.
The annual World Finals, and much the celebration leading up to it, is about the anticipation of crowning yet another World Champion.
It's about what will happen in the days ahead.
It's also about paying witness to greatness.
However, Tuesday night's ceremony, which was held at the South Point Hotel, Casino & Spa was the one moment reserved for looking back at the past 20 years and paying tribute to the greatness that was.
"I always get emotional with what I care about," said Shivers.

Chris Shivers speaks at the 2013 Ring of Honor induction ceremony at the Heroes and Legends Reunion. Photo by Andy Watson / BullStockMedia.com.
He and fellow Louisiana native Bubba Dunn became only the 37th and 38th men inducted into the prestigious PBR Ring of Honor. Red Wolf, Cotton Rosser and Flavia Moraes were also honored in a nearly two-hour long ceremony held in the Grand Ballroom.
Former greats Justin McBride and Ross Coleman along with Wacey Cathey, J.W. Hart and Tater Porter joined the likes of PBR co-founders Ty Murray, Cody Lambert, Jerome Davis, David Fournier, Jim Sharp Daryl Mills and Cody Custer along with World Champions ranging from Michael Gaffney and Adriano Moraes to Mike Lee, Guilherme Marchi, Kody Lostroh, Renato Nunes and Silvano Alves were all on hand for the occasion.
A contingency of this year's Top 35 qualifiers were also in attendance.
Among those competing in the 20th anniversary installment of the Finals were J.B. Mauney, Marco Eguchi, Douglas Duncan, Shane Proctor, Nathan Schaper and some of Shivers' longtime fellow riders, including Luke Snyder and Brendon Clark, who both announced the 2013 season will be their last.
Tuesday's event was a proverbial "who's who" of the PBR's first 20 years of existence.
Unfortunately, Robbie Herrington, who last owned Red Wolf ― the recipient of this year's Brand of Honor award ― and hauled the legendary bovine during his final season, was unable to attend because of a death to a close friend of the family. Lambert and Hart spoke on the contractor's behalf.
RELATED: Red Wolf was the definition of longevity for bucking bulls
Hart noted Red Wolf, who was big with even bigger horns, "was not supposed to stand up to the test of time-and he did." Red Wolf was 13 when he retired. By comparison, Lambert said the average age of bulls competing at the Finals this year is six and that two retiring bulls ― Charlie Bullware and Carrillo Cartel ― are nine years old.
Moraes said hearing the news of her Sharon Shoulders Award gave her reason to "pause and reflect" on her life as a bull rider's wife. In closing her speech, she said, "Today I know for a fact I will be a bull rider's wife forever."
While many in the ballroom may have been waiting to hear from Shivers and Dunn, Rosser was clearly acknowledged for his legendary status as an innovator and pioneer in the sport of rodeo. He was given the Jim Shoulders Lifetime Achievement Award.
Murray said Rosser was "one of the few who believed in us" when 20 riders voted to invest $1,000 each to form the PBR back in April 1992.
Rosser agreed.
"I believed in the bull riders, I really did," said Rosser, who noted that prior to the PBR riders had long been underpaid and underappreciated despite selling tickets at the gate.
RELATED: Cotton Rosser was the pioneer of showmanship
He added, "It's great being up here on stage with Sharon Shoulders and all these great legends. It doesn't get any better than that."
It was a night to remember for Dunn, who traveled to Las Vegas with 30 friends and family members.
Jerome Davis referred to Dunn as a "good cowboy," who could spur any bull he got on.
Lambert said Dunn never talked about his bull riding. Instead he let his riding do the talking.
"He's a role model without saying a word," added Lambert, who had no idea how true his closing statement would be when Dunn said little more than, "I'm very appreciative and I'm honored."
RELATED: Bubba Dunn and his rise to PBR fame
After qualifying for a PBR record 15 World Finals, Shivers traveled back to Vegas for a 16th time, only this time it was for the Ring of Honor.
Never one to talk or boast about himself, Shivers said it's not about his accomplishments but rather about recognizing everyone, including his parents, wife and children, who gave him the opportunity and helped him achieve his goals.
"I appreciate anybody who had anything to do with it," he said.
Hart concluded, "The founders built this deal for guys like Chris Shivers."
Follow Keith Ryan Cartwright on Twitter @PBR_KRC.