By : Susan Bedford
January 22, 2013
The debate about the greatest bucking bull generates plenty of passionate answers from bull riding fans.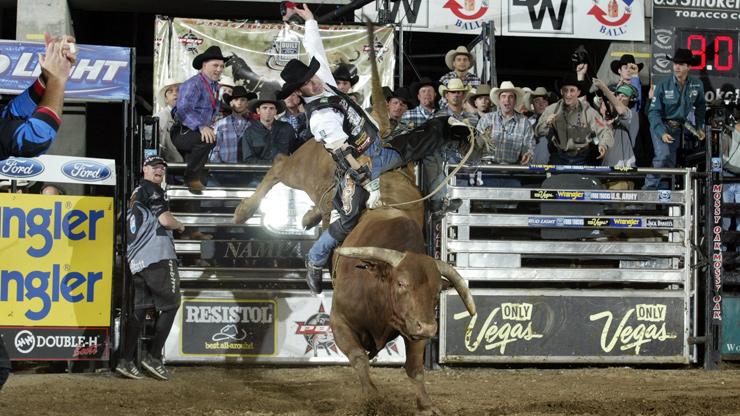 PUEBLO, Colo. ― If you want to start a passionate debate between bull riding fans, just ask them to name the greatest bucking bull of all time.

It's a question that comes up fairly often and rarely will people agree on the answer. Asked 20 years ago, you'd get some of the same answers as today― but there are a lot more modern-day buckers on most people's short list. With an explosion of interest in the bloodlines of the great bulls (aided by the American Bucking Bull Inc. DNA registry), there are more breeders than ever before working to produce the next great bucking superstar who could join the list.
So many different factors go into a bull's career and legacy: the quality of cowboys he had to face, the events he bucked at, the miles he was hauled, his longevity, the quality of his contemporaries and the amount of media coverage he received (was it before or after events were broadcast, for example). As in many sports, there may never be a clear way to compare athletes from different eras to get a definitive answer.
We posed the question, "w ho is the greatest bull, " to some of the most hardcore bucking bull fans― those on the ABBI's Facebook page. The two most mentioned bulls were Little Yellow Jacket and Bodacious. Other bulls who fans considered among the most elite in the world were Chicken on a Chain, Red Rock, Dillinger, Rooster, Pacific Bell and Blueberry Wine.
The 2007 World Champion, Chicken on a Chain, was admired for his extreme athleticism despite his huge size. Blueberry Wine, who never actually won Bull of the Year, was honored for his huge heart and talent despite his small stature. Red Rock was distinguished for having 300 outs before finally being ridden by Lane Frost. Dillinger was a PBR World Champion Bull (2000 and 2001) and is the No. 1 historically ranked bull on probullstats.com (Bodacious is No. 2).
PBR World Champion bulls Bushwacker and Asteroid are among the favorites of bulls currently bucking. Both Houdini and White Sports Coat were frequently mentioned for their prowess as sires and the amount of great bucking offspring that now carry their bloodlines. Some international suggestions were Chainsaw (Australia) and El Huracan (Mexico).
Other favorites include Smokeless Wardance, Bones (2008 and 2010 World Champion Bull), Reindeer Dippin, Tornado, Red Wolf, Wolfman, Gunslinger, Hammer, Big Tex and Mossy Oak Mudslinger (2006 World Champion Bull).
Whether you agree or disagree with ABBI fans selections (and you can add your opinion on American Bucking Bull's Facebook page), the top two bulls deserve to be examined more closely.
Bodacious lived from 1988-2000 and was dubbed "The World's Most Dangerous Bull" thanks to his habit of jerking guys down and then head butting them. After riding (or rather trying to ride) Bodacious, many cowboys no longer had the faces they were born with and he was ultimately retired for being "too dangerous" in 1995. He lived out the rest of his life on Sammy Andrews' ranch, where he is buried and fans still come to honor him.
Poems have been written to Bodacious, rock songs recorded about him and even big mountain skis have been named after him. Although records and stats weren't kept quite like they are now, general consensus is that he was attempted more than 130 times with just 10 (same say fewer) cowboys ever making the whistle on him. Clint Branger and Tuff Hedeman were two of the cowboys to achieve this, unfortunately Hedeman also needed facial reconstruction after his 1995 PBR Finals match up with the great bull. Bodacious was the PBR's 1995 World Champion Bull, PRCA Bull of the Year and inducted into the Pro Rodeo Hall of Fame.
No bull has perhaps inspired such a large fan following in history as Little Yellow Jacket. People respect LYJ for being the PBR's only three-time World Champion Bull (2002-2004) and for having such a long and storied career. Born in 1996, he passed away in 2011- the same year he was the first honoree of the PBR's Brand of Honor. He is the bull who is immortalized in bronze in front of PBR headquarters (as voted on by the fans ― ditto for Adriano Moraes who is sculpted on the bull's back).
With a buck off rate of more than 83 percent, he was not only a favorite of fans, but of cowboys looking to win big. He and Michael Gaffney combined for 96.5 points in 2004, a score that tied the PBR's record. LYJ perhaps first became a household name in 2003 in his much publicized match-up with Chris Shivers. Shivers would win $1 million if he could ride the great red bull. LYJ bucked off Shivers in 2 seconds, earning $50,000 for his owners at the time ― Berger, Taupin and Teague.
Some of the greats who did make it to the whistle on LYJ include Owen Washburn, Wiley Petersen, Jim Sharp, Brendon Clark, Cody Whitney, Travis Briscoe, Jason Bennett, Helton Barbosa, Jesse Schellhamer and Jody Newberry. Gaffney and Cory McFadden were the only two cowboys to ever cover him more than once. The legendary bull is now buried at Tom Teague's ranch in North Carolina.
With the growing popularity of social media, many historic rides can now be watched on YouTube. Even if you've never seen some of the animals mentioned as contenders for "greatest" buck before, you can often find some past performances that you can judge for yourself ― and draw your own conclusion.
Whether you list these two powerhouse bulls among your top picks or not, they are undoubtedly two of the most influential animals in the history of the sport and will remain near the top ofmany fans' lists for years to come.
To learn more about bucking bull bloodlines, visit AmericanBuckingBull.com.