By : Susan Bedford
January 08, 2013
Close to 2,400 ABBI-registered bulls were sired by the great Houdini.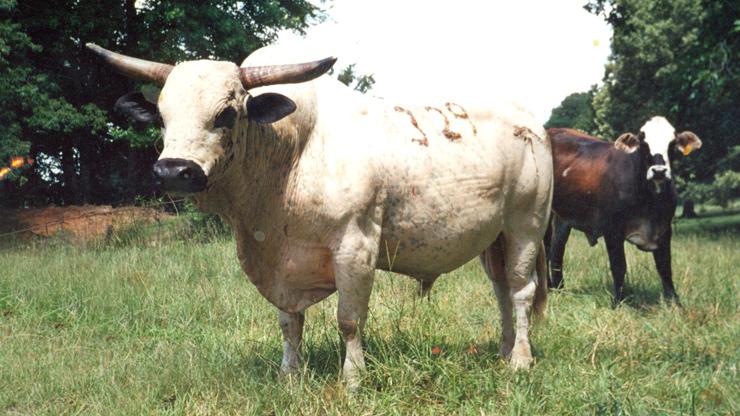 PUEBLO, Colo. ― To quote the Great Bard, "What's in a name?"
Well, in the bucking bull world, a lot can be in a name. It is often used to identify a particular sire or bloodline an animal has come out of. At PBR and ABBI events, you may have noticed the large number of "Hou" names. Hou Da Man, Catahoula, Hou Dat, Hou Da King, Hou Tricked Hou, Hou Ya, Copp Hou, Skatman Hou, Lucky Hou, Dr. Hou, Hou's My Daddy and, yes, there's even a Hou Farted.
The ABBI has the largest bucking cattle DNA registry in the world, with records on over 155,000 animals. Of these 155,000, close to 2,400 were sired by the great Houdini. Taking into account all the animals that can also claim Houdini as a grand sire or great grandsire, it's no surprise how frequently you hear a "Hou" name attached to a bucking bull or cow, or see the distinct white hides with black spots. Houdini is one of the most prolific sires in the ABBI Registry and bucking bull history.
Owned by Gene Baker at the time of his death in 2010, Houdini came out of the late Ronnie Roach's Rafter 7r breeding program. Born in 1991, the bull would prove to be good in the arena, but he would become a legend based on what he did as a sire. He was owned by and influenced Mitch Terrell's breeding program and eventually would belong to Monty Samford. Samford sold him for $100,000 in 2002 ― an astronomical sum at the time for a retired bull ― to Baker and Lyndal Hurst.
Non-Hou named sons include greats like Voodoo Child, Best Shot, Grizz's Ghost, Bring It, Life of the Party, Come n Git It, Black Pearl, Super Duty, Night Life, Wild Life, Handsome Jack, Straight Jacket, State Trooper, Last Call and Chrome Molly.
Many breeding programs today are also influence by Houdini's father, White Sports Coat, who was a prolific sire too. White Sports Coat sired the great Panhandle Slim, Rooster and Prime Time. Houdini's mother was the double bred Plummer CP6.
It'd be rare to attend an ABBI event that didn't have at least one bull with Houdini bloodlines. Regardless of the moniker they carry, Houdini offspring will continue to influence the American Bucking Bull breed indefinitely. Nearly every great breeding program in North America now has some of his genetics. For bucking bull fans and bucking bull breeders, Houdini has become a household name.
To learn more about bucking bull bloodlines, visit AmericanBuckingBull.com.