15/15 Bucking Battle: Eldred looks to slay another dragon
By : Justin Felisko
January 31, 2019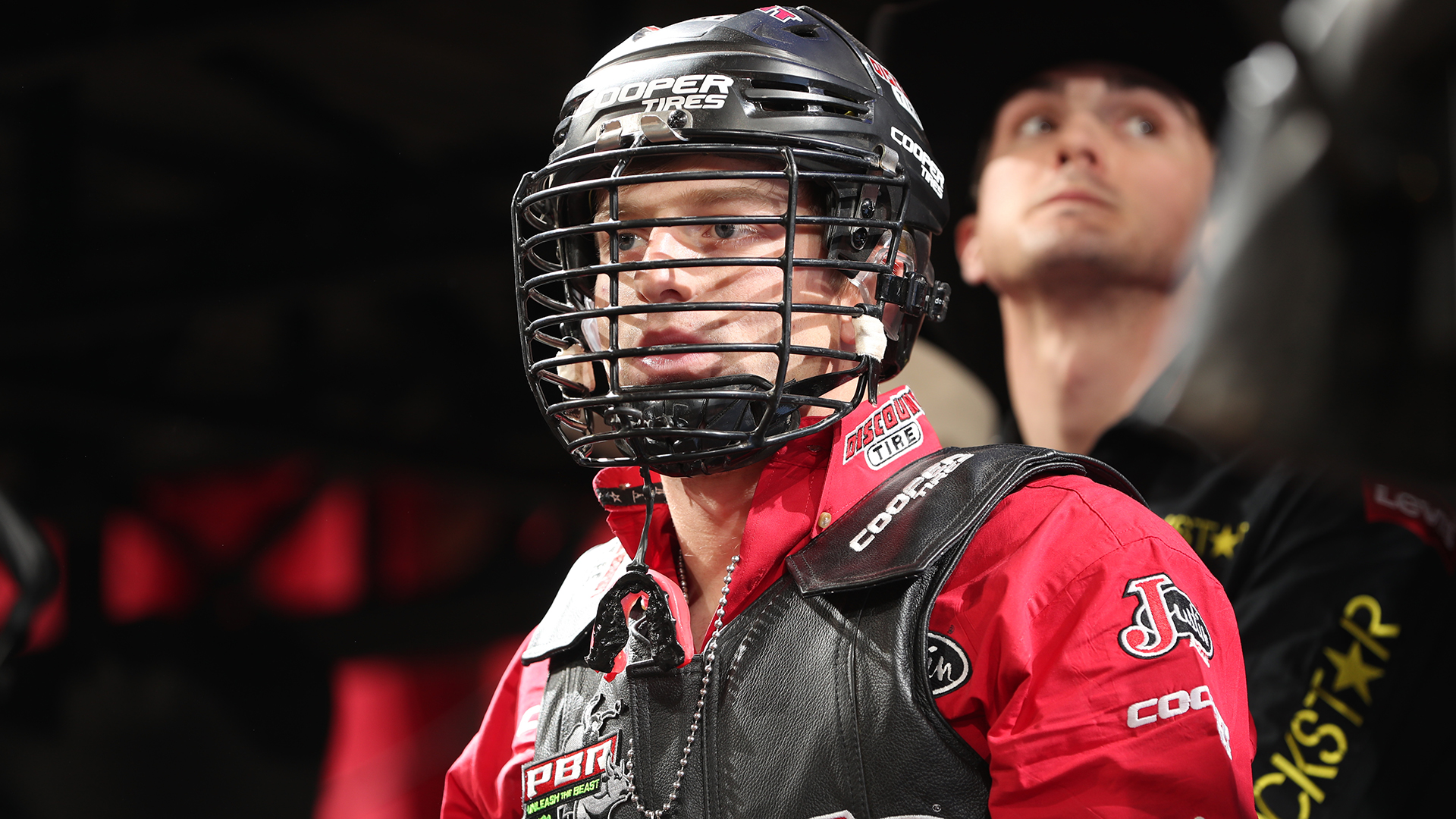 OKLAHOMA CITY – Brennon Eldred had his shoulders pinched back and his chest puffed out a little larger than normal when he rolled into the Golden 1 Center in Sacramento, California, last weekend.
It was quite the juxtaposition from the downtrodden Eldred of 2018. The Sulphur, Oklahoma, native would often be hunched over, eyes focused on the ground and shuffling his feet.
Eldred spent 2018 battling through a streak of 24 consecutive buckoffs, and that feeling of disgust has finally started to evaporate.
The third-year pro proved 2019 was going to be a different when he conquered Frequent Flyer for a season-high 89.5 points at the Ak-Chin Invitational, presented by Cooper Tires, in Glendale, Arizona, two weeks ago.
Frequent Flyer had bucked off 23 consecutive riders on the premier series and 29 overall.
"To bust out and make that ride, and catch everybody's eye with how I should have been all of last season," Eldred said. "I know where I should be and it was pretty special to me."
Eldred now is hopeful he can take down another fierce opponent this weekend during the Express Ranches Invitational 15/15 Bucking Battle in Oklahoma City.
The No. 15 bull rider in the world has drawn the unridden Old Fort Days (12-0).
"He just bucks hard," Eldred said. "He's one you want. If I just worry about my job, then everything will be just fine.
"Take it one jump at a time. Pretty damn simple. Bear my ass down."
Fans can watch the 15/15 Bucking Battle exclusively on CBS national television Saturday at 3 p.m. ET.
15/15 Bucking Battle Matchups
Ruger Piva vs. Mind Freak (10-0, UTB)
Cody Nance vs. Lil 2 Train (2-2, UTB)
Brennon Eldred vs. Old Fort Days (12-0, UTB)
Cannon Cravens vs. Bottoms Up (14-8, UTB)
Cody Jesus vs. Cochise (46-11, UTB)
Luciano de Castro vs. Lester Gillis (38-5, UTB)
Danilo Carlos Sobrinho vs. Canadian Mist (15-2, UTB)
Alisson de Souza vs. Smooth Operator (57-4, UTB)
Lucas Divino vs. Medicine Man (8-4, UTB)
Silvano Alves vs. South Texas Gangster (8-3, UTB)
Rubens Barbosa vs. Smooth Wreck (7-3, UTB)
Chase Outlaw vs. Night Sweats (9-3, UTB)
Jose Vitor Leme vs. Frequent Flyer (25-1, UTB)
Joao Ricardo Vieira vs. Texas Comfort Air's First Blood (3-1, UTB)
Jess Lockwood vs. Fearless (10-0, UTB)
If Eldred can conquer Old Fort Days, it may just be another reason for Team USA Eagles coach Justin McBride to consider Eldred as his next man up if any of his eight riders for the 2019 WinStar World Casino & Resort Global Cup USA on Feb. 9-10 are unable to compete because of injuries.
McBride has said before he will need riders to conquer the rankest bulls in the PBR if Team USA is hopeful to win its second Global Cup in three trips.
This year is the first time Eldred was left off a Global Cup squad.
Eldred understood his 2018 performance did not merit a spot on McBride's squad, and he admits that stung quite a bit.
"I just feel like I let my team down a bit," Eldred said. "I think I deserve to be there, and I want to represent my country. I feel like I can help the team more than anybody, but I totally understand 100 percent where they are coming from them not picking me. I understand that 100 percent.
"The blame is on nobody but myself. I just want them to know if they need me, I will be there no matter what. Even if they don't need me, I am still going to be cheering them on and be in their corner and hoping for the best for them."
Eldred finished the Sacramento Invitational in 11th place following his 87.25-point ride on Tri-County Ford's Coyote.
Old Fort Days, who has 22 consecutive buckoffs at all levels, is not the only dragon in the 15/15 Bucking Battle bullpen this week.
Mind Freak (10-0, UTB) and Fearless (10-0, UTB) are two additional bulls unridden in their careers. Both bovine athletes are 10-0 on the premier series.
Ruger Piva is making his premier series debut and will ride on the national television stage for the first time against Mind Freak. The two-time Idaho high school state wrestling champion (152 pounds) won 101 consecutive matches in high school and eventually walked on to Boise State.
He later transferred to Montana Western and won a NAIA wrestling national title.
The 23-year-old bull rider will head into the arena as the underdog in this matchup.
Mind Freak has bucked off 28 riders at all levels of competition.
On the flip side, Fearless, who has bucked off 22 consecutive riders at all levels, may just be the underdog in his matchup against world No. 1 Jess Lockwood.
The 2017 World Champion has cooled off a tad (1-for-5) since riding 10 consecutive bulls and winning the first two events of the season.
Regardless, this could be a highlight reel matchup between the two athletes with Fearless challenging Lockwood into his hand.
Lockwood holds a 722.5-point lead on No. 2 Joao Ricardo Vieira.
World No. 5 Claudio Montanha Jr. is not competing the 15/15 Bucking Battle after being suspended by the PBR's competition committee for his actions during the Sacramento Invitational championship round. Montanha was disqualified for excessive time (chute clock) inside the bucking chute. According to the PBR competition department, the committee ruled that Montanha did not make an honest attempt to get out of the chute aboard After Midnight.
2016 World Champion Cooper Davis (concussion) withdrew from the Oklahoma City event on Thursday afternoon.
There are three rematches in the 15/15 Bucking Battle.
Luciano de Castro is the only rider with prior success in his matchup. He has previously ridden Lester Gillis for 88 points during this year's season-opening 15/15 Bucking Battle in New York.
However, Castro did buck off Lester Gillis in 5.22 seconds last year at the Music City Knockout in Nashville.
Meanwhile, Jose Vitor Leme will look for revenge against Frequent Flyer. Frequent Flyer put a dagger in Leme's 2018 world title aspirations when he bucked off the 2017 Rookie of the Year in 5.97 seconds during Round 5 of the 2018 PBR World Finals.
Cody Jesus takes on Cochise following a 5.4-second buckoff at the 2018 Ty Murray Invitational in Albuquerque, New Mexico.
Follow Justin Felisko on Twitter @jfelisko