What to watch for: 5 PBR events on the calendar this weekend
By : Justin Felisko
February 28, 2019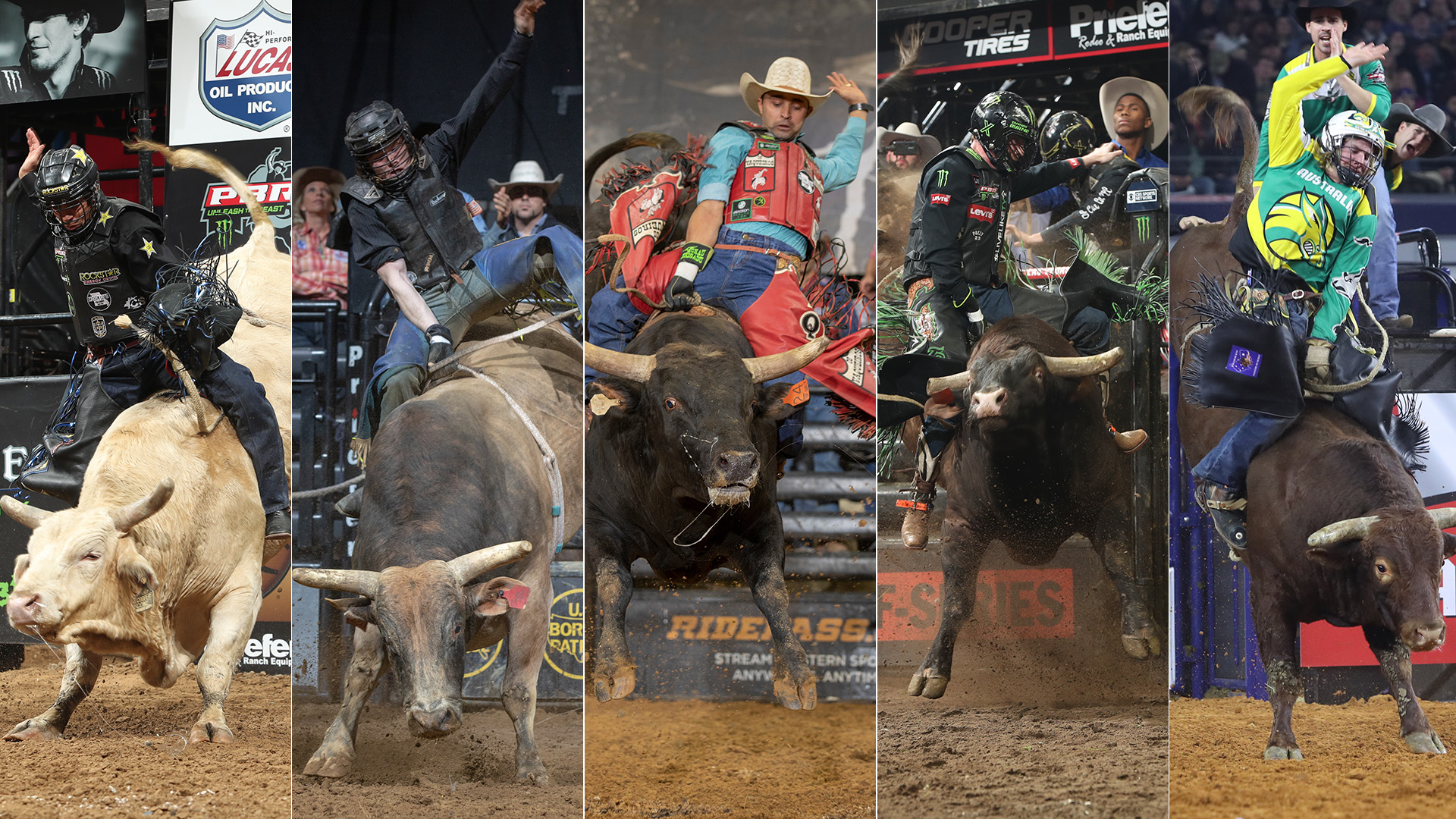 LITTLE ROCK, Ark. – PBR fans with an endless appetite for bull riding will be able to get quite the offering this weekend with 179 riders from six different countries set to compete worldwide.
Fans can watch four of the five PBR bull ridings from the United States, Canada and Australia, on RidePass, while CBS Sports Network will carry the finale of the Bad Boy Mowdown from North Little Rock, Arkansas, on Sunday night at 8 p.m. ET.
There are five PBR events slated for fans to attend this weekend in three countries: The Bad Boy Mowdown in North Little Rock, Arkansas (Unleash The Beast); the Hampton Classic in Hampton, Virginia (Pendleton Whisky Velocity Tour); The Lexington Classic in Lexington, Kentucky (Pendleton Whisky Velocity Tour); the Bridge City Chrysler/LA Towing PBR Challenge in Lethbridge, Alberta (PBR Canada Monster Energy Tour) and the Bendigo Invitational in Bendigo, Australia, (PBR Australia Monster Energy Tour).
All five events are going to likely impact the world standings in a significant way, once again showing the global impact of the current points system.
Each bull riding is featuring at least one rider in the Top 40 of the world standings, and there are currently at least six Unleash The Beast draw spots potentially up for grabs next week with the next UTB cut set to occur following this weekend's action in Arkansas.
The race to stay within the Top 35 and on the Unleash The Beast has continued to be an international affair. Riders are able to use not only the added world points this year at Pendleton Whisky Velocity Tour events to crack the Top 35, but also the Monster Energy Cup events taking place internationally.
With one rider able to earn at minimum 170 world points with a victory, you can expect these non-UTB events to play another role in who will be inside the Top 35 for next weekend's UTB event in Duluth, Georgia.
In fact, 15 of the riders inside the Top 35 of the world standings have won a non-UTB event this year.
A BY-THE-NUMBERS LOOK AT THE WEEKEND AHEAD
Events: 5 (2 in the U.S. / 1 in Canada / 1 in Australia)
Riders Competing: 179
Countries Represented: 6 (Australia, Brazil, Canada, Mexico, New Zealand, United States)
Bulls: 337
Trucks of Bulls: 56
Total Outs (not incl. re-rides): 299
World Points Available: 3,645
Money Available: $157,950 USD / $30,000 CAN / $10,000 AUS
*Source: PBR Competition Department
LITTLE ROCK RIDER TO WATCH: No. 5 Luciano de Castro (Friday: 8:30 p.m. ET RidePass; Sat.: 7:45 p.m. ET RidePass & Sun. 8 p.m. ET CBS Sports Network)
With No. 2 Joao Ricardo Vieira and No. 3 Chase Outlaw potentially riding at the AMERICAN SEMI-FINALS on Saturday night, neither rider will be making that much of a push up the world standings with only a round win on Friday night.
Therefore, keep an eye on what Luciano de Castro does this weekend instead.
Castro is quietly sitting No. 5 in the world standings, and he is only 1,250 points behind injured world No. 1 Jess Lockwood and could cut that lead in half at Verizon Arena.
The 22-year-old takes on Bulls Eye (0-1, UTB) in Round 1 on Friday night before a favorable rematch against Smooth Over (14-8, UTB) in Round 2 on Saturday. Castro is 2-for-2 against Smooth Over, including an 85.75-point ride in Oklahoma City.
HAMPTON RIDER TO WATCH: No. 37 Dylan Smith (Sat.: 7 p.m. ET RidePass)
Smith went 0-for-3 in two Unleash the Beast events in 2019, and now he will try to use the Velocity Tour once again to get back into the Top 35.
The 19-year-old has decided he will not accept a potential alternate spot for Little Rock on Saturday night and will compete in his home state event instead.
Smith grew up 5 hours west of Hampton in Ararat, Virginia, and he credits two-time World Champion J.B. Mauney with being an influencer on his career.
An event win would push Smith into the Top 20 of the world standings.
Smith is only 25 points behind No. 30 Ouncie Mitchell.
LEXINGTON RIDER TO WATCH: No. 122 Rafael Montanha
Keep an eye on an unknown rider by the name of Rafael Montanha. With Ezekiel Mitchell, Marcus Mast, Ouncie Mitchell and Alan de Souza accepting a Friday alternate spot for Little Rock, the door is open for another new rider to make a move up the standings.
The 30-year-old has only begun his PBR career 2-for-14, but the older brother of two-time PBR World Finals qualifier Claudio Montanha Jr. can jump all the way up to No. 42 in the world standings with a victory.
We have already seen a pair of Brazilian brothers in Alisson de Souza and Alan de Souza make it to the Unleash The Beast, and the Montanhas may be the next dynamic duo.
LETHBRIDGE RIDER TO WATCH: No. 38 Tanner Byrne (Fri. & Sat. 9 p.m. ET on RidePass)
Four-time PBR World Finals qualifier Tanner Byrne has been cut from the Unleash The Beast following his 6-for-15 start to 2019.
Byrne, though, can easily work his way back onto the PBR's marquee tour with a win in Lethbridge. A PBR Canada Monster Energy Tour victory would net Byrne 170 world points, which could push him back into the Top 20.
BENDIGO RIDERS TO WATCH: No. 11 Aaron Kleier (Sat.: 3 a.m. ET on RidePass)
Aaron Kleier is the reigning PBR Australia champion and in 2019, he has only continued to ride at a higher level than the majority of his peers in Australia.
Kleier is 16-for-27 this season at all levels and has rocketed to No. 11 in the world standings thanks to the added world points available at international events.
The 21-year-old could potentially rise to as high as No. 7 in the world with a victory this weekend.
However, Kleier has stated he has no intentions of competing on the Unleash The Beast at this time. If he turns down a draw spot for a UTB event, he will be suspended from UTB competition for a year.
Kleier would only be able to compete at the 2019 PBR World Finals if he were to win the 2019 PBR Australia championship and the 2019 Pendleton Whisky Velocity Tour Finals.
Another two riders that potentially may have decisions to make in regards to their Unleash The Beast futures are No. 21 Cliff Richardson and No. 32 Jason Mara.
Richardson is likely to stay ranked inside the Top 30 and will have a draw spot waiting for him next weekend in Duluth, Georgia, while Mara would not have to compete if he is given an alternate spot as he is outside the Top 30.
Although Mara is only 10 points behind No. 30 Ouncie Mitchell.
Richardson is coming off a victory last weekend in Shepparton, Australia, and a second straight win could push him as high as No. 17 in the world standings.
The three riders could also appeal any decision to be suspended by the PBR competition department if they have legitimate reasons (such as securing a visa or a family emergency) as to why they cannot make it over to the United States and compete.
Follow Justin Felisko on Twitter @jfelisko