Pendleton Whisky Velocity Tour
Bangor Classic may help a rider soar up the world standings
By : Justin Felisko
March 08, 2019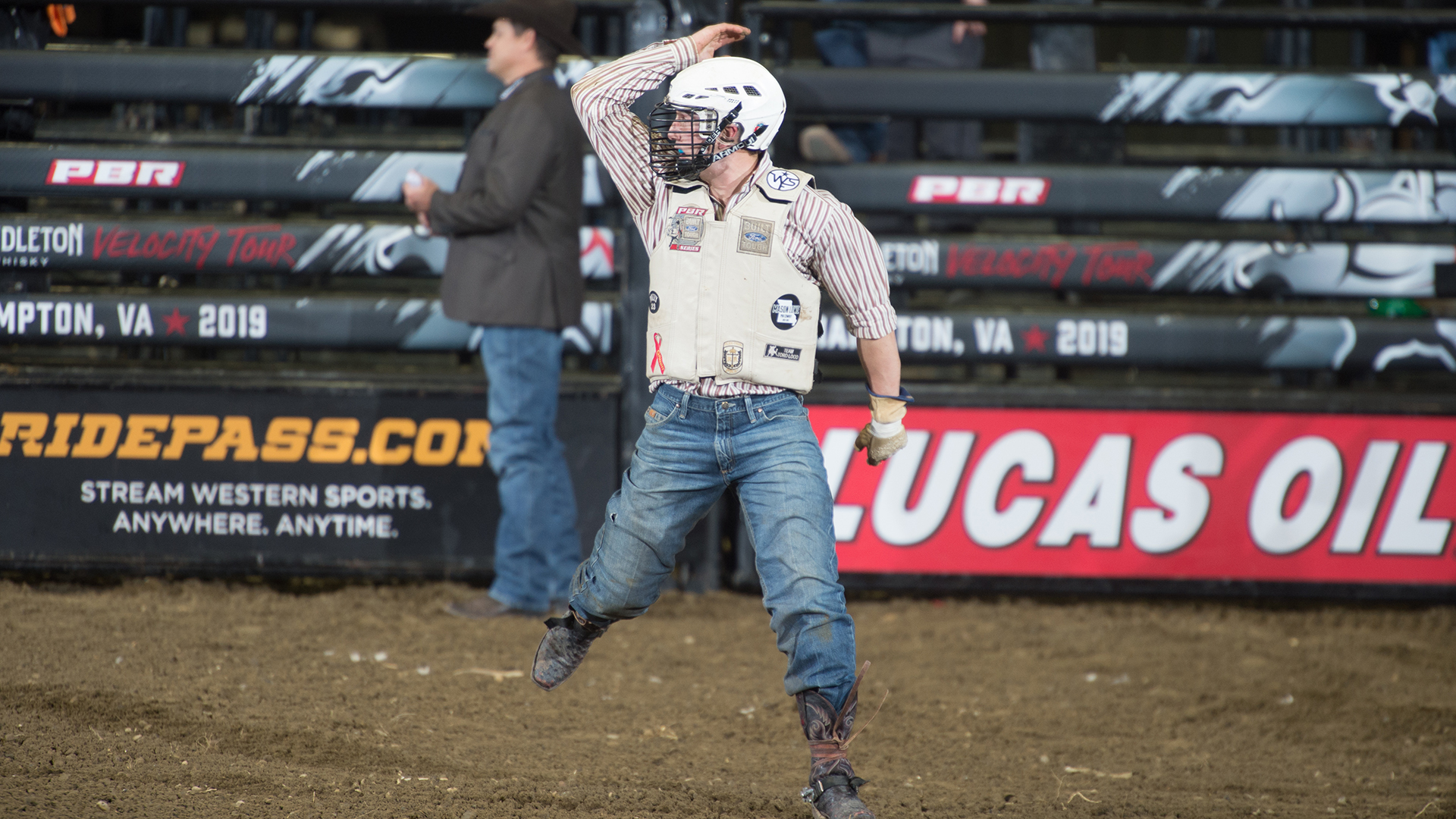 DULUTH, Ga. – Towering over the citizens of Bangor, Maine, is a 31-foot statue of Paul Bunyan.
Located on Main Street, it's is a tribute to the giant lumberjack of American folklore.
Just as it's impossible to miss Paul Bunyan when driving through Bangor, PBR fans following this weekend's Pendleton Whisky Velocity Tour event will be well aware of the giant implications of the rides and wrecks inside Bangor's Cross Insurance Center during the only three-day Velocity Tour event on the 2019 calendar.
One rider can earn a massive 320 points toward the world standings if he wins the event and sweeps every long round.
To put that into perspective, Danilo Carlos Sobrinho leads the Velocity Tour with 432.5 points, and Cody Teel is sitting 25th in the world with 320 points.
"This is huge," said RIDE TV analyst and five-time PBR World Finals qualifier Colby Yates. "Yes, just because there is 320 points up there, which is essentially like winning and Unleash The Beast event average.
"In my opinion, a guy is fortunate to compete at Bangor on the Velocity Tour."
The winner of the event average at a two-day Unleash The Beast earns 400 points; with a sweep, one rider can win a total of 700 points toward the world standings at a UTB event.
Fans can watch Round 1 of the Bangor Classic Friday night exclusively on RidePass beginning at 8 p.m. ET
Bangor will be a great opportunity for riders just outside of the Top 35 to bump riders competing at this weekend's U.S. Border Patrol Invitational Unleash The Beast event down a few spots.
Riders expected to compete in Bangor include No. 37 Ouncie Mitchell, No. 38 Alan de Souza, No. 47 Brady Sims, No. 49 Shay Marks and No. 50 Paulo Lima.
Sims – a two-time PBR World Finals qualifier – is coming off a 2-for-2 victory in Hampton, Virginia, last weekend.
The 25-year-old is attempting to work his way back onto the UTB after competing in only six non-UTB events in 2018. Sims shut down his season in March.
While Sims had been struggling, Yates says he now looks like the talented rider he expects to see.
"There were some weekends where I am like, 'he is all the way down in the hole and he is never going to pull himself out of this mess because he would barely make it past the week,'" Yates said. "You could see something was off. But the guy can really ride. He figured it out."
This weekend will also feature 2018 World Champion Contender Ramon de Lima, a rider with pedigree who'd been struggling but can climb his way back into the world standings, according to Yates.
Lima is No. 75 in the world standings and has been cut from the Unleash The Beast following his 9-for-21 (42.86 percent) start to the season.
The third-year pro went 0-for-1 at the Edinburg, Texas, Velocity event last month.
"I don't want to discredit the guys riding on the Velocity Tour, but those three guys (Lima, Koal Livingston and Keyshawn Whitehorse) are above the level of the Velocity riders," Yates said. "Obviously, they have credentials to show that. It is not going to take them long at all."
Whitehorse and Livingston, both of whom were cut from the UTB last week, are not competing in Bangor as they missed entries, according to the PBR competition department.
Lima talked about the possibility of being cut last month.
"I just need to continue to ride the way I am, and eventually we will ride three bulls in a row and get something done," Lima said. "It is just part of the sport. Sometimes you are at the top. Sometimes you are at the bottom."
One of Lima's biggest credentials was his 2018 Iron Cowboy championship.
The PBR Majors have become a staple point on the Unleash The Beast for riders trying to win a World Championship.
The Velocity Tour may not have its own Major, but Bangor is essentially the growing development tour's next-closest thing.
It is a no brainer for any rider who has World Finals aspirations to be competing for big points in the Northeast city.
"Why would you not go to Bangor?" Yates concluded.
PBR RIDE TO GLORY DEBUTS ON TUESDAY ON RIDE TV
PBR fans will get an inside look of the Velocity Tour like never before beginning on Tuesday evening with RIDE TV's new series "PBR Ride to Glory."
The series follows the Pendleton Whisky Velocity Tour and other exciting bull riding events and the long road to glory facing cowboys as they travel across the country to challenge America's fiercest bulls.
The first episode airs Tuesday night at 9 p.m. ET and features rides and behind-the-scenes commentary from the Denver PBR Chute Out at the National Western Stock Show.
Follow Justin Felisko on Twitter @jfelisko