SweetPro's Bruiser to buck in Texas this weekend
By : Justin Felisko
March 13, 2019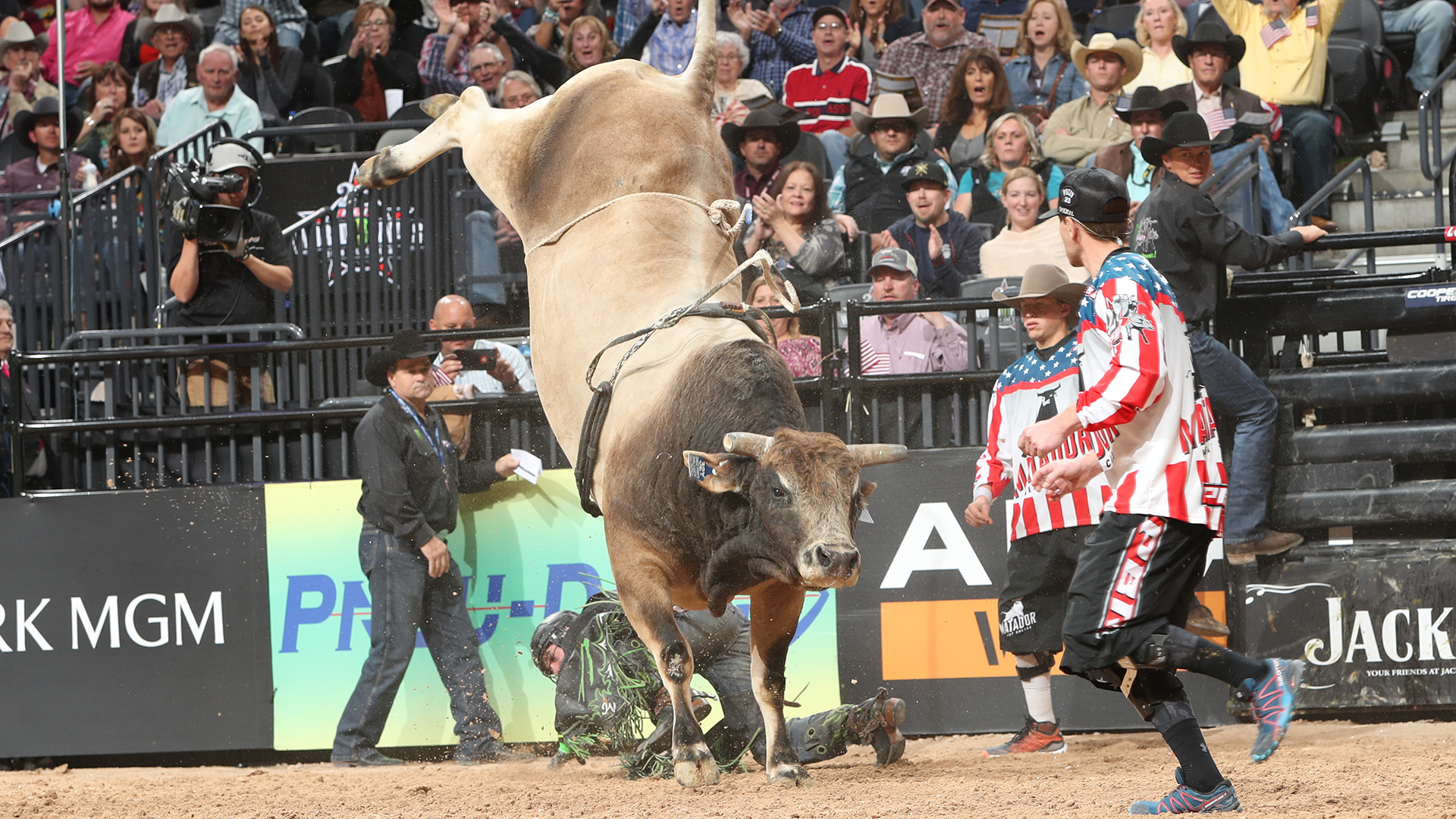 PUEBLO, Colo. – Reigning three-time World Champion Bull SweetPro's Bruiser may be getting closer to an Unleash The Beast return in the near future.
H.D. Page confirmed this week that D&H Cattle Company will be busting Bruiser out at this coming weekend's Touring Pro Division event in Belton, Texas.
Bruiser is set to buck in Round 1 Friday night against Dusty Craig.
"It is just a little process," Page told PBR.com on Wednesday morning. "It seems like I have to go through it every year. I have to get him back in a groove and get a little excess weight off him and get him loosened up to be where he can be competitive, hopefully.
"He is a little overweight, and on top of that, he is just not in tip-top shape as far as conditioning goes. He is a little soft here and there. He will get the muscle back to where he needs to be. It is just going to take a little time. We're taking it day by day."
Bruiser's out this weekend does not count toward the 2019 YETI "Built For The Wild" PBR World Champion Bull race.
The process this year for Bruiser has taken longer than past seasons.
He has yet to buck in a PBR-sanctioned event since he won his record-tying third World Championship at the 2018 PBR World Finals in Las Vegas.
D&H Cattle Company gave the 8-year-old a long layoff as Page debated whether he wanted to retire the legendary bull.
Page then decided to buck Bruiser twice at the San Antonio Stock Show & Rodeo three weeks ago on Feb. 21 & 23.
Four-time PRCA champion J.W. Harris rode Bruiser for 92.5 points to win San Antonio two nights after Bruiser bucked off Tristan Mize.
RELATED: J.W. Harris believes Bruiser has another run at a world title in him
Page said Bruiser has gotten in better shape since then.
"He is a little thinner than what he was at San Antonio, but he is still not quite ready to go (to the Unleash The Beast) yet, as far as conditioning wise," he said.
The 10th annual ABBI Spring Fling event in Belton features some of the top ABBI Classic Bulls, including No. 1 Concealed Carry, No. 3 The Right Stuff, No. 4 and 2018 PBR-co Bull of the Finals Hocus Pocus and No. 5 Bulls Eye.
Page agreed that one could view Bruiser's trip to Belton like a baseball player attending Spring Training.
Bruiser only needs to get to eight Unleash The Beast regular-season events before the 2019 World Finals on Nov. 6-10 to put himself in contention for a record-setting fourth World Championship.
"I don't think he is ready to perform at his highest potential right now," Page said. "It is more about him than anybody else right now. I know he is going to buck and buck hard. That is never a question. But there is a difference between a 46.5 and a 45. There is a massive difference."
Bruiser is 45-13 with a 45.55-point average bull score in his PBR premier series career.
Little Yellow Jacket Jr. and Bushwacker are the only other three-time World Champion Bulls in PBR history.
Bruiser is always better the more he competes.
Therefore, Page is hopeful that by bucking him in Belton he will become closer to the Bruiser of old.
Page is confident in the bovine, but he wants to make sure whenever he hauls Bruiser to the Unleash The Beast level that his bull is ready to buck like the reigning World Champion.
"I want him to be 46.5," Page said. "I just hold him to a different standard than I do all of these other bulls. I don't want to take him and him be a 44.75 or 45.5. That is not what I am after."
The longtime stock contractor understands there is a chance Bruiser may have lost a step, but he does not believe that to be the case.
If that was the reality, Page said he would probably not be putting in the effort to try and help Bruiser return to peak bucking condition.
"I am not sure if he won't be a 45-point bull for the rest of his career. I don't think he is, or else I wouldn't be going through the motions," Page said. "He still has the tools to craft them 46, 46.5-point bull scores because he has that type of ability.
"I think he's still got it."
D&H Cattle Company is planning on bringing bulls to the next UTB event, the Caterpillar Classic on March 23-24 in Kansas City.
If Bruiser dominates in Belton, will Page consider bucking him inside the Sprint Center in Kansas City?
"Maybe. I don't know," Page said. "It is not out of the question."
Follow Justin Felisko on Twitter @jfelisko