Heartbreak Kid brings perfect 28-0 record into Kansas City
By : Justin Felisko
March 23, 2019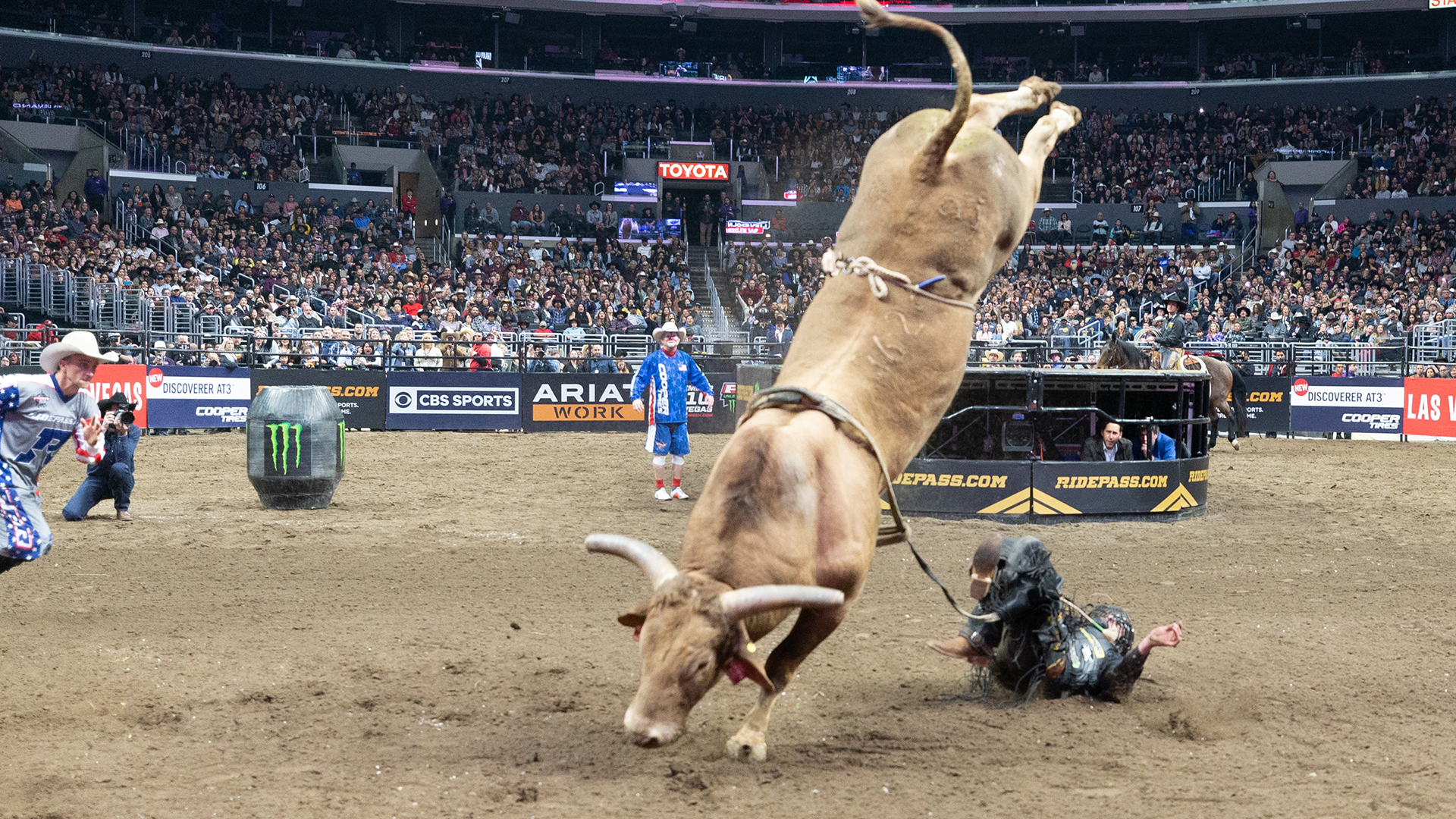 KANSAS CITY – When the championship round draft gets underway on Sunday afternoon at the Sprint Center, there may be some slight chest pain and anxiety developing for the riders toward the bottom end of the draft.
One of them will be left with another case of the heartaches if they end up matched up with the rank D&H Cattle Company bovine called Heartbreak Kid.
Heartbreak Kid heads into this weekend's Caterpillar Classic with a perfect 28-0 record on the PBR's premier series.
H.D. Page, though, believes it is only a matter of time before one of the PBR's best riders conquers his bull.
That can certainly be the case too if a bold and fearless rider at the top of the draft decides to try Heartbreak Kid.
"These guys are real talented, and most of the guys are on top of their game also," Page said. "You are putting your bulls against the most talented guys that are the hottest going. To say they are going to stay unridden is a pretty far stretch.
"They will ride him. I have been around a long time. They will ride them at some point. He might not have his very best day, and somebody will have a good day and they will ride him, or he may have his very best day and somebody can ride him."
Fans can watch Heartbreak Kid buck Sunday on CBS Sports Network at 8 p.m. ET, as well as on RidePass at 3:45 p.m. ET.
Heartbreak Kid will be joined in the championship round by World Champion Bull contenders Smooth Operator, Fearless and others.
Heartbreak Kid turned 6 years old on Saturday.
The bovine has only been ridden once at all levels of competition, including pro rodeos.
Luciano de Castro, currently the No. 5-ranked bull rider in the world, rode him at the 2017 Velocity Tour event in Denver for 75 points.
Castro was offered a re-ride, but he turned down the option.
Outside of that subpar outing, Heartbreak Kid is 56-1 at all levels, according to ProBullStats.
Heartbreak Kid's streak of 28 buckoffs is three behind PBR-leader Bad Touch (31) for the most among active bulls.
The 6-year-old is 4-0 this season on the Unleash The Beast with an average bull score of 43.81 points.
Heartbreak Kid has bucked off two PBR World Champions – Silvano Alves and Jess Lockwood – and 10-time PBR World Finals qualifier Cody Nance and seven-time PBR World Finals qualifier Lachlan Richardson.
Lockwood has lasted the longest on Heartbreak Kid in premier series competition, bucked off at 6.7 seconds in Sacramento, California, on Jan. 27.
Heartbreak Kid had one his most honest trips with Lockwood as he turned into a steady spin away from the world No.1's hand.
"He's smart and a Page bull," Lockwood said. "Any Page bull is strong if they want to be. He tries to knock your teeth out."
Heartbreak Kid was scored a career-best 46 points during last year's World Finals when he bucked off Chase Outlaw.
The bull is the son of two-time PBR World Finals qualifier DaNutso and the nephew of three-time World Champion Bull SweetPro's Bruiser.
"He is more standoffish (than Bruiser)," Page said. "He would rather you leave him alone. He is not about scratching and all of that stuff. He is good to handle and stuff still."
He may nice to work with at home, but in the arena, Heartbreak Kid is far from cooperative to his human opponents.
He has some trickery to him when it comes to making a mockery of the world's best bull riders.
Page said that Heartbreak Kid is using primarily a three-pronged attack when it comes to bucking off his foes.
Most Heartbreak Kid trips begin with a hop, bounce and a skip.
The goal is to get his human opponent off balance before he turns back, using his strength to rip the rider to the ground.
"He will change it up," Page said. "He bucks more off feel than he does pattern. Just a little bit of everything. Mostly he feels the riders out. That little bounce, skip and set-'em-up jump before he turns is what he's about.
"He is trying to get them moved to one side or the other. For the most part, once he goes, he goes. He wants to kind of get them off kilter before he turns."
Follow Justin Felisko on Twitter @jfelisko