Teel wins first UTB event of the season in Tacoma
By : Mandi McCary
March 31, 2019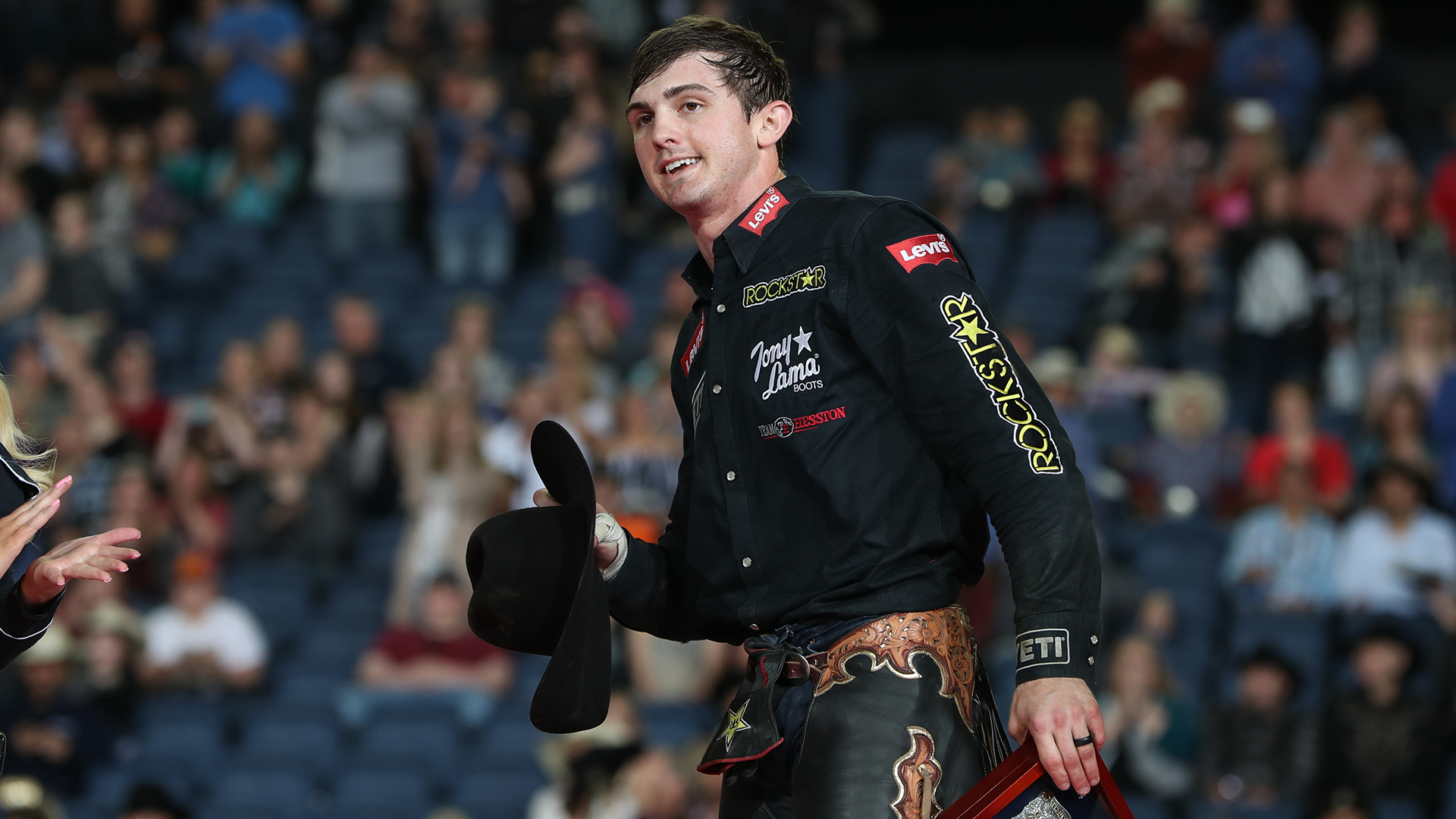 TACOMA, Wash. – Cody Teel (Kountze, Texas) rode his way to his first PBR (Professional Bull Riders) Unleash The Beast Tour event win of the 2019 season after being the only cowboy to go 3-for-3 during the record weekend in Tacoma.
The 2012 PRCA champion bull rider rode Diamond Willow (Dakota Rodeo/Chad Berger/Clay Struve/Diamond Willow/Riley Samford) in Round 2 for 85.75 points putting him in position to select Freckles Brown (Wentz Bucking Bulls/New West Rodeos) in the championship round draft.
The Texas cowboy recorded an impressive 90.25 points in the championship round, propelling him to the win. He took home $35,975 and earned 512.5 world points, moving him from No. 32 to No. 8 in the world.
Joe Frost (Randlett, Utah) took home second place for the weekend. Although Deep Water (Dakota Rodeo/Chad Berger/Clay Struve/Heald Pro Bulls) dispatched Frost in Round 2, Frost brought the arena to their feet with an event-high 90.5-point ride atop Rewind (Corey & Lange Pro Rodeo/Flying Diamond Rodeo). The cousin of legendary cowboy Lane Frost was awarded $20,000 and 390 world points, pushing him from No. 43 to No. 16 in the world.
Third place went to Matt Triplett (Columbia Falls, Montana). The Montana native led the event heading into the championship round after scoring 87.5 points aboard Pennywise (Dakota Rodeo/Chad Berger/Clay Struve/Staci Wilks/N Bar Ranch) in Round 2. Though Triplett bucked off Spotted Demon (Julio Moreno/Dallas Schott) in the final round of the event, he was able to hold on for the third-place finish and earn $13,150 and 290 world points. He jumped from No. 26 to No. 21 in the world standings.
Native American rider Stetson Lawrence (Williston, North Dakota) came in fourth place for the weekend after riding Beaver Creek Beau (Chad Berger/Clay Struve/PBR Rock Bar) for 88.25 points. Lawrence couldn't hold on to Biker Bob (Dakota Rodeo/Chad Berger/Clay Struve/H&C Bucking Bulls) in the championship round. For his efforts, the North Dakotan took home $9,350 and 205 world points moving him from No. 36 to No. 24.
Rounding out the top five for the event was Rubens Barbosa (Iaciara, Goias, Brazil). Despite the PBR veteran cowboy coming down early in both rounds on Sunday, Barbosa's Round 1 win helped him remain among those on the top of the event leaderboard. Barbosa couldn't make the 8 aboard Jasper (Wentz Bucking Bulls/New West Rodeos) in Round 2 and Soup in a Group (Dakota Rodeo/Chad Berger/Clay Struve/Wilks Ranch) tossed the Brazilian to the dirt in a mere 1.91 seconds in the championship round. Barbosa took home $7,480 and 115 world points moving him from No. 18 to No. 14.
The title of Yeti "Built for the Wild" Bull of the Event was awarded to Smooth Operator (Dakota Rodeo/Julie Rosen/Clay Struve/Chad Berger) for his monster 46-point out, bucking off Cannon Cravens (Porum, Oklahoma) in 5.62 seconds.
Replays from Round 2 and the Championship Round will be available starting at 8 a.m. ET on Monday, April 1 on Ridepass.com or via the Ridepass mobile app.
The Top 35 bull riders in the world will now head to Sioux Falls, South Dakota, for the First PREMIER Bank PREMIER Bankcard Invitational at the Denny Sanford PREMIER Center April 5-7.
In other PBR news this weekend, looking to make his way back into the Top 35 in the world, Keyshawn Whitehorse (McCracken Springs, Utah) came up big during the PBR (Professional Bull Riders) Pendleton Whisky Velocity Tour (PVT) Casper Classic on Saturday night at the Casper Events Center in Casper, Wyoming.
Whitehorse started section two with a huge ride aboard Phenom Genetics' 10-year-old bovine Hy Test (Phenom/JCL/Swalin/Goods Bucking Bulls/Sankey Pro Rodeo). Whitehorse took the lead in the event with his 87.5-point ride score. In the championship round, Whitehorse was the last rider to go. He made it worth the wait, putting up 86 points on Smooth Sailing (Dakota Rodeo/Julie Rosen/Clay Struve/Chad Berger) to win his first Velocity Tour event of 2019.
With the win he earned 220 points towards the PBR world standings along with $7,750. But more importantly, he is now the 37th-ranked bull rider in the world.
Every winner of a Pendleton Whisky Velocity Tour event has an opportunity to compete at an Unleash The Beast series event, and with the victory in Casper, Whitehorse earns the right to compete in Cheyenne, Wyoming, at the third PBR Major of the season, Last Cowboy Standing at Cheyenne Frontier Days on July 22-23.
The win also earned Whitehorse a spot at the Komatsu Equipment Days of '47 Cowboy Games & Rodeo, presented by Zions Bank, on July 19-24 in Salt Lake City, Utah.
Professional Bull Riders - TACOMA INVITATIONAL PRESENTED BY COOPER TIRES
Tacoma Dome - Tacoma, WA, 2019
Event Leaders (Round 1-Round 2-Round 3-Round 4-Round 5-Event Aggregate-Event Points)
1. Cody Teel, 85.75-85.75-90.25-261.75-512.5 Points.
2. Joe Frost, 87.25-0-90.5-177.75-390 Points.
3. Matt Triplett, 87.75-87.5-0-175.25-290 Points.
4. Stetson Lawrence, 84.75-88.25-0-173.00-205 Points.
5. Rubens Barbosa, 88.5-0-0-88.50-115 Points.
6. Ezekiel Mitchell, 83.5-0-87.25-170.75-105 Points.
7. Ruger Piva, 86-84.75-0-170.75-95 Points.
8. Cannon Cravens, 0-87.75-0-87.75-70 Points.
9. Silvano Alves, 0-86-0-86.00-50 Points.
10. Danilo Carlos Sobrinho, 85.75-80.75-0-166.50-42.5 Points.
11. Lawson Nobbs, 0-85.5-0-85.50-20 Points.
12. Marco AntÙnio Eguchi, 85-0-0-85.00-10 Points.
(tie). Daniel Tinsman, 0-85.25-0-85.25-10 Points.
14. Jo"o Ricardo Vieira, 84.25-0-0-84.25-5 Points.
(tie). Tanner Byrne, 84.25-0-0-84.25-5 Points.
16. Chase Outlaw, 0-83.5-0-83.50
17. Dakota Buttar, 0-83-0-83.00
18. Alisson De Souza, 0-82.5-0-82.50
19. Marcus Mast, 82.25-0-0-82.25
Jose Vitor Leme, 0-0-0-0.00
Luciano De Castro, 0-0-0-0.00
Ryan Dirteater, 0-0-0-0.00
Cody Jesus, 0-0-0-0.00
Lucas Divino, 0-0-0-0.00
Claudio Montanha Jr., 0-0-0-0.00
Colten Jesse, 0-0-0-0.00
Derek Kolbaba, 0-0-0-0.00
Taylor Toves, 0-0-0-0.00
Scottie Knapp, 0-0-0-0.00
Junio Quaresima, 0-0-0-0.00
Eduardo Aparecido, 0-0-0-0.00
Dylan Smith, 0-0-0-0.00
Mason Taylor, 0-0-0-0.00
Jordan Hansen, 0-0-0-0.00
Brady Sims, 0-0-0-0.00
Kaique Pacheco, 0-0-0-0.00