SweetPro's Bruiser to make 2019 UTB debut in Sioux Falls
By : Justin Felisko
April 03, 2019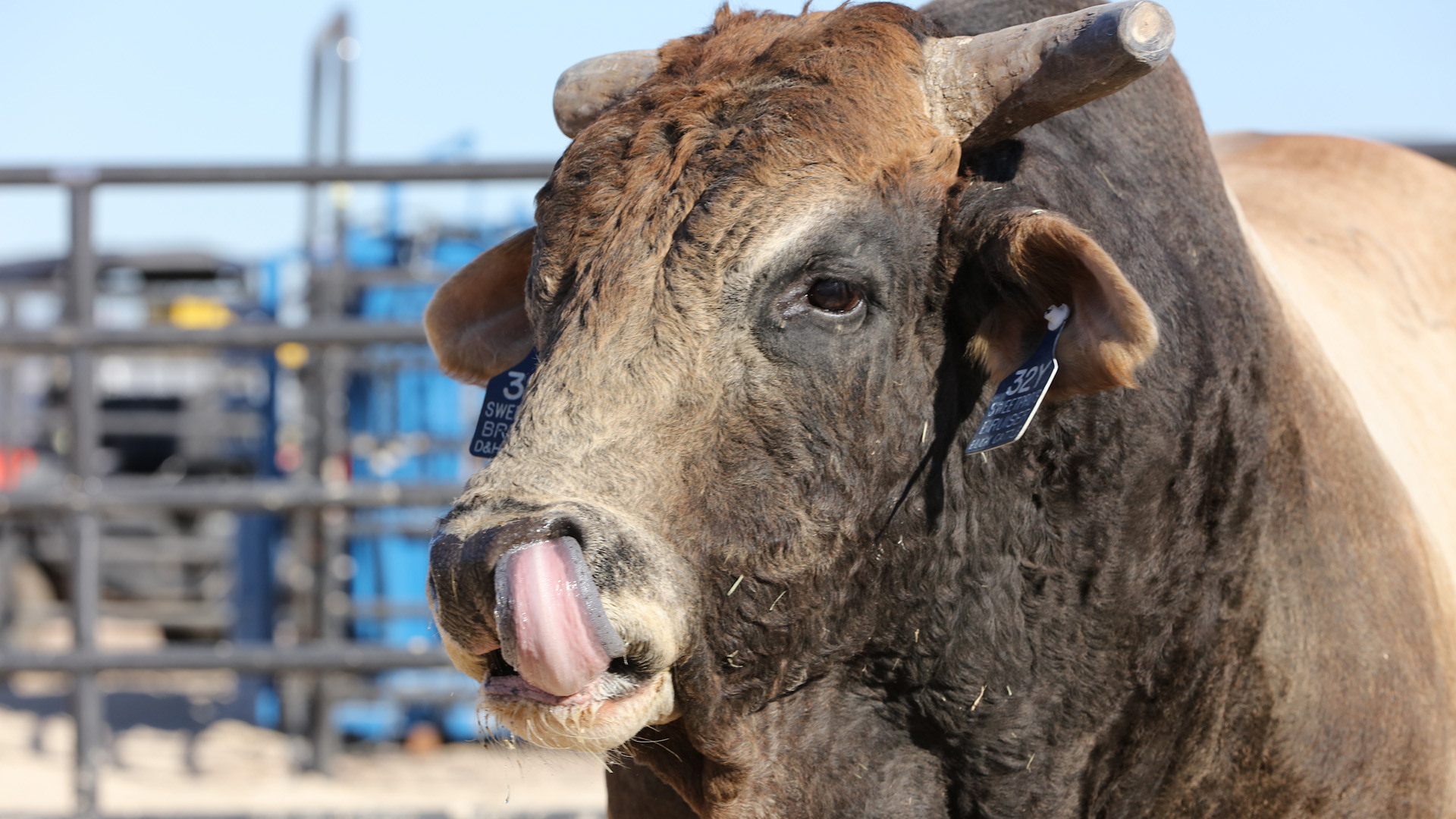 PUEBLO, Colo. – Is the end of an era on the horizon for SweetPro's Bruiser or is the beginning of a record-setting march toward a fourth World Championship about to get underway on Friday night?

Heading into Round 1 of the First PREMIER Bank PREMIER Bankcard Invitational in Sioux Falls, South Dakota, no one knows just yet.
H.D. Page has said repeatedly this year that he would only haul the reigning three-time World Champion Bull to the PBR's highest level when he felt the bull was ready to compete for a World Championship.

Bruiser has a run in him, Page believes, and that is certainly his thinking as he brings his 8-year-old, superstar and all-time great into the Denny Sanford Premier Center this weekend.

"I just want to see where we are at," Page said on Tuesday evening. "I feel like he is a contender for Bucking Bull of the Year. That is where I am at. I think my bull has a chance to win the whole deal and that is why I am bringing him to Sioux Falls and want to buck him twice."

Bruiser has drawn No. 11 Ezekiel Mitchell for Round 1 on Friday night at the Denny Sanford PREMIER Center.

Fans can watch Round 1 exclusively on RidePass beginning at 8:30 p.m. ET.

PBR Director of Livestock Cody Lambert will decide this weekend whether Bruiser bucks again on Sunday in the championship round based on Bruiser's Round 1 performance.
Lambert hopes Bruiser proves him wrong, and that the bull he believes is the "greatest of all time" demonstrates his World Championship pedigree.

However, Lambert has his hesitations.

"I hope he is as good as he used to be, and I am afraid he is not going to be," Lambert said Wednesday. "He drew perfect. He got Ezekiel Mitchell in the first round. It will be a good test for both of them. If he looks like a championship-round caliber bull, he will be in the championship round on Sunday."

Mitchell was surprised to learn he would be facing the legendary bull on Friday night.
"Really?" Mitchell asked. "Me and Bruiser. I have been waiting on this for a while now."
Bruiser is 45-13 with a 45.55-point average in his PBR career.

The D&H Cattle Company standout has bucked this year, just not on the Unleash The Beast.

Bruiser bucked off Dusty Craig in 3.19 seconds for a 45.5-point bull score on March 15 at the Belton, Texas, Touring Pro Division event.
"I feel like at Belton he was back to the norm," Page said.

Belton was Bruiser's third out of 2019 after he bucked twice at the San Antonio Stock Show & Rodeo in February. Four-time PRCA champion J.W. Harris rode Bruiser for 92.5 points to win the bull riding, while Bruiser bucked off Tristan Mize earlier in the rodeo.

"I feel like at the San Antonio rodeo when J.W. Harris rode him for 92 points, I felt like if the judges didn't know that was Bruiser out there he would have been 86-87 points," Lambert said.

Harris said following San Antonio that he believes Bruiser could push for another World Championship in 2019.
Lambert and Page had a long conversation this week about Bruiser when Page called Lambert asking if he could bring Bruiser to Sioux Falls.

The two eventually decided an option for Bruiser was the potential for Bruiser to buck twice in Sioux Falls.
Round 1 gives Lambert the opportunity to see what Bruiser has in him, and a second out on Sunday would help Page and Bruiser make up some ground in the 2019 World Championship bull race.

"I needed to buck him twice there," Page said. "I rather buck him the first day and the last day and have the middle day as a layover or break."

A bull needs eight outs on the premier series/Global Cup to be eligible for the title heading into the World Finals.

Smooth Operator is currently leading the World Champion Bull race with a 45.42-point average on six outs.

Sioux Falls will be Bruiser's first long-round out at a non-PBR Major or the World Finals since he competed in Round 1 & 3 at the premier series event in Springfield, Missouri, in 2015, when he was an ABBI Classic Bull.
Both Lambert and Page agree that Bruiser has nothing left to prove in his career.

"He is the best of all time," Lambert said. "I don't think he is the rankest. Bushwacker is the rankest I have ever seen and the rankest bull there has ever been. But, right now Bruiser is the best of all time. He has won the ABBI, he has won the PRCA, he has won the PBR, he has been the top bull at the PBR Finals, he has been the top bull of the NFR.

"He is the most decorated bull there is."

Page said, "I know Lambert is a big fan of Bruiser and all of that. I am not mad at him. He thinks I should retire him. That is the deal, and I don't think he is over the hill. I think he is still the best bull in the world. If I thought he was the 16th best bull at Sioux Falls, he would be out on cows.

"I'm 100 percent confident he will be bucking on the first and last day."

Lambert isn't sure if Bruiser will be able to pursue a fourth world title, but not many gave Adriano Moraes a shot when he came out of the woodwork to win a third World Championship at 36 years old.

Lambert noted he once felt like three-time PRCA champion Pacific Bell had reached the end of his career only to be proven wrong by Pacific Bell.

The then bull rider said publicly he felt Pacific Bell should have been retired already before Pacific Bell bucked him off and gave him two broken ribs later that night during Cheyenne Frontier Days.

Lambert's appreciation for Bruiser has him hoping he is wrong.

"I've been wrong about plenty of bulls, and been wrong plenty of times," Lambert said. "I don't have any problem if I am wrong. I hope that I am wrong. I really do. No story would be better about Bruiser coming back against the odds and winning it. He has won it every other way you can win it. That would be amazing. That would be like Adriano winning his last world Championship.

"I would love to see that happen, but realistically I don't think it is going to."
Follow Justin Felisko on Twitter @jfelisko