Taylor becomes first rookie since 2017 to win regular-season event
By : Justin Felisko
April 10, 2019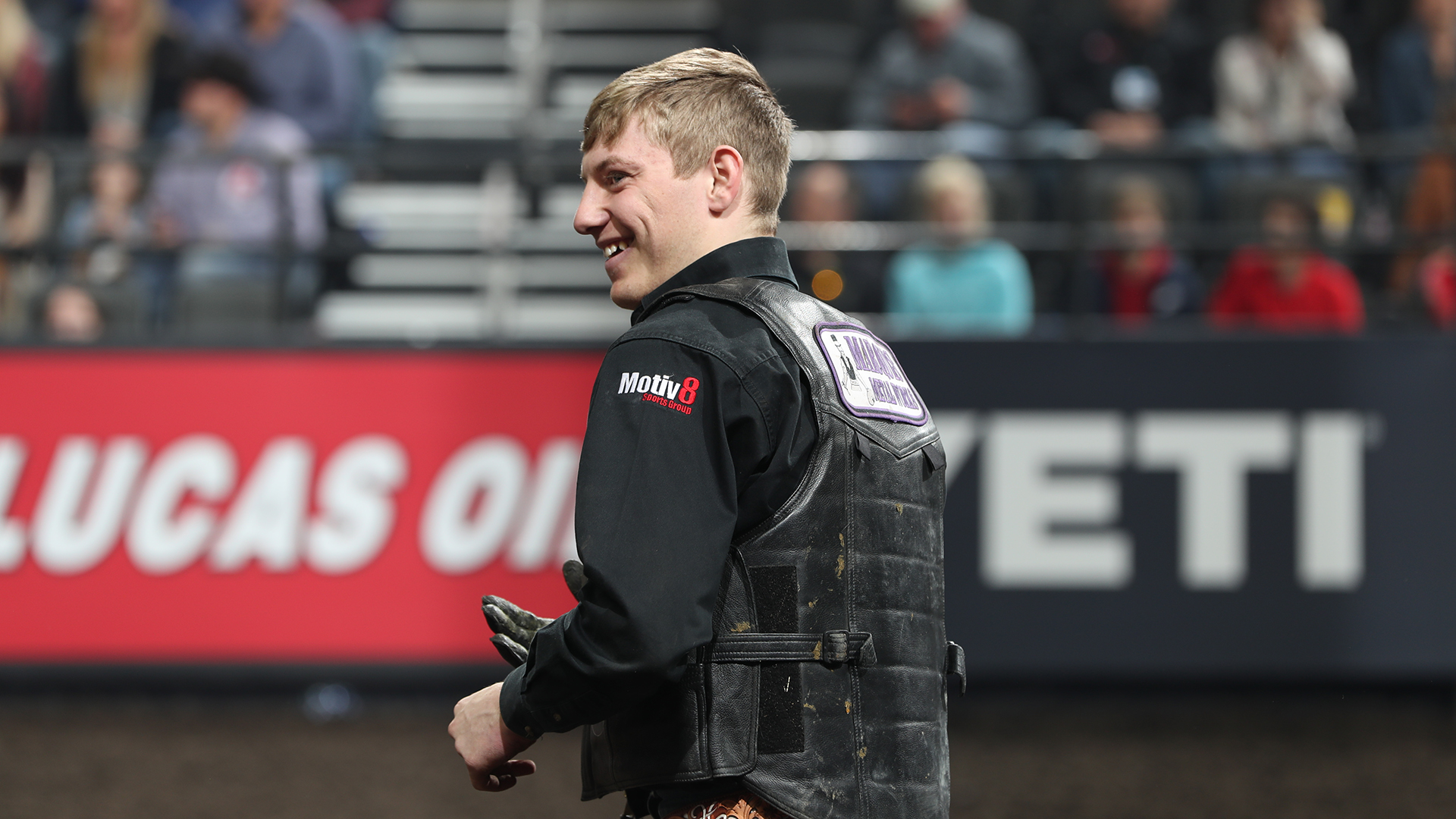 PUEBLO, Colo. – Mason Taylor choked up as he held the sparkling belt buckle in his hands inside the Denny Sanford Premier Center on Sunday afternoon.
The 19-year-old had wanted this moment ever so badly.
Taylor had all of the confidence and swagger in the world when he first bought his PBR card last season at 18 years old.
In his mind, he should have been at the 2018 PBR World Finals and already had a premier series event victory on his resume.
Taylor has been vocal at times about his expectations and self-confidence, but on the inside, he was having the same struggles as many other young athletes.
The adjustment to the pro level was hard, and he admits that the first three months of 2019 were brutal for him at times as he tried to cement himself on the Unleash The Beast.
"My motor can run too much," Taylor said. "I had been so ready to freaking get one of these event wins under my belt. I am ready for my career to bust wide open. Up to now, I am only 19 and being up here, I did stuff right at the lower level (Pendleton Whisky Velocity Tour), and I am tired of freaking being that one-ride-a-weekend guy.
"People are like, 'This kid has got talent, but can he string three in a row? Four in a row?' I wanted to slide up there, and grit my teeth, and show I actually mean it."
Taylor showed what he was all about and then some in Sioux Falls, South Dakota.
The Maypearl, Texas, bull rider became the first rookie to win a premier series regular-season event since Dener Barbosa won the Raleigh, North Carolina, event on Oct. 14, 2017 by going 4-for-4.
Taylor, though, had to hold his breath ever so tightly to make sure he indeed got the victory.
The rookie waited out a judge's review to make sure he still had the tail of his bull rope during his career-best 89.25-point ride on M.A.G.A. to ensure the first victory of his career.
"You dang right I had the rope," Taylor said following the event. "I was scared in the bucking chute. I had it really, really sticky. He come around and I thought I was going to eat him up like a piece of cake. He was perfect.
"That son of a gun went to blowing and dropping and he had my chin up. I was like, 'Oh Lord, J.W. (Hart) ain't going to let me ever live this down if this bull bucks me off."
Coincidentally, Taylor is the third rookie to ride J.W. Hart's M.A.G.A. this season.
Taylor's cousin, Cannon Cravens, rode M.A.G.A. for 87 points at the PBR Global Cup USA in Arlington, Texas, and Cody Jesus was 87.75 points on M.A.G.A. in Glendale.
"He is a bucker, for sure," Taylor said. "He feels good. He has everything you want. A lot of drop. A lot of kick. He bucks really hard. It is something you should want to get on in the short round."
M.A.G.A. was a great fit for Taylor, but selecting him with the No. 1 pick in the draft was not so easy.
Taylor was debating selecting three-time World Champion SweetPro's Bruiser instead.
However, his dad, who has continuously wanted Mason to get on Bruiser, actually said that M.A.G.A. could also be a good fit – if not better.
"I actually got a phone call and he said, 'Don't be stupid. Get your first win under your belt. Be the dragon slayer next week,'" Mason said of his Saturday conversation with his father.
"He finally told me to be smart. 'Win.' He said, 'I am tired of you coming home pissed off.'"
Taylor earned the right to select first in the draft by riding Picking Up Pennies for 87.75 points in Round 3.
That score came following his perfect start in Sioux Falls with rides aboard Smoke Signals (86.25) and Crazy Cat (85).
It was only the second time this season that Taylor rode his Round 1 bull in seven Unleash The Beast events.
"I had to learn how to lose every weekend," Taylor said of his 5-for-14 start to 2019 on the UTB. "That is not something I am used to, coming up here. I get mad. I throw shit. I get pissed off, and I fly off the handle because I do not like losing."
Instead of crumbling under the pressure in Sioux Falls, each ride only added to Taylor's confidence.
Confidence finally replaced anger.
Viciously tossed bull ropes in frustration became celebratory helmet tosses.
Blood-boiling red cheeks evolved into a pearly white smile.
"I am telling you, if I knock the first one out, I have no more butterflies," Taylor said. "It is bull riding. You are going to be nervous, but I had no more butterflies after that first one. I told you if I can crack the first one out, it would be a good weekend."
Taylor's victory has him right on the heels of the injured Jesus (left groin) for the lead in the Rookie of the Year race.
He picked up 652.5 points in the standings to move to within 101.67 points of Jesus.
Even more impressive is his jump in the world standings. He moved up 32 spots, going from 40th to No. 8.
Taylor is 9-for-19 (47.37%) in seven UTB events. The victory is his first Top 10 finish of 2019.
He trails world leader Jose Vitor Leme by 1,575 points heading into this weekend's Billings Invitational, presented by Cooper Tires.
Taylor takes on Chocolate Junior (1-0, UTB) in Round 1 in Billings.
Fans can watch Round 1 exclusively on RidePass beginning at 9:30 p.m. ET.
2016 World Champion Cooper Davis, who won the PBR World Finals in 2015 as a rookie, tipped his hat this weekend to Taylor.
"The first one is the hardest one to get by," Davis said on RidePass. "Mason Taylor may be a serious contender these next few events."
That is how Taylor would rather be known.
A contender.
Not just a rookie.
"Nobody up here (knows me)," Taylor said. "They are like, 'Who is Mason Taylor?'
"I want to show them who I am. I am tired of being just the kid on tour that is just a rookie. I want to be the first rookie to win a world title."
Follow Justin Felisko on Twitter @jfelisko