Billings draw: Bruiser bucking twice, Smooth Operator returning & multiple riders hurt
By : Justin Felisko
April 10, 2019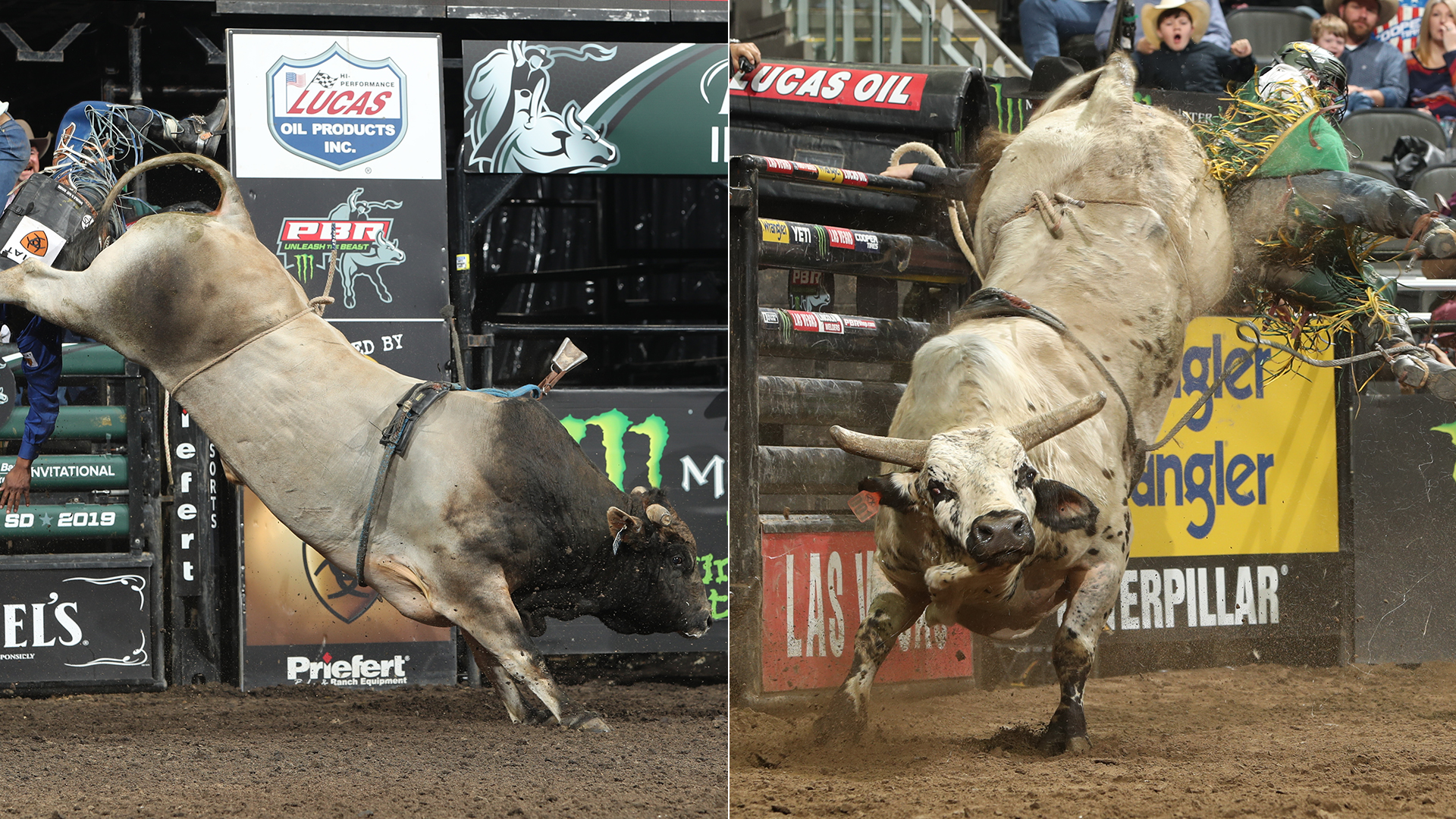 PUEBLO, Colo. – The first showdown between reigning World Champion SweetPro's Bruiser and Smooth Operator is just a few days away.
Bruiser returned to UTB competition last weekend in Sioux Falls, South Dakota, with two standout performances – 45- and 46.25-point scores – to put himself immediately back into the 2019 title conversation.
Yes, Bruiser may have the highest World Champion Bull average now at 45.63 points, but that is only on two outs.
Stock contractor H.D. Page understands that for Bruiser to truly get back into the race, he needs to accumulate qualified outs on his bull as soon as possible.
Therefore, he has decided to buck Bruiser twice this weekend at the Billings Invitational, presented by Cooper Tires.
Bruiser will buck in Round 1 on Friday against three-time World Champion Silvano Alves before again taking center stage Sunday inside Rimrock Auto Arena during the championship round.
The matchup is a $1,000 Tire-rama/Cooper Tires bounty. If Bruiser bucks off Alves, $1,000 will go to the Western Sports Foundation. Alves gets the money if he reaches 8 seconds.
Alves and Bruiser have never matched up before.
Fans can watch Round 1 exclusively on RidePass beginning at 9:30 p.m. ET.
"I just need to make up some ground and I told (PBR Director of Livestock Cody) Lambert I would like to buck him in the long round again," Page said. "I've got to get eight outs. Before the Finals, I would like to have 12 or so."
The 2019 YETI World Champion Bull is based on a bull's top eight outs during the premier series regular season/Global Cup USA and two outs at the PBR World Finals. The bull with the highest average bull score across those 10 outs will be crowned the champion.
"I would like to come in (to the Finals) with a 46.5-point average," Page said. "That may not happen, but that is what I am shooting for."
The Billings championship round on Sunday is going to be a great showcase of the three rankest bulls going in the PBR.
Smooth Operator, who is averaging 45.42 points in six outs, is returning to competition for the first time since posting his third 46-point score of 2019 when he bucked off Cannon Cravens (5.62 seconds) in Tacoma, Washington.
The 9-year-old's three 46-point outings are the most in the PBR.
Meanwhile, No. 3 Fearless – the first bull to officially qualify for the World Championship with eight outs – will look to bounce back from an average 44.5-point score last weekend when he outlasted Alves (7.04 seconds).
No. 6 Smooth Wreck is also in the round following his career-best 46.5-point score last week (7.18 seconds vs. Luciano de Castro) in Sioux Falls.
Bruiser and Smooth Operator finished first and second in the 2018 World Championship race.
Coincidentally, the two rarely bucked at the same events last year. Smooth Operator missed four months during the first half of the season, while Bruiser did not compete at any second half events before the Finals.
In fact, the two stout bovines only bucked in the same round four times in 2018.
Smooth Operator outscored Bruiser at the 2018 PBR World Finals 92 to 90.5, while Bruiser was the higher-scored bull in two early season meetings.
LOCKWOOD A FEW WEEKS AWAY
2017 World Champion Jess Lockwood was replaced in the draw late Wednesday by No. 57 Luis Blanco.
Lockwood hoped to be cleared by Dr. Tandy Freeman after getting a CT scan on his broken left collarbone in Montana.
The collarbone is now healing well, according to Lockwood, but he does not want to risk further damage by coming back to soon.
"If I tried to ride, it would just re-break because its not solidly held together yet," Lockwood said. "I'm just going to keep doing what I've been doing because it's working real good."
Lockwood says he will likely return to competition on May 3 at the Touring Pro Division event in Uvalde, Texas.
The No. 3 rider in the world standings has been out of competition for two months, missing the last seven events since breaking his collarbone at the 2019 WinStar World Casino & Resort Global Cup USA on Feb. 9 in Arlington, Texas.
Lockwood trails world leader Jose Vitor Leme by 424.16 points.
INJURY UPDATES: MAUNEY OUT
The Top 35 is completely ravaged with injuries right now with none more banged up than two-time World Champion J.B. Mauney.
Mauney sustained an apparent broken right ankle, according to Freeman, and informed the PBR competition department he will not be competing in Billings – where he won in 2017.
The 32-year-old was already riding with a fractured rib in Sioux Falls and has broken his leg, torn his groin and torn his ACL and MCL already this season.
Mauney is one of 10 Top 35 riders not competing in Billings.
No. 7 Cody Jesus (left groin), No. 11 Lucas Divino (dislocated left shoulder), No. 20 Aaron Kleier (personal choice/UTB suspension), No. 26 Cody Nance (dislocated left hip), No. 30 Koal Livingston (right groin), No. 31 Cody Heffernan (visa issues), No. 33 Daniel Tinsman (torn ligaments right knee/back) and No. 34 Brennon Eldred (broken jaw) are all out.
Divino said through Paulo Crimber that he will be out eight weeks because of his shoulder injury, but that he will not have to get surgery.
Tinsman said he is likely out for the next two events, but he does not want to get surgery until following the PBR World Finals.
There are a handful of top alternates also out because of injuries: No. 36 Eduardo Aparecido, who underwent surgery for his broken jaw on Tuesday afternoon, No. 41 Stormy Wing (head), No. 43 Sean Willingham (broken leg) and No. 45 Tanner Byrne (separated right shoulder).
ALTERNATES CHASING TOP 35; KRANTZ TO DEBUT
Eldred is hanging on to the final Top 35 ranking in a tie with Junio Quaresima.
He is hopeful to be back in two weeks for the Wrangler Long Live Cowboys Classic, presented by Cooper Tires, in Columbus, Ohio, on April 27-28.
Quaresima got beat up during his three buckoffs in Sioux Falls, but the 25-year-old is going to grit it out and ride in Billings.
He will attempt to end his streak of nine consecutive buckoffs when he faces Happy Camper (1-2, UTB).
Until then, the alternates will be trying to move ahead of him in the standings this weekend.
There are 10 riders that are alternates/exempt riders competing in Billings – No. 37 Dakota Buttar (-5 points), No. 39 Ruger Piva (-27.5 points), No. 40 Dylan Smith (-43.34 points), No. 42 Marcus Mast (-77.5 points), No. 44 Bryan Titman (-95.84 points), No. 46 Dalton Krantz (-125 points), No. 49 Lawson Nobbs (-127.5 points), No. 53 Lindomar Lino (-147.5 points) and No. 93 Kaique Pacheco (-306.67 points).
No. 115 Dakota Louis is this week's Native American invite. Louis is coming off a second-place finish at the Ivins, Utah, Touring Pro Division event where he went 2-for-2.
Krantz is a 19-year-old from Somers, Iowa.
The young gun has competed in five events so far in his young career and is 4-for-11.
He just recently returned to competition (March 15 in Belton, Texas) from a broken leg suffered at the Rainsville, Alabama, TPD event on Jan. 11.
He has posted back-to-back Top-3 finishes on the Pendleton Whisky Velocity Tour. Krantz finished runner-up to Livingston last week at the Bakersfield Buck Off.
He will look for his first qualified ride when he takes on Morning Wish (1-0, UTB).
This weekend will also be Titman's season debut. He last competed on the Unleash The Beast last year in Billings, where he was bucked off by Too Smooth.
LEME TAKES 279.16 POINT LEAD INTO BILLINGS
World leader Jose Vitor Leme has the largest lead of his career atop the world standings, and now he will look to build on that in Round 1.
Leme has drawn War Cry (7-4, UTB).
War Cry just recently bucked off Leme in 3.24 seconds in Tacoma, Washington.
ADDITIONAL ROUND 1 REMATCHES
There are only two other rematches on Friday night.
Colten Jesse vs. Chain Smoker (3.61 seconds in Duluth, Georgia)
Ryan Dirteater vs. Cut The Cord (1-3 all levels; 86 points at 2017 World Finals)