Outlaw bearing down in Billings
By : Justin Felisko
April 13, 2019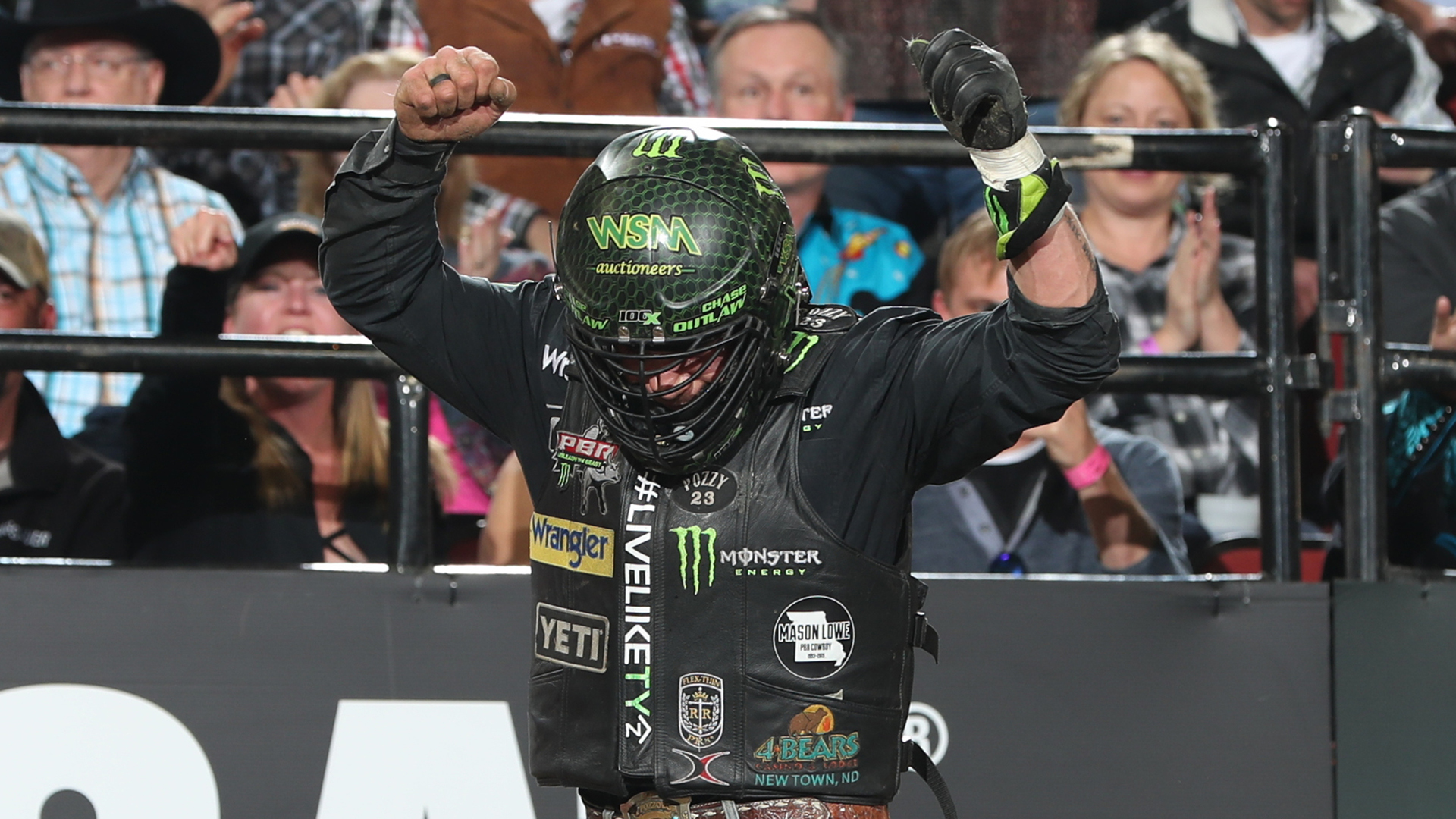 BILLINGS, Mont. – Chase Outlaw has had three reconstructive shoulder surgeries since 2015, so when Why Hell Ya began to buck and open the gates of wrath on him inside the chute on Saturday night, Outlaw couldn't help but think about not dislocating his shoulder.
He instead beared down like he normally does.
The Hamburg, Arkansas, bull rider eventually grit his teeth, regrouped, rewrapped and then took care of business by riding Why Hell Ya for 88 points during Round 2 of the Billings Invitational, presented by Cooper Tires.
"That is how you get out of one," Outlaw said. "I was trying to get my hand out of him and then I had my arm on the deal and I was like, 'I am going to dislocate my shoulder. Get that sucker down.'"
2016 World Champion and current event leader Cooper Davis was helping Outlaw on the chutes prior to him nodding for the gate inside Rimrock Auto Arena.
"I was scared I was about to be riding with you," Davis chimed in.
The ride propelled Outlaw to a second-place finish and 60 world points.
Outlaw was pleased to bounce back Saturday night following his Round 1 buckoff Friday against BJR Buck Norris (2.22 seconds).
"Man, like last night was just pitiful," Outlaw said. "I don't know. Coop knows. You show up some days and no matter what you do, you just don't feel it."
Outlaw – the No. 2 bull rider in the world – trails world leader Jose Vitor Leme, who is 0-for-2 in Billings, by 219.16 points heading into Championship Sunday.
The 26-year-old is one of two riders in the Top 5 of the world standings that could leave Billings as the new world No. 1 if Leme bucks off again on Sunday.
No. 3 Joao Ricardo Vieira is a perfect 2-for-2 following rides aboard Homegrown (87 points) and Cow-ah-Bunga (82 points) in Billings. Vieira is sitting in fifth place overall.
The 34-year-old entered the weekend with six straight buckoffs.
"Last week, I don't remember nothing," Vieira said. "I just did not have luck. I work the same. I keep trying. This is a new week. I have to look at the front. Not the back."
Vieira trails Leme by 421.66 points.
Fans can watch the conclusion of the Billings Invitational on CBS Sports Network (4 p.m. ET) and on RidePass (3:45 p.m. ET).
No. 5 Luciano de Castro did not compete in Round 2 because of a stomach virus. Castro began to get sick around 10:30 a.m. on Saturday and arrived at the arena looking ghostly pale.
Outlaw has looked hobbled at times the past few weeks on his disembarks, which he said is because of tightness in his hips.
The seven-time PBR World Finals qualifier cannot pinpoint exactly what has led to the tightness, but said four years ago he went through a similar thing. He also dislocated his right hip when he was 16.
"I don't know," Outlaw said. "Sports medicine is working on it every day. They are just so tight. They did this a couple of years ago and gave me some problems. One day it just quit hurting and it never hurt again until about 20 bulls ago."
Outlaw is 4-for-10 since winning the Caterpillar Classic in Kansas City last month, but he won't use any tightness or soreness as an excuse.
"Sometimes there will be a couple bulls where it is not so bad, but here recently it has been," he said. "For about 3 minutes it is like that and it is hell to walk out.
"Then after that it loosens back up."
Follow Justin Felisko on Twitter @jfelisko