Triplett: "You can definitely feel and hear the support system from being in Montana"
By : Darci Miller
April 14, 2019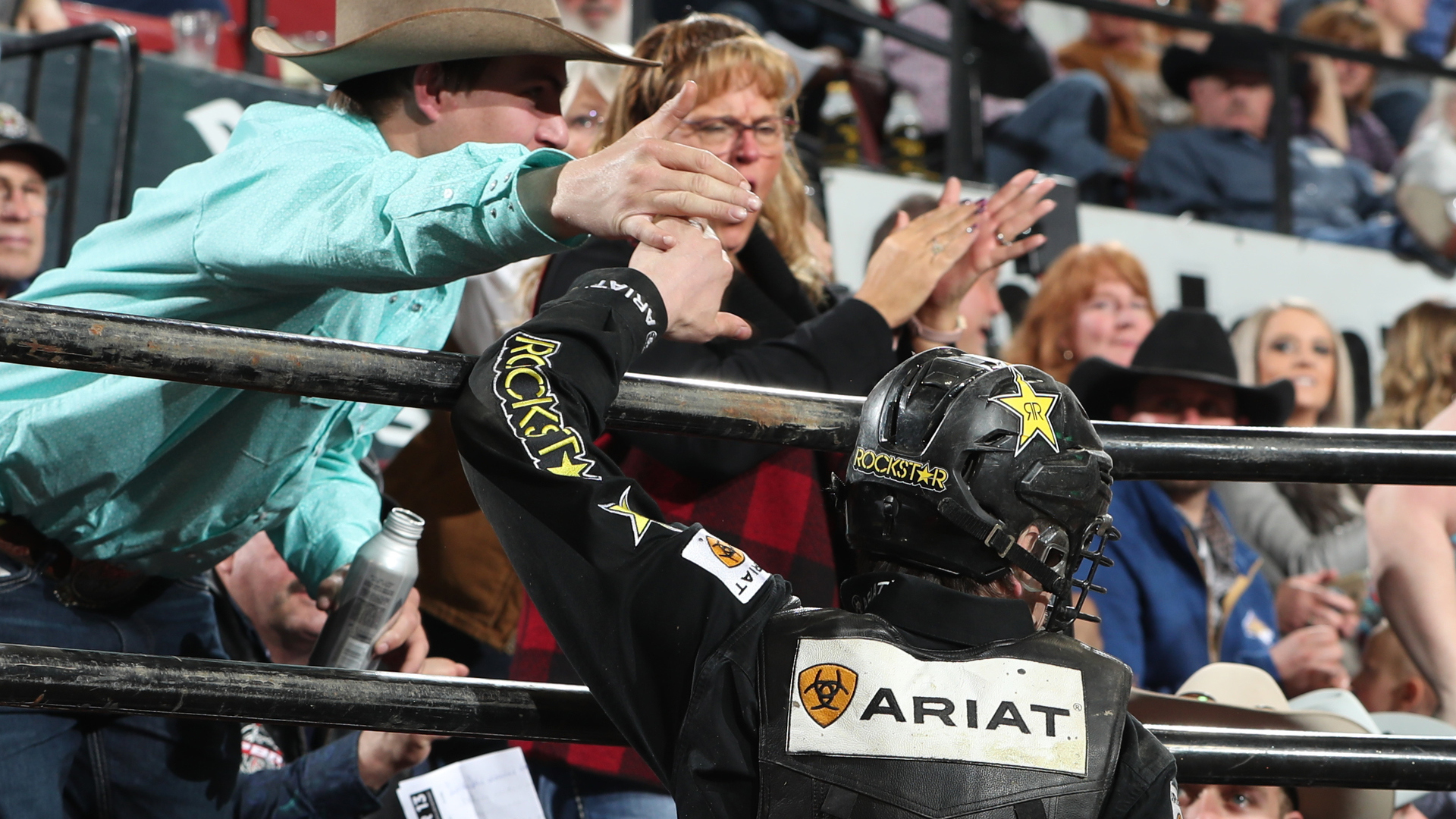 BILLINGS, Mont. – There are only three sure things in life: death, taxes and Matt Triplett showing up in front of a hometown crowd.
Last weekend in Sioux Falls, South Dakota, Triplett's adopted hometown since moving there with his fiancée, he went 1-for-2 to finish 11th overall, withdrawing from Round 2 after sustaining a concussion.
On Saturday night, in his native Montana, Triplett rode Budakon for 87.5 points to finish in third place in Round 2 of the Billings Invitational, presented by Cooper Tires.
The ride earned him 50 world points and has him sitting at No. 13 in the world standings heading into Championship Sunday at Rimrock Auto Arena.
Though Billings is a decent trek from his hometown of Columbia Falls – about eight and a half hours – Triplett reaps all the benefits of home field advantage whenever he sets foot in Big Sky Country.
"I like performing in front of crowds that back me up all year," Triplett said. "So it makes it kind of a huge relief because you're performing in the arenas where people support you when you're not there, so it's nice. It just feels comfort when you're riding there as well."
Many riders struggle to perform when expectations are high. Triplett, however, is now a lifetime 12-for-16 in Sioux Falls and Billings.
In Sioux Falls, Triplett had the advantage of sleeping in his own bed. While not the case in Billings, he certainly hears and loves the crowd support, and uses it to his advantage.
"The best support I think is when you're in the chute and your name gets called and the crowd just gets louder than anywhere else you've been, and that gives us excitement," he said. "The hairs on my neck stand up and it makes me want to perform a lot better.
"You can definitely feel and hear the support system from being in Montana or a New York or something. It's different, for sure."
His native Columbia Falls is about as far from a New York City as you can get. It's a little town near the Canadian border with a population of 5,355. As a kid, Triplett's dad rode bulls, and the family lived on a ranch where he broke horses.
"I was his dummy for the longest time," Matt said with a laugh.
While he says his hometown was chock full of rodeo people, bull riders were fewer and further between. Now that he's one of the elite riders in the world, he can't go back home without being a bit of a celebrity.
"If I go to the gas station or something, I get recognized and they'll congratulate me or tell me good job," Triplett said of his hometown support. "That means a lot to me, for sure."
His clan showed up in a big way in Billings, with Triplett estimating that there were a hundred friends, family members and college buddies from his days in Missoula in the crowd. His dad showed up as well, though in a different capacity: behind the chutes with the bulls he brought.
Even with the crowd support, Triplett was unable to make the 8 seconds in his Round 1 matchup against Jasper, hitting the dirt in a gut-wrenching 7.98 seconds.
"Yeah, that was a heartbreaker," he said. "But you know what? That's what comes with our sport. It's ups and downs, and that's what separates the champions from just the average guys – the ones that bounce back from being defeated and come back trying to hit a home run still.
"So I just believe, if any of them young kids need some advice, when you buck off one, let it go and be ready to come back the next day and be determined to get a victory."
That's exactly what he did in Round 2, determined to make the 8 aboard Budakon.
"Normally he's in the short round every week, and so I knew I had to step my game up and come with my hammer cocked, and that's what I did," he said. "That bull moves ahead a little bit, so you've got to ride him like a hard jumping kicker and get to the front or you're going to get strung out behind on him. I just knew I had to have one of my best days and that's what I needed to do to ride him."
Triplett has a rematch against Swayze for Round 3. He rode Swayze for 87.75 points in Tacoma, Washington, on March 30.
Fans can watch the conclusion of the Billings Invitational on CBS Sports Network (4 p.m. ET) and on RidePass (3:45 p.m. ET).
Despite his love for his hometown crowd, Triplett knows he can't let it get into his head too much.
Whether in Sioux Falls, Billings or New York, he's gunning for a buckle every single weekend.
"It don't make a difference if you come to your hometown or you go to a place where no one knows you. You've got to do the same thing," he said. "You've got to come here knowing that you're going to win, and if you don't know that you're going to win you might as well stay home. Because you're going against guys rosining their ropes next to you that are just as good as you are, so you've got to have that mentality that you're going to win."