SweetPro's Bruiser takes down two World Champions in Billings
By : Justin Felisko
April 14, 2019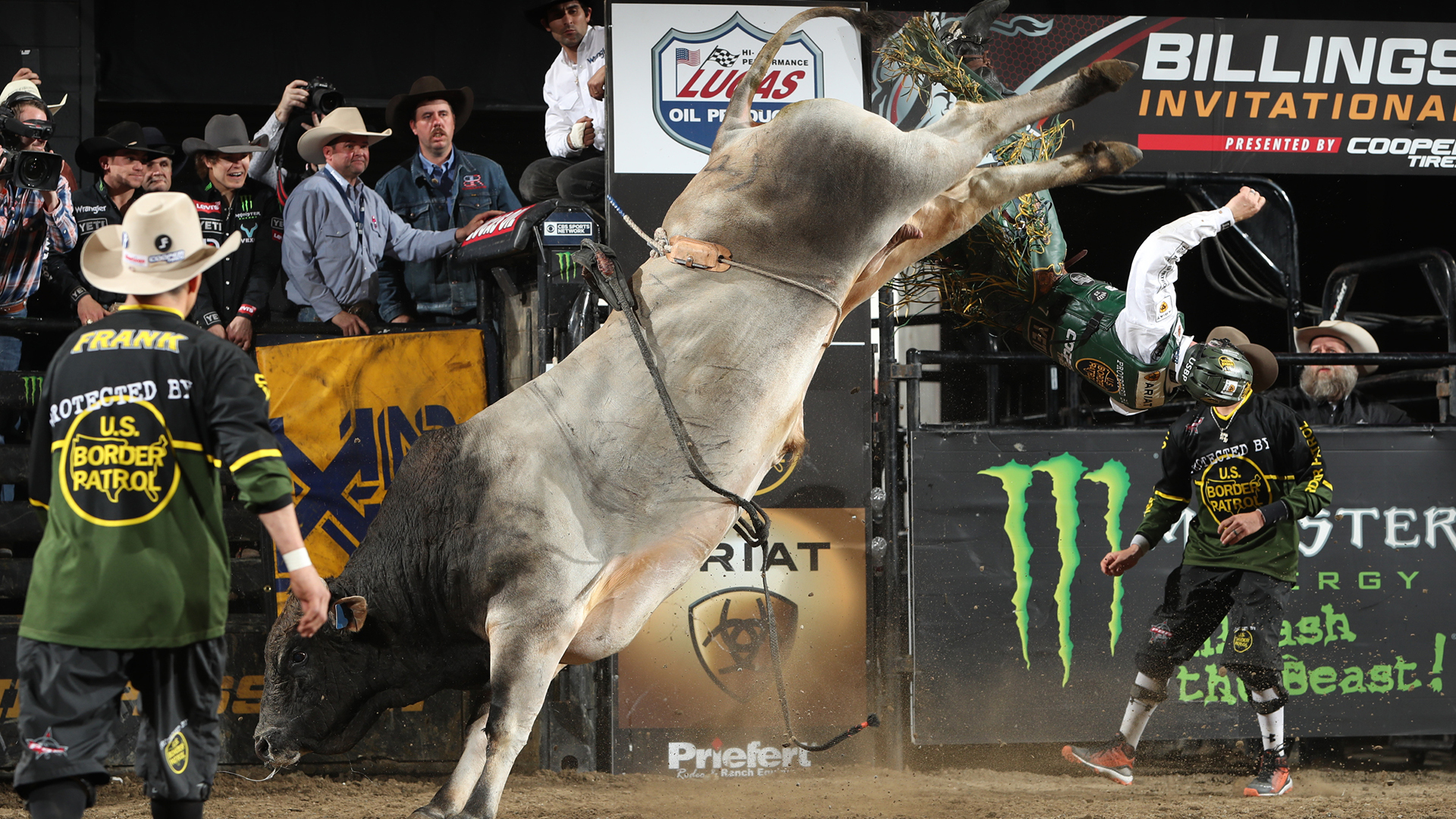 BILLINGS, Mont. – Three-time World Champion Silvano Alves and 2016 World Champion Cooper Davis had similar sentiments this weekend as they gathered themselves following buckoffs against reigning World Champion Bull SweetPro's Bruiser.
The two future Ring of Honor bull riders credited Bruiser for using his intelligence against them at the Billings Invitational, presented by Cooper Tires, as the No. 1 bull bested both of them in his second event back on the Unleash The Beast.
Davis was going for his first event win since January 13, 2018 when Bruiser capped off the event Sunday by sending Davis flipping to the Rimrock Auto Arena dirt in 4.01 seconds.
It was the second time the two champions have matched up after Bruiser previously bucked Davis off in 4 seconds in Duluth, Georgia, in 2016.
"First time I got on him, I was kind of in there a little bit and this time he had a little weird start," Davis said. "He beat me around there and I reset my feet and got my hips back to him, and about the time I did he had me beat with that big jump. He set me into my hand again."
Bruiser was marked 45.5 points for the second time this weekend to take home the YETI "Built for the Wild" Bull of the event honors.
The 8-year-old leads the YETI World Champion Bull race with a 45.56-point average bull score on four outs.
RELATED: Bruiser bests Alves in Round 1 in Billings
Alves lasted 6.14 seconds on Bruiser in Round 1.
"I tried hard to ride him, but he bucked me off," Alves said. "I am very happy for my first experience (trying) to ride him. I started good, but I stayed a little bit too much to the left of his spin. He is smart. He made a big jump and (went) right.
"He is so good. He was moving me to the outside on the first jump. I recovered inside and tried to stay inside a little bit as he (spun) left."
Davis said Bruiser makes him scratch his head because he does not feel too strong by any means.
"That is what he is so good at," Davis said of Bruiser's ability to feel his opponent. "It is not that he is strong. He just really feels for a guy. If he can hit you to that outside, he pretty much cracks just like a bareback horse.
"That is the deal. He don't feel strong, which normally doesn't make sense because a bull normally jerks your rope out of hand if he is pretty strong. It is a head scratcher for sure."
H.D. Page was back to flanking his bull on Sunday after having Joey Hales step in Friday because of flight issues.
Page was happy to see Bruiser take home top bull honors, but he still feels like the bovine is working his way back to his full potential.
"You always want more, but I am greedy," Page said. "He was good. He was really good."
He hopes to buck Bruiser again in Columbus, Ohio, on April 27-28 at the Wrangler Long Live Cowboys Classic.
The D&H Cattle Company stock contractor has now seen Bruiser buck four times on the Unleash The Beast, and he wants Bruiser to get better at separating himself from the bucking chutes cleaner.
Bruiser hugged close to the gate at the start of both his trips this weekend.
"I was happy with his out," Page said. "He is still getting a little close. He is a little bit off his game leaving here, but he will work it out. It is a mental deal. When he hears that latch, he pushes that gate with his shoulder and he uses that momentum. His timing is a little off. He is trying to turn a little close and he has to work his way through some of that."
Page also broke out a kickpad this weekend for Bruiser to make sure that when he explodes out of the back of the bucking chutes, he doesn't kick the steel chutes with his back legs.
The pad is an extra safety precaution for the legendary bull, and Page plans to continue to use it in the future.
"It worked good," Page said. "It is not in anybody's way, and it may not help anything, but it does not hurt anybody. It is not as sharp of a blow as the metal there. Bruiser has done it since he was a calf, and that is part of his pedigree. Long John did that. Buck Autism. All them Showtime sons. Showtime did it.
"When that gate cracks, their first jump is to kick the back of the chutes. Anything we can do to soften that blow back there to make them better down the road is a good thing."
SMOOTH OPERATOR & SMOOTH WRECK ON BRUISER'S HEELS
No. 2 Smooth Operator (45.39 World Champion Bull average) finished just a smidge behind Bruiser in the standings Sunday.
Smooth Operator bucked off Alisson de Souza in 5.79 seconds for a 45.25-point score during the championship round.
Meanwhile, No. 6 Smooth Wreck (44.68) placed third courtesy of his 45 points for bucking off Derek Kolbaba in 5.79 seconds in the championship round.
Follow Justin Felisko on Twitter @jfelisko