Teel gets first 2019 win with daughter in attendance
By : Justin Felisko
April 16, 2019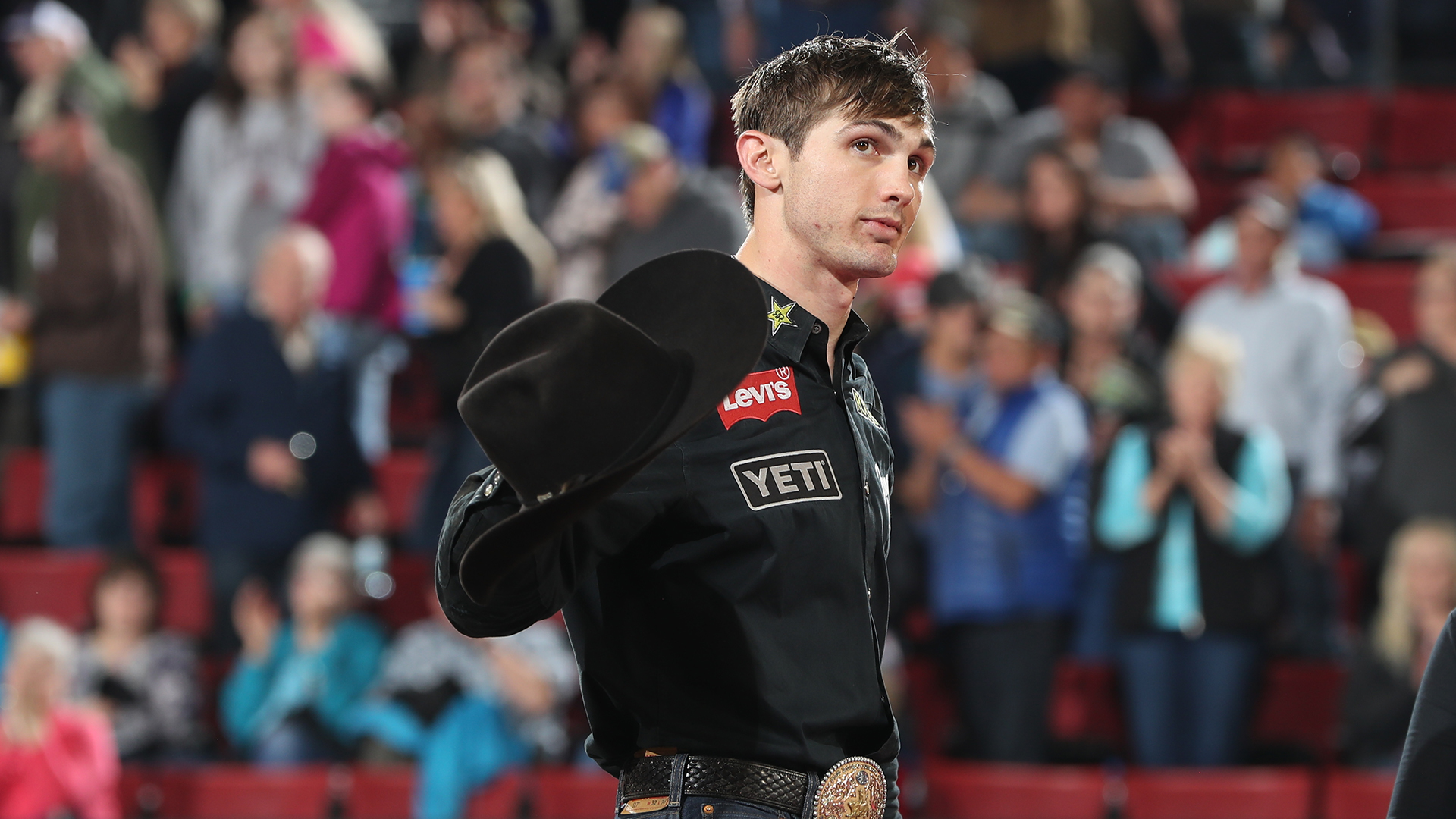 PUEBLO, Colo. – Cody Teel's game day preparation was a little bit different this past weekend in Billings, Montana, than when the Tacoma Invitational was held.
Instead of studying championship round bulls with Joe Frost, Teel was testing out his daughter, Evelyn's, interest level for SpongeBob SquarePants.
"They didn't have the baby channel in the hotel, so we couldn't watch it," Teel said with a smile. "We tried to watch SpongeBob SquarePants, but she didn't really get into that. It was a little too advanced for her. We just hung out while Kaitlin was getting ready. I don't mind it. We didn't do too much. We just played and hung out."
Teel was on daddy duty at times this weekend before and after the Billings Invitational, presented by Cooper Tires.
His wife, Kaitlin, and daughter, Evelyn, decided to make the trip to Billings with him, and Cody was able to notch his first 2019 victory with little Evelyn in attendance.
You could even consider it an early birthday present too.
Evelyn turned 9 months old on Tuesday.
"Oh it means a lot, for sure," Teel said. "Having them here, I don't have to text or call. They are right here to experience it with me. That is for sure."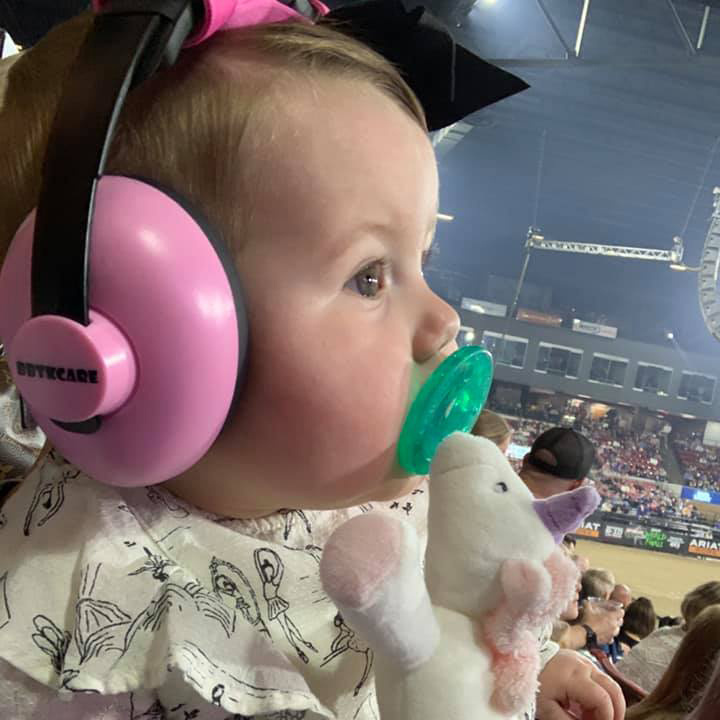 However, the Teels were unable to take a family photo on the dirt following Cody's victory, which is a standard tradition for a rider and his family.
Cody was confident he was not going to win the event, and the family had a 5:50 p.m. flight scheduled out of Logan Billings International Airport back home to Texas.
Teel had entered the championship round sitting in 10th place.
Therefore, even after he rode After Midnight for 86.75 points, he figured one the nine riders left to ride would cover their bull and take over the lead in the event.
Teel began to change in the locker room and Kaitlin and Evelyn made their way to the car to wait for him. Traveling with a 9-month-old can have its challenges, so every extra minute is helpful.
Cody rolled his gear bag toward the exit and peeked his head into the arena to see how things were going.
"I was packing and changing and then I thought I better just make sure before I head out," Teel said. "I didn't think I had even taken the lead after I rode so I was pretty surprised."
It was a good thing he did not leave for the airport.
Alisson de Souza, Stetson Lawrence, Ezekiel Mitchell, Matt Triplett, Claudio Montanha Jr., Derek Kolbaba, Kaique Pacheco, Joao Ricardo Vieira and Cooper Davis all bucked off.
"I was pretty surprised," Teel said. "I thought for sure at least four or five guys after me would get a score with all the good matchups. I didn't even think before that with the scores that I had a chance, but it's bull riding. Crazy stuff happens. You can never predict it. All you can do is worry about staying on and doing your job."
Teel then rushed his way up the shark cage and snapped a couple of photos all by his lonesome before participating in a few quick media interviews and hustling his way to the car where his family was waiting.
The Teels made it to the airport on time, and they were able to celebrate Cody's second victory of the season on the plane instead.
"We ended up making it in perfect timing," Cody said. "But I wish we could've taken at least one picture."
There may be more celebratory photo opportunities coming for Teel and company, though.
Teel's 3-for-4 performance earned him 605 points toward the world standings, moving him up to No. 6.
After bucking off Uptown Funk in 4.97 seconds in Round 1, Teel was surgical with rides aboard Testimony (83.75 points), Timber Jam (85.75 points) and After Midnight (86.75 points).
Teel is only the second rider in 26 premier series outs to cover After Midnight and not take a re-ride.
"I had been on a lot of the bulls below him," Teel said. "I had been on a lot of them and we didn't pair up well, so I just figured I never had been on him. He is a big, stout bull with up and down. I knew if I could get in that rhythm and find that spot he would ride well and he did.
"If you just get a hair behind that bull he is going to try and knock your teeth out for sure. He kept me hustling the whole time. I couldn't back off."
"This was just a practice pen ride for him as well," 2002 World Finals event winner and CBS Sports analyst J.W. Hart said. "This bull is jumping and kicking hard. I know he doesn't spin, but this bull has the up and down."
Teel has won two of the past three events to surge 26 positions up the standings. He had entered the Tacoma Invitational ranked No. 32.
The 26-year-old is 17-for-37 (45.95 percent) on the Unleash The Beast and is one of four riders (Joao Ricardo Vieira, Jess Lockwood, Chase Outlaw) to win more than one event in 2019.
Teel trails world leader Jose Vitor Leme by 1,025.83 points heading into the Easter Break.
"I have to keep trucking and don't get sloppy," Teel said. "Stay sharp week in and week out. That is what a World Champion does and that is what I have to do. Show up every weekend and not every so often. The key around here is consistency and that is hard to do on these great bulls.
"If you want to a world title, you have to do that and win rounds doing it."
Follow Justin Felisko on Twitter @jfelisko