Davis: Second world title can help my future plans
By : Justin Felisko
April 17, 2019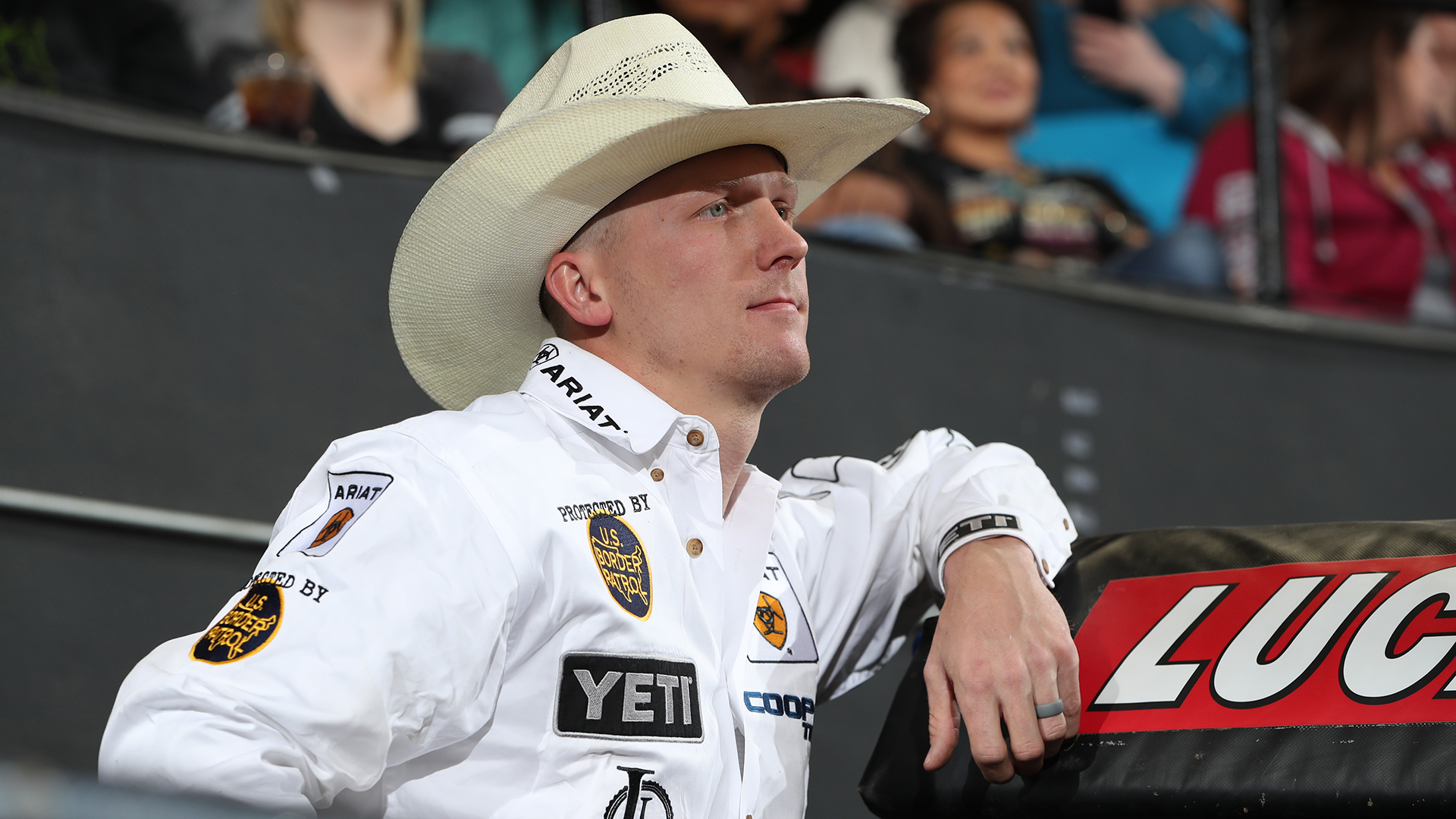 PUEBLO, Colo. – It has been almost three years since Cooper Davis was holding his son, Mack, in his left arm and kissing his wife, Kaitlyn, on the center stage of the Thomas & Mack Center.
With the PBR World Championship trophy to the far left, Davis had accomplished a lifelong dream of becoming the best bull rider in the world.
It was a journey that involved him losing 24 pounds in a span of two months a year earlier, and then overcoming a broken collarbone two months before the 2016 PBR World Finals.
RELATED: A look back at Cooper Davis' journey to the 2016 World Championship
Through it all, Kaitlyn and Mack have been two of his biggest supporters.
Mack is turning 4 years old later this year, and with each birthday celebration comes another dose of reality for Cooper.
"The older he gets, the more he wants me there, and the more he has going on, the more I want to be there," Cooper said. "It makes it hard leaving him. It is hard leaving her. Home is where I'd rather be. It doesn't seem right to leave all the time I guess. I like having them with me."
This past weekend was one of those moments where Davis would have preferred to be home.
Kaitlyn was celebrating her 24th birthday on Sunday when Cooper was attempting to ride three-time World Champion SweetPro's Bruiser for his first event win since January of 2018.
Davis wound up bucking off Bruiser in 4.01 seconds, and ultimately finished second overall in the event.
The Jasper, Texas, bull rider then hustled his way to the airport to make it home in time for a late mini-celebration with his wife.
Davis has continued to understand what older bull riders used to tell him when he was a wide-eyed, spunky 18-year-old bull rider chasing a gold buckle dream.
Most bull riders spend at least 30 weekends a season away from their families, and that can be extremely hard.
"Everybody told me bull riding is a selfish sport," Davis said. "At the time, it really didn't seem selfish to me because I didn't have an obligation to a family as a dad or a husband. Now that I do, I see how selfish it is and I don't like that.
"I like having them with me or I like being home."
Davis has accomplished essentially all there is in the PBR.
He was the fourth rookie all time to win the World Finals when he did so in 2015. Jose Vitor Leme became the fifth in 2017.
Davis' 2016 World Championship makes him one of 18 bull riders to win the PBR's highest accolade.
He is also one of only seven bull riders to win the World Championship and the World Finals.
Still, there he was, competing inside Rimrock Auto Arena in Billings, Montana, on a chilly and rainy Sunday afternoon.
So what keeps him coming back for more when his heart is homesick?
"To win another world title," Davis said. "Do that and be able to take care of my family."
Just as much as he misses home, it is home that drives him to keep packing up his gear bag.
"If you win the first $1 million, you can pretty much guarantee paying for your house and stuff," Davis said. "The second (title) is an opportunity for me to create a business and get longevity in another career and be sufficient for the rest of my life.
"That is where I am at right now. I want to be able to start something else and be debt free in that."
The mature 25-year-old has begun thinking about life after bull riding.
Davis has earned over $2.6 million in his five-year career, and he and Kaitlyn have started to think about ways to invest his 2019 – and beyond – earnings into new business opportunities.
Kaitlyn already has her Reign Lashes eyelashes company, and Cooper hopes to use his bull riding income to help create an additional revenue stream for the family once he retires from the sport.
"There are a couple of things that are in progress right now," Davis said. "Kaitlyn and I have one idea (under wraps), and we probably going to do a lawn care service that goes around to all of the neighborhoods too."
One potential "loan" Davis could achieve for his future businesses would be that $1 million championship.
Davis is currently eighth in the world standings following his 3-for-4, second-place finish in Billings last weekend.
His 88-point ride on All Access was his fifth round win of the season, which is tied for the second most in the PBR.
"Don't let this guy get hot," 2002 World Finals event winner and RidePass analyst J.W. Hart said on air. "You don't want Cooper Davis lurking back there because he can make up some ground quick."
He is only 1,319.16 points behind world leader Jose Vitor Leme ahead of the Easter Break.
Davis is 12-for-29 (41.38 percent) in nine Unleash The Beast events with two third-place finishes and his season-high, runner-up showing in Billings.
Coincidentally, he began his 2016 World Championship season 11-for-29 with two fourth-place finishes and a fifth-place showing.
"It has been really, really hit or miss," Davis said. "2016, I feel like towards the end of that year, if we could go back and redo everything and start from the end (of that season), that is the best I ever rode."
He believes the second half is where the World Championship is ultimately won, and that will be his focus again this season.
The fifth-year pro does not plan on riding much this summer outside of Chad Berger's $100,000 team championship, wanting to focus on being healthy for the stretch run.
Davis has been battling an on-going wrist injury to his riding hand.
"Get on a hot streak and stay there," Davis said. "With me, it is one or the other. Once I get comfortable and get hot, I feel like there is not a thing that can buck me off. If I am not riding that good, I don't want to be here and it's another deal."
Follow Justin Felisko on Twitter @jfelisko