15/15 Bucking Battle: Leme and Outlaw to square off against Smooth Operator and Bruiser
By : Justin Felisko
April 23, 2019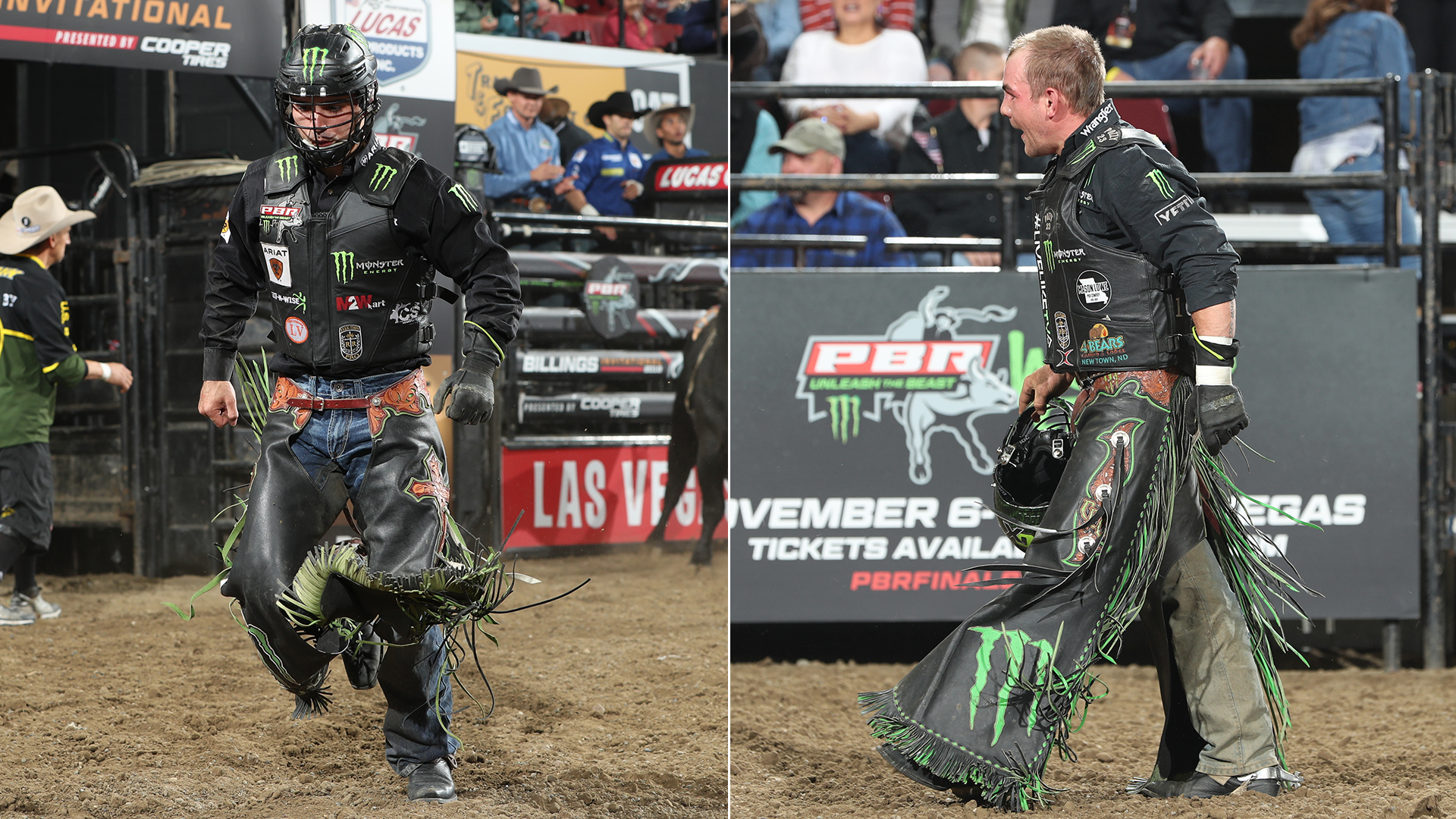 PUEBLO, Colo. – This weekend's 15/15 Bucking Battle at the Wrangler Long Live Cowboys Classic, presented by Cooper Tires, in Columbus, Ohio, will truly be the best against the best on Saturday night.
The top two bull riders in the world – Jose Vitor Leme and Chase Outlaw – have drawn the top two World Champion Bull contenders in Smooth Operator and SweetPro's Bruiser.
Leme leads Outlaw by a slim 249.16 points heading into this weekend's Unleash The Beast event. He will attempt to become only the fourth rider to ever conquer Smooth Operator in 90 outs at all levels of competition.
"He's a very hard bull, but I'm looking forward to riding him because I know that if I can stay in it, I'll get more than 90 (points)," Leme said. "He's strong and back to the right, and to the right is harder for me. But I'll try my best to stay in it."
Smooth Operator is 63-4 on the PBR premier series with Cooper Davis, Mason Lowe and Guilherme Marchi being the only riders to successfully reach 8 seconds aboard the Chad Berger Bucking Bull. Marchi has ridden Smooth Operator twice.
Smooth Operator is 7-0 in 2019 and is second in the World Champion Bull race with a 45.39-point average.
The 9-year-old is coming off a 5.79-second buckoff of Alisson de Souza in Billings, Montana.
Meanwhile, Outlaw will look to become the 21st rider to make a 90-point ride on Bruiser at any level of competition.
"That's who I got? Well, hell yeah!" Outlaw said on Tuesday. "That will work out. Man, I have been wanting to get on that bull for a while now. He better be waiting on me in the backpens."
Bruiser is 49-13 on the premier series and is the bull every rider dreams of drawing, but he is no walk in the park by any means.
The 8-year-old has bucked off all four his opponents this season, including back-to-back World Champions in 2016 World Champion Cooper Davis (4.01 seconds) and three-time World Champion Silvano Alves (6.14 seconds) in Billings, Montana, two weeks ago.
Bruiser is No. 1 in the World Champion Bull race with a 45.56-point average.
"You have to ride that sucker jump for jump and bring the fight to him," Outlaw said. "You can't stub your toe against him."
Both Outlaw and Leme have never faced their bovine opponents before.
Fans can watch the 15/15 Bucking Battle Sunday at 1 p.m. ET.
Two-time World Champion Justin McBride, who will be part of the CBS national television broadcast this weekend, believes Leme will struggle against Smooth Operator like most riders do, while Outlaw has a 50 percent chance to find success on Bruiser.
"Looks like a longshot for Leme, just going off of what I've seen with him in that direction, and I'd say 50/50 with Chase, whichever has their day," McBride said.
No. 3 bull Fearless (45.29-point average) is set to take on the red-hot Cody Teel at The Schottenstein Center in Columbus.
Teel has won two of the last three UTB events to surge to No. 5 in the world standings and has ridden seven of his last 12 bulls.
Fearless bucked Teel off in 2.36 seconds last year during Round 1 of the 2018 PBR World Finals.
15/15 Bucking Battle Matchups
Alisson de Souza vs. Frequent Flyer (29-3, UTB)
Cannon Cravens vs. Smooth Wreck (13-3, UTB)
Rubens Barbosa vs. Canadian Mist (19-3, UTB)*
Derek Kolbaba vs. Stretch (13-2, UTB)*
Claudio Montanha Jr. vs. Bad Decisions (4-0, UTB)
Ezekiel Mitchell vs. Hard to Twist (3-0, UTB)
Matt Triplett vs. Old Fort Days (17-0, UTB)*
Mason Taylor vs. Heartbreak Kid (31-0, UTB)
Cooper Davis vs. Wild Goose (19-4, UTB)
Ryan Dirteater vs. Mind Freak (14-1, UTB)*
Cody Teel vs. Fearless (16-0, UTB)*
Luciano de Castro vs. Hammerhead Blu (0-0, UTB)
Joao Ricardo Vieira vs. Air Assault (4-1, UTB)
Chase Outlaw vs. SweetPro's Bruiser (49-13, UTB)
Jose Vitor Leme vs. Smooth Operator (63-4, UTB)
*Rematch
The 15/15 Bucking Battle draw is subject to change based on the results of the upcoming Touring Pro Division event in Clovis, California, on Thursday night, according to the PBR competition department.
Clovis is a TPD Major event and one rider can earn potentially 220 points toward the world standings.
Therefore, No. 21 Stetson Lawrence, No. 22 Joe Frost, No. 28 Scottie Knapp or No. 30 Keyshawn Whitehorse can potentially earn enough points in Clovis to bump Alisson de Souza, who is not competing in Clovis, or another rider at the bottom of the 15/15 draw out of the 15/15 Bucking Battle.
If a rider bumps another rider out of the 15/15 Bucking Battle, he will then take that rider's bull. The 15/15 draw will not be reset if there is a change in riders.
Follow Justin Felisko on Twitter @jfelisko