Fresh air, fresh momentum: Kolbaba looks to keep things rolling in Clovis
By : Darci Miller
April 25, 2019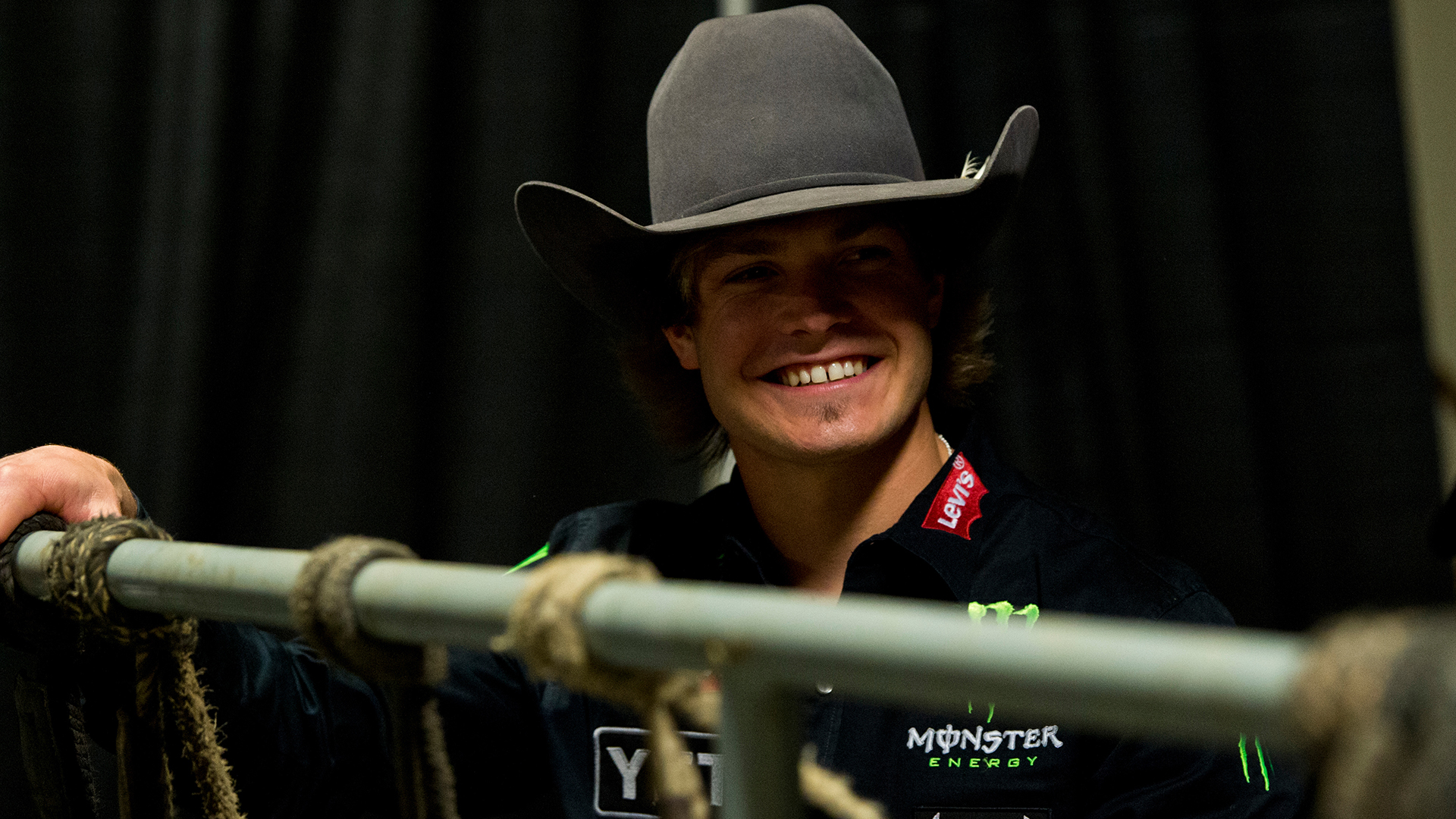 PUEBLO, Colo. – The Billings Invitational, the long-running Unleash The Beast event in Billings, Montana, is held in Rimrock Auto Arena. Locally known as The Metra, the arena has backpens that open out into the chilly Montana spring, giving the illusion of an outdoor arena for the crowd and riders inside.
Perhaps, then, it should be no surprise that this was the scene of Derek Kolbaba's best showing on the UTB thus far in 2019.
After spending years rodeoing before making the leap to the PBR, outdoor events are still something of his bread and butter.
"Oh yeah, they're fun," Kolbaba said, smiling. "As long as it's not pissing down rain!"
Billings got cold, but there was not much rain at all, and Kolbaba went 2-for-4 to finish in fourth place overall. He won Round 3 with an 88.5-point ride on Black Rose, after previously converting on Billy Hill in Round 2 for 86.25 points.
"What went right? I stayed on," Kolbaba said with a laugh following Round 2. "It was long and drawn-out and needed, that's for sure, but I just kind of cleared my mind, went back to the basics of it and enjoyed it. I believed in myself that I could do it and everything worked out."
Before heading to Columbus, Ohio, for the Wrangler Long Live Cowboys Classic, presented by Cooper Tires, (RidePass, Saturday at 6:30 p.m. ET) he will return to his rodeo roots, competing at the Touring Pro Division event at the Clovis Rodeo in Clovis, California. As Clovis is a TPD Major event, one rider can potentially earn 220 points toward the world standings.
That would make up a nice chunk of the 1,830-point gap he looks to close on world No. 1 Jose Vitor Leme.
Kolbaba has drawn Racketeer (9-2, all levels) in Round 1. Racketeer has made one premier series out, bucking off Eduardo Aparecido in 4.18 seconds in Sacramento, California, in January.
Also tentatively scheduled to compete in Clovis is No. 2 Chase Outlaw, No. 12 Matt Triplett, No. 17 Cannon Cravens, No. 21 Stetson Lawrence, No. 22 Joe Frost, No. 28 Scottie Knapp, No. 30 Keyshawn Whitehorse, No. 35 Daylon Swearingen and No. 37 Brennon Eldred.
Kolbaba won Clovis in 2017, when it was a Velocity Tour event. Coincidentally, it's held outdoors.
"It's a great event," he said. "There's always those few events throughout the season that are Velocity events that are always fun to go to, like Clovis and Pendleton, Oregon, and places like that that it's just a lot of fun. They're outside and it's just a little different feeling."
For Kolbaba, it's been a difficult first half of the season. Billings was just his second Top-10 finish on the premier series, joining his 10th-place result at the Los Angeles Iron Cowboy, presented by Ariat, in February. His two wins have come elsewhere – the Pendleton Whisky Velocity Tour's Neighborhood Ford Store Challenge in Wheeling, West Virginia, and the WCRA Windy City Roundup in Chicago.
But it's not even wins that were elusive. Billings was just the second time all season on the premier series that Kolbaba was able to string together multiple qualified rides. (He went 2-for-3 at the Chicago Invitational, placing 11th.)
Getting a few rides under his belt was cause for relief – and optimism.
"All streaks start with one, and that's where you've kind of got to start," Kolbaba said. "And how things happen, it only takes one to turn things around.
"It's been a shitty start to the season but sometimes things like that happen, and you can finish the season out strong and forget all about the beginning of it, and end on a good note."
Kolbaba knows a thing or two about finishing a season on a good note. After struggling a bit in 2018, he ended the season going 3-for-6 at the 2018 PBR World Finals with ride scores of 91, 91.75 and 91 points.
To come back and struggle out of the gate in 2019 was a reality check, to say the least.
Kolbaba's struggles have forced him to get back to the root of his success and try to get out of his head.
"You've just got to go home and put the work back into your brain," he said. "It's an easy sport to get down on yourself, I guess you could say. You start thinking about it too much and you start having people telling you what to do from every damn angle, so the best thing to do is just go back to the basics and remember why you're riding bulls and remember you can damn sure do it.
"You're here for a reason, and that's because you're one of the best bull riders in the world."
Indeed, even amidst his struggles, he's ranked No. 15 in the world standings.
Kolbaba is adamant that the PBR is where he wants to be, but his success at and love for rodeos is well-documented. He's already won the Windy City Roundup amidst a difficult season, and plans to spend the summer hitting whatever rodeos he wants to enter.
"We'll stay pretty busy, I'm sure, whether it's going to PBRs or rodeoing," he said. "For me, I do a lot better when I get on more bulls. Just kind of keep everything going, especially if I'm healthy."
For Kolbaba, the rodeo trail is a way to keep momentum while also wiping the slate clean.
"Even if you have a lot of success here, it's just nice to go and kind of get a little bit of a break from all of this and kind of go clear your mind and ride bulls for the fun of it," he said. "It kind of refuels me for the second half."