Heartbreak Kid earns 32nd consecutive buckoff in Columbus
By : Justin Felisko
April 27, 2019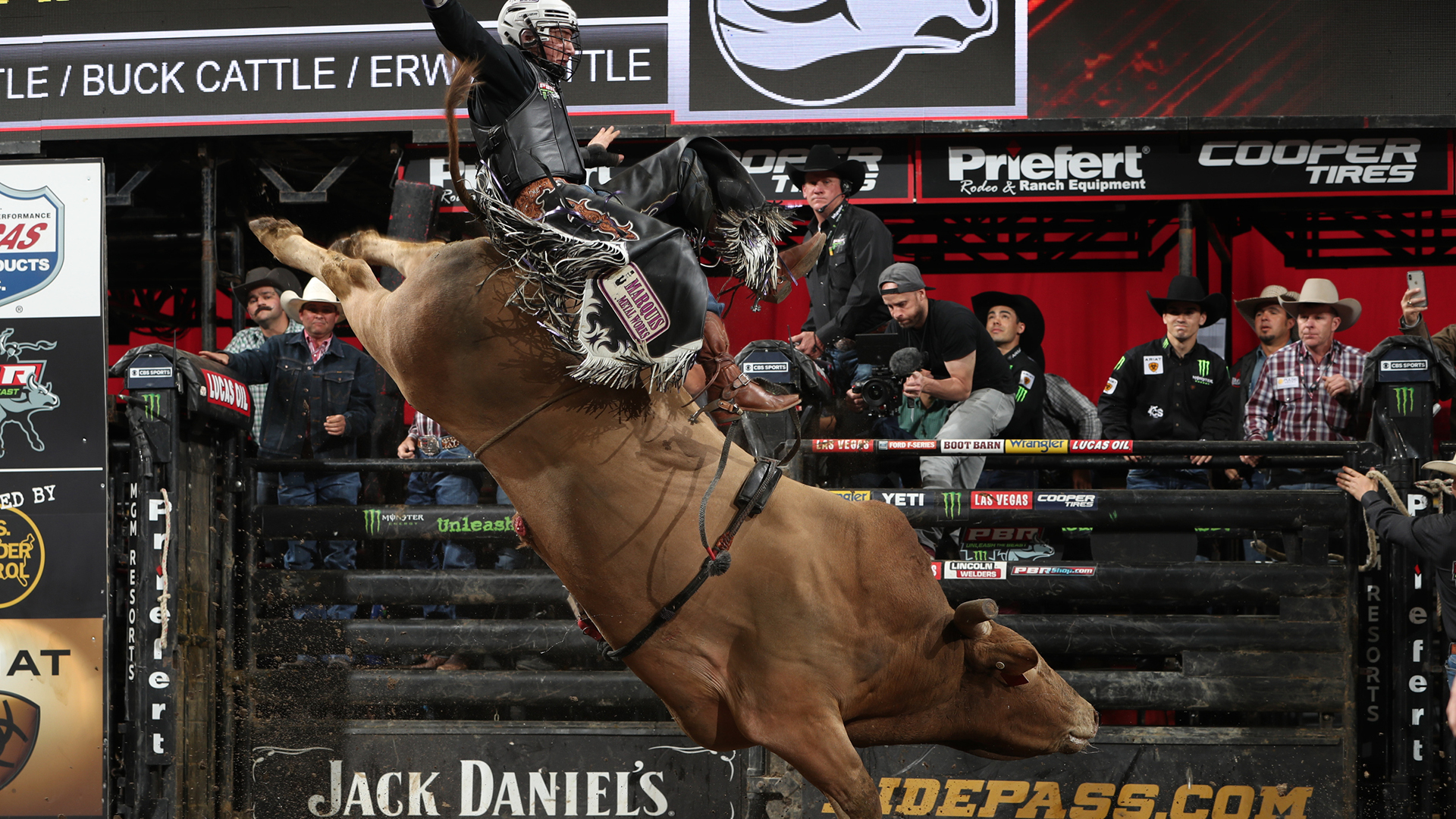 COLUMBUS, Ohio – Heartbreak Kid continues to embarrass cowboy after cowboy on the Unleash The Beast, and the D&H Cattle Company bovine athlete proved once again on Saturday night that it is going to take a heroic effort to finally conquer him.
All it took was one heavy jump from Heartbreak Kid before Mason Taylor was sailing through the air in 1.82 seconds, waving his arms in search of a safe land, during the 15/15 Bucking Battle at the Wrangler Long Live Cowboys Classic, presented by Cooper Tires, in Columbus.
"He is a bucker," H.D. Page said with a grin. "That first jump. He is a big, rank sucker. He follows with that kick. Not many have that kind of ability."
Taylor stormed off to the locker room following the buckoff, and he was still sour following the event.
The 19-year-old knew he missed an opportunity to become the first to conquer Heartbreak Kid.
"I fell off," Taylor said in disappointment. "I really don't want him again, but yeah, I would get on him."
Heartbreak Kid has bucked off 32 consecutive bull rides on the premier series, which is tied with Rooster for the fifth-most in PBR history. The 6-year-old bull has bucked off 52 consecutive riders at all levels of competition.
Taylor is not alone when it comes to being put on blast by Heartbreak Kid.
It was only two weeks ago that world leader Jose Vitor Leme was sent flying in similar fashion in 1.69 seconds.
"I think the last two trips he should have been 47," Page said. "I don't know what else you have to ask one to do."
Two-time World Champion Justin McBride pointed out Heartbreak Kid's degree of difficulty on CBS national television.
"This is one of those monsters I was talking about earlier," McBride said. "This is about as rank of a bull. That is the definition of it. He is hard to ride. You never know what he is going to do. He has all of the kick, the drop, the changeup. That bull's got it all."
Heartbreak Kid was marked 45.25 points to finish tied with Frequent Flyer (3.83 seconds, Stetson Lawrence) and Smooth Operator (92.5 points, Leme) for the third-highest bull score in the 15/15 Bucking Battle. SweetPro's Bruiser was the top bull of the night with a 45.75-point score for bucking off Chase Outlaw in 7.43 seconds, while Fearless took home second-place with 45.5 points (7.83 seconds, Cody Teel).
Fearless moved ahead of Smooth Operator in the World Champion Bull standings with his 45.41-point bull average. He is also unridden and is 17-0 on the premier series.
"The thing with that bull is he don't have a mean bone in his body," Page said. "When they buck off at the wrong time, he is headed to the pen."
Heartbreak Kid is sitting 13th in the World Champion Bull race with a 44.22-point average on eight outs, but Page believes that Heartbreak Kid's last two outs with Taylor and Leme are evidence that maybe he can eventually make himself a 2019 contender.
"If he bucks like that, yeah," Page said. "He has days where he is not that good. The trick to getting them good bulls to buck consistently is staying out of there way. I am trying not to do anything tricky or fancy. They know what they need to do."
BAD TOUCH LOOKS FOR 32nd CONSECUTIVE BUCKOFF SUNDAY
K-Bar-C Bucking Bull's Bad Touch is 31-0 on the premier series and will look to match Heartbreak Kid with another buckoff Sunday in the championship round.
Fans can watch the conclusion of the Wrangler Long Live Cowboys Classic Sunday live on CBS Sports Network (3 p.m. ET) and RidePass (2:45 p.m. ET).
INJURY UPDATES
Stetson Lawrence, Joe Frost (5.13 seconds vs. Old Fort Days) and J.B. Mauney (7.74 seconds vs. Smooth Wreck) were added to the 15/15 Bucking Battle Saturday night as injury replacements for Alisson de Souza (right groin), Matt Triplett (right wrist) and Cannon Cravens (liver/kidney).
According to Dr. Tandy Freeman, Cravens was transported to a local hospital to be evaluated for liver/kidney injuries sustained during Round 1 when he was stepped on by Mama's Bad Pet (4.34 seconds).
Follow Justin Felisko on Twitter @jfelisko