Bad Touch narrowly escapes Dirteater for 32nd straight buckoff
By : Justin Felisko
April 28, 2019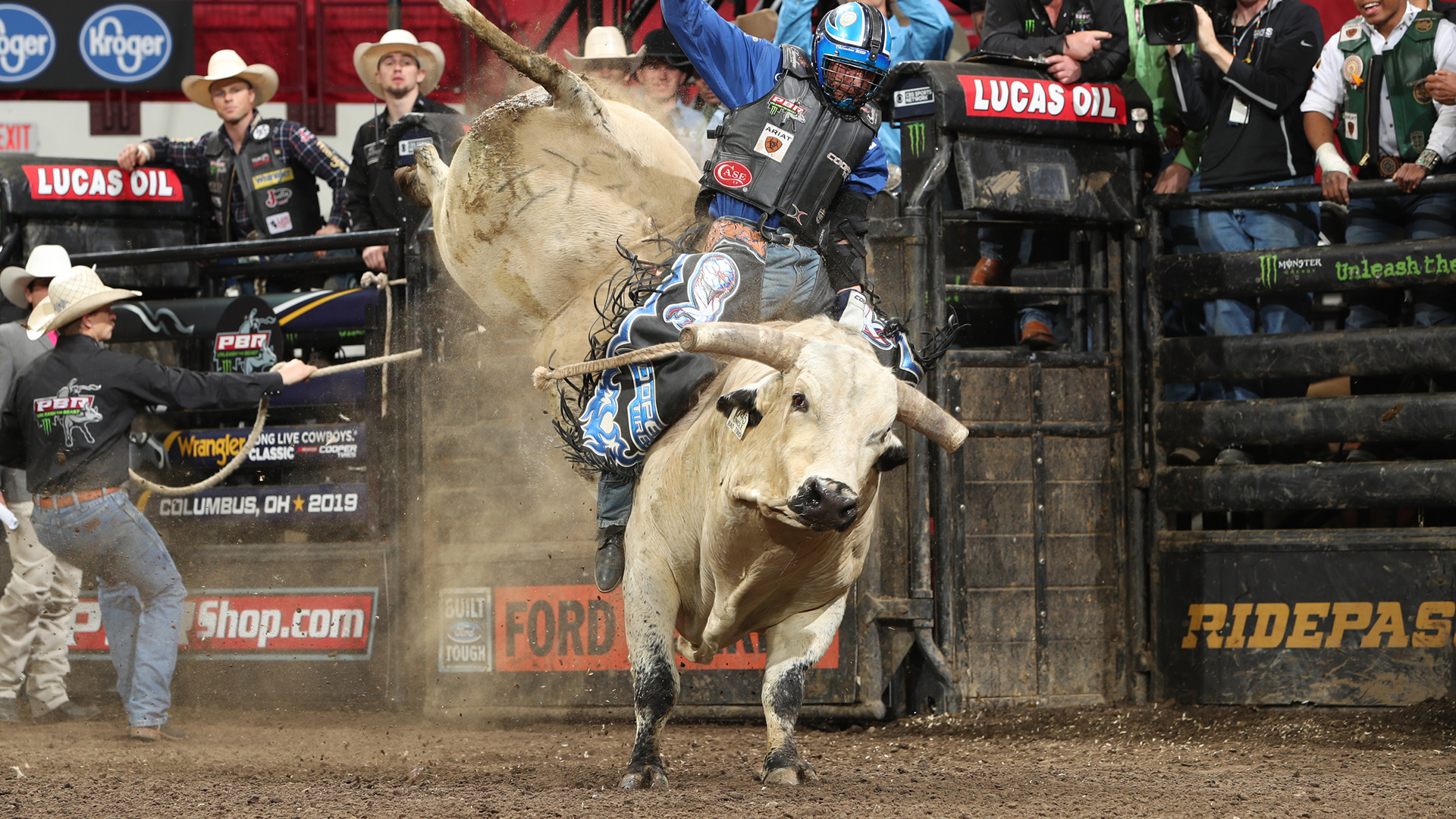 COLUMBUS, Ohio – Ryan Dirteater appeared well on his way to spoiling Bad Touch's home state appearance on Sunday afternoon at The Schottenstein Center.
It wasn't until an instant replay review showed that the No. 7 rider in the world standings lost his bull rope at 7.7 seconds.
"I should have had him," Dirteater said. "With a little more try, I could have had him. I just know you have to stay to the front and keep hustling along. I knew that going into it."
Dirteater almost became the first rider to ever reach 8 seconds on Bad Touch at all levels of competition during the Wrangler Long Live Cowboys Classic, presented by Cooper Tires.
Instead, Bad Touch improves to 32-0 on the premier series and 47-0 overall.
"When you are at the bottom of the draft, you are going to get on one that nobody wants," Dirteater said. "He is one of them, but he definitely bucks. He bucks."
Bad Touch was marked only 41.25 points and actually gave Dirteater a decent shot at riding him. Dirteater confidently went at the normally wild and unpredictable bull as Bad Touch turned into the Hulbert, Oklahoma, native's left hand before becoming a little sluggish near the bucking chutes and lunging forward again, yanking on Dirteater's riding hand.
Dirteater's 7.7 seconds is the longest that any rider has made it on the back of Bad Touch, who turned 9 years old on Thursday.
The 30-year-old bull rider is one of only two riders to even reach the 7-second mark on Bad Touch
Cody Nance previously reached 7.13 seconds against the bovine in Nashville, Tennessee, two seasons ago.
"To come that close on this bull, nobody likes this bull form a rider's standpoint," two-time World Champion and CBS Sports Network analyst Justin McBride said on air. "He is not like a (SweetPro's) Bruiser or top-level bulls, but he is great at getting his job done and putting guys on the ground."
Bad Touch is 5-0 in 2019, and his three previous buckoffs all came at 3 seconds or less – Cody Jesus (2.66 seconds), Taylor Toves (3 seconds) and Joe Frost (2.7 seconds).
It was a home game of sorts for Bad Touch as well.
Columbus is only 100 miles north of K-Bar-C Bucking Bull headquarters in Mount Orab, Ohio.
Bad Touch heads back home tied with Heartbreak Kid for the most consecutive buckoffs on the Unleash The Beast among active bulls with 32 and the fifth-most all time.
Heartbreak Kid bucked off Mason Taylor in 1.82 seconds during the 15/15 Bucking Battle this weekend for his 32nd consecutive buckoff.
Dirteater knew he missed a big opportunity Sunday afternoon, but he believes next time he can finish the job.
"That is a great bull of K-Bar-C Bucking Bulls," Dirteater concluded. "I will try him again some time."
All-time Premier Series Buckoff Streaks
Bushwacker (42)
Pandora's Box (35)
Silver Wings (35)
Mick E Mouse (34)
Rooster (32)
Heartbreak Kid (32)
Bad Touch (32)
Follow Justin Felisko on Twitter @jfelisko