Greatest Combos Presented by Sonic
Greatest Combos presented by Sonic
By : Jordan Winders
May 08, 2019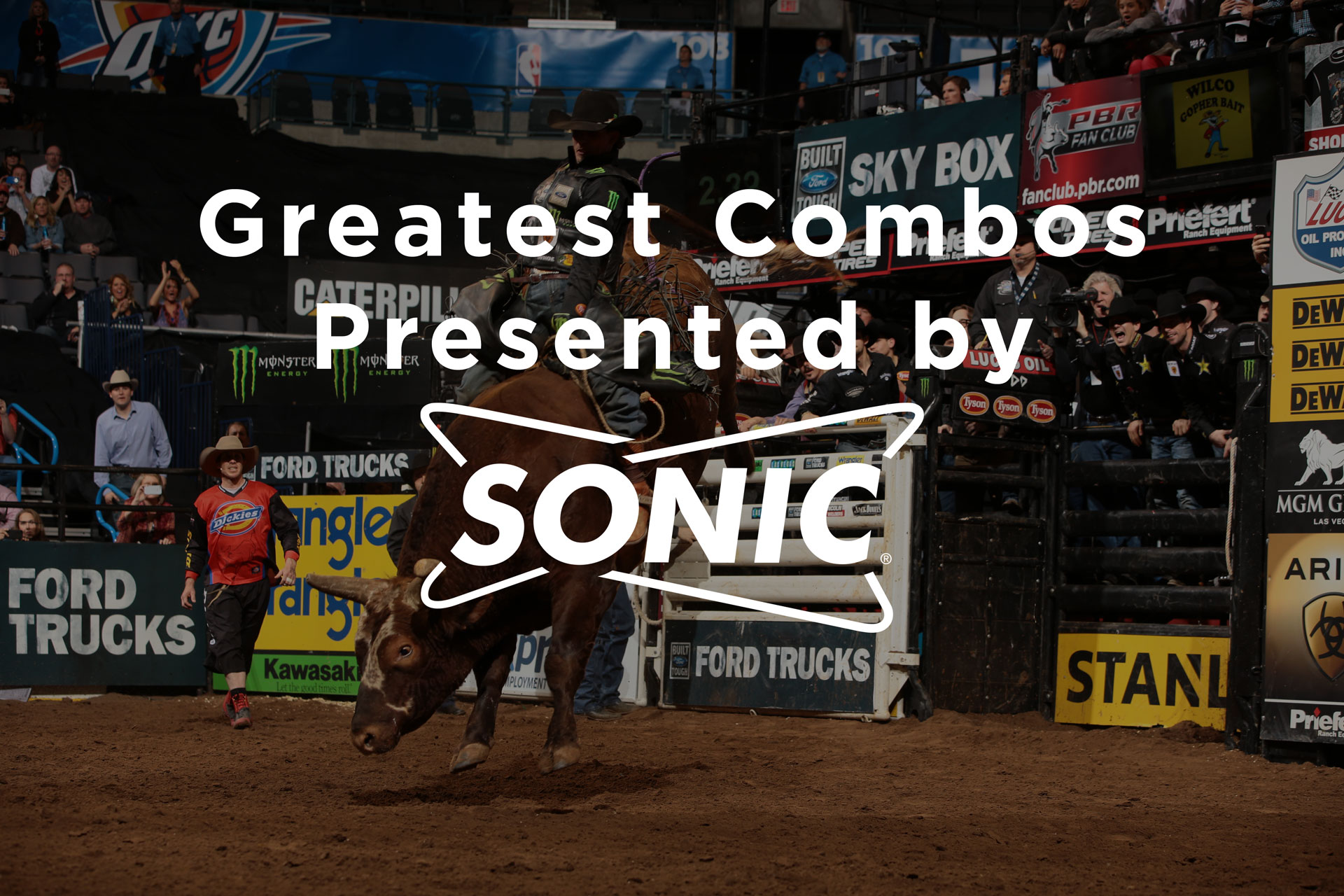 J.B. Mauney and Bushwacker
Arguably the greatest combo of cowboy toughness and bull power, this rivalry between World Champions is one for the ages. In 2013, on his ninth attempt, Mauney finally made the whistle on Bushwacker. The ride ended the bovine's streak of a PBR-record 42 consecutive premier series buckoffs and was scored 95.25 points. It was the only time in 13 attempts Mauney would ever reach 8 seconds on Bushwacker, and fittingly, both man and bull would go on to win world titles that year.
Stetson Lawrence vs. Finding Jesus

Stetson Lawrence made his premier series debut in 2013 and, despite finishing No. 9 in the world standings in 2015, was still without an elite-level win in 2017. At the Winstar World Casino and Resort Invitational in Thackerville, Oklahoma, Lawrence finally broke the ice. He chose Finding Jesus in the championship round draft, and the two teamed up for 88.75 points and the event win. In three outs on Finding Jesus in his career, Lawrence has yet to buck off.

Stormy Wing vs. Bruiser

In Albuquerque, New Mexico, in March of 2017, Stormy Wing ensured that his name would forever be in the PBR history books. Wing selected SweetPro's Bruiser in the championship round draft of the Ty Murray Invitational and rode the World Champion Bull for a huge 95.25 points. It's one of just two rides to be scored more than 90 points in the last 10 years and ranks 23rd all-time.
Cooper Davis vs. Catfish John

Cooper Davis won the 2016 PBR World Championship, and he can thank Catfish John for helping him get there. Davis rode the bovine for 91 points in the fifth round of the 2016 PBR World Finals, capping a 4-for-6 performance that earned Davis the title. The two have squared off six times; Davis started off a perfect 4-for-4 with each ride scoring 88 points or above, but Catfish John has two buckoffs since January of 2018.
Jess Lockwood and his family

In 2017, Jess Lockwood became the youngest PBR World Champion in history. And the only thing better than winning a world title is winning a world title with your whole family there to support you. Lockwood had a number of family members in the crowd to keep him loose and grounded during the most important event of his life, and it paid off; he finished in third place at the 2017 PBR World Finals to clinch his first career gold buckle.
Cody Nance vs. Bruiser

Despite both being veterans of the PBR's premier series, Cody Nance and three-time World Champion Bull SweetPro's Bruiser have only matched up one time. In Anaheim in 2018, Nance selected Bruiser in the championship round and earned 88.75 points and the event win for his troubles. Nance's victory in Anaheim was his first of three in 2018, propelling him to a No. 9 finish in the world standings.
Tanner Byrne vs. Bad Beagle

Tanner Byrne's last premier series win came in St. Louis in 2018, just a day after he'd learned that his grandfather had passed away. Struggling with injuries, Byrne had been flirting with the Unleash The Beast cutline until everything fell into place in St. Louis. To clinch the win, Byrne chose to ride Bad Beagle in the championship round despite the bull's streak of 18 straight buckoffs. The two had never matched up before, but Byrne had done his research and rode the bovine to the tune of 88.75 points to right the ship of his season.
J.B. Mauney vs. Wipeout

J.B. Mauney's 2013 season is one that may never be replicated. His legendary second-half tear up the world standings is now stuff of legend, with six event wins in the last three months of the season. Mauney's final win came at the 2013 PBR World Finals, where he went a perfect 6-for-6 to clinch his first World Championship. His last ride at the Finals came aboard Wipeout, and the two teamed up for a huge 93 points.