Heartbreak Kid extends buckoff streak to 33; Lil 2 Train erupts for 46.5 points
By : Justin Felisko
May 19, 2019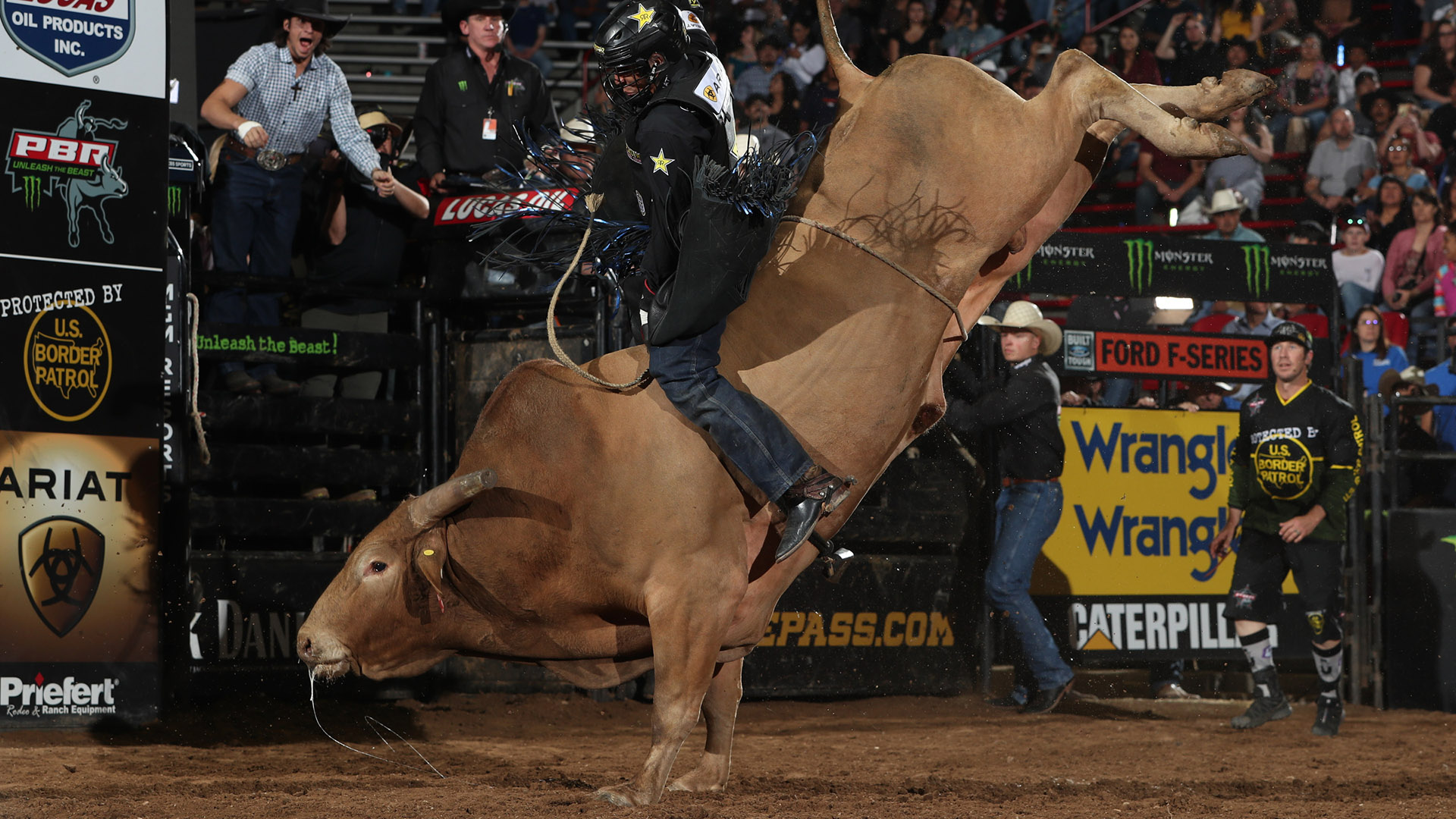 ALBUQUERQUE, N.M. – Luciano de Castro was too focused on trying to handle the kitchen sink that Heartbreak Kid was throwing at him on Saturday night to hear his friends on the back of the bucking chute whooping and hollering.
Regardless, the No. 6 bull rider in the world was not surprised to hear that his fellow bull riders were rooting him on as he desperately tried to become the first rider on the premier series to reach 8 seconds on the stout D&H Cattle Company bovine athlete.
"It is really great because all of my buddies told me, 'You rode him once and you are going to ride him again,'" Castro said with the help of Paulo Crimber translating. "That gave me extra confidence and energy. I knew they would cheer for me even if I bucked off or rode him."
He had previously ridden Heartbreak Kid for 75 points at a Velocity Tour event in Denver in January 2017. The 23-year-old is the only man to ever reach 8 seconds on the bull at all levels of competition in 62 outs.
Castro was unable to find success a second time during Round 2 of the Ty Murray Invitational, presented by Isleta Resort & Casino, lasting 6.12 seconds before Heartbreak Kid finally got him to the dirt inside The Pit.
He at first was able to recover at around 4 seconds as the bull shifted back toward the left. Heartbreak Kid then realized his mistake and went back to the right near the center alleyway to dispose of the 2015 PBR Brazil champion.
"When that bull kind of got me inside and I got back to him, I was so close to the bucking chutes that I thought he was going to turn to the left because he didn't have enough room," Castro said. "Then he just kind of made it halfway and came back around to the right and kind of surprised me."
Heartbreak Kid has now bucked off 33 consecutive riders on the premier series, passing Rooster for the fifth-most consecutive buckoffs in PBR history. He is nine buckoffs away from tying three-time World Champion Bull Bushwacker for the PBR record.
Heartbreak Kid has also bucked off 53 consecutive riders overall.
The 6-year-old bull was only marked 42.25 points, but that does not tell the whole story with Heartbreak Kid, said two-time World Champion Justin McBride.
"These numbers are not going to blow you away by any stretch," McBride said. "42.25, but that still does not take away how difficult this bull is to ride because he just keeps changing it up and throwing it at you. If you ride him one direction, he will go forward. He will work until he finds your weakness and then he will expose it."
Castro, who is only the second rider alongside 15/15 Bucking Battle winner Jess Lockwood (91.25 points on Bad Decisions) to reach 6 seconds on Heartbreak Kid this season, was exposed by Heartbreak Kid and he tipped his hat to his bovine counterpart.
"I am really happy because when he got me extended on my arm, and I got back to him, I thought he was going to come around the left," Castro said. "Even though I didn't ride him, I got so close. I did my best. I did not buck off. He bucked me off."
Lil 2 Train erupts for 46.5 points
World leader Jose Vitor Leme almost stole the 15/15 Bucking Battle victory away from Lockwood on the final ride of the night.
Leme was going to absolute town aboard Lil 2 Train before losing his bull rope at 5.33 seconds as he was throwing hail marys with Lil 2 Train spinning into his hand.
"He is an excellent bull, very fast and also strong," he said. "He would sure give me a big (score). Unfortunately, my hand escaped from my rope."
Leme then joked, "I need more glue."
Lil 2 Train was scored a career-high 46.5 points to beat out three-time World Champion SweetPro's Bruiser (3.82 seconds against Claudio Montanha Jr.), Wild Goose (5.03 seconds against Stetson Lawrence) and Air Assault (2.48 seconds against Joao Ricardo Vieira) for top bull honors. All three bulls earned 45.25-point bull scores.
Follow Justin Felisko on Twitter @jfelisko