Kolbaba wins Green Bay Round 1
By : Jay Blasingame
June 01, 2019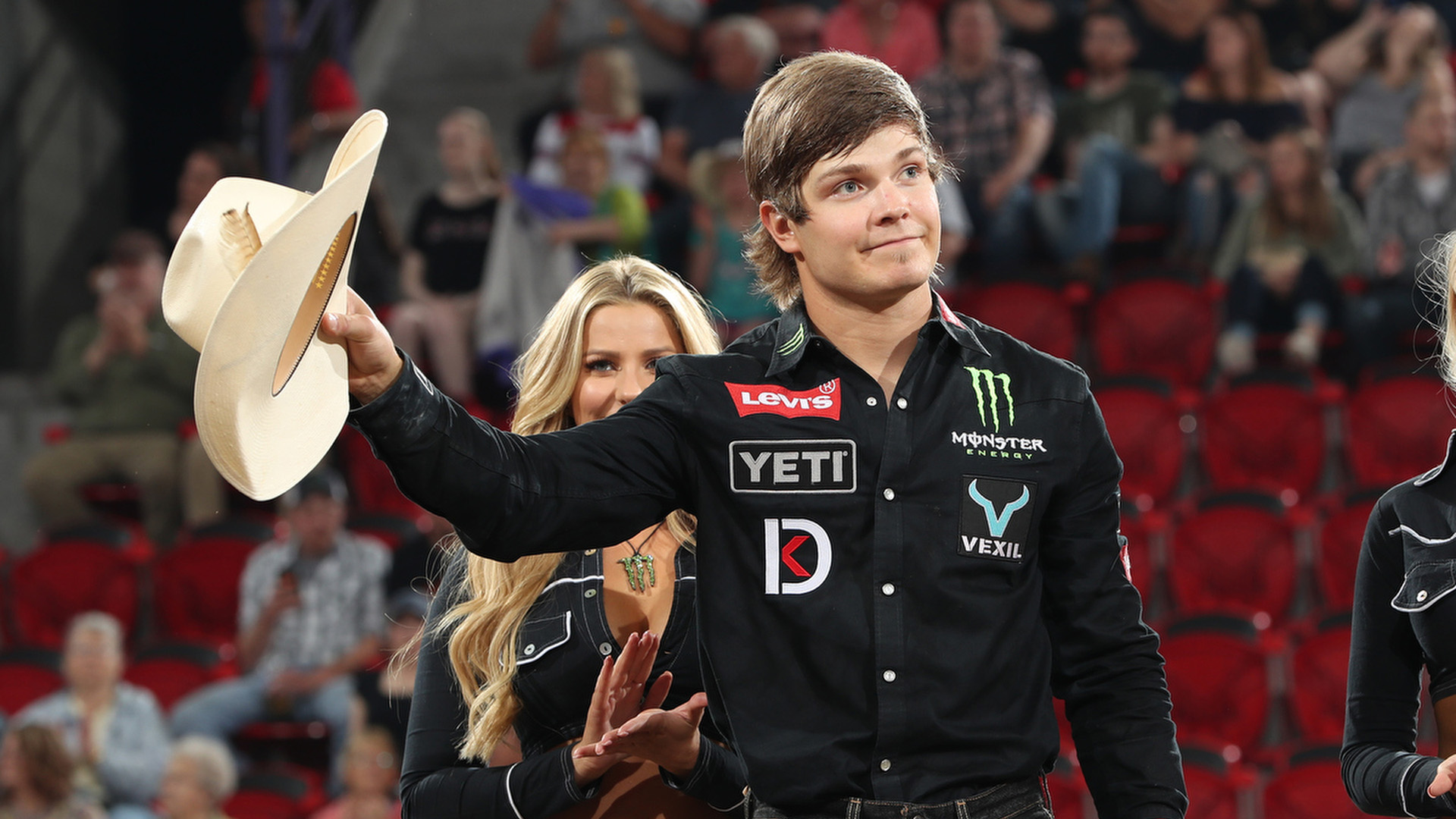 GREEN BAY, Wis. – Washington cowboy Derek Kolbaba (Walla Walla, Washington) captured the Round 1 win on the opening night of the PBR Unleash The Beast Green Bay Invitational, presented by Oneida Casino and North Star Mohican Casino Resort.
With an impressive 8-second ride aboard Handsome Jeff (Jo Z Bucking Bulls/K Bar C), Kolbaba scored 89 points and held his position at No. 7 in the world standings. For his efforts, the laser-focused 23-year-old gained 100 world points and $3,580.
As the dirt flew inside of the Resch Center during the inaugural event, a dozen of the city's famed Green Bay Packers were on their feet for the cowboys of the PBR. Players in attendance included Evan Baylis, Eric Cotton, Gerhard de Beer, Preston Smith, Cole Madison, Kapri Bibbs, Tray Matthews, Za'Darius Smith, Kenny Clark, Reggie Gilbert, Kendall Donnerson and Lucas Patrick.
As the football greats cheered, 2017 PBR World Champion Jess Lockwood (Volborg, Montana) delivered an 88.75-point ride atop Stunt Man Ray (Broken Arrow Bucking Bulls) for a second-place finish on Friday night. The Montana cowboy fired from the chutes determined to continue to climb in the world standings. His efforts earned him 60 world points and a $2,750 paycheck.
Brennon Eldred (Sulphur, Oklahoma) and 2018 PBR World Finals event winner Marco Antonio Eguchi (Poa, Brazil) tied for third place in front of the raucous Resch Center crowd. Both cowboys recorded a score of 88 points.
Eldred was matched against Bugle Boy (Blake Sharp) for a monster ride, which moved him up one position in the world standings from No. 30 to No. 29.
Shortly after Eldred, Eguchi conquered Black Rose (Broken Arrow Bucking Bulls). On his quest to get into the Top 15 in the world, the Brazilian moved from No. 19 to No. 18 in the world standings.
Each rider earned 45 world points and $1,650.
Rounding out the Top 5 was Brazilian rider Paulo Ferreira Lima (Bezerros, Brazil), who turned in an 87.75-point trip against Nailed (Broken Arrow Bucking Bulls). Lima heads into Round 2 up 30 world points and $850.
The best bull riders in the world will return to the Resch Center on Sunday, June 2 for Round 2 of the Green Bay Invitational. On Saturday, June 1, the WCRA, new marquee rodeo, will bring its own brand of Western sports excitement to the popular bull riding weekend. The WCRA Titletown Stampede – a One-Day $1 Million Major Rodeo – will be WCRA's second major of 2019.
Fans will also be able to watch the action in its entirety on RidePass.com or via the RidePass mobile app. Action from Round 1 will be viewable starting at 8 a.m. ET on Saturday, June 1.
Professional Bull Riders - GREEN BAY INVITATIONAL
Resch Center - Green Bay, WI
Event Leaders (Round 1-Round 2-Round 3-Event Aggregate-Event Points)
1. Derek Kolbaba, 89-0-0-89.00-100 Points.
2. Jess Lockwood, 88.75-0-0-88.75-60 Points.
3. Marco Antonio Eguchi, 88-0-0-88.00-45 Points.
(tie). Brennon Eldred, 88-0-0-88.00-45 Points.
5. Paulo Ferreira Lima, 87.75-0-0-87.75-30 Points.
6. Cooper Davis, 87.25-0-0-87.25-15 Points.
7. Cody Teel, 86.75-0-0-86.75-5 Points.
8. Ruger Piva, 86.5-0-0-86.50
9. Jose Vitor Leme, 85.5-0-0-85.50
10. Claudio Montanha Jr., 85.25-0-0-85.25
(tie). Alisson De Souza, 85.25-0-0-85.25
(tie). Joe Frost, 85.25-0-0-85.25
13. Matt Triplett, 85-0-0-85.00
(tie). Keyshawn Whitehorse, 85-0-0-85.00
(tie). Junio Quaresima, 85-0-0-85.00
16. Chase Outlaw, 84.25-0-0-84.25
17. Rubens Barbosa, 84-0-0-84.00
18. Silvano Alves, 81.75-0-0-81.75
19. Cannon Cravens, 81.5-0-0-81.50
(tie). Danilo Carlos Sobrinho, 81.5-0-0-81.50
21. Cody Nance, 79.5-0-0-79.50
22. Stetson Lawrence, 79-0-0-79.00
Joao Ricardo Vieira, 0-0-0-0.00
Luciano De Castro, 0-0-0-0.00
Ryan Dirteater, 0-0-0-0.00
Mason Taylor, 0-0-0-0.00
Ezekiel Mitchell, 0-0-0-0.00
Daylon Swearingen, 0-0-0-0.00
Taylor Toves, 0-0-0-0.00
Scottie Knapp, 0-0-0-0.00
Michael Lane, 0-0-0-0.00
Dylan Smith, 0-0-0-0.00
Marcus Mast, 0-0-0-0.00
Kaique Pacheco, 0-0-0-0.00