Lockwood tours Lambeau Field, finishes Round 1 in second place
By : Justin Felisko
June 01, 2019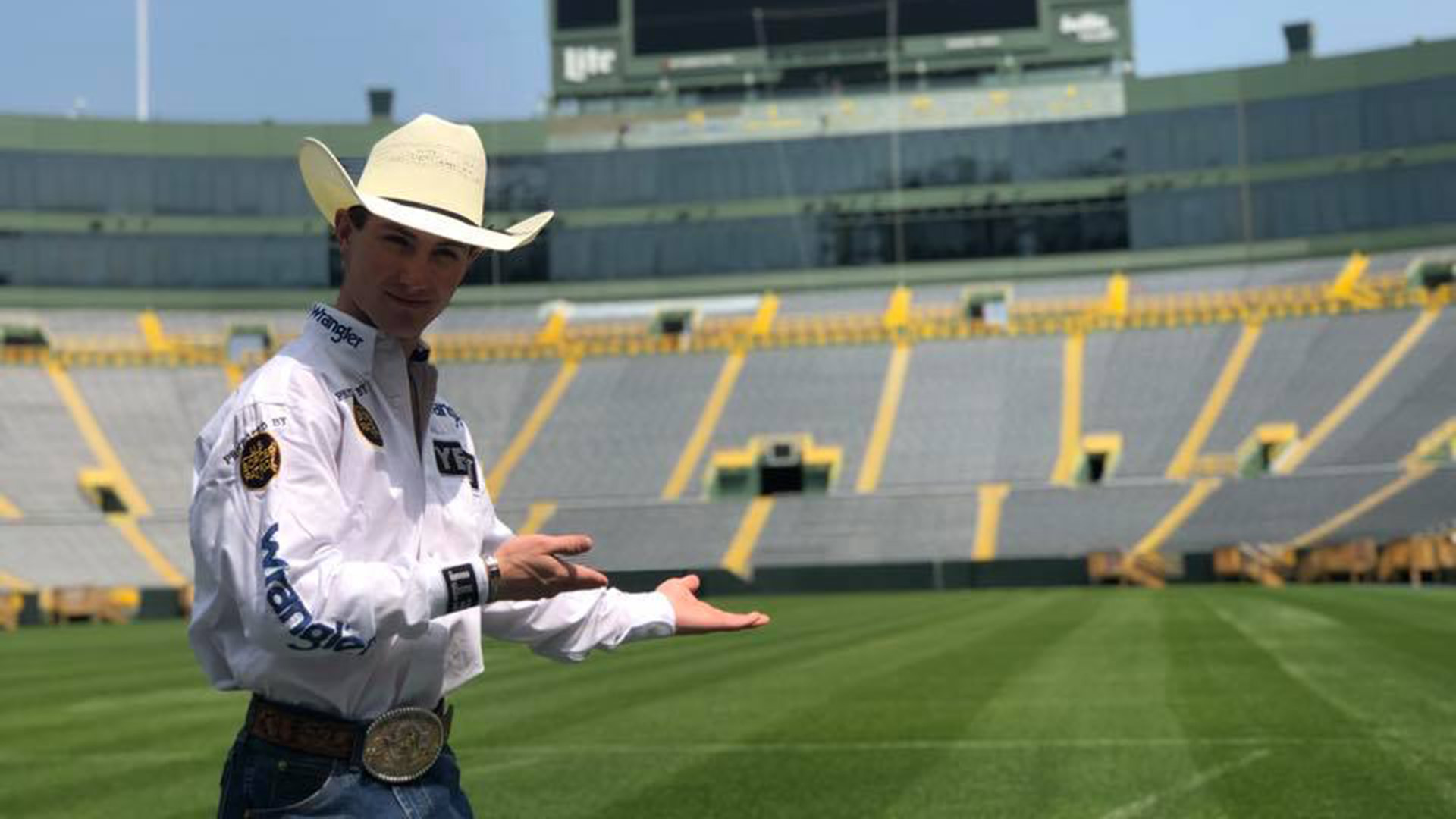 GREEN BAY, Wis. – Jess Lockwood has a gold buckle around his waist for a reason, and on Friday morning, the 2017 World Champion got to experience the aura that is Titletown during a special tour of the historic Lambeau Field.
"That was cool," Lockwood said. "I am not big on football like I used to be. It is historic and to be in a small town like this – it is like the size of Billings, Montana, and they have an NFL football team – it is really cool for me to come see that. You have houses within a quarter mile of the field. That is unheard of."
Lockwood participated in a behind-the-scenes tour of the home of the four-time Super Bowl champion Green Bay Packers and the No. 4 bull rider in the world standings then put on a show for the Green Bay faithful, and some of the Packers themselves.
The 21-year-old brought the Resch Center, which is a few blocks down the street from Lambeau Field, to life by riding Stunt Man Ray for 88.75 points to finish Round 1 of the Green Bay Invitational, presented by Oneida Casino and North Star Mohican Casino and Resort, in second place.
"I don't know if you can pick a better bull, short round or long round," Lockwood said. "It was a little too muddy for him today so he didn't buck like he usually does, but you are not going to find nothing much better than him."
Lockwood (60 world points) and No. 5 Cody Teel (five) were the only riders in the Top 5 of the world standings to pick up any world points Friday night.
It was a bull riding clinic inside the Resch Center with 22 qualified rides, including an 85.5-point effort from world leader Jose Vitor Leme on Big Country and 84.25 points from No. 2 Chase Outlaw on Ol' Boy.
World No. 7 Derek Kolbaba won Round 1 with an 89-point ride on Handsome Jeff. Rounding out the Top 5 behind Kolbaba and Lockwood were Brennon Eldred (88 points on Bugle Boy), Marco Eguchi (88 points on Black Rose) and Paulo Lima (87.75 points on Nailed).
Kapri Bibbs, Evan Baylis, Eric Cotton, Gerhard de Beer, Preston Smith, Cole Madison, Tray Matthews, Za'Darius Smith, Kenny Clark, Reggie Gilbert, Kendall Donnerson and Lucas Patrick were some of the Green Bay Packers in attendance on Friday night.
Lockwood was happy to give the NFL players a sample of what professional bull riding is all about.
"To see what we have to go through in our sport is kind of eye-opening to them," Lockwood said.
Lockwood is 3-for-6 on the Unleash The Beast, and 7-for-13 overall, since returning to competition two weeks ago following a broken left collarbone at the WinStar World Casino & Resort Global Cup USA, presented by Monster Energy, in February.
The Volborg, Montana, bull rider trails Leme by 1,009.16 points heading into Round 2 on Sunday afternoon.
RidePass analyst and five-time PBR World Finals qualifier Colby Yates expects Lockwood to keep pushing Leme in the world title race.
"I will guarantee you he will be at the end of this deal fighting for a world title," Yates said. "A couple little bobbles here during this ride. You can see Stunt Man Ray trying to get him lifted up., trying to get his upper body sitting straight up, but Jess doesn't do anything but keep his mind focused on the game. Drives those shoulders forward and keeps that elbow down. That was just perfect bull riding form."
Lockwood has drawn South Texas Gangster (15-7, UTB) for Round 2.
Fans can watch the conclusion of the Green Bay Invitational on CBS Sports Network at 4 p.m. ET and RidePass at 3:45 p.m. ET.
Follow Justin Felisko on Twitter @jfelisko