Bull riding matchups for WCRA Title Town Stampede; Kolbaba to face Bad Touch
By : Justin Felisko
June 01, 2019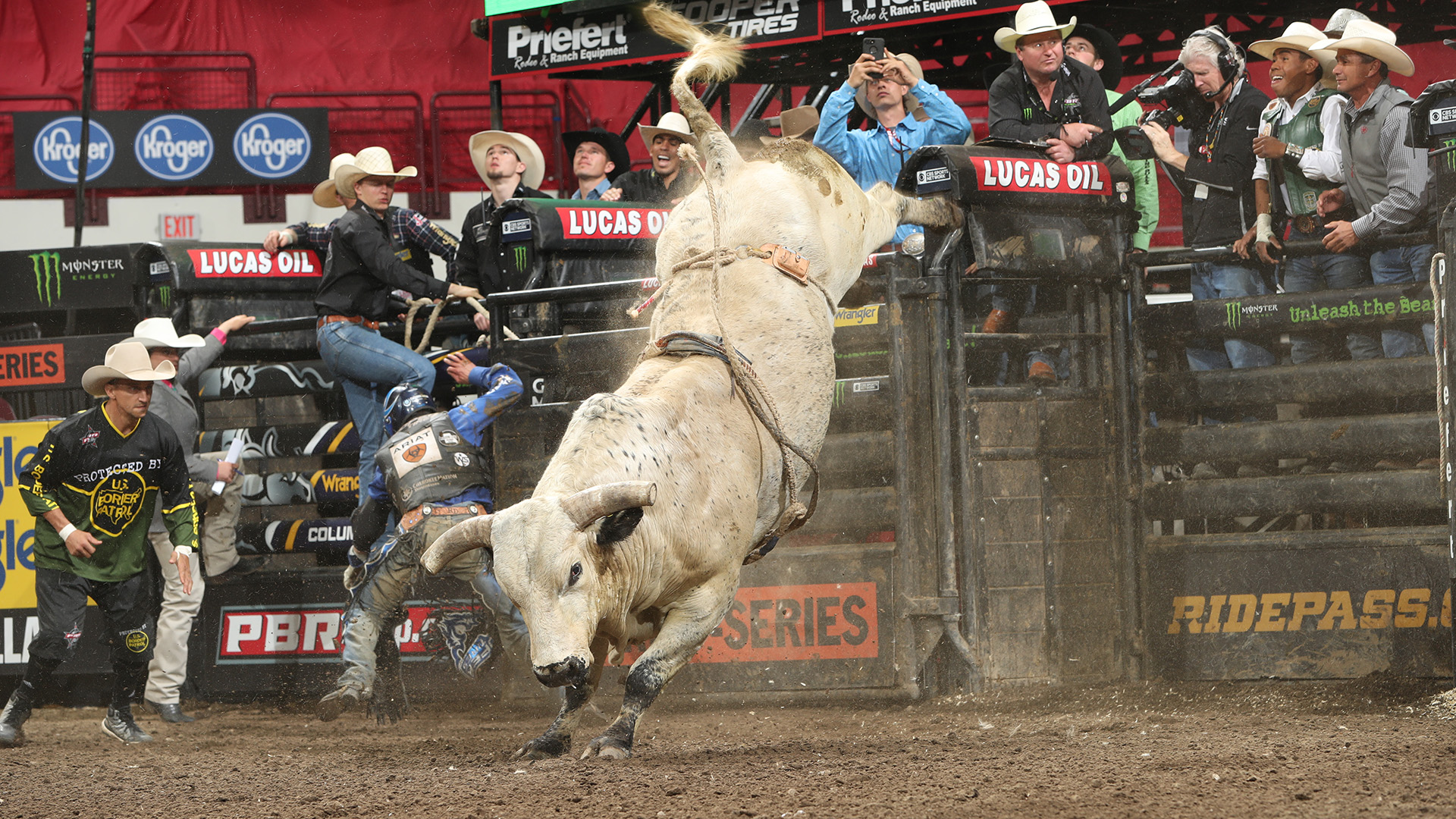 GREEN BAY, Wis. – Derek Kolbaba has won more than $125,000 at the last two WCRA events he has competed in, but for him to win an additional $50,000 Saturday night at the Resch Center he is going to have to do something that no cowboy has done so far.
Kolbaba will need to reach the 8-second mark aboard K-Bar-C Bucking Bulls' Bad Touch.
The WCRA revealed the bull riding draw for Saturday night's WCRA Title Town Stampede – a $1 million rodeo – taking place in Green Bay along with the PBR's Green Bay Invitational, presented by Oneida Casino and North Star Mohican Resort and Casino.
WCRA Title Town Stampede Matchups
Chandler Bownds vs. Rocket Man (37-2, all levels)
Jesse Petri vs. Acting Crazy (49-12, all levels)
Jose Vitor Leme vs. Talking Smack (30-4, all levels)
Chase Outlaw vs. I Always Stand (90-9, all levels)
Stetson Lawrence vs. Pennywise (19-6, all levels)
Corey Bailey vs. Midnight Rain (16-3, all levels)
Wyatt Rogers vs. Quick Fire (7-0, all levels)
Joao Ricardo Vieira vs. Slinger Jr. (72-5, all levels)
Derek Kolbaba vs. Bad Touch (47-0, all levels)
Marcos Gloria vs. Buck Norris (6-1, all levels)
One of the marquee matchups will be Friday night's PBR Round 1 winner, Kolbaba, against Bad Touch.
Bad Touch is 47-0 at all levels of competition, according to Probullstats, and 32-0 on the PBR's premier series.
Kolbaba and Bad Touch have never matched up before.
"You have to ride the son of a gun like a drop barrel pretty much," Kolbaba said. "He is unpredictable, and he is going to be moving forward the whole time. He is not going to have any sort of a set pattern. He is probably not going to stay in it if he turns back. You have to ride the front end, kick loose every jump and give it everything you got. That is what it is going to take."
Ryan Dirteater nearly became the first to ride Bad Touch in the bull's last out, lasting 7.7 seconds in Columbus, Ohio, last month.
Kolbaba said every bull rider gets fired up when the opportunity to be a dragon slayer is there in front of them.
"That is what we want to be," he said. "The guy that rode the unrideable bulls, and that would be one to start with."
No bull rider has been a bigger fan of the WCRA than Kolbaba.
The Walla Walla, Washington, bull rider won $58,000 last summer when he rode SweetPro's Bruiser for 89 points at the Days of '47 Cowboy Games & Rodeo. He then took home another $67,675.91 this past January when he won the Windy City Roundup in Chicago with 83 points on Reign Lashes Testified.
Overall, Kolbaba went 4-for-4 at the two events and earned $31,418.98 per qualified ride.
"I am excited," Kolbaba said. "I have had a lot of luck at those deals. You show up and ride your bulls and it will all work out."
The winner of the bull riding event at the Title Town Stampede takes home a minimum of $50,000 and 170 points toward the PBR world standings.
Fans can watch the long round exclusively on RidePass beginning at 7 p.m. ET. CBS national television will broadcast the conclusion of the rodeo Sunday at 1:30 p.m. ET.
"There is a lot at stake," Kolbaba said. "There is an opportunity to win $50,000 in one day at a rodeo, and hell, you have an opportunity to win $40,000 at the PBR Sunday. We get excited."
Kolbaba won Round 1 Friday night with 89 points on Handsome Jeff.
"He started right there to the left, and I knew that was right in my cup of tea," he said. "It was great."
The Top 2 finishers in the long round Saturday night will advance to the championship round. The Top 3 finishers in the long round will also earn PBR world points (50-25-10).
The bull rider with the highest score in the championship round will be the event winner.
Red Dawn (36-10, all levels) and Sitting Bull (17-9, all levels) are the two bulls slated for the championship round.
Leme – the No. 1 bull rider in the world – won the bull riding competition at the inaugural WCRA Rodeo Showdown at Helldorado Days in Las Vegas last spring with a 90-point ride on Bottoms Up.
Both he and Claudio Montanha Jr. failed to record a qualified ride in the championship round.
Leme has the only rematch in Round 1 after previously riding Talking Smack for 87.5 points last year in Atlantic City, New Jersey. Talking Smack also bucked him off in 3.79 seconds in Tacoma, Washington, last season.
Follow Justin Felisko on Twitter @jfelisko