Vieira wins WCRA Title Town Stampede bull riding and $74,777.75
By : Justin Felisko
June 02, 2019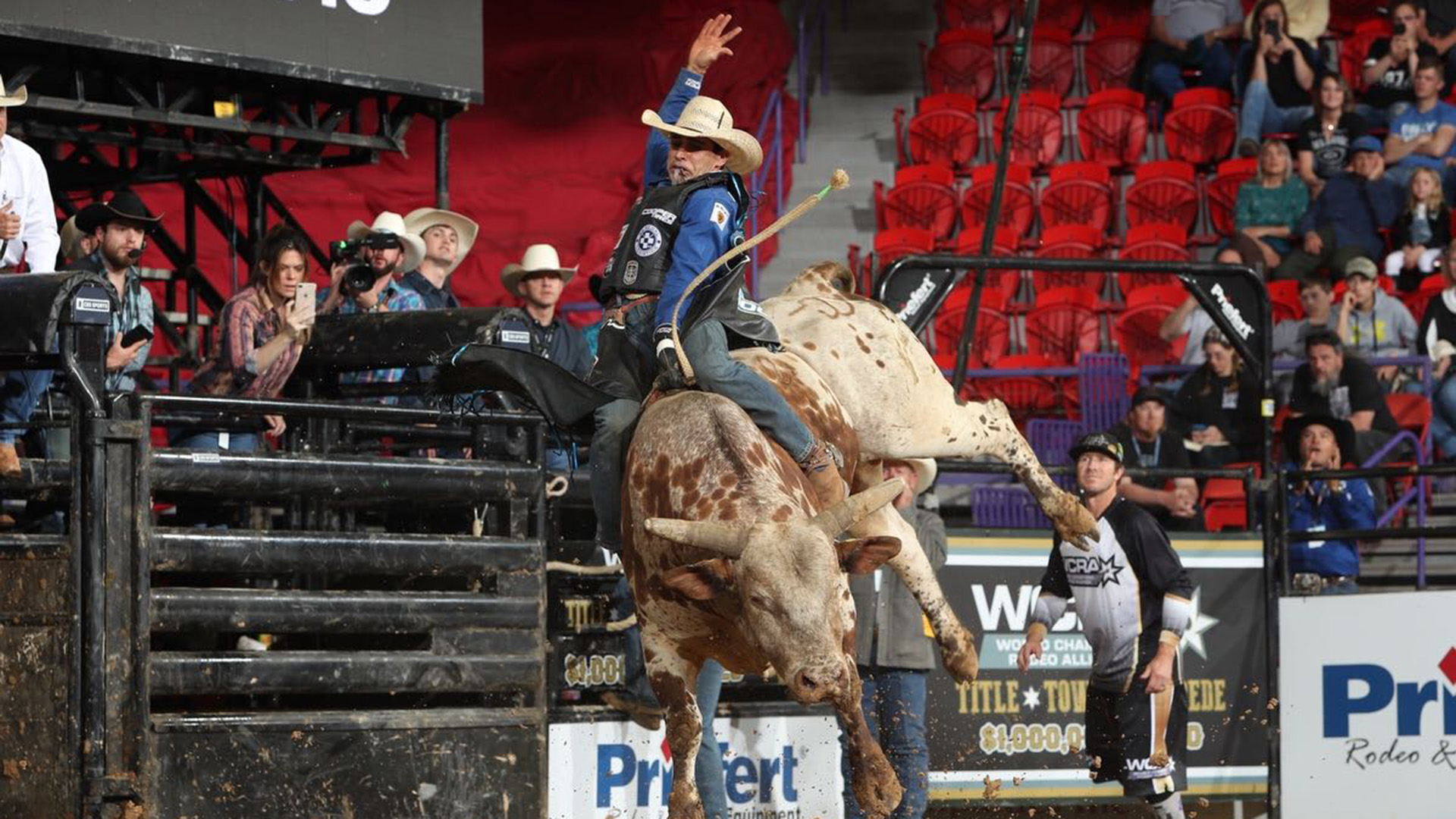 GREEN BAY, Wis. – Joao Ricardo Vieira's right arm was plastered with mud. So too was his cowboy hat, jeans and boots Saturday night inside the Resch Center.
It was a small price to pay during the bull riding competition at the WCRA Title Town Stampede.
Vieira will gladly be OK with taking a small bit of his $74,777.75 payday to drop off his clothes at a laundromat if he so chooses.
The 34-year-old added a third prestigious victory and fifth event win overall to his growing 2019 resume by riding Sitting Bull for 87.5 points during the two-man championship round of the $1 million rodeo.
Vieira's ride came down to a final review, which kept his heart beating that much faster as he waited for the judges to determine if his bull rope was in his hand and that his right free arm did not hit the dirt before 8 seconds.
"It was so hard," Vieira said. "So hard because the review was too long. These bulls are really good. You need to work hard because the bulls buck and buck. They change direction and it is a little harder to ride these bulls. He started good to the right, but all the time he changed direction and become tougher."
Vieira then looked on as his opponent Jesse Petri bucked off Red Dawn to seal himself the victory.
Vieira has now won more than $809,000 in 2019 thanks largely to five event wins – RFD-TV's THE AMERICAN ($433,333.33), PBR's Iron Cowboy ($146,600), Saturday night's WCRA Title Town Stampede ($74,777.75), PBR's Sacramento Invitational ($36,700), and PBR's Ak-Chin Invitational, presented by Cooper Tires ($34,185) – plus Team Brazil's Global Cup USA victory ($42,037.5).
"This is a fantastic year," Vieira said. "I cannot believe I have won this much money and have been riding so good, including away from my hand. I have worked hard for this, but it has been a fantastic year."
No bull rider has ever won $2 million in one season, and Vieira is certainly on pace to potentially become the first if he can go on to win the 2019 PBR World Championship at the PBR World Finals in November in Las Vegas. Get your World Finals tickets here.
Vieira's WCRA victory on Saturday night helped him in his pursuit of that elusive World Championship.
The No. 3 bull rider in the world standings picked up 195 world points with the victory.
RELATED: Vieira lost 12 pounds on way back into world title contention
Vieira now heads into Championship Sunday of the PBR's Unleash The Beast Green Bay Invitational, presented by Oneida Casino and North Mohican Resort and Casino, 666.66 points behind world leader Jose Vitor Leme.
"This helps me a lot," Vieira said. "I want to stay close to No. 1 and No. 2. I need to ride better in Vegas."
Vieira will attempt to get his first score of the UTB competition in Green Bay when he takes on Slingin Tears (11-1, UTB) in Round 2. Meanwhile, Leme, who is sitting in ninth place, has drawn Mason's Missouri Golden (12-1, UTB).
Fans can watch the conclusion of the Green Bay Invitational Sunday at 4 p.m. ET on CBS Sports Network and at 3:45 p.m. ET on RidePass.
Leme was no match for Talking Smack during the long round of the WCRA competition. Talking Smack bucked Leme off halfway through the ride, causing him to hurt his back slightly when he hit the ground. However, the 22-year-old did say that he would be OK.
Vieira and Petri were the only two riders to record qualified scores in the long round.
Petri won the long round with 85.25 points aboard Acting Crazy before Vieira rolled the dice by turning down a re-ride option and keeping his 78.5 points on Slinger Jr.
Slinger Jr. was wild and unpredictable with Vieira, who somehow found a way to handle everything thrown at him.
"All the bulls here tonight are hard," Vieira said. "I know this was risky, but the re-rides were two rank bulls. I don't care."
Vieira's gamble then paid off as Bad Touch bucked off Derek Kolbaba and Buck Norris easily dispatched Marcos Gloria to end the long round.
Petri may have wound up just short of a career-changing victory, but the 21-year-old still picked up $24,777.75 and 140 world points.
"Man, Acting Crazy was awesome," Petri said before the championship round. "I had seen some videos of him and he had a little suck back around the left and felt really good. To be here is awesome. I hope within the next year to try and get on (the PBR) tour and start going to Velocities at the beginning of the year. I think I am good enough to hang with these guys and make it happen."
Petri is ranked No. 75 in the PBR world standings.
Vieira has a history of winning marquee major events.
In 2015, he nearly won the world title after winning two PBR Majors – Iron Cowboy and Last Cowboy Standing.
The 2013 Rookie of the Year said there is nothing better than competing in front of packed arenas for tons of money.
"I like the biggest events," Vieira said. "They make me more powerful. My heart beats excited. I am more concentrated."
Vieira will head back home to Brazil on Monday before returning to the United States for Last Cowboy Standing at Cheyenne Frontier Days on July 22-23.
"I need time to rest," Vieira said. "I will keep going and working (out) in Brazil. I will go to two or three events for practice. I will be back in July. It is only 30 days."
Follow Justin Felisko on Twitter @jfelisko