Draw revealed for Berger's $125,000 team challenge
By : Justin Felisko
June 11, 2019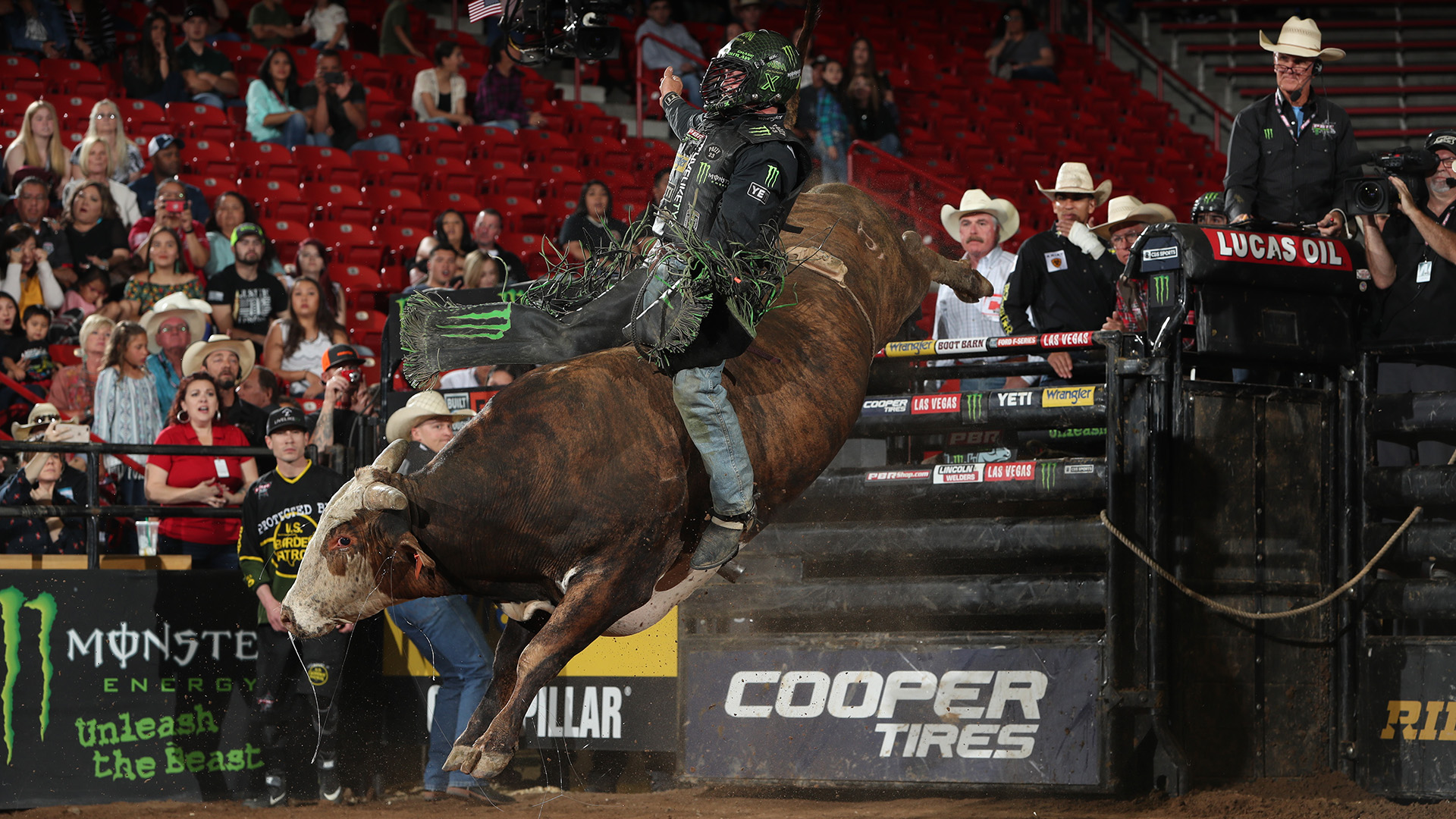 Watch all of the action from Bismarck exclusively on RidePass Friday & Saturday night
PUEBLO, Colo. – There will be no greater test for the Top 35 bull riders in the world this summer than Last Cowboy Standing at Cheyenne Frontier Days on July 22-23, but reigning Stock Contractor of the Year Chad Berger is going to make sure some of those riders get quite the tune-up in Bismarck, North Dakota.
On Monday, Berger announced the draw for his $125,000 team challenge, presented by Marquis Metal Works, on Friday night.
The team challenge will take place on Friday and Saturday night following his 19th annual Dakota Community Bank & Trust Touring Pro Division event.
The event begins on RidePass at 8:30 p.m. ET each night.
"Oh my gosh, and there is going to be great matchups in the regular bull riding too," Berger said. "It is freaking exciting because there are so many good matchups."
The five team captains – two-time World Champion J.B. Mauney, 2016 World Champion Cooper Davis, 2017 World Champion Jess Lockwood, 2017 PBR World Finals event winner Jose Vitor Leme and six-time World Finals qualifier Stetson Lawrence were sent their bullpens for the event and were able to select which bulls their riders wanted to get on.
One matchup in particular really caught Berger's attention when he saw the submissions: Sky Harbor vs. Chase Outlaw (a member of Team Cooper Tires alongside Davis).
The No. 3 bull rider in the world is going to get another crack at Sky Harbor after previously being bucked off in 5.99 seconds in Albuquerque, New Mexico, a month ago at the Ty Murray Invitational.
Sky Harbor was only marked 43.75 points for that out, but he recently brought the hammer against reigning World Champion Kaique Pacheco in Green Bay, Wisconsin, bucking him off in 3.62 seconds.
"Sky Harbor and Chase Outlaw is the best matchup and the hardest," Berger said. "If he taps off on that bull, you better hold onto the door. That is for sure."
TEAM DAKOTA COMMUNITY BANK & TRUST
Captain: Jess Lockwood
Roster: Derek Kolbaba, Stetson Wright, Jake Lockwood (alternate)
Lockwood vs. Catfish John (65-22, all levels)*
Kolbaba vs. Smooth Wreck (27-3, all levels)$
Wright vs. Gambini (46-10, all levels)
BREAKDOWN: Lockwood has yet to find success against Catfish John in three previous matchups. The closest the 2017 World Champion has come to riding him was in 2016 when he made it to 7.88 seconds in Colorado Springs, Colorado.
The on-going rivalry between Kolbaba and Smooth Wreck is set for its seventh episode. Smooth Wreck has had Kolbaba's number with a 4-2 record, and most recently bucked him off in 5.79 seconds in Billings, Montana, in April.
Kolbaba will certainly want payback after also being bucked off in 5.17 seconds at the 2019 Global Cup USA.
However, Kolbaba also has the chance to hit a home run aboard Smooth Wreck like he did at the 2018 PBR World Finals (91.75 points).
"Smooth Wreck and Kolbaba could blow the roof off, too," Berger said. "He rode him at the World Finals, and he bucked off a couple weeks ago."
Wright is a replacement for J.T. Moore, who informed Lockwood this week that he will be unavailable to compete in Bismarck because of a broken jaw.
The Milford, Utah, cowboy is ranked fifth in the PRCA standings and has six event wins, per the PRCA. Wright will be paired up against Gambini.
TEAM COOPER TIRES
Captain: Cooper Davis
Roster: Chase Outlaw, Sage Kimzey, Braden Richardson (alternate)
Davis vs. Midnight Rain (18-3, all levels)
Outlaw vs. Sky Harbor (10-2, all levels)
Kimzey vs. Rising Sun (25-15, all levels)
BREAKDOWN: Davis should be in a good position to pick up a score here against Midnight Rain as the bull has a tendency to spin right, which would be into Davis' hand. The last rider to make the whistle on Midnight Rain was Colten Jesse, who rode him for 86.75 points in Columbus, Ohio.
"I think Cooper Davis can be a bunch of points on Midnight Rain," Berger said.
Outlaw has the lone rematch for Team Cooper Tires against Sky Harbor.
Meanwhile, Kimzey joins his pal Davis in Bismarck for a matchup against Rising Sun. The last right-hander to attempt Rising Sun was Claudio Montanha Jr. last month in Billings, Montana, and Montanha picked up 87.25 points. Rising Sun has surrendered 10 of his 15 rides to left-handed bull riders, but the reigning five-time PRCA champion bull rider will still be favored in Bismarck.
TEAM WSM AUCTIONEERS
Captain: J.B. Mauney
Selections: Cody Teel, Joe Frost, Scottie Knapp (alternate)
Mauney vs. Red Dawn (38-10, all levels)
Teel vs. Stretch (23-6, all levels)
Frost vs. Soup in a Group (26-6, all levels)
BREAKDOWN: Mauney is returning to competition for the first time a month because of separated and broken ribs. The time off certainly should be to Mauney's advantage after an onslaught of injuries has completely hindered, rattled and at times ravaged his 2019 season. The 32-year-old has a history of returning from injury in Bismarck. Last year, Mauney came back from a broken back two months earlier for Berger's $100,000 Match of Champions.
Red Dawn has bucked off 14 consecutive riders at all levels. However, Mauney previously rode him for 90.25 points at the 2016 PBR World Finals.
Teel will get his shot against Stretch, who was most recently ridden by Cooper Davis in Green Bay for 89.25 points. Four of the six rides surrendered by Stretch have come vs. right-handed riders, which is a good sign for a right-handed rider like Teel.
Frost will be tasked with ending Soup in a Group's streak of 10 consecutive buckoffs. Rubens Barbosa was the last rider to reach 8 seconds, doing so in Glendale, Arizona, this past January for 85 points.
Berger said Mauney paired up his riders just as he expected.
"When I was going through them bulls, what the guys sent in, that is what I expected. J.B. and Teel," Berger added.
TEAM FOUR BEARS CASINO & LODGE
Captain: Stetson Lawrence
Selections: Cannon Cravens, Ryan Dirteater, Cody Jesus (alternate)
Lawrence vs. Biker Bob (27-6, all levels)
Dirteater vs. Mason's Missouri Golden (13-1, all levels)
Cravens vs. Sitting Bull (17-10, all levels)
BREAKDOWN: Lawrence gets the other most experienced rematch in the team challenge. Friday will be the seventh meeting between Lawrence and Biker Bob, with Biker Bob holding a 5-1 advantage. Biker Bob has bucked off Lawrence four straight times since Lawrence rode him for 87.5 points in 2017 in Anaheim, California.
2016 PBR World Finals event winner Ryan Dirteater will attempt to become the second rider to ever reach 8 seconds on Mason's Missouri Golden.
Coincidentally, Missouri Golden has bucked off eight consecutive riders since Colten Jesse, who Dirteater replaced on Lawrence's team because of a shoulder injury, rode him for 88.75 points at the Mason Lowe Memorial in St. Louis in February.
Cravens, the youngest rider in the competition, will try to do what Joao Ricardo Vieira did in the last two meetings against Sitting Bull. Vieira rode Sitting Bull for 88.75 points in Albuquerque and 87.5 points to win the WCRA Titletown Stampede.
Unlike Vieira, Cravens is a right-handed rider, and the last right-hander to reach 8 seconds on Sitting Bull was Junio Quaresima in St. Louis for 86.25 points.
TEAM DIAMOND WILLOW CONSTRUCTION
Captain: Jose Vitor Leme
Selections: Luciano de Castro, Marco Eguchi, Lucas Divino (alternate)
Leme vs. South Texas Gangster (25-10, all levels)
Eguchi vs. Speed Demon (49-5, all levels)
Castro vs. Wicked Stick (53-9, all levels)
BREAKDOWN: Leme made the most surprising decisions of the draft process by not placing Eguchi on South Texas Gangster – a bull Eguchi rode for 87.5 points earlier this season in Little Rock, Arkansas – nor himself against Wicked Stick, who he rode for 90.5 points in Glendale, Arizona.
Instead, Leme will look for a ride on Gangster after seeing fellow left-handed bull rider Jess Lockwood ride the bovine for 89.75 points into his hand in Green Bay.
Eguchi will try to ride Speed Demon, like fellow right-handed bull rider Cooper Davis did in Green Bay. Davis rode Speed Demon into his hand for 88.5 points.
Leme was previously bucked off by Speed Demon in 7.73 seconds in Sacramento, and Castro was bucked off in 2.73 seconds two years ago in St. Louis.
Castro will get a rematch against Wicked Stick after previously riding the bull for 89.5 points in the Columbus, Ohio, 15/15 Bucking Battle in April.
It is clear Leme and his team used recently history in their decision-making.
The matchups shocked Berger, especially considered Leme had ridden Wicked Stick for more than 90 points.
"When I saw Jose Vitor Leme on Wicked Stick, he was big points on that bull this winter," Berger said. "I thought Castro had the best chance on Speed Demon, and Eguchi had a good matchup with South Texas Gangster.
"I thought they picked it dead wrong, but who knows. They might come out to be the smartest."
Follow Justin Felisko on Twitter @jfelisko