Leme brings Global Cup leadership skills to Bismarck
By : Justin Felisko
June 11, 2019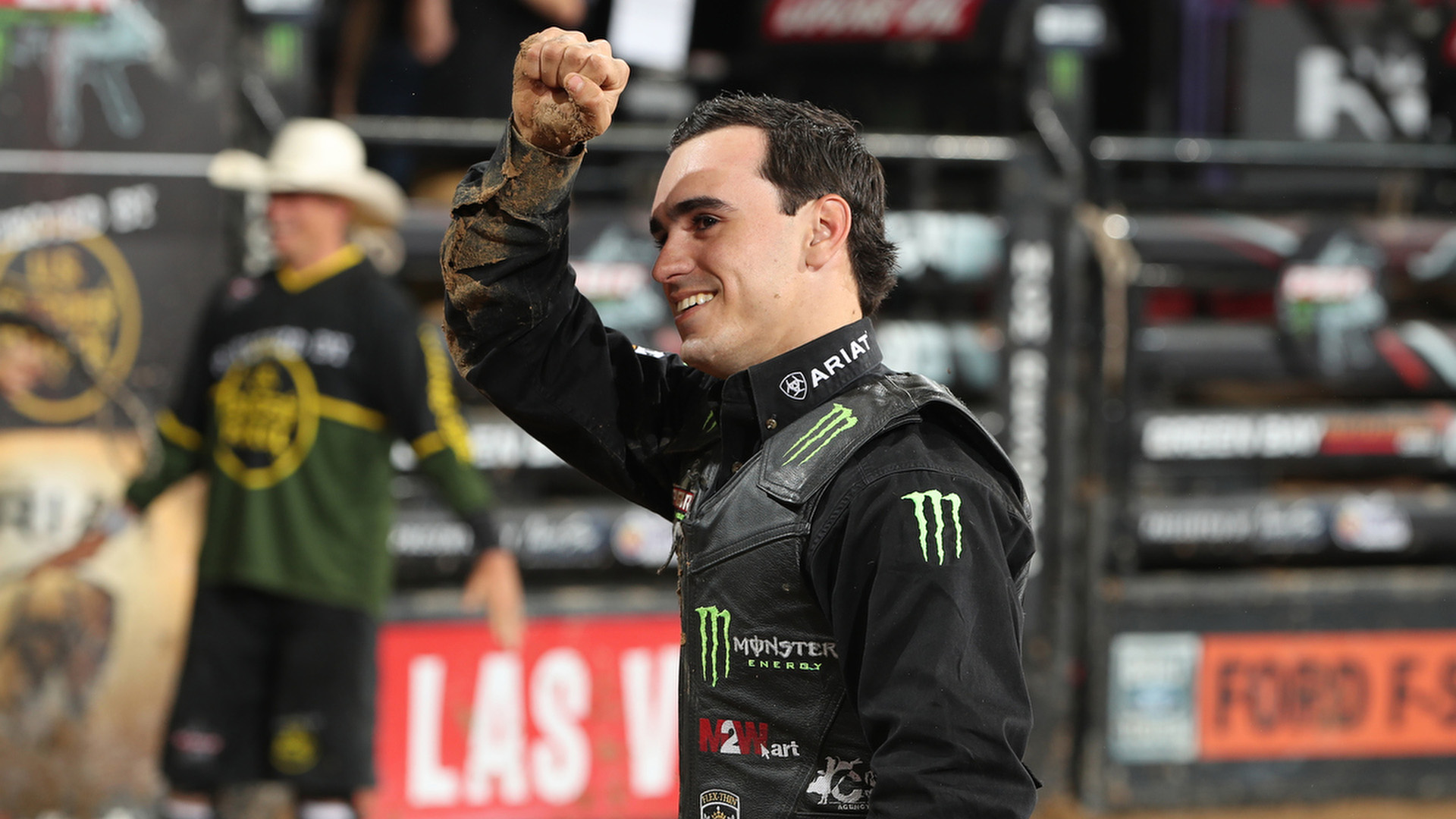 Watch all of the action from Bismarck exclusively on RidePass on Friday & Saturday
PUEBLO, Colo. – Jose Vitor Leme's hands rarely shake.
Nor does his body seem to quiver on the back of the bucking chutes.
The 22-year-old's eyes do not reflect fear or doubt and his motor doesn't often rev up over 100 miles per hour.
Instead, the No. 1 bull rider is calm, confident and composed whenever he steps foot inside the bull riding arena.
On many occasions, especially when he gets to within an hour or so of riding, Leme will slip away from his friends in the locker room and sit by himself – watching his fellow competitors in silence from a distance.
That changes, of course, if one of his friends needs a helping hand, a bull rope pulled or a spot on the back of the bucking chutes.
Regardless, there has been an ongoing theme with the third-year pro in 2019.
There have been multiple instances this season where Leme could have crumbled under the pressure or magnitude of the moment.
In Duluth, Georgia, Leme had to ride Big Black on the final out of the championship round to win his first Unleash The Beast event of the season, doing so for 91.25 points.
He then would have to ride Cochise one month ago on the final ride of the Ty Murray Invitational, presented by Isleta Resort & Casino, to steal the event victory from then-world No. 2 Chase Outlaw to strengthen his grip on the world No. 1 ranking.
And what did Leme do?
How about make it look easy aboard Cochise for a PBR season-best 92.75 points.
It was a clear message from the world No. 1 bull rider, according to two-time World Champion and CBS Sports Network commentator Justin McBride.
"When they started putting a little pressure on him and he gets Cochise and just knocks it out of the park, that is a statement there," McBride said following the Green Bay Invitational. "He is just so good."
It shouldn't come as a surprise either, considering Leme went a perfect 6-for-6 to win the 2017 PBR World Finals just 10 days after making his debut on American soil.
His two event-winning rides in 2019 were also not his first successful rides under pressure – if you even call it that – this year.
It was at the 2019 WinStar World Casino & Resort Global Cup USA, presented by Monster Energy, in February where Leme took on a new dimension as a bull rider.
Inside AT&T Stadium, he evolved into a team leader – assuming the role held at the Sydney Global Cup last summer by reigning World Champion Kaique Pacheco, who was competing at less than 100 percent following his recovery from torn ligaments in his left knee.
Leme only went 2-for-4 in Arlington, but his two rides were monumental for Brazil repeating as Global Cup champions.
The three-time Global Cup rider first rode Frequent Flyer for 90 points on the first night of the competition, but it was his 89.25-point ride on Biker Bob that will go down as his best from the Global Cup.
The ride put Brazil back into the event lead for good, squelching the Team USA Eagles' red-hot run to the top of the leaderboard just minutes earlier when Cody Nance gave the Americans a brief lead.
RELATED: Leme puts Brazil on his back at Global Cup
So as Leme heads north to Bismarck, North Dakota, this week, he will take lessons from his past Global Cup experiences in attempting to lead Team Diamond Willow Construction to victory at Chad Berger's $125,000 team challenge, presented by Marquis Metal Works.
"My experience I have with the Global Cup, I think this is going to be great, too, and help a lot to get this deal wrapped up too in a same way," Leme said with the help of Paulo Crimber translating.
Leme selected good friend Luciano de Castro and 2018 World Finals event winner Marco Eguchi to his team in April. Top Brazilian rookie Lucas Divino is his alternate.
Eguchi was a member of Team Brazil at the 2019 Global Cup, while Castro was a key cog in Brazil's Global Cup victory in Sydney (3-for-3).
"We won't have the same pieces and the same athletes as Global Cup number-wise, but we still have a good team," Leme said. "I am very excited because I have a great team. We have a big chance to win this deal."
RELATED: Draw revealed for team challenge
Team Diamond Willow Construction Bull Riding Draw
Leme vs. South Texas Gangster (25-10, all levels)
Castro vs. Wicked Stick (53-9, all levels)
Eguchi vs. Speed Demon (49-5, all levels)
While Leme will be focused on helping his team, there is also the opportunity for the No. 1 bull rider in the world to extend his lead atop the world standings.
Leme, who sustained a minor groin strain in Green Bay, is one of 23 Top 35 riders competing in the preceding Dakota Community Bank & Trust Touring Pro Division event on Friday and Saturday at the Bismarck Event Center.
The event winner of the PBR Touring Pro Division Major event can earn 270 points toward the world standings.
Leme leads No. 2 Joao Ricardo Vieira, who is not competing in Bismarck, by 336.66 points. No. 3 Chase Outlaw (-434.16) could cut Leme's lead in half with a victory in Bismarck.
Leme has drawn Pennywise (21-6, all levels) for Round 1.
He leads the PBR with 10 90-point rides at all levels of competition, and McBride believes Leme could be even better if he continues to work on improving riding bulls away from his hand.
"He is just so good," McBride said. "He is like Jess (Lockwood). He is a perfect build. He is a great athlete. The only thing he has to brush up on is away from his hand, and he has a better understanding than most guys coming from Brazil do at riding away from his hand. He just gets himself in a bind sometimes with his free arm."
The Ribas Do Rio Pardo, Brazil, native is excited to head to Bismarck for the first time.
"Bismarck is going to be great," Leme concluded. "We are riding for a team, not for a country, but still for a team. That is going to be really good. That is going to help with the experience of the Global Cup."
Follow Justin Felisko on Twitter @jfelisko