Top 5 bull scores of the 2019 Unleash The Beast first half
By : Darci Miller
June 21, 2019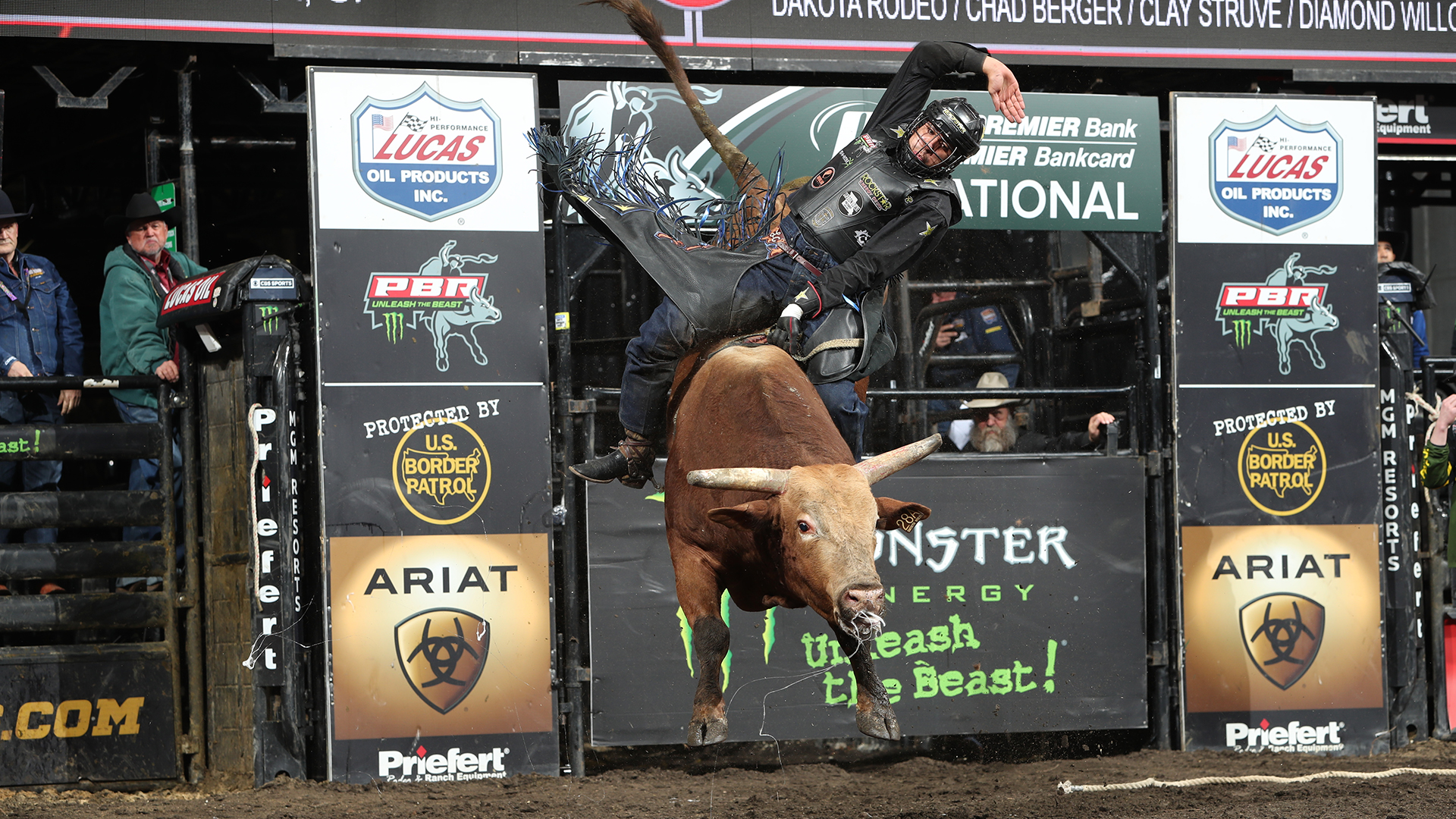 PUEBLO, Colo. – The first half of the Unleash The Beast is officially in the books, and all athletes have begun to look ahead to Last Cowboy Standing on July 22-23 in Cheyenne, Wyoming. But before the action continues with one of two remaining PBR Majors on the 2019 schedule, the great performances of the first half deserve a tip of the cap.
While the human world title race has had everyone on the edge of their seats, with Jose Vitor Leme, Joao Ricardo Vieira, Chase Outlaw and Jess Lockwood exchanging blows in the No. 1-4 positions, the World Champion Bull race has been equally as compelling. Reigning champ SweetPro's Bruiser is back in action after sitting out the first few months of the season and looks to be back in championship form, but challengers like Smooth Operator, Smooth Wreck and Fearless should make this a race to watch.
Relive the rankest action of the first half of the season with the top bull scores on the premier series.
1) Smooth Wreck – 46.5 against Luciano de Castro (7.18)
De Castro is quietly having himself a very strong season, currently ranked No. 7 in the world standings. He has five Top-5 event finishes under his belt, including second place at the Bad Boy Mowdown in Little Rock, Arkansas, in March. He placed third at the First PREMIER Bank PREMIER Bankcard Invitational in Sioux Falls, South Dakota, in April, but ran up against the buzzsaw that is Smooth Wreck in the 15/15 Bucking Battle. Smooth Wreck dispatched de Castro in 7.18 seconds for a season-leading 46.5 points. Smooth Wreck is ranked No. 3 in the bull standings and could challenge for a world title.
RELATED: Smooth Wreck leads the way as bulls pitch shutout in 15/15
2) Fearless – 46.5 against Dakota Buttar (2.5)
A shoulder injury in April derailed any momentum Buttar had going in the first half, but he's still ranked No. 38 in the world. He finished 11th overall at the Caterpillar Classic in Kansas City, Missouri, in March, going 1-for-3, and one of those buckoffs was a 2.5-second domination by Fearless in Round 3. Fearless is ranked No. 4 in the bull standings.
RELATED: Acing the test: Buttar returns to action, shoulder 'feels awesome'
3) Legit – 46.5 against Lonnie West (2.12)
The season hasn't been kind to Lonnie West, who is no longer on the premier series and sits at No. 139 in the world standings. In January, he placed 16th at the Sacramento Invitational, making it to the championship round, where he was bucked off by Legit in 2.12 seconds. Legit, the Co-Bull of the Finals of the 2018 PBR World Finals, is ranked No. 5 in the bull standings.
RELATED: Legit erupts for 46.5 points in Sacramento
4) Lil 2 Train – 46.5 against Jose Vitor Leme (5.33)
Leme, the world No. 1 bull rider, may have seemed invincible at times this season with eight 90-point rides under his belt, including a PBR-leading 92.75 points on Cochise to win the Ty Murray Invitational, presented by Isleta Resort and Casino in Albuquerque, New Mexico, in May. But the 15/15 Bucking Battle proved that even the best can be bested when the bull power is simply too strong. Lil 2 Train bucked for 46.5 points, tossing Leme to the dirt in 5.33 seconds.
RELATED: Heartbreak Kid extends buckoff streak; Lil 2 Train erupts for 46.5 points
5) SweetPro's Bruiser – 46.25 against Ryan Dirteater (5.9)
No list of top bull scores would be complete without the three-time reigning World Champion Bull. Bruiser may only have six outs thus far in 2019, but he's made them count. None more so, however, than his championship-round buckoff of Dirteater at the First PREMIER Bank PREMIER Bankcard Invitational, when the champ erupted for 46.25 points.
RELATED: SweetPro's Bruiser notches 46.25 points and will be ready for Billings
"I think he's just getting warmed up," D&H Cattle Company's H.D. Page said at the time. "I don't think we've seen the best trip yet. That's been his deal from day one. The more you buck him, the better he gets."