Lockwood's Binford win moves him to No. 2 in the world with Last Cowboy Standing one month away
By : Justin Felisko
June 24, 2019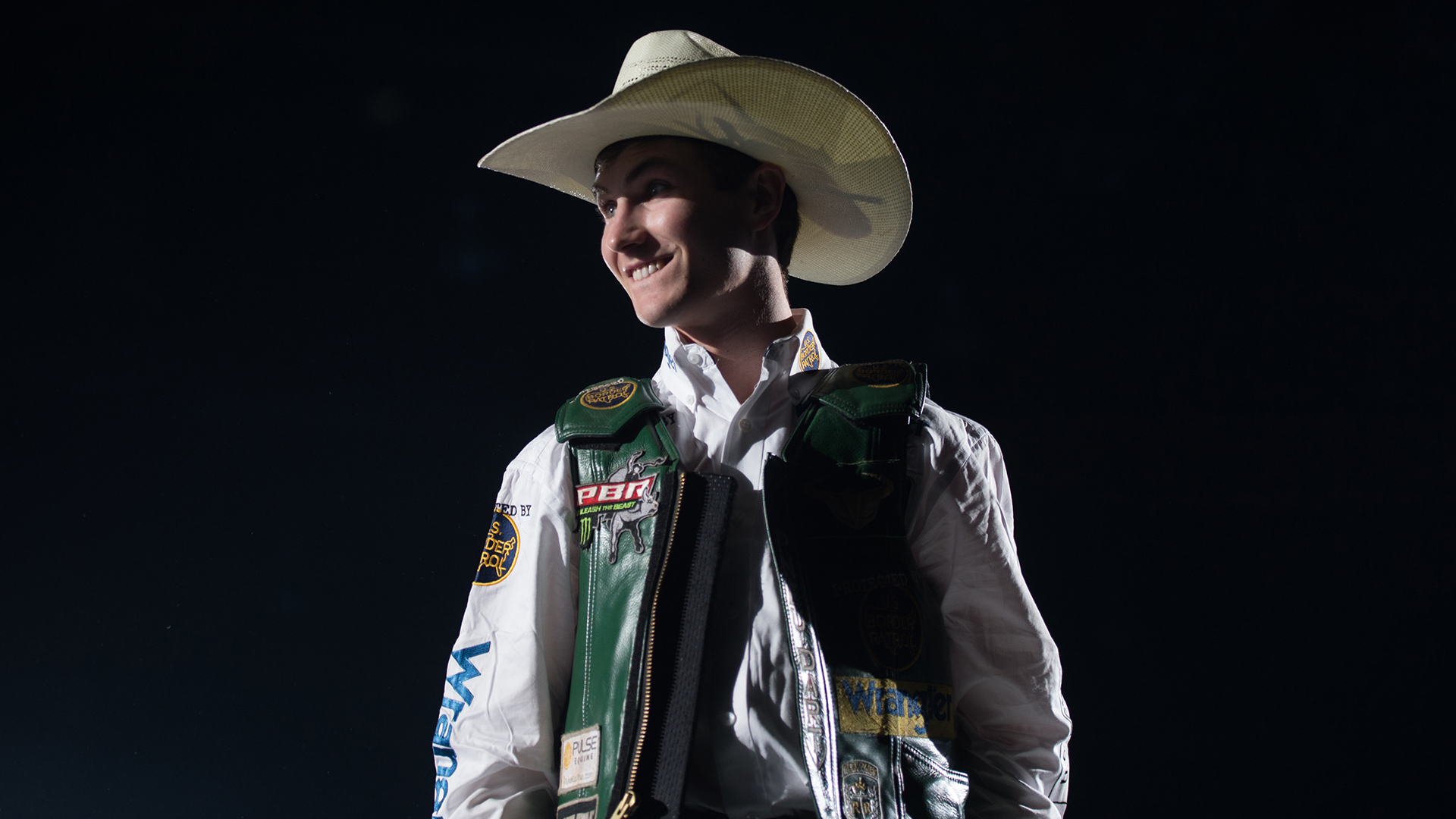 PUEBLO, Colo. — Only time will tell if the 2019 World Championship will be won in part because of one rider's summer decision-making.
Jess Lockwood, though, is making a pretty strong case through the first three weeks of June that, following the 2019 PBR World Finals (Nov. 6-10) in Las Vegas, a recap of his season – especially if it ends with a world title – may include a significant chapter on the dog days of summer.
The 2017 World Champion picked up his third Touring Pro Division event win in as many weeks on Saturday night by going 2-for-2 at the Binford, North Dakota, Touring Pro Division event.
"We are going as planned so far," Lockwood said. "All we can do is hope it keeps going. As long as I can stay healthy, I will be happy and everything will go as planned. I just need to keep my body in shape and stay healthy."
So far Lockwood's streak of three straight weekends with a victory has only been hindered by a small illness, the 21-year-old told PBR.com on Monday morning.
"I am never getting sick and tired of winning, but I am getting pretty sick," Lockwood said from his home in Montana before clearing his throat. "I don't know. I get sinus infections and get sick pretty easy."
Lockwood won Round 1 in Binford with 88.5 points aboard Suspicious Minds, and later picked up the event win by riding Dixie Highway for 89 points in the championship round, taking back the lead following two-time World Champion J.B. Mauney's 90-point effort on Leona's Pet.
Lockwood earned 60 more points toward the world standings, giving him 360 world points in the last three weeks, to move ahead of Joao Ricardo Vieira for the No. 2 ranking.
The Volborg, Montana, bull rider now trails world leader Jose Vitor Leme, who finished in fourth place at the Henson Manufacturing TPD in Vinita, Oklahoma, on Saturday night, by 329.16 points.
Just how good has Lockwood been this summer?
Well, for one, he only had three summer non-UTB event wins in the months of June, July and August in his career heading into this season.
Lockwood now already has three with Binford; Bismarck, North Dakota; and Deadwood, South Dakota, this month alone.
Lockwood went 1-for-2 for a fourth-place finish in Williston, North Dakota, on Thursday and is 9-for-13 (69.23%) with world points in four of the five sanctioned events he competed in. It was in Sheridan, Wyoming, on Friday night that he earned no points following a 3.35-second buckoff against MO-5T.
Lockwood has been close to perfect in the early summer run.
Binford is just the latest edition in Lockwood's sensational comeback from a broken left collarbone that held him out for three months this season.
Lockwood returned to competition on May 3 in Uvalde, Texas. He was 654.16 points out of the world No. 1 ranking and fell 674.14 points back following Leme's win at the Ty Murray Invitational two weeks later.
All Lockwood has done since Leme's victory is continue to chip away at his lead.
Lockwood has earned a PBR-best 1,045 world points in 51 days since his return.
"Anything they ride under me I feel I can ride," Lockwood said. "You have to have that mentality to do great.
"It feels flawless and with ease when you're riding. It is not a dogfight or strenuous. You just nod your head and let your body take over and it stays on for you."
Lockwood is the hottest rider going right now in the PBR, and it could be coming at a great time if he can keep this pace up with Last Cowboy Standing at Cheyenne Frontier Days taking place in one month.
The fourth-year pro wants to be running on full cylinders for Cheyenne, and he believes that not taking a summer break will ultimately benefit him for the upcoming PBR Major.
One rider can earn up to 1,250 points toward the world standings in Cheyenne, but that will require a rider getting on four bulls on the final night of competition.
"The only way you get into bull riding shape is by riding bulls," Lockwood said. "Even getting on practice bulls isn't the same. It is not going to fire your muscles by getting on nice practice bulls compared to something that bucks pretty hard. I think more bulls under you in this format the better.
"The better you ride on more bulls before Cheyenne, the better you are going to do."
MAUNEY MOVES BACK INTO TOP 30
Two-time World Champion J.B. Mauney (2-for-2, 176.5 points, 30 world points) did not let that gash to the side of his left eye keep him from competing in Binford.
Mauney put together two consecutive rides for the first time at any level of competition since his victory at the Bad Boy Mowdown in North Little Rock, Arkansas, on March 2. He rode War Hoop for 86.5 points prior to his 90 on Leona's Pet.
The 32-year-old picked up 30 world points and is now ranked No. 27 in the world standings.
Cody Nance (2-for-2, 169.5 points, 20 world points) and Cory Price (1-for-2, 87.5 points, 15 world points), finished in third and fourth place, respectively.
Colten Fritzlan (1-for-2, 87 points, 3.75 world points), Kache Moosman (1-for-2, 87 points, 3.75 world points) and Dalton Kasel (1-fpr-2, 87 points, 3.75 world points) tied for fifth place.
Kasel has been on quite the little run himself lately, picking up three consecutive Top-5 finishes, including a first- and second-place showing in Williston, North Dakota, Thursday. The 20-year-old also finished runner-up to College National Finals Rodeo champion bull rider Daylon Swearingen at the CNFR on June 15.
"That sucker rides good," Lockwood said. "He should on be on tour coming soon. Dalton and Daylon are both real good."
Follow Justin Felisko on Twitter @jfelisko