Nuce recalls Olympic gold with goal of leading Team USA Wolves to victory
By : Justin Felisko
June 28, 2019
PUEBLO, Colo. – Hanging on the wall inside of Ted Nuce's library at home in Stephenville, Texas, is a piece of gold more than 30 years old.
Every day when his two sons, Wyatt and Westyn, head down to the library to be homeschooled by their mom, Stephanie, the two aspiring rodeo athletes can see the gold medal framed on the wall.
Engraved in the center of the medal is "Rodeo '88 Bull Riding."
Ted won the first-ever Olympic gold medal at the 1988 Olympic Arts Festival at the Olympic Winter Games in Calgary. Team USA also won the team competition, defeating Canada in a showdown between the two nations.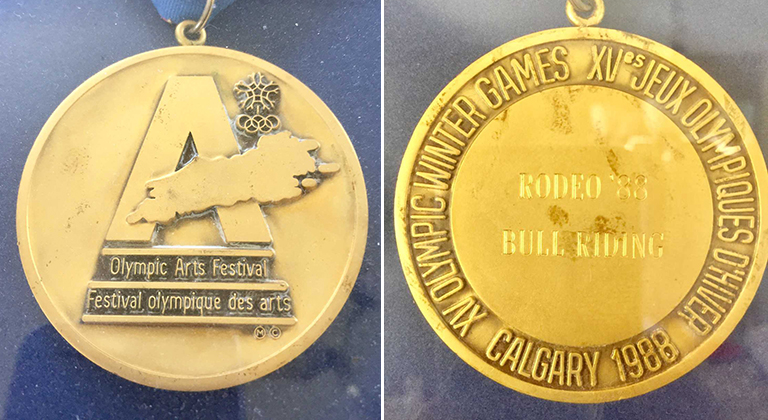 Nuce's gold medal is one of a slew of accomplishments by the PBR co-founder and 1985 PRCA World Champion.
Nowadays the family talks less about Nuce's victory in Calgary and inaugural victory at the 1994 PBR World Finals, and more so about the process it takes to becoming a gold medalist, a World Champion and simply a winner.
"What is really cool is (my boys) look at them medals every single day," Nuce told PBR.com on Friday morning. "They know about the Olympics. It is not like we talk about it all the time. What we talk mostly about is what it takes to get there. I tell them every day, 'If you don't practice, you don't win. The hours you spend in the time practice pen. That is what going to show up at the rodeo.'
"I tell them, 'We don't win first at the rodeo. We win first in the practice pen.'"
Nuce has been tasked with attempting to lead the Team USA Wolves to victory at the 2020 WinStar World Casino & Resort Global Cup USA, presented by Monster Energy.
The PBR announced Nuce as the Wolves head coach on Thursday, joining assistant coach Mike "Bo" Vocu on the coaching sidelines.
"We are going to have a good time," Nuce said. "I am excited. I have put on a lot of clinics on throughout my career when I was rodeoing, and I still do put on clinics at a lot of the Najavo Nation reservations. Charlie (Sampson) and I did one just a few weeks ago and we have been the past few years. I have worked a lot with the Native American bull riders."
One area of being an athlete that Nuce stresses at length is being mentally tough.
"My whole game is a mental game," Nuce said. "I am about the mental game of rodeoing and riding bulls and life. If you are not properly prepared, you are prepared to fail."
It is the same advice Nuce gives his two sons on a daily basis.
The family begins its day listening to various motivational speakers or watching a video before participating in their workout programs.
Ted will discuss daily goals with his boys and go over what they need to change today to become better for tomorrow.
Every day is a step up the ladder of becoming stronger and more confident human beings.
"I am going to coach this team exactly the same way I am going to coach my boys," Nuce said. "I know what it takes to win. I know what it takes to be successful."
When recounting his Olympic victory, Nuce remembers just how confident he was in 1988.
The 1985 PRCA World Champion was in a yearly battle against legendary bull riders Tuff Hedeman and Lane Frost. In 1988, he was jockeying with Jim Sharp for the world title.
Whenever Nuce would show up to a rodeo, he knew he had no room for error, especially when competing against the top bull riders in the world.
"When you get to that level of the half or one percent of competition, it is going to be tough," Nuce said. "But that is where you want to be. That is where all the excitement is. Who cares if you beat someone that just gets lucky one day? But when you beat that guy that is consistent day in and day out, you have done something. You didn't just do something. You worked your butt off to do it. It doesn't happen by luck."
The Olympic bull riding event came down to the final round, with Hedeman in the lead and both Nuce and Frost close behind.
Nuce drew Hill Street, a bull who had bucked off Frost in an earlier round, and made the whistle to take the lead. Frost rode as well, but was still third in the average when Hedeman bucked off, giving Nuce the gold medal.
"Well, at that point of my career I was on top of my game," Nuce said. "In '88, I was riding against a couple of the greatest bull riders ever with Tuff and Lane Frost. It was an amazing event. I was well prepared. I was on top of my game. My confidence level was very high."
Along with his medals at home in Stephenville, where he is neighbors with fellow PBR co-founder Ty Murray, is a photo of him on the podium inside alongside Hedeman and Frost.
It is a moment that is forever engrained in his memory, as is the phrase World Champion on his belt buckle.
"It was one of those experiences I will never forget," Nuce said. "We got those medals and they raised us up on those platforms and they put that gold medal around my neck. There were about 80,000 people in Calgary for the Winter Olympics."
Rodeo would be a part of the Olympics one last time with the 2002 Winter Olympics in Salt Lake City during the Olympic Arts Festival.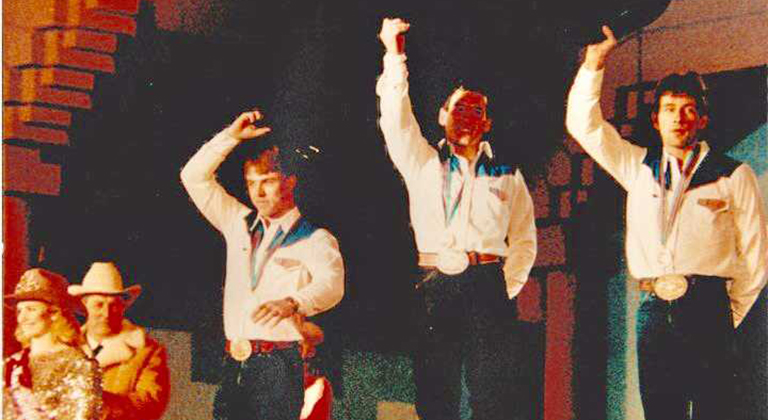 Nuce is hopeful he can add another international bull riding championship to his resume three decades later.
The 58-year-old takes over a Wolves squad that excelled at the 2019 WinStar World Casino & Resort Global Cup, presented by Monster Energy, in Arlington with a third-place finish.
Two of the Wolves from the 2019 squad said they look forward to hopefully earning a spot on Nuce's team.
"I am very excited," 2018 PBR Rookie of the Year Keyshawn Whitehorse said. "I grew up watching some of his rides. I never met him in person, but I always looked up to his riding abilities."
Stetson Lawrence added, "I don't know him very much, but just what he's accomplished in his bull riding career and a little bit from what (Cody) Lambert had told me. He should be a good fit and I am looking forward to this year's Global Cup."
The format for 2020 will be a little different, with roster sizes shrinking from seven riders and an alternate to six. Each squad's coaching staff will select the teams.
The Wolves are the fifth of the six competing teams to reveal their coaching duo – Team Australia (Troy Dunn/Brendon Clark), Team Brazil (Renato Nunes/Guilherme Marchi), Team Mexico (Gerardo Venegas/Jerome Davis) and the USA Eagles (Justin McBride/J.W.Hart).
Team Canada will announce its coaching squad next week.
Has Nuce thought about just how special it could be to add a Global Cup championship on the wall next to his gold medal?
"Oh boy, that would just be awesome," Nuce concluded.
Follow Justin Felisko on Twitter @jfelisko