Global Cup allowing Jesus to live out childhood Olympic dream
By : Darci Miller
July 04, 2019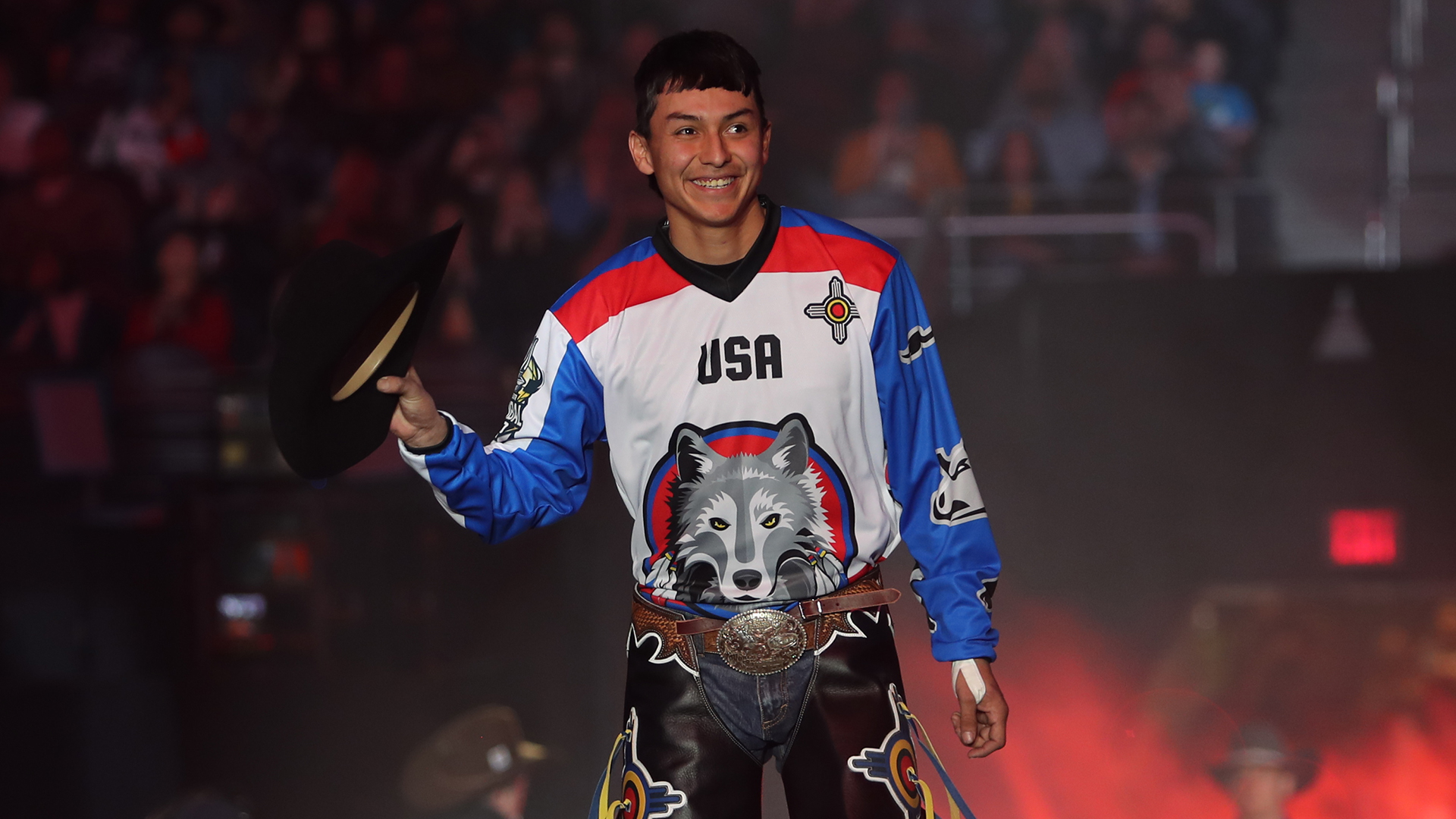 PUEBLO, Colo. – In 1964, a Native American named Billy Mills won the first – and, to this day, only – gold medal for the United States in the 10,000-meter at the Olympic Games in Tokyo.
An extreme underdog and relative unknown at the time of his Olympic triumph, Mills set a world record with an incredible final kick, overtaking the gold medal favorite to an iconic call of, "Look at Mills! Look at Mills!"
Nearly 50 years later, a young kid named Cody Jesus had grown up looking at Mills.
Raised on the Navajo reservation in Window Rock, Arizona, Jesus lived to run and was endlessly inspired by Mills, a member of the Oglala Lakota (Sioux) tribe.
"I watched Billy Mills I don't know how many times," Jesus said. "That's some guy I looked up to and that's what I wanted to be – an Olympic runner."
Cross-country running is on the polar opposite end of the athletic spectrum from bull riding – 8 seconds of effort versus effort extending thousands of meters – yet it was the first sport he fell in love with.
Jesus was a prolific runner at the junior high level, excelling at the middle distances.
In perhaps the only overlap with bull riding, he preferred running on dirt.
"I didn't really do track. As long as it was on a dirt course, that's what I liked," Jesus said. "I didn't really like a track and field, because it was too many rounds."
After Mills won Olympic gold, he went on to co-found the nonprofit Running Strong for American Indian Youth, which aims to help strengthen Native American communities with a focus on serving their youth.
One of those youths Mills happened to impact was Jesus' mother, who ran at the state level and represented her school internationally.
"He ran on the rez," Jesus said of Mills. "He was good friends with my mom. My mom met him. That's one person who helped her train, and my mom gave it over to me, so when I was small, that's how I trained."
When the Olympics rolled around every four years, Jesus would be glued to the track and field coverage – "Shoot, man, that's all I did," he said with a laugh – and dreamed of representing the United States on the world's biggest stage.
"I watched the Olympics with my mom and dad, and that's where I wanted to be," he said. "But when I started bull riding I kind of cut that short."
Jesus made the pivot to bull riding in his early teen years after watching it as a young kid. On repeat alongside Billy Mills' highlights was the movie "8 Seconds," and eventually, a switch flipped.
"It just kind of dawned on me one day, you know, I want to be a bull rider," he said. "And I told my mom when we were going to school that I wanted to ride bulls, and from that day forward it was nothing but bull riding. After I got off I set up a barrel, and here I am."
As Jesus pursued his bull riding career, his dream of representing the U.S. was put on the backburner.
It wasn't until the PBR Global Cup came around that the opportunity to do so even existed for bull riders of Jesus' generation. But when the Global Cup came to Arlington, Texas, in 2019, he finally got his chance.
"When I started bull riding I kind of cut that short," Jesus said of his Olympic dream. "To be able to do that in bull riding is something different and something amazing and something cool."
Not only did Jesus get to represent his country, he got to represent his tribe as well. He was a member of the all-Native Team USA Wolves, alongside Ryan Dirteater (Cherokee), Stetson Lawrence (Chippewa and Sioux), Keyshawn Whitehorse (Navajo), Colten Jesse (Potawatomi), Cannon Cravens (Cherokee), Justin Granger (Navajo) and Dakota Louis (Northern Cheyenne and Blackfeet).
RELATED: Jesus has evolved into World Champion contender since first Native American invite
The team got to enter AT&T Stadium behind a traditional Native fancy dance presentation.
"It felt cool," Jesus said. "That's not something I thought I'd be doing at this level, but to get it done, it's something that really boosted my confidence and really got me going, I think."
Last week, it was announced that Ted Nuce and Mike "Bo" Vocu will lead the Wolves at the at the 2020 WinStar World Casino and Resort PBR Global Cup USA, presented by Monster Energy, at AT&T Stadium in Arlington, Texas, on February 15-16.
The Wolves will look to improve on a third-place performance in 2019. Jesus went 2-for-3, making the 8 seconds on Kern River for 87 points and Black Rose for 88.5 points.
Already the leading contender for the 2019 Rookie of the Year title, Jesus says he thrived in the team environment.
"It just got me more amped up than I usually am," he said. "I try to stay real calm and everything, but when you have your whole team rooting for you and pulling your bull rope, it amps you up and makes you want to try a whole lot harder."
Jesus says he still tries to run every day – his recent groin injury has forced him to cut back to three miles, but he usually runs about six when he's in top shape – but is entirely content forgoing his Olympic dream for the Global Cup.
Even growing up dreaming of representing his country, Jesus has been blown away by the Global Cup experience.
"It was way different than I expected," he said. "I thought it's just going to be kind of the same thing as a UTB, but it was different, to have a whole team behind your back, to represent your country and your team. It's just something cool."