Remembering Asteroid (2007-2019)
By : Justin Felisko
July 08, 2019
PUEBLO, Colo. – A father and son sharing a private moment were captured perfectly and unexpectedly a few weeks ago.
Two-time World Champion J.B. Mauney, dressed in his all-denim attire, grinning as any proud dad would while holding his son, Jagger, aboard 2012 World Champion Bull Asteroid.
Jagger is possibly the happiest 4-month-old baby boy in the world in that moment, and he is stealing the attention away from his father – the most popular bull rider in all of Western sports – with his own smile.
It's a photo that J.B. and Jagger will be able to talk about years down the line when J.B. tells his son about that time in San Antonio long before Jagger was born when he rode an up-and-coming bull riding star by the name of Asteroid for 93.5 points.
J.B. already has that photo framed in his house, and he will someday show Jagger both photos of father and son with their own Asteroid moment.
There have been countless instances like this, many that never reach the public eye, that have happened in Mandan, North Dakota, at the ranch of Chad Berger Bucking Bulls or behind the scenes at a PBR event.
Asteroid would often slowly rise up onto his four legs and groggily walk outside of his barn whenever a group of visitors was taking a tour, especially during Berger's annual barbeque the day after his Bismarck, North Dakota, Touring Pro Division event.
Asteroid had no problem waking up from a slumber to entertain some guests during his life of peace and tranquility following a successful six-plus year career on the PBR's elite level of competition, which featured a 67-4 record, an average bull score of 45.16 points, five trips to the PBR World Finals and that World Championship.
Yes, Berger will always remember Asteroid's dominance in the arena, even if the bull's prime was prior to Berger acquiring him in 2016. But Berger especially came to love the bovine athlete's warm and welcoming personality at home.
"There's no bull that got petted by more people than Asteroid," Berger said. "He was so easy. He wanted to get petted, so everybody that came here to visit, they all got to pet Asteroid. I took hundreds of pictures of people petting Asteroid. I'd say, 'Hey, give me your camera, give me your phone.'
"There's no other bull on the planet – Beaver Creek Beau has had a few (photo ops) – but nothing like Asteroid. He had such a cool personality, such a kind eye. It's something you've just got to love in a bucking bull."
It was with great sadness that Berger announced on Monday that Asteroid passed away due to natural causes two weeks ago after the bull became sick. The five-time PBR World Finals qualifier was 12 years old.
"He was getting old," Berger said. "His health started going backwards and backwards with about everything, and you couldn't get him to come around. He just got worse and worse, and then he got to where he just had to stop hurting."
Berger plans to one day get the photo of Jagger and Asteroid framed for J.B., who faced off against Asteroid six times in his career at all levels.
"There sure was a special bond between J.B. and Asteroid," Berger said. "To see that little boy get to sit on him before he passed away, that'll be a fond memory for me and J.B. and for everybody. I want to get one framed with him on it."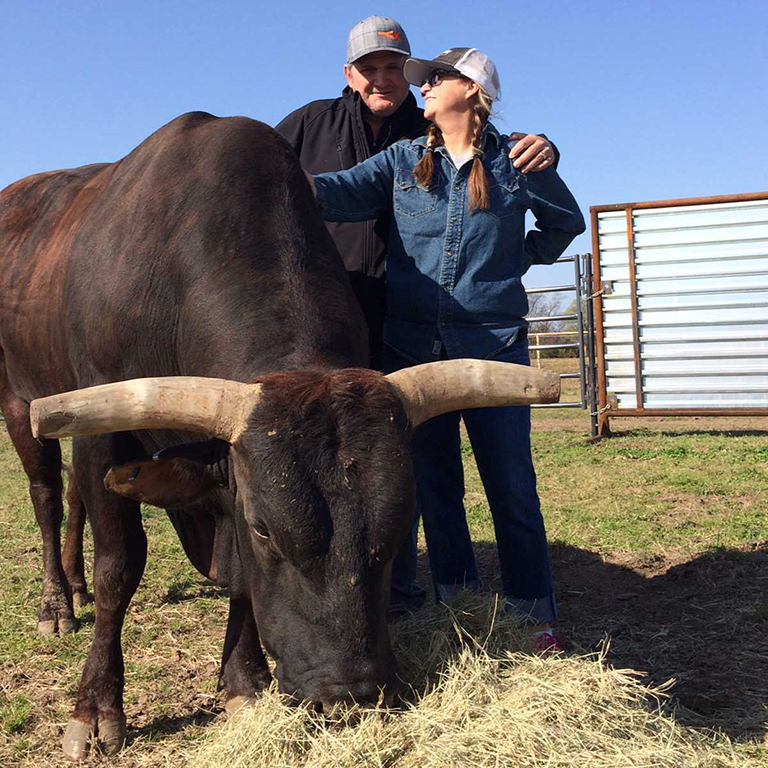 THE BEGINNING OF THE 1,400-POUND STICK OF DYNAMITE
Asteroid was born on March 1, 2007, and would go on to make his PBR premier series debut under the tutelage of Circle T Ranch & Rodeo (Howard & Jeff Talley) and Gene Melton four years later.
It was an unceremonious debut in Des Moines, Iowa, on May 2, 2011. Elton Cide would ride a sub-par Asteroid for 79 points in the bull's first out on the PBR's illustrious stage.
Two weeks later, though, Asteroid began to show glimpses of his true ability, bucking off Pistol Robinson in 3.15 seconds for a 45.25-point bull score in Pueblo, Colorado.
A young eventual three-time World Champion by the name of Silvano Alves was then bested by Asteroid two months later in 3.23 seconds under the hot sun in Thackerville, Oklahoma.
Fabiano Vieira came back the following week to ride Asteroid in Billings, Montana.
Not many people could have predicted what was next following Vieira's effort – which included him hanging on dearly at the end of the ride.
Asteroid became one of the hardest bucking bulls in the business, allowing only two qualified rides in the final 67 outs of his premier series career.
PBR Director of Livestock Cody Lambert recalled on Monday how he had his hesitations about Asteroid at first, but he quickly came to realize that the 1,400-pound bull had the potential to be something special one day.
"When he first came around, they told me what a rank bull he was going to be," Lambert recalled. "The first time I put him in the draw he hipped himself and Elton Cide pretty much hung up to him and was 76 points. I didn't see the greatness there.
"I put him in the draw a couple more times in the long gos and he kind of showed what he really was. By the end of that summer, he was a definite short rounder and he never weakened."
FIREWORKS IN SAN ANTONIO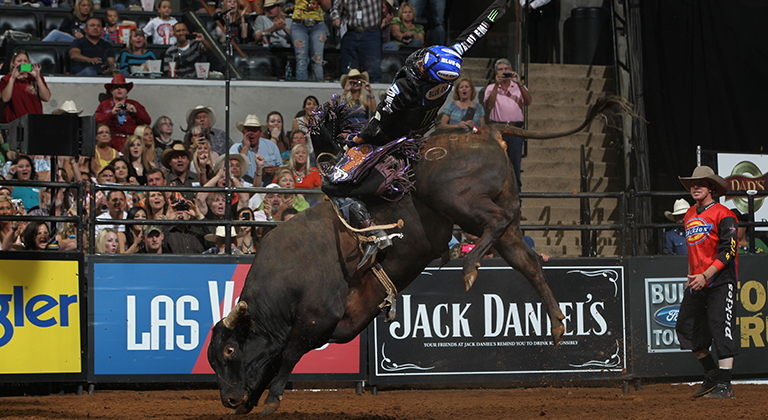 Asteroid bucked off 16 consecutive riders before Mauney went on to make the best ride ever recorded on the bovine in San Antonio on August 18, 2012.
To this day, the ride is one of Mauney's best – often forgotten and overshadowed by his record-breaking 95.25-point ride on Bushwacker.
"I have a picture of it at the house and it is probably one of the coolest pictures I ever had," Mauney recalled in 2015. "He's kicking square over his head and his back is almost flat against my back and I have both of my knees pulled up onto his neck."
Once Mauney, who was previously bucked off by Asteroid in their only prior meeting, nodded for the gate in San Antonio, Asteroid immediately went with his ferocious, whipping bucking style. He tried to jerk Mauney down over the front end by kissing the AT&T Center dirt and extending his back high into the air.
Mauney countered every whip from Asteroid with an aggressive free arm and positioned his knees high on Asteroid's neck to prevent himself from going over the bovine athlete's head. He then held onto the tail of his bull rope for the final seconds.
"That is what made him so hard," Mauney said. "He had so much whip and kick, and you never really knew which way he was going to go. I was holding onto the tail for the last couple of rounds. I wasn't turning loose. I didn't know if I made it or not when I hit the ground."
Much like his rivalry with Bushwacker, Mauney would only be successful that one time against Asteroid. Mauney bucked off in his final five meetings with the bull, including in 6.57 seconds on January 28, 2017, for the last 45-point performance of Asteroid's career.
Lambert said Mauney's ride aboard Asteroid in San Antonio could live right alongside some of the best ever in the sport.
"Asteroid was right in his prime and J.B. was right in his prime, and it was as good a ride as the all-time great rides in the PBR," Lambert said. "J.B. handled him, but his hand was also out of his rope and the tail was in when the whistle blew. He was still riding, but it was all he could do to make the whistle.
"That was J.B. in his prime, and that was big stuff."
The PBR co-founder also noted that Asteroid's success against Mauney – an all-time great – also shows how talented of a bucking bull he was as well.
"J.B. is the only guy that has ridden every rank bull," Lambert said. "Nobody has had the success that J.B. has had on those bulls, and Asteroid has thrown J.B. off five times.
"As great as that ride was and as great as J.B. is, Asteroid is still 5-1 against J.B."
CHAMPIONSHIP ASTEROID SIGHTING IN VEGAS
Asteroid reached the pinnacle of the bucking bull industry less than three months after Mauney's memorable ride.
The then 5-year-old bovine superstar held off Bushwacker – the defending champion – by one quarter of a point when he bucked off L.J. Jenkins (6.44 seconds) for a 46.5-point bull score in the championship round. Earlier in the week, Asteroid demolished Eneias Barbosa Alves in 2.3 seconds for a 46.75-point bull score.
Asteroid's performance in Las Vegas capped off what would be one of the best showings by a bull in his championship season, let alone the best season of his career.
Asteroid went an astounding 17-1 in 2012 with an average bull score of 46.31 points per out.
The 17 buckoffs on the premier series is the most by a PBR World Champion Bull during his championship season.
In comparison, Bushwacker never posted more than 14 buckoffs in one season during his career, and the most premier series outs current three-time World Champion SweetPro's Bruiser has ever had in one season is 16 in 2017. However, Bruiser should be given credit for his rodeo career accomplishments, which includes a PRCA Bull of the Year title in 2017.
"You could argue Asteroid is anywhere in the Top 10 in the PBR all time," Lambert said. "Some guys would have him higher than that and some guys would have him lower. I have him right in the middle for best bull we have ever seen in the PBR."
Asteroid would never go on to win another world title. There is a belief that if not for Bushwacker, Asteroid would be one of six bulls with multiple championships.
Asteroid challenged Bushwacker in 2011, 2013 and again in 2014 – finishing second in both 2011 and 2013.
"Asteroid was there when Bushwacker and Bones were there," Lambert said. "Asteroid was right there with Bushwacker and Bones, and those are two of the greatest bulls that anybody has seen.
"Asteroid is one of them that was right there with Bushwacker and actually beat him."
To be one of the few bulls alongside Bones to defeat Bushwacker is saying something, and Berger does wonder what may have been if Asteroid and Bushwacker were in different eras.
"His reputation would be way bigger," Berger said. "We'd be talking about him as the best one ever and everything else, because without Bushwacker there, who knows?
"He might've won five titles."
A CHAMP ENDS THE STREAK
Silvano Alves looked Guilherme Marchi in the eyes during the final day of the 2014 PBR World Finals and made a bold prediction.
Alves was minutes away from facing off against Asteroid in the championship round.
A World Championship was at stake for both athletes, and Alves was going to be the underdog against the Circle T Ranch & Rodeo bovine stud that had bucked off 30 consecutive riders on the premier series, and 32 overall, since Mauney rode him in San Antonio.
"I am ready for him today," Alves told Marchi. "It is going to be good proof today if I ride that bull."
Regardless, Marchi wasn't as sure as the championship round continued.
Could Alves finally conquer a bull that had handled him in four previous encounters?
Marchi became a believer once he pulled Alves' rope and glanced into the bucking chute and into his friend's eyes.
"I saw in his eyes that he had the confidence this time – in that moment – and I knew he was ready to get on that bull," Marchi said. "He knew if he was going to ride that bull, he was going to win the title, and when I pulled that rope I saw the confidence that he had."
RELATED: Alves enjoyed storied history with Asteroid
Sure enough, Alves made history moments later when he conquered Asteroid for 87.25 points to clinch his PBR record-tying third World Championship and first career World Finals event average title by finishing the week 6-for-6.
The ride, which came during their third showdown of 2014, also ended Asteroid's career-high streak of 30 consecutive buckoffs on the premier series.
"It is one of my favorite rides," Alves said. "He bucked me off four times and I rode him one time. I am very happy for the one ride because the ride made me the World Champion and the champion of the World Finals."
THE INITIAL RETIREMENT
Another reason why Asteroid may have never won that second world title was that Circle T Ranch & Rodeo decided to retire the bull while he was still somewhat in his prime.
Bushwacker had retired following the 2014 season and a third championship. It appeared as if Asteroid would go on to be the favorite in 2015 and win a second championship.
Asteroid was only 8 years old and was just coming off a runner-up finish in the 2014 title race.
However, Jeff Talley decided in January 2015 that he wanted to retire the bull after seeing Alves ride him at the World Finals. Talley believed "it was the right time," and eventually decided to give Asteroid one final out at the 2015 Iron Cowboy in AT&T Stadium.
In Arlington, Asteroid showed the world what he felt about a potential retirement.
Asteroid destroyed 2004 World Champion Mike Lee in 1.61 seconds for a 46-point bull score – the 29th time that the bull was scored 46 points or higher.
Asteroid was marked a career-best 47.5 points on four occasions – 2012 Tampa, Florida (2.33 seconds vs. Valdiron de Oliveira); 2012 Sacramento, California (1.81 seconds vs. Silvano Alves), 2011 World Finals (1.76 seconds vs. Harve Stewart) and 2011 Milwaukee, Wisconsin (5.24 seconds vs. Kasey Hayes).
The out at Iron Cowboy, though, left Lambert convinced Asteroid still had a run left in him.
Lambert even told Talley and Gene Melton that if they changed their mind to let him know and he would put the bull back in a premier series draw.
However, Talley and Melton would not have a change in heart, and Asteroid would not buck for the remainder of the season.
"They retired him before it was time," Lambert said. "He missed the 2015 season, which was going to be one of his best seasons. Asteroid didn't have any say so about that and Howard Talley passed away and Jeff wasn't into it much. Him and Gene weren't willing to move in the same direction so it just happened."
THE SHOCKING PURCHASE
Lambert was not alone in his belief that Asteroid had a few more seasons left in him.
Reigning Stock Contractor of the Year Chad Berger saw Asteroid's out in Arlington, and he was convinced he wanted to purchase the bull from Talley and keep the bull's career going.
The problem was that Talley had no interest in selling the bull to Berger.
That all changed 11 months later when Berger was at a cattle auction in Devil's Lake, North Dakota, and Talley called him to say a deal was back on the table.
RELATED: Berger acquires Asteroid
A near yearlong pursuit was finally going to come to fruition for Berger. The North Dakota stock contractor quickly agreed to an undisclosed deal with Talley for Asteroid, as well as Jack Daniel's After Party and Shepherd Hills Trapper.
Berger did not believe he had pulled off the purchase even once the deal was finalized, and he was told that Asteroid was at home at the Berger Bucking Bulls ranch in Oklahoma.
The now 57-year-old wound up waking up at 4:30 a.m. during the Oklahoma City premier series event so he could drive 2 hours to his ranch 15 miles east of Henrietta, Oklahoma, and see with his own eyes that Asteroid was indeed his.
"Oh, I was real proud of him," Berger said. "I tried buying him from Jeff Taller when he was talking about retiring him. He wouldn't sell him for a long time. And then I was just so glad when we finally got him."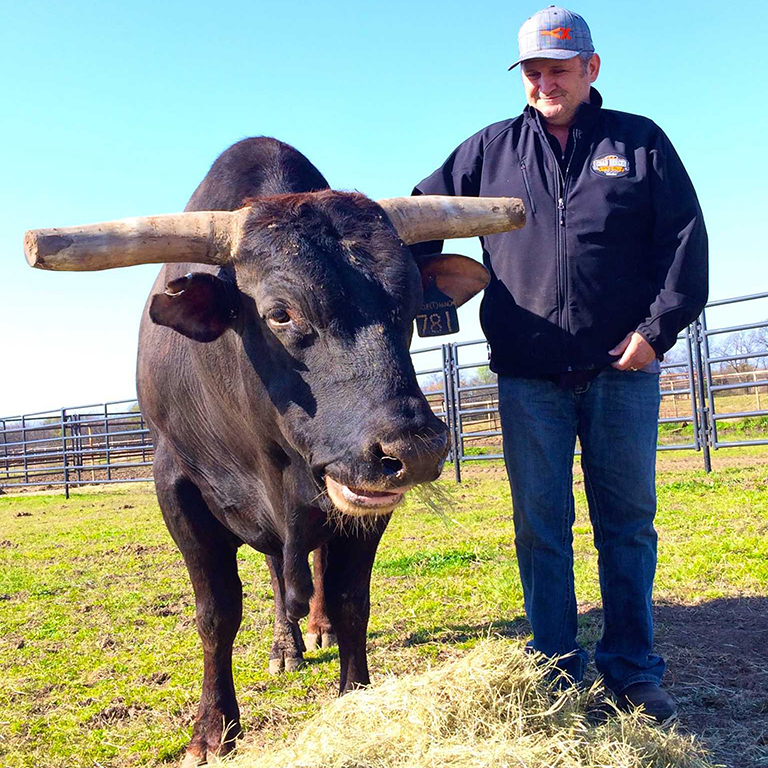 ONE FINAL WORLD FINALS QUALIFICATION AND AN UNDEFEATED RECORD
Asteroid would buck 18 more times on the premier series before Berger would quietly retire him following the bull's 7.02-second buckoff of Cody Nance in San Jose, California, on October 22, 2017.
No rider ever reached 8 seconds on Asteroid at the premier series level under Berger's watch.
Asteroid made his official return from retirement on February 13, 2016, bucking off Joao Ricardo Vieira in 2.9 seconds on CBS national television for a 45.75-point bull score in St. Louis. He would go 11-0 that season, qualifying for the PBR World Finals for one last time.
Asteroid also posted two 46.5-point bull scores by bucking off Jess Lockwood (1.78 seconds) and Nance (3.55 seconds) that summer in Bismarck, North Dakota, at Berger's TPD event.
RELATED: Asteroid adds Lockwood to his list of victims
In fact, Asteroid bucked off 11 PBR or PRCA champions a combined 20 times at all levels of competition throughout his career.
"Every day I owned him was a favorite moment for me, to have a bull like that," Berger said. "When we first got him, and he didn't get rode for almost two years back to when we got him. The bull loved to buck, and he loved to entertain.
"The one that really stands out to me was with Joao. He looked like his old self and took care of Joao like he was the first one Joao ever got on. That one sticks out to me more than any of them."
Even though Asteroid was no longer putting up 46-point scores, he still bucked in either a 15/15 Bucking Battle, championship round or at the World Finals for every one of those 18 outs.
Asteroid was facing the stiffest competition possible whenever he walked off the trailer and was still bucking off every rider who thought he had a chance to ride him.
"After Chad got him in 2016, he came back and spent that year going up against the very toughest bull riders in the PBR," Lambert said. "The very toughest ones we had. He spent the entire year in the championship round and the 15/15 rounds and nobody rode him. Nobody rode him then or the first half of 2017. By the break in 2017, it was showing that he had lost a step."
The only small blemish of Asteroid's return came in June 2017 when Lockwood rode him for 65 points in Bismarck, North Dakota. Lockwood was still hanging off the side, barely reaching the 8 seconds, but Asteroid did not buck like the Asteroid of old.
"Even when he was rode for that really low score, Jess was just hung up to him and he was still bucking pretty good," Lambert said. "It just wasn't good for Asteroid."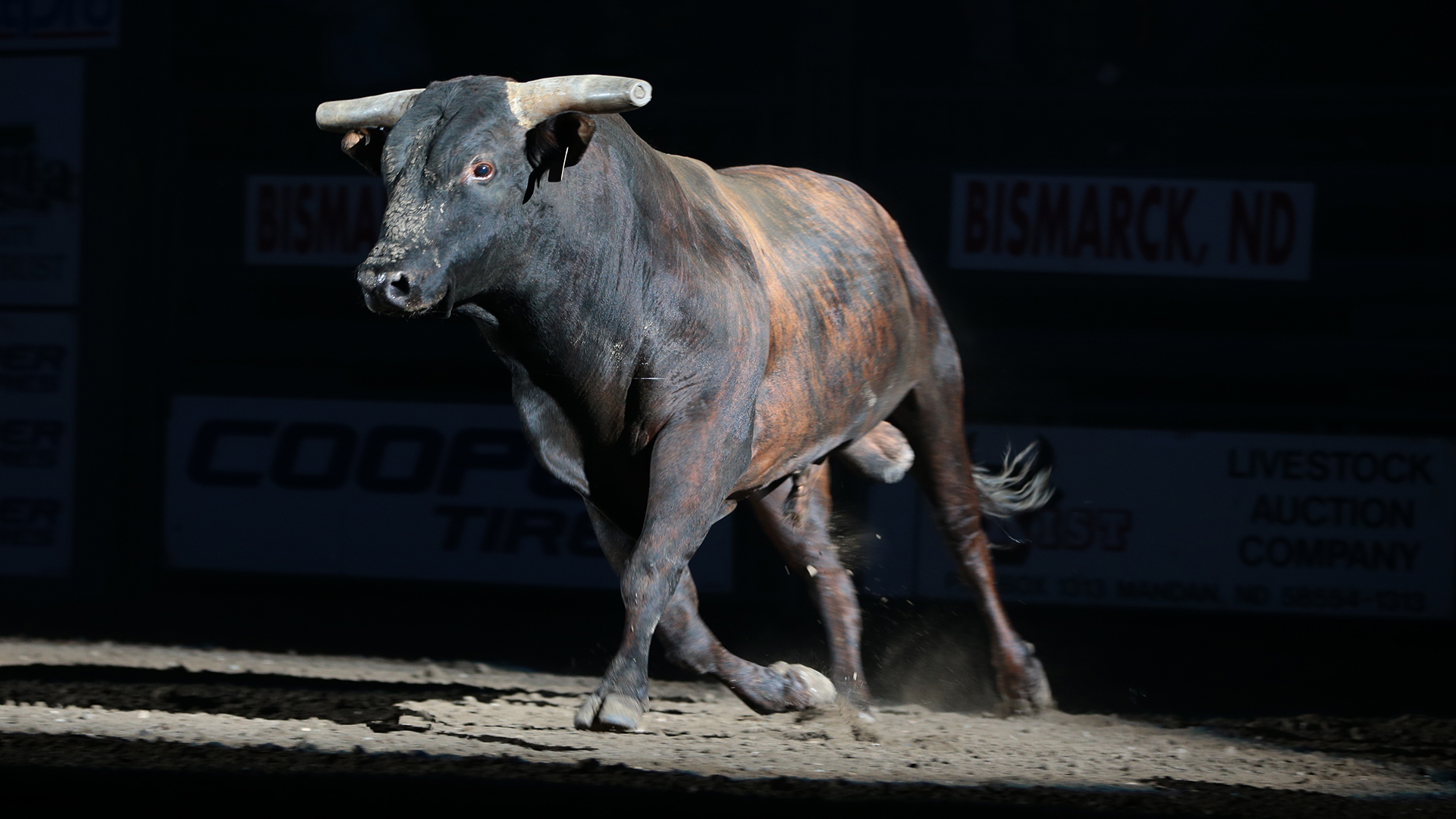 THE FUTURE IS COMING
A major reason that Berger purchased Asteroid in 2016 was not to try to squeeze another possible world title out of the legendary bull, but rather to begin the foundation of a strong breeding program.
In the last three-plus years, Berger has bred Asteroid with cows related to the likes of Little Yellow Jacket, Smackdown, Copperhead Slinger, Sir Patrick, Bring It and Pearl Harbor.
It is why Berger can still look forward to the future even in a moment of sadness; he knows that Asteroid's legacy will live on in not just memory and highlight reels, but also in future bucking bulls.
A new generation of Asteroids is coming, and fans will be watching the skies anxiously for it.
"Now in a couple of years you'll get a lot of Asteroids because we've got a whole bunch of 2-year-olds and yearlings and calves," Berger concluded. "That was one of the greatest parts of all of it, too, was getting to live breed him for the future."
Follow Justin Felisko on Twitter @jfelisko