Team USA Eagles may be stronger today than they were five months ago
By : Justin Felisko
July 11, 2019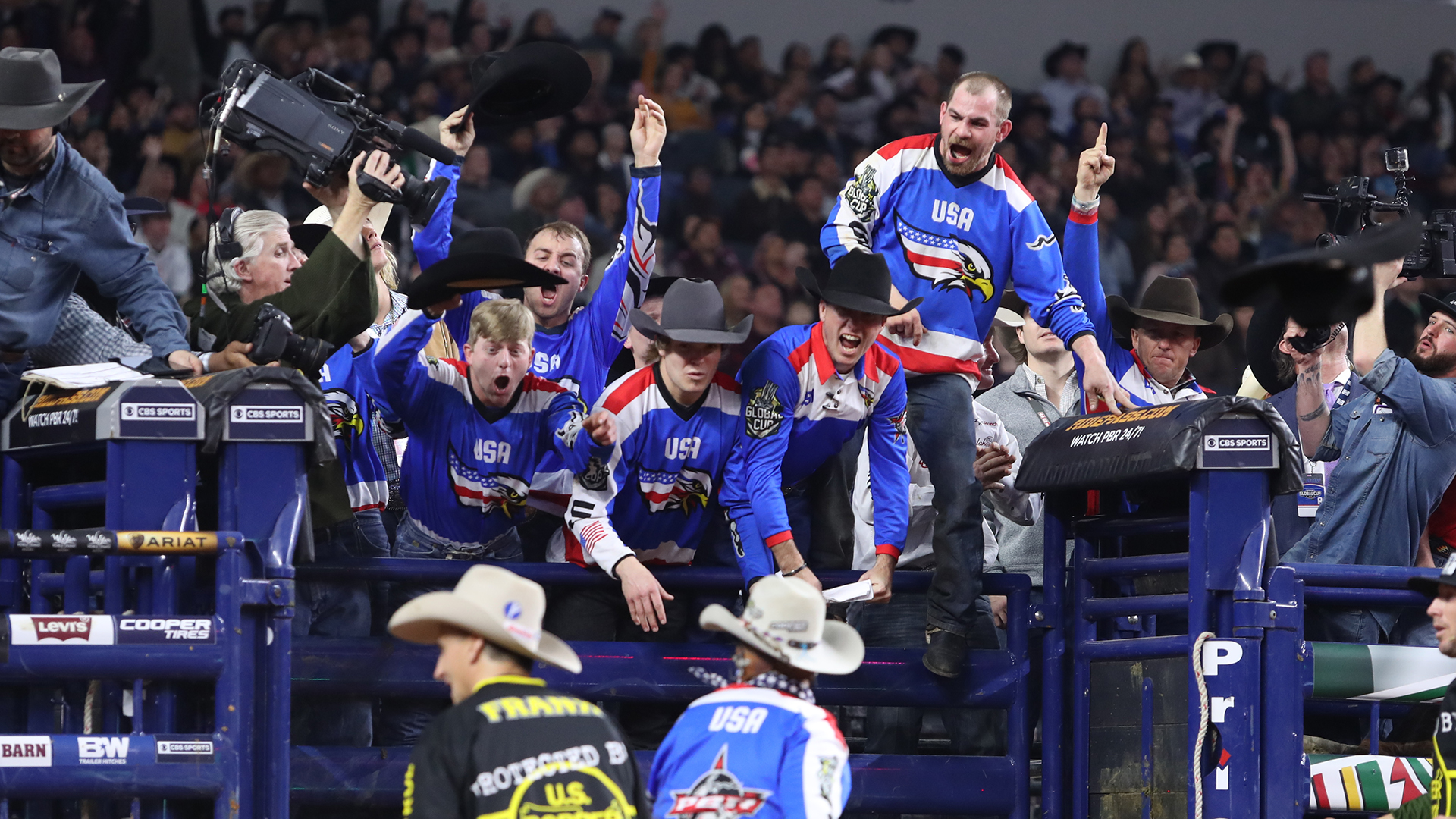 PUEBLO, Colo. – The Top 15 of the PBR world standings is almost entirely composed of red, white and blue.
Ten of the Top 15 riders in the world, and 21 of the Top 35, are American – a good barometer of the talent pool that may be available for Team USA coaches Justin McBride (Eagles) and Ted Nuce (Wolves) for next year's Global Cup USA.
After being publicly announced as head coach of the Eagles for the 2020 WinStar World Casino & Resort Global Cup USA, presented by Monster Energy, two weeks ago, McBride said that he does not believe Team USA is very far from regaining Global Cup dominance.
Team USA won the inaugural Global Cup held in Edmonton two years ago, but it has since fallen short of defeating Team Brazil by one ride in both Sydney, Australia, and Arlington, Texas.
"It has been one bull at the last two that they didn't win," McBride said. "If they ride one other bull, they win it running away. I am not worried about it.
"We have the opportunity to put together the best team yet, talent-wise, if everybody can stay healthy."
A new change for the 2020 Global Cup is that coaches will have complete autonomy in their selection of six riders and an alternate.
"I will be looking for the guys that are not only riding the best, but that are willing to do whatever is asked of them in that moment," McBride added. "That is what you have to have."
A quick scan of the world standings or a glance at the recent PBR headlines shows the United States has quite the crew of bull riders for McBride to choose from.
World No. 2 and 2017 World Champion Jess Lockwood has been on a tear (16-for-21; 4 event wins) since the summer Unleash The Beast break began. Lockwood just recently won Pool A of the Calgary Stampede on Monday.
World No. 3 Chase Outlaw has been right on Lockwood's heels in Calgary and so far has the only 90-point ride of the event (90 points on Rhythm & Blues).
Outlaw, who has won two summer TPD events, had one of the best weekends of his career last month in Bismarck, North Dakota, when he rode Sky Harbor (89.25 points) and No. 2 World Champion Bull contender Smooth Wreck (94.75 points).
The Hamburg, Arkansas, bull rider was also a part of the American contingent that ended the first half on quite a run. American riders won seven of the 10 Unleash The Beast events following the 2019 Global Cup: Outlaw (2), Cody Teel (2), J.B. Mauney (1), Cooper Davis (1) and Mason Taylor (1).
Teel, the No. 5 ranked bull rider in the world, also has two summer event wins and is 2-for-2 so far at the Calgary Stampede.
International fans living outside of Canada can watch all of the action from Calgary on RidePass beginning at 3:15 p.m. ET.
Captain America and No. 6 Cooper Davis finished second in the Touring Pro Division event in Bismarck after he went 3-for-3 to win the Green Bay Invitational before the start of the summer break.
Meanwhile, No. 8 Derek Kolbaba finished third in Bismarck and posted 90-point rides on Biker Bob (93.75 points) and Tested Crazy (90 points).
The American talent pool stems outside of the Top 10 too, though.
You can't forget about riders like No. 11 Matt Triplett, 2019 Rookie of the Year contender Joe Frost, five-time PRCA champion Sage Kimzey, 2019 Collegiate National Bull Riding Champion Daylon Swearingen, three-time Team USA rider Brennon Eldred, rookies Mason Taylor and Ezekiel Mitchell and, of course, Mauney.
Meanwhile, Nuce has the option of selecting No. 9 Ryan Dirteater, No. 13 Cody Jesus, No. 15 Stetson Lawrence and No. 18 Cannon Cravens to his squad.
Simply put, the Americans as a whole are a stronger group today than when they stepped foot inside AT&T Stadium in February.
McBride is anticipating the open competition that is already underway for the Americans attempting to make his team to become fiercer.
He believes that right now he has three spots that are wide open, but that could change as things develop between now and February.
"That is a great problem to have," McBride said. "That is a great problem to have instead of trying to scrounge up a team. You are going to have to turn away some really good bull riders, but that is the way it should be in the U.S."
McBride says that, though Team USA is frustrated with its recent results, it is not time to hit the panic button. The Eagles were 16 seconds away from a Global Cup dynasty and a three-peat.
The 39-year-old wholeheartedly believes the United States is the best bull riding nation in the world, but he understands that his team needs to prove it on the Global Cup stage.
"If they keep doing what they are doing, nobody can touch them," McBride said. "They are really, really good. They have the ability to ride. Especially with it being here again with those upper end bulls that separate the teams.
"I don't want anybody to take it the wrong way, but it is how I feel. They are the best set of bull riders that there are. That is not taking anything away from the Brazilian guys. They have some real standouts and stars on their team, but at the end of the day, our guys are better at going either direction on the ranker bulls.
"We just have to show up and show that at the right time."
Follow Justin Felisko on Twitter @jfelisko