PBR Power 8: Which rookies may break through at Last Cowboy Standing?
By : Justin Felisko
July 12, 2019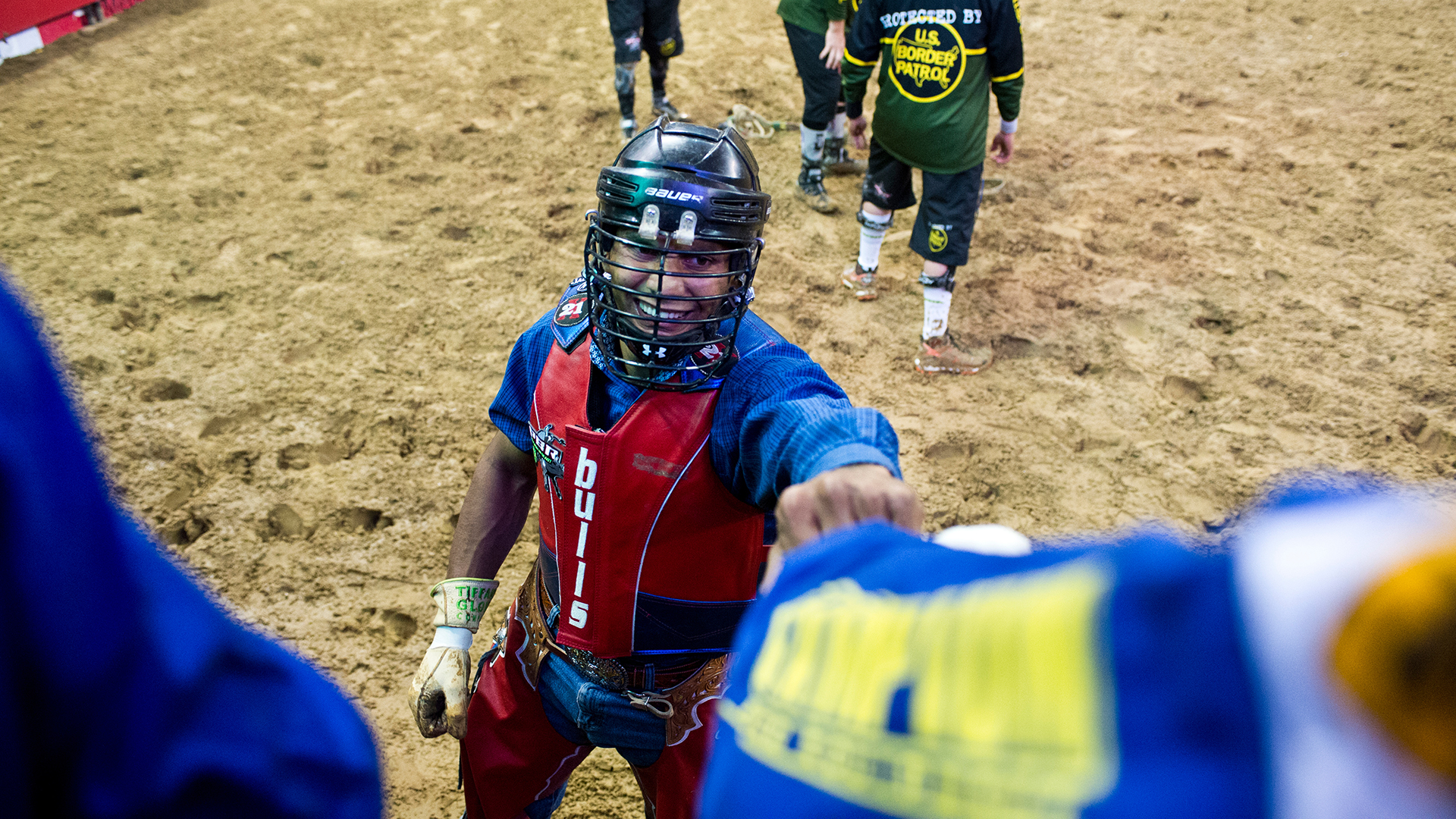 PUEBLO, Colo. – The PBR began the PBR Majors series – New York, Iron Cowboy, Last Cowboy Standing and the Music City Knockout – in 2015 with Iron Cowboy in Arlington, Texas.
Since then, reigning World Champion Kaique Pacheco is the only rookie who has ever been victorious in 17 PBR Majors.
Pacheco won the Music City Knockout in 2015 in his failed bid to run down two-time World Champion J.B. Mauney in what was one of the first signs that Pacheco was going to be a force in the PBR.
The next PBR Major on the Unleash The Beast calendar is the upcoming Last Cowboy Standing at Cheyenne Frontier Days on July 22-23 in Wyoming.
The rookie class of 2019 will now try to produce only the second rookie in PBR history to take home a PBR Major title.
We almost saw this year's group buck that trend at Iron Cowboy in Los Angeles this past February when five rookies advanced to Round 3 – Alisson de Souza, Ezekiel Mitchell, Mason Taylor, Cody Jesus, and Alan de Souza – before Joao Ricardo Vieira won the event with his 90.25-point ride on Cochise.
The format for Last Cowboy Standing, which will award the event winner a minimum payout of $100,000 and up to 1,250 points toward the world standings, has been altered from previous seasons.
Last Cowboy Standing will still be a progressive elimination event like past seasons, but starting in Cheyenne (CBS Sports Network & RidePass 10 p.m. ET), advancement beginning in Round 2 will be based on aggregate (total ride) scores in the event.
Forty riders will compete in Round 1, with the Top 25 scores advancing to Round 2. The Top 8 riders via aggregate score following the second round will then advance to Round 3. Next, Round 4 will then consist of the top four riders in the aggregate based upon the previous three rounds.
Essentially, the first four rounds will be cut down from 40 riders to 25 to 8 to 4.
Round 5 will feature every rider who posted a qualified ride in Round 4. A minimum of two riders will compete in Round 5. If only one rider covers in Round 4, then the PBR will draw back one rider based on aggregate scores following the completion of Round 4.
RELATED: Don't miss the action in Cheyenne for only $41
The rider with the highest score in Round 5 will win the title of Last Cowboy Standing. If all riders buck off in Round 5, then the Last Cowboy Standing crown will go to the rider with the highest aggregate score among those who attempted a bull in Round 5.
With that being said, here are eight rookies who may win Last Cowboy Standing in Cheyenne.
1. Alisson de Souza
Souza has been spending the summer break in Brazil, and has not had a ton of success at a handful of PBR Brazil events and other rodeos. Souza went to three PBR Brazil events and was 4-for-8. He also recently rode for 88.75 points at the prestigious Rio Verde Rodeo in Brazil.
The 25-year-old does lead the PBR rookie class with 18 qualified rides in 48 attempts on the UTB. He has the most experience on the Unleash The Beast of the group, and has also performed well so far on the PBR's Major stage.
In New York, the 2017 Velocity Tour Finals event winner went 4-for-4 for a fourth-place finish, and he advanced to the final round at Iron Cowboy.
Brazilians have historically been extremely successful at PBR Majors – winning 11 of the 17 titles.
2. Cody Jesus
The leading Rookie of the Year contender's health is the biggest concern heading into Cheyenne. Jesus has the talent and ability to win the Rookie of the Year title, and potentially one day contend for a World Championship.
However, Jesus, who sustained injuries to his shoulders and back at the end of last season, tore his right groin in Tacoma, Washington, on March 30. Jesus then re-aggravated the injury at the Ty Murray Invitational in Albuquerque, New Mexico, the next month in his first event back.
The 20-year-old has not competed since then, but he said this week that he is healthy and ready.
Last Cowboy Standing is a grueling, physical test for riders of all experience levels. The winning rider will have attempted five bulls in total in two days, including three on the final night of competition.
Cheyenne will be a testing ground for Jesus' groin.
3. Joe Frost
Frost may be technically a PBR rookie, but he is a seasoned veteran when you factor in his five trips to the Wrangler National Finals Rodeo.
The No. 21-ranked bull rider in the world has competed in the second-fewest Unleash The Beast events among Top 35 rookies and is 9-for-24.
Frost is one of the most physically well-conditioned riders in the rookie class, and his bigger body type may benefit him when the later rounds get underway in Cheyenne.
The 26-year-old has also ridden on the some of the largest stages in rodeo, including at the Cheyenne Frontier Days Rodeo, so he will not be a stranger to the historic setting where his second-cousin, the late Lane Frost, passed away in 1989.
This summer has been a mixed bag of success for Frost.
So far Frost is 3-for-4 at the Calgary Stampede following Pool A competition, but he will need to advance out of the Wild Card Saturday round to have an opportunity on Showdown Sunday.
Frost went 1-for-4 at Chad Berger's Bismarck, North Dakota, event, riding Humberto for 88 points. He also finished second at the Cedar City, Utah, PRCA rodeo last month.
4. Daylon Swearingen
Swearingen has moved up two spots to No. 16 in the world standings and third in the Rookie of the Year race following what is so far a solid summer run.
The 20-year-old competed at five PBR events and posted a first, second and third-place finish by going 3-for-6. Swearingen also won the 2019 Collegiate National Bull Riding title by going 3-for-4 at the College National Finals Rodeo.
Swearingen has struggled some so far to begin his UTB career, going 2-for-8, but there is a general belief that he has the potential to succeed at the PBR's highest level in the near future.
It is not uncommon for rookies to struggle some to begin their careers. Just ask 2016 World Champion Cooper Davis. Davis began his 2015 season with 11 consecutive buckoffs, but went on to win the 2015 World Finals event title as a rookie.
5. Lucas Divino
Divino may have had one of the most puzzling showings of the summer among the rookie class.
The 25-year-old demonstrated his potential with two 90-point rides during Berger's $125,000 Team Challenge with 90.5 points on Speed Demon and 90 points on Midnight Rain – big-time stuff.
Beyond that, it's been all buckoffs for Divino as he is 0-for-7 in PBR sanctioned competition this summer.
Divino seemed to be turning a corner this spring when he finished second at the Caterpillar Classic in Kansas City. He then broke his collarbone attempting to ride Legit in Sioux Falls, South Dakota.
Cheyenne will be his first UTB event since Sioux Falls.
6. Mason Taylor
The No. 2 rookie in the race is the only rookie to win an Unleash The Beast event so far this season, and he has the ability to win another.
Taylor began the summer with an impressive second-place performance in Deadwood, South Dakota, before bucking off five consecutive bulls in three additional events.
In Deadwood, Taylor rode Chaturanga for 90 points and Gunsmoke for 88 points before bucking off More Big Bucks (3.46 seconds in the championship round).
7. Ezekiel Mitchell
Mitchell got a taste of winning again this summer as his 87.5-point ride on Milky Chance earned him the victory in Rocksprings, Texas.
The No. 17-ranked bull rider in the world, though, said he is chasing that UTB win and that that is the ultimate goal.
"I mean, it was pretty cool," Mitchell said. "I've been going to that event since 2017 and never had any big success there. So to finally get something done there in the home state was a good feeling, but I am still itching for that first UTB win."
It has been a slow summer for Mitchell (2-for-10), but his fortunes may turn around in a blink of an eye in Cheyenne.
8. Taylor Toves
Toves is right there with Swearingen for best rookie of the summer with his 5-for-11 performance since Green Bay. Like Swearingen, he too has a first, second and third-place showing on his summer resume, but all of Toves' were at Touring Pro Division events and not in Canada.
The Stephenville, Texas, native could be a sleeper rookie to make some noise in the second half.
Follow Justin Felisko on Twitter @jfelisko