Last Cowboy Standing Draw: SweetPro's Bruiser returns as rank bulls await Top 40 riders in the world
By : Justin Felisko
July 18, 2019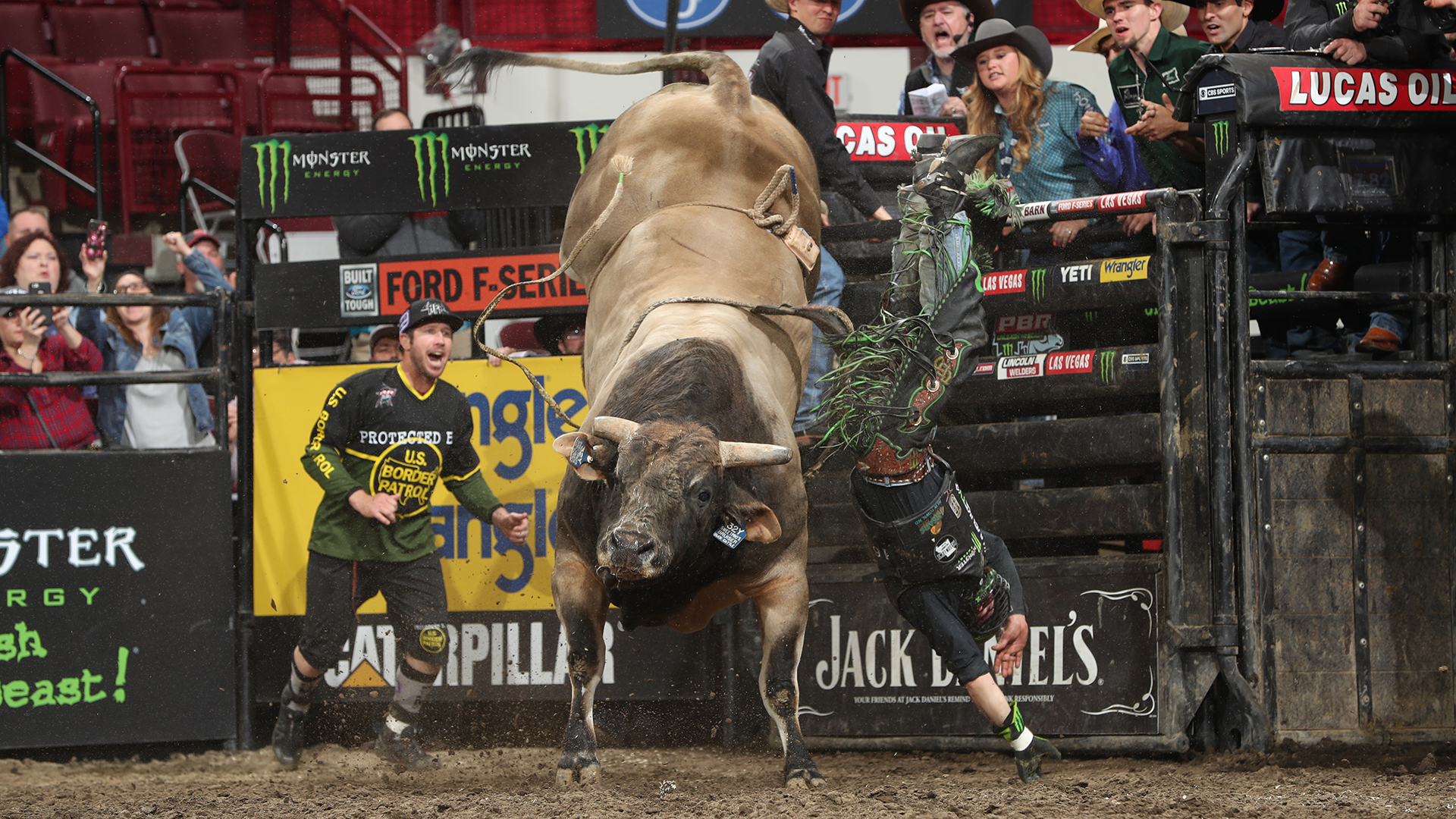 PUEBLO, Colo. – The stakes are always higher when it comes time for a PBR Major, and that is certainly going to be the case at Last Cowboy Standing on Monday and Tuesday night in Cheyenne, Wyoming.
One rider can win potentially 1,250 points toward the world standings and upwards of $100,000.
To do so, that rider will likely have to conquer either SweetPro's Bruiser or Cochise in the fifth and final round of the competition, which will come following multiple tests against some of the rankest bulls in the world in the first four rounds.
In fact, PBR Director of Livestock Cody Lambert has assembled one of the strongest bull pens of the 2019 Unleash The Beast season for Cheyenne. Eight of the Top 10 bulls in the 2019 YETI World Championship race are slated to buck in Cheyenne as the likes of D&H Cattle Company, Chad Berger, Gene Owen and J.W. Hart are set to haul their best bulls to The Cowboy State.
"We've got in early rounds Smooth Operator, Legit and a whole bunch of really good ones," Lambert said during this week's CBS Sports Network television production call. "Canadian Mist. There is a whole lot of bulls. The second day are bulls-that-can-be-at-the-Finals great. It is a pretty tough day."
Fans can watch both nights of Last Cowboy Standing live on CBS Sports Network beginning at 9:30 p.m. ET.
Top World Champion Contenders Bucking in Cheyenne
No. 1 SweetPro's Bruiser (Round 5)
No. 2 Smooth Wreck (Round 2)
No. 2 Smooth Operator (Round 2)
No. 4 Fearless (Round 2)
No. 6 Legit (Round 2)
No. 8 Cochise (Round 5)
No. 9 Lil 2 Train (Round 2)
No. 10 Canadian Mist (Round 2)
RELATED: Round 1 Daysheet for Last Cowboy Standing
"I am thinking Cochise and Bruiser, they have a chance to ride them in the final round," Lambert said. "I hope they ride them for 94 or 95, and they might be 90 and 91, too. The rounds prior to that, it is not going to be easy to get there and it is not going to be easy to finish, but it could be some really good stuff."
Last Cowboy Standing is a progressive elimination event with advancement beginning in Round 2 based upon aggregate (total ride) scores in the event.
Forty riders will compete in Round 1, with the Top 25 scores advancing to Round 2. The Top 8 riders via aggregate score following the second round will then advance to Round 3. Round 4 will then consist of the top four riders in the aggregate based upon the previous three rounds.
Essentially, the first four rounds will be cut down from 40 riders to 25 to 8 to 4.
Round 5 will feature every rider who posted a qualified ride in Round 4. A minimum of two riders will compete in Round 5. If only one rider covers in Round 4, then the PBR will draw back one rider based on aggregate scores following the completion of Round 4.
RELATED: Don't miss the action in Cheyenne for only $41
The rider with the highest score in Round 5 will win the title of Last Cowboy Standing. If all riders buck off in Round 5, then the Last Cowboy Standing crown will go to the rider with the highest aggregate score among those who attempted a bull in Round 5.
The Top 4 riders in the world are separated by less than 500 points, and No. 1 Jose Vitor Leme, No. 2 Jess Lockwood, No. 3 Chase Outlaw or No. 4 Joao Ricardo Vieira could each leave Cheyenne atop the world standings.
Unlike regular Unleash The Beast events, Last Cowboy Standing will award 125 points for each round winner, seeing as the event is a PBR Major.
Leme has drawn Hot Habanero (2-3, UTB) for Round 1 on Monday evening.
The 22-year-old is looking to become the seventh Brazilian bull rider to win a PBR Major. Brazilian riders have won 11 of the 17 PBR Majors.
There are six riders inside the Top 40 unable to compete because of injury or personal reasons – No. 19 Cannon Cravens (broken left leg), No. 28 Colten Jesse (reconstructive shoulder surgery), No. 32 Jared Parsonage (declined alternate spot), No. 36 Cody Heffernan (torn knee ligaments), No. 39 Kurt Shephard (could not make it from Australia to the United States in time) and No. 40 Koal Livingston (multiple injuries).
They have been replaced by No. 41 Brady Fielder, No. 42 Ruger Piva, No. 43 Dylan Smith, No. 46 Paulo Lima, No. 88 Nathan Burtenshaw (injury exemption) and No. No. 176 Dener Barbosa (injury exemption).
Fielder and No. 12 Aaron Kleier will be making their Unleash The Beast debuts in Cheyenne after previously competing for Team Australia at the Global Cup USA in February.
Kleier – the reigning PBR Australia champion and No. 1 bull rider in Australia – has drawn Dixie Explosion (3-1, UTB) while Fielder, No. 3 in PBR Australia, squares off against Invizibull Fire (0-2, UTB),
Burtenshaw makes his return to the UTB for the first time since breaking his right collarbone for a second consecutive season while attempting to ride Strange Cargo (6.46 seconds) in Sacramento, California, on Jan. 25.
The 25-year-old returned to action in Australia three months ago, and he is 2-for-8 in Australia and at the Touring Pro Division level. Burtenshaw was bucked off by Fantastic Wednesday night at the Santa Barbara, California, TPD event.
Burtenshaw's two rides came at PBR Australia's State of Origin, where he tied with Mitch Paton for the individual aggregate title.
Burtenshaw gets a rematch against Terror Struck in Round 1. Terror Struck bucked him off in 6.75 seconds last year in Springfield, Missouri.
ROUND 1 REMATCHES
Alisson de Souza vs. Red Bandana (89 points last year in Big Sky, Montana)
Dener Barbosa vs. Hardball (4.87 seconds at 2018 Velocity Tour Finals)
Nathan Burtenshaw vs. Terror Struck (6.75 seconds last year in Springfield, Missouri)