35 facts about the Top 35 from the summer run
By : Justin Felisko
July 22, 2019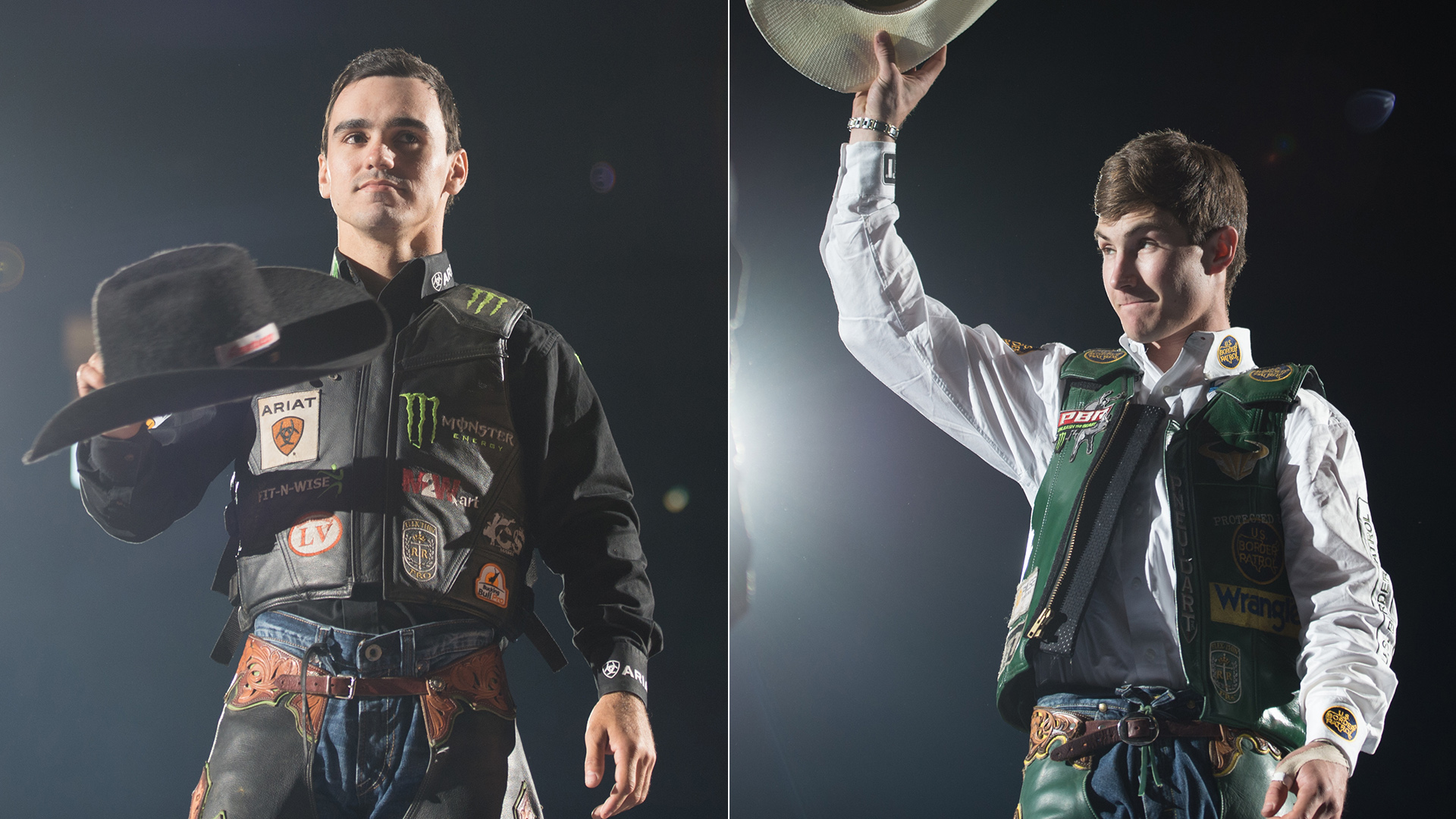 CHEYENNE, Wyo. – The stretch run to the 2019 PBR World Finals begins on Monday at Last Cowboy Standing at Cheyenne Frontier Days.
With the Unleash The Beast returning to action, here is a look at the current Top 35 of the world standings and how each rider's summer went.
1. Jose Vitor Leme
Leme pulled out of the Days of '47 Cowboy Games & Rodeo this weekend to rest his right knee, which he injured at the Calgary Stampede. Leme said he has no ligament damage and that the injury is minor, but he wanted to make sure he was 100 percent ready for Cheyenne.
The knee did not stop Leme from going 4-for-4 to win Pool B at the Calgary Stampede. Leme was then bucked off by Brahma Boots Chrome (3.33 seconds) on Showdown Sunday.
Overall, Leme went 13-for-20, including a 91-point ride on Rising Sun, in six events this summer. He picked up 170 points toward the world standings with five Top-5 finishes.
Leme earned more points toward the world standings than eight of the Top 10 riders. Only Jess Lockwood (687.5) and Chase Outlaw (250) did more damage.
2. Jess Lockwood
Lockwood capped off his 22-for-30 (73.33 percent) summer performance with an 89-point ride Saturday night at the Days of '47 on Hou's Counting to advance to Wednesday's Gold Medal Round.
No rider has been better than Lockwood this summer. He set a PBR record with 687.5 world points earned this summer break and won a PBR-best five events.
Lockwood began the summer 647.16 points out of the No. 1 ranking, and he now heads into Cheyenne only 146.66 points back of Leme.
The Volborg, Montana, bull rider used a 91.5-point ride on Finning Lil Shorty to advance to the final round at the Calgary Stampede before being bucked off by Black After Party.
3. Chase Outlaw
Outlaw capped his summer the best way possible, riding Life as a Gangster for 91 points to win the Springdale, Arkansas, TPD event on Saturday night. Outlaw earned 250 world points this summer and was 16-for-33 (48.48%) with three victories.
The Hamburg, Arkansas, bull rider also led Team Cooper Tires to victory at Chad Berger's $125,000 Team Challenge, presented by Marquis Metal Works, with a 94.75-point ride on Smooth Wreck and an 89.25-point ride on Sky Harbor.
4. Joao Ricardo Vieira
Vieira did not earn any points toward the world standings this summer as he opted to compete at non-PBR Brazil events.
However, Vieira was still highly successful at various rodeo events in Brazil, according to Brazilian rodeo journalist Eugenio Jose Santos. The 34-year-old went 15-for-18 at four different rodeos and was victorious at the CRP rodeo in Iacri.
5. Cody Teel
Teel fell just short of advancing to the Gold Medal Round at the Days of '47 with his 87.25-point ride on Ghost Rider, but that score may be enough to earn him a wild card spot depending on how the final two Semi-Final Rounds go on Monday and Tuesday.
The 2012 PRCA champion has had an impressive summer, going 12-for-17 (70.58%) with two wins, even if he has been a little bit overshadowed by the top world title contenders.
Teel's best ride of the summer was his 90.25-point effort aboard Speed Demon in Bismarck, North Dakota.
6. Cooper Davis
Davis took the majority of the summer off, minus Bismarck, North Dakota, and Days of '47.
The 2016 World Champion looked nearly as flawless in those three events as he did during his winning performance in Green Bay – the final UTB event of the first half.
Davis won the first Semi-Final at the Days of '47 with an 87.75-point ride on Exit Strategy.
The Jasper, Texas, cowboy finished second to Lockwood at the Bismarck TPD Major event for 127.5 world points and was a combined 3-for-4 when you include the Team Challenge.
Catfish John bucked Davis off in 5.08 seconds a day after Davis had ridden Midnight Rain for 90.75 points.
7. Luciano de Castro
Castro went 3-for-6, including his 0-for-2 performance at Chad Berger's $125,000 Team Challenge, in two TPD events before he returned to Brazil in the third week of June. Castro finished third in Odessa, Texas, and sixth in Bismarck, North Dakota, for 30 world points.
The 23-year-old competed in one rodeo back in Brazil, going 4-for-4 for a third-place finish in Santo Antonio do Aracanguá.
8. Derek Kolbaba
Kolbaba went 7-for-13 (53.84%) for 145 world points including a second-place showing last week in Salinas, California. Kolbaba rode Biker Bob for 93.25 points in the Team Challenge, and he also competed at various PRCA rodeos. The 23-year-old won the Elgin Stampede bull riding with an 82-point ride two weeks ago.
9. Ryan Dirteater
Dirteater posted three Top-5 finishes in five events this summer and was 7-for-13 (53.84%), including a 90.5-point ride on Pick-It Construction's Find Jesus.
10. Claudio Montanha Jr.
The 30-year-old took the majority of the summer off. Montanha went 2-for-5 at the Calgary Stampede, but earned 0 points toward the world standings. He replaced Leme in the Days of '47 draw and rode Turnabout for 80 points.
11. Matt Triplett
Triplett capped his summer by winning the Salinas, California, PBR TPD last week. Triplett, who also got married this summer, was 7-for-13 (53.84%) in seven events.
12. Aaron Kleier
Kleier had the second-best summer in regards to points earned with 405. The 2018 PBR Australia champion is making his UTB debut in Cheyenne following a 13-for-22 (59.09%) run in Australia and Canada this summer with two wins. Kleier is expected to return to Australia following Last Cowboy Standing, which will put his eligibility for the 2019 World Finals as a Top 35 ranked rider in question.
13. Cody Jesus
Jesus did not compete in any PBR events during the break, opting to take more time off after he aggravated his torn groin from March 30 (Tacoma, Washington) during the Ty Murray Invitational in May. Cheyenne will be Jesus' first UTB event in almost two months. Jesus did win an open bull riding – the Wild Thing Championship Bullriding in Gallup, New Mexico, with an 89-point bull ride two weeks ago.
14. Mason Taylor
Taylor began the summer with an impressive second-place performance (30 world points) in Deadwood, South Dakota, before bucking off five consecutive bulls in three additional events.
In Deadwood, Taylor rode Chaturanga for 90 points and Gunsmoke for 88 points before bucking off More Big Bucks (3.46 seconds) in the championship round.
15. Daylon Swearingen
Swearingen has risen to fourth in the rookie standings this summer. He ended the run with a second and third-place showing in Salinas and Jackson Hole, Wyoming. Swearingen picked up 135 world points by going 8-for-15 with one win in Sheridan, Wyoming. The 20-year-old picked up his first 90-point ride at all levels by riding Powerstroke for 90 last week in Salinas.
Swearingen also won the 2019 Collegiate National Bull Riding title by going 3-for-4 at the College National Finals Rodeo in June.
16. Ezekiel Mitchell
Ezekiel Mitchell won the Thief River Falls, Minnesota, TPD event this past weekend to cap his summer. Overall, Mitchell went 6-for-20 and notched two TPD wins this summer. The first came in Rocksprings, Texas, in June, which was his first event win at any level since claiming a November victory in Ontario, California, on the Pendleton Whisky Velocity Tour.
17. Stetson Lawrence
Lawrence had three Top-5 finishes and was 8-for-16, including a 91.25-point ride on Red Dawn in Bismarck. The 91.25 points is Lawrence's third highest ride of his career at all levels of competition. Lawrence also competed at select PRCA rodeos this summer.
18. Cannon Cravens
Cravens is out for three to six months after breaking his leg attempting to ride Lefty (7.82 seconds) at the TPD event in Vinita, Oklahoma, on June 22. The 19-year-old is hopeful to return in time for the 2019 PBR World Finals on Nov. 6. Prior to the injury, Cravens went 0-for-2 at the TPD in Bismarck, but put up 88 points on Sitting Bull and 91 points on Stretch in the team challenge in possibly the best showing of his young career.
19. Lucas Divino
Divino may have had one of the most puzzling showings of the summer among the rookie class. The 25-year-old demonstrated his potential with two 90-point rides during Berger's $125,000 Team Challenge with 90.5 points on Speed Demon and 90 points on Midnight Rain – big-time stuff.
Beyond that, it's been all buckoffs for Divino as he is 0-for-7 in PBR sanctioned competition this summer.
Divino seemed to be turning a corner this spring when he finished second at the Caterpillar Classic in Kansas City. He then broke his collarbone attempting to ride Legit in Sioux Falls, South Dakota.
Cheyenne will be his first UTB event since Sioux Falls.
20. Marco Eguchi
Eguchi only competed in three summer events, going 2-for-7. Eguchi rode On Target for 88.5 points at the Calgary Stampede.
21. Joe Frost
Frost went 6-for-12 in five PBR events, while also competing in select PRCA rodeos. Frost won the Pleasant Grove, Utah, rodeo with an 87.5-point ride on Exit Strategy.
22. Alisson de Souza
Souza has been spending the summer break in Brazil, and has not had a ton of success at a handful of PBR Brazil events and other rodeos. Souza went to three PBR Brazil events and was 4-for-8. He also recently rode for 88.75 points at the prestigious Rio Verde Rodeo in Brazil.
23. Rubens Barbosa
Barbosa went 3-for-7 in four international PBR events – two in Australia and two in Brazil. The 35-year-old picked up 20 world points with a fourth-place finish at the Cairns Invitational. Barbosa is the highest-ranked international rider in PBR Australia at No. 8.
24. Taylor Toves
Toves posted a first (Amarillo, Texas), second and third-place finish this summer and competed in eight PBR events, going 5-for-13.
25. Brennon Eldred
Eldred used an 82.75-point ride aboard Silver Black Friday to advance to the Days of '47 Gold Medal Round on Wednesday. Eldred competed in both PBR and PRCA events this summer and was 5-for-13 on the PBR trail. The 24-year-old notched an 89-point effort at the Spanish Forks, Utah, Xtreme Bulls event this weekend.
26. Silvano Alves
Alves went 5-for-8 at the PBR Brazil Iron Cowboy and Americana qualifying events. Alves even posted 90.5 points on Careta, but had to accept a re-ride option as his opponent in the bracket format – Adriano Salgado – had also ridden his bull for 90.5 points. Therefore, each rider accepted a re-ride option as a tiebreaker.
Alves had won the Americana qualifying event to qualify for the Iron Cowboy and picked up 60 world points.
27. Eduardo Aparecido
Aparecido missed the Green Bay Invitational to tend to some personal business back in Brazil, where he then stayed for the remainder of the break. Aparecido competed in his home state rodeo – Rio Verde – in his only summer competition. He finished in seventh place by going 3-for-5, but did post an impressive 91.25-point ride in Round 1.
28. Colten Jesse
Jesse has been out of competition since undergoing right shoulder surgery in June and is hopeful to be cleared to return before the 2019 PBR World Finals (Nov. 6-10 in Las Vegas).
29. J.B. Mauney
Mauney continued his normal routine of taking the summer premier series break off to let his body heal for the always important stretch run to the World Finals. Mauney competed in only two events this summer, Berger's Team Challenge and the Binford, North Dakota, TPD.
Mauney bucked off both his bulls in Bismarck before finishing second in Binford with 86.5 points on War Hoop and 90 points on Leona's Pet for 30 world points.
30. Cody Nance
Nance used a victory at the PBR Canada event in Lloydminster to help keep himself inside the Top 35 of the world standings. The Paris, Tennessee, cowboy went 10-for-30 in 14 events.
31. Jared Parsonage
Parsonage has soared up the world standings with four Top-5 finishes in Canada, including a runner-up finish at the Calgary Stampede. The 26-year-old has ridden 10 of his last 18 bulls.
The No. 1 bull rider in PBR Canada turned down an alternate position for Last Cowboy Standing as he tries to gain every point possible in the Canadian national standings. Parsonage is looking to win his first PBR Canada title this year. However, based on the way he's riding, it may not be too long before we see him in the United States.
31. Scottie Knapp
Knapp's victory at the Lancaster, California, TPD event on July 4 gave him 60 of the 70 world points he picked up during the break. The 28-year-old also earned 10 points two weeks earlier with a fifth-place finish in Sheridan, Wyoming. Knapp went 5-for-10 in five events.
33. Dakota Buttar
Buttar pushed himself back into the Top 35 by earning 190 points this summer. The 26-year-old won two PBR Canada events, posted seven Top-5 finishes and was a sneaky 15-for-23 (65.21%) up north.
34. Keyshawn Whitehorse
Whitehorse saved his best of the summer for his last event. The 2018 Rookie of the Year set a Days of '47 arena record by riding Deaconator for 90.75 points on Saturday night, which advances him to Wednesday's Gold Medal Round.
If that score holds up as the best of the four Semi-Final rounds, Whitehorse will pick up an important 50 world points to try and stay ahead of the cutline.
Whitehorse competed sparingly this summer, but he did go 5-for-7 and finished in third place at the Jackson Hole TPD.
34. Danilo Carlos Sobrinho
Sobrinho rode one of the rankest bulls in Brazil – Baleado – for 91.25 points at a CRP rodeo (Adamantina) this summer. Baleado was 34-0 before Sobrinho made the 8-second mark, according to Eugenio Jose Santos.
The 32-year-old went 18-for-23 in Brazil rodeos, but he did not compete in any PBR Brazil events.
Follow Justin Felisko on Twitter @jfelisko