Eldred continues to enjoy nostalgia of Cheyenne Frontier Days
By : Justin Felisko
July 23, 2019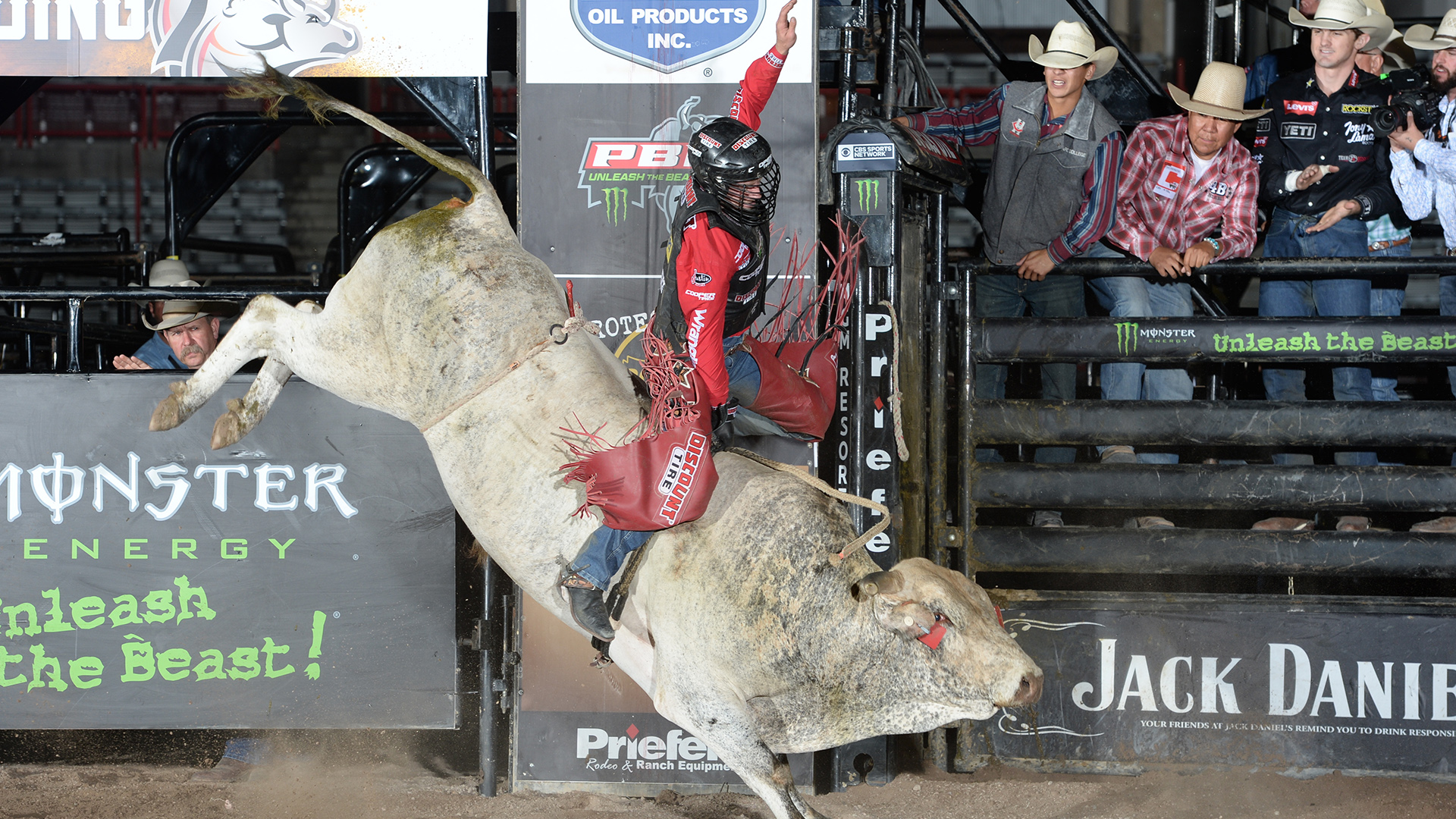 CHEYENNE, Wyo. – Brennon Eldred wheeled his gear bag into the locker room underneath the grandstands at the historic Cheyenne Frontier Days fairgrounds on Monday afternoon and took a seat on the wooden bench.
Eldred then glanced down at the small gold nameplate on the bench and smiled, "Blue Stone."
The 2002 PRCA champion bull rider won the bull riding at the "Daddy of 'Em All" in 2001.
Throughout the locker room at Cheyenne Frontier Days, the benches where the roughstock riders get ready is littered with gold plates of past winners, champions and other influential people with ties to Cheyenne.
Every time Eldred comes to Cheyenne, a place at which he has been riding since 2013, he takes a moment to look at all of the past legends that once competed in the same arena that he does today.
"This place is just legendary," Eldred said. "There is so much history behind it. It is the Dad. I have heard about this place since I was a little kid. I always wanted to come here. When you come here, the hair on the back of your neck stands up. You definitely know you are at the Dad.
"You have had the best of the best that have competed here and won here. When you go hang your rope up back there, they have plaques of the roughstock guys winning it."
This year is Eldred's seventh consecutive appearance in Cheyenne at either a PBR, PRCA or the now defunct CBR event.
Eldred continued to find sweet success under the bright lights Monday when he rode Jaynettes Pet 2 for 86.75 points to finish Round 1 in third place for 60 world points.
"I feel like I am at home," Eldred, who won the 2015 CBR Finals by going 5-for-5 in Cheyenne, said. "This is my seventh consecutive year that I have been here to Cheyenne. I love this place. I have been to all of these rodeo places. I just feel at home. Outside. I love it."
Eldred is now hoping to have his own Cheyenne moment like Stone did many years ago.
The Sulphur, Oklahoma, native has always been a fan of Stone, especially when he thinks back to Stone's 96-point ride on Mr. USA at the Olympic Winter Games Salt Lake City 2002 that won Stone a gold medal.
Mr. USA was ridden by Cody Hancock for an arena record 96 points at the 2001 NFR a year earlier. Eldred – a three-time Global Cup USA qualifier – nearly broke Hancock's record with his 94.5-point ride on SweetPro's Bruiser at the 2016 NFR three years ago.
"I went around and looked (at the benches) and I was like, 'Alright, I like Blue. I like how Blue rode.'
"I remember his ride on Mr. USA, and Mr. USA still has the record at the NFR and I was a notch right below him with Bruiser."
Eldred – the No. 21 ranked bull rider in the world standings – is one of 25 riders that advanced to Round 2 of the progressive elimination PBR Major event.
The winner of Last Cowboy Standing takes home a minimum payday of $100,000 and potentially 1,250 points toward the world standings.
Eldred was one of 10 qualified rides in Round 1. The final 15 spots were filled for Round 2 based on the world standings.
"The best bull riders in the world, but heck when you come to a place like this and you have this much energy, these guys are rooting for you," Eldred said. "It dang sure makes you want to stay on a lot more."
The riders that advanced to Round 2 are Cooper Davis (88 points), Jose Vitor Leme (87 points), Eldred, Joe Frost (86.5 points), Silvano Alves (86.25 points), Keyshawn Whitehorse (84.75 points), Luciano de Castro (84.25 points), Dener Barbosa (84 points), Jess Lockwood (82 points), Cody Nance (79 points), Chase Outlaw, Joao Ricardo Vieira, Cody Teel, Derek Kolbaba, Ryan Dirteater, Claudio Montanha Jr., Matt Triplett, Aaron Kleier, Cody Jesus, Mason Taylor, Daylon Swearingen, Ezekiel Mitchell, Stetson Lawrence, Lucas Divino and Marco Eguchi.
The Top 8 riders via aggregate score following the second round will advance to Round 3 on Tuesday night. Round 4 will then consist of the top four riders in the aggregate based upon the previous three rounds.
Round 5 will feature every rider who posted a qualified ride in Round 4. A minimum of two riders will compete in Round 5. If only one rider covers in Round 4, then the PBR will draw back one rider based on aggregate scores following the completion of Round 4.
The rider with the highest score in Round 5 will win the title of Last Cowboy Standing. If all riders buck off in Round 5, then the Last Cowboy Standing crown will go to the rider with the highest aggregate score among those who attempted a bull in Round 5.
Eldred could not think of a better place than Cheyenne to win the first premier series event of his career.
"It would be huge," Eldred concluded. "This would be my first event win on top of it. I have wanted to win a Major for a long time now since I came on tour. $100,000 payday is not bad, too."
Follow Justin Felisko on Twitter @jfelisko