NHL player Kevan Miller: "These guys are world class athletes and they truly are some tough guys"
By : Darci Miller
July 23, 2019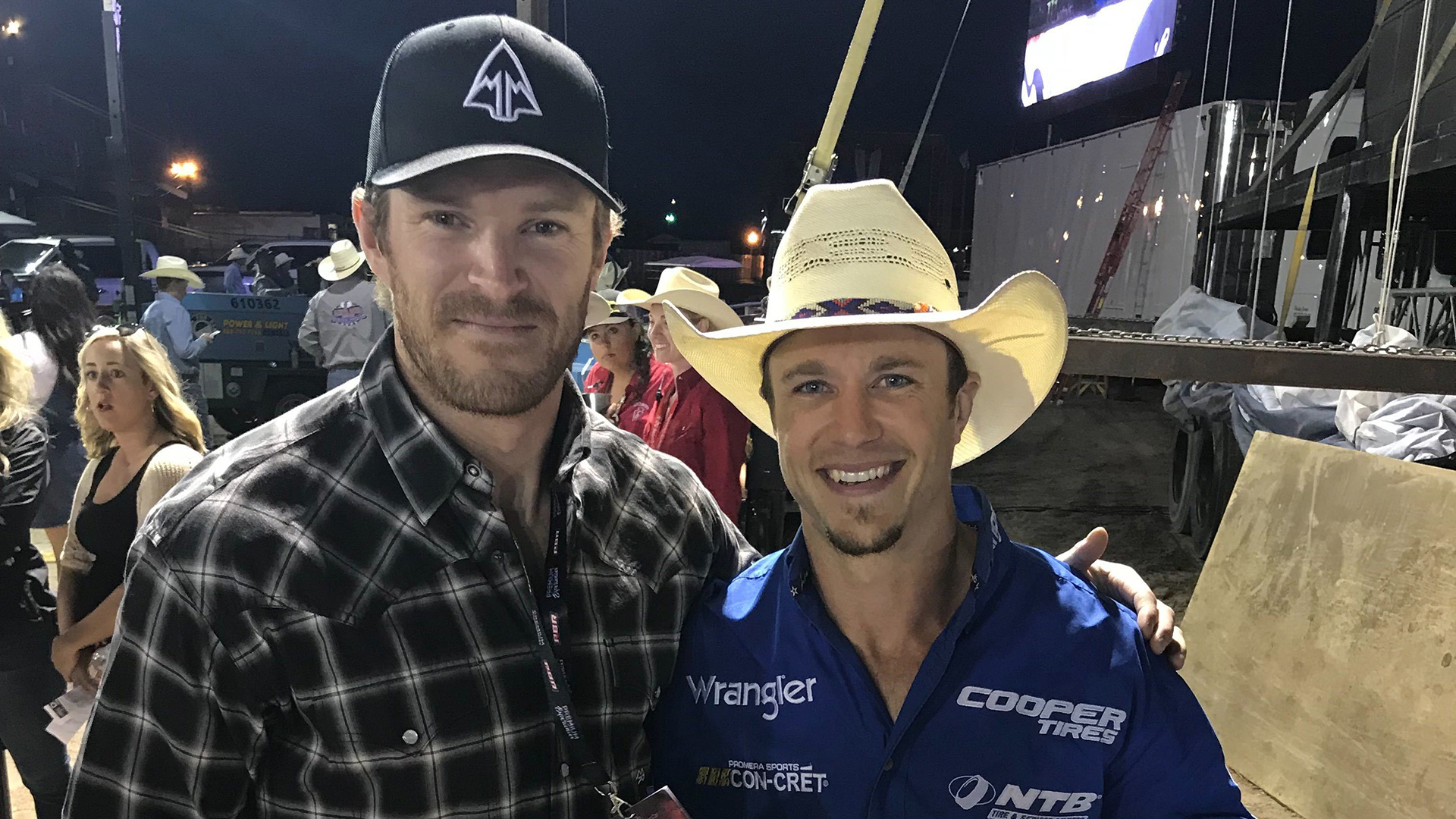 CHEYENNE, Wyo. – A defenseman for the Boston Bruins of the NHL, Kevan Miller is used to being approached by giddy fans.
But at Last Cowboy Standing at Cheyenne Frontier Days, the tables were turned.
A longtime PBR fan, Miller got the VIP experience at his first PBR event and played the role of wide-eyed fan as he rubbed elbows with some of his favorite bull riders.
"I've been following along online and on TV for a while now, but this is the first one I've been able to make," Miller said. "This is the Daddy of 'Em All, they call it. Big rodeo and definitely one I wanted to see."
Miller and his wife moved to Littleton, Colorado, this summer and, as luck would have it, Cheyenne is the closest Unleash The Beast stop to their new home. They made plans to make the trek north and, when he posted about it on social media, the PBR took notice.
Miller has been no stranger to the Western lifestyle throughout his life, despite himself choosing a decidedly more wintry endeavor. His brother is a team roper, and the bull riding connection naturally followed.
"It's just kind of been a process over a long time," Miller said. "I just appreciate these guys, what they go through, whether it be injuries and kind of battling through. I can relate to that, I've had a number myself, unfortunately. So it's been cool to follow along, and like I said, I really appreciate what these guys do."
Miller had an injury-plagued season for the Bruins, only playing in 39 games. He suffered an upper-body injury that kept him out for more than a month, took a shot off the throat that led to even more missed time, and a lower-body injury kept him out for the Bruins' run to the Stanley Cup Final.
It's an injury history comparable to any bull rider, and one that gives him a huge appreciation for bull riders as athletes.
He has no time for anyone who dismisses a bull rider's athletic ability.
"That's totally wrong," Miller said of those who think cowboys aren't athletes. "That's about as far-fetched as you can be. These guys are world class athletes and they truly are some tough guys. It has to take a lot of athleticism to ride those bulls, for sure. Especially when you're able to see it up close like this. It's incredible."
Miller got up close and personal with the action on the back of the bucking chutes, alongside Cody Nance as his personal tour guide. Miller pegged Nance as his favorite rider, and the two spent time on the dirt chatting and comparing game notes.
"Just kind of getting his perspective of things on the chutes is something that I really appreciate," Miller said. "Just kind of talking about the bull riding life, a little bit of hockey. It was pretty cool."
Nance rode Chick Magnet for 79 points, finishing 10th in Round 1. Nance was one of just 10 riders to move into Round 2 with a qualified ride. The final 15 spots for Round 2 were filled via the world standings.
The Top 8 riders in the aggregate will advance out of Round 2.
The riders that advanced to Round 2 are Cooper Davis (88 points), Jose Vitor Leme (87 points), Brennon Eldred (86.75 points), Joe Frost (86.5 points), Silvano Alves (86.25 points), Keyshawn Whitehorse (84.75 points), Luciano de Castro (84.25 points), Dener Barbosa (84 points), Jess Lockwood (82 points), Nance, Chase Outlaw, Joao Ricardo Vieira, Cody Teel, Derek Kolbaba, Ryan Dirteater, Claudio Montanha Jr., Matt Triplett, Aaron Kleier, Cody Jesus, Mason Taylor, Daylon Swearingen, Ezekiel Mitchell, Stetson Lawrence, Lucas Divino and Marco Eguchi.
Nance has drawn Mr. Majestic for Round 2. Fans can watch Rounds 2-5 live on CBS Sports Network beginning at 9:30 p.m. ET and on RidePass at 9:45 p.m. ET.
Miller also watched the Netflix series Fearless, which spotlighted a number of Brazilian riders and gave him a number of new favorites to watch.
"Obviously, there's a lot of them," Miller said. "That Netflix series was a huge thing, for me, seeing a lot of the guys come up. Silvano Alves, J.B. Mauney, those guys. I'm a big fan of Guilherme Marchi, watching his career. He's been kind of a legend in the sport. I got a chance to meet him. That was really cool."
Marchi, who retired at the 2018 PBR World Finals, was on hand to do some scouting as assistant coach for Team Brazil at the 2020 WinStar World Casino and Resort Global Cup USA, presented by Monster Energy.
It's the first premier series event Marchi has attended since his retirement, and fortuitous timing for Miller.
The chance to meet a living legend at one of the most prestigious rodeos in the world at his first PBR event?
"I don't think it gets much better than this," Miller said with a grin. "I'm pretty spoiled right now, for sure."