Outlaw: 'This has been harder for my family than it is for me'
By : Justin Felisko
July 24, 2019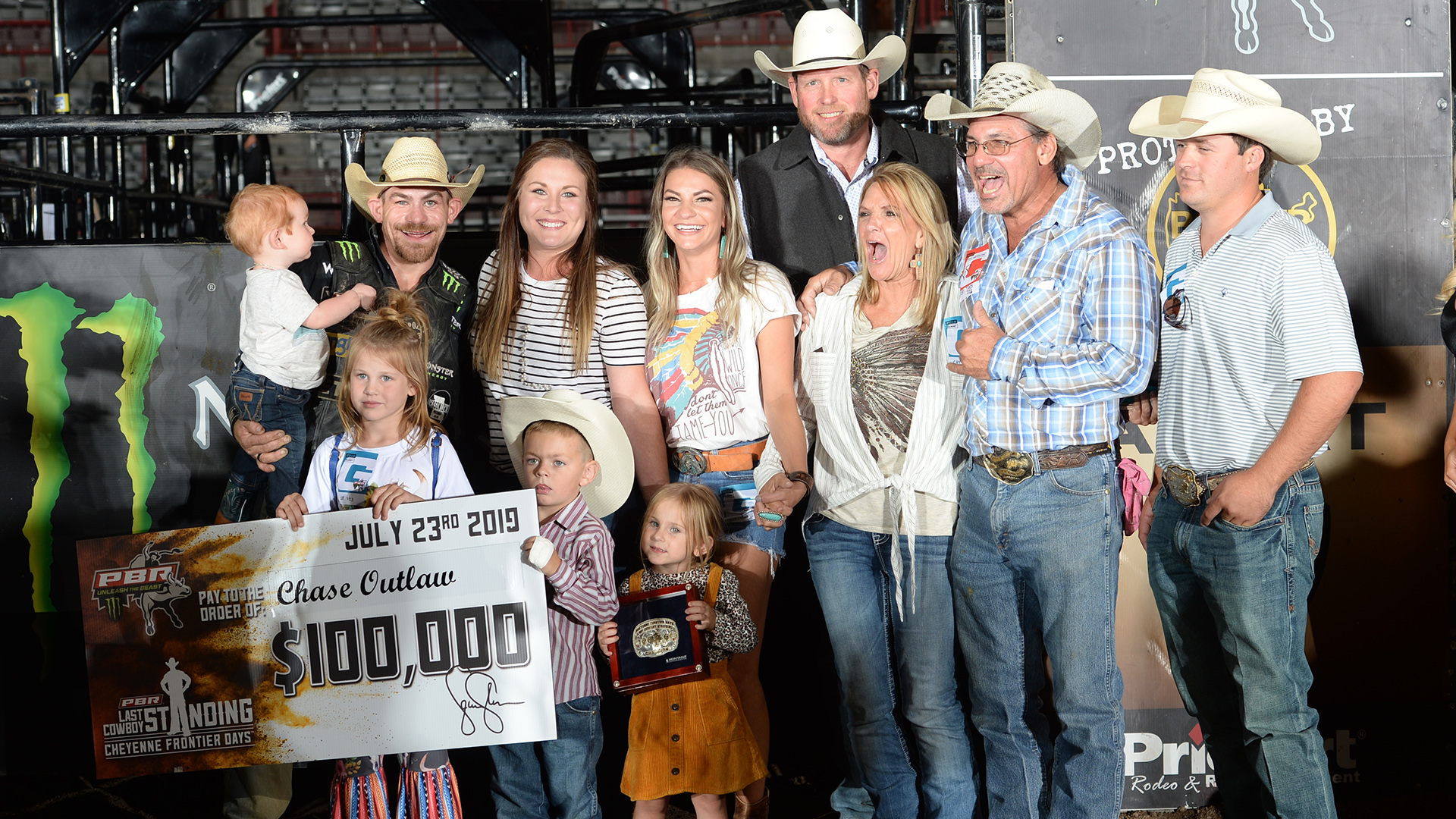 CHEYENNE, Wyo. – Brittany Outlaw was sitting inside Cheyenne Regional Medical Center on July 23, 2018, when Dr. William Wyatt walked into the hospital room and explained to her, as well as Chase Outlaw's wife, Nicole, that her brother was getting rushed into emergency facial reconstructive surgery.
Brittany shook her head and tried to comprehend what Dr. Wyatt was trying to say.
"I am going to have to see a picture because I don't understand what it is you are talking about," Brittany recalled. "I am going to need to see a picture."
Wyatt then pulled up the X-ray.
Her brother's face was a mangled and marred mess, 30 bones shattered courtesy of War Cloud during the PBR's Touring Pro Division event at Cheyenne Frontier Days.
"Whenever he showed the X-rays and started showing and pointing to where all the bones in his face were broken, we were speechless," Brittany said late Tuesday night on the dirt at Cheyenne Frontier Days, tears rolling down her face.
"Me and Nicole thought, 'What is really going on right now?'"
Next was a 12-hour emergency surgery that featured 68 screws, 11 plates and four pieces of surgical mesh to reconstruct Chase's face.
On the exact 1 year anniversary of Chase Outlaw's life-altering wreck, Brittany was once again speechless.
So too was Nicole.
Chase Outlaw had just been crowned the 2019 Last Cowboy Standing Tuesday night, 365 days after they sat in the hospital just two miles away, unsure of what Outlaw's future may entail.
Both Brittany and Nicole had tears in their eyes once again in Cheyenne, but this time their tears were a result of happiness and joy and not out of fear and uncertainty.
"I am crying tears because this time last year I was scratching my head wondering what the next step was going to be," Brittany said. "Not even for Chase, but for our whole family because bull riding is such a big part of our life.
"It has always been first priority, and to think we might not be able to do that again was scary. Just the emotions I have right now. Being excited and happy tears is totally different from what it was last year."
Nicole, who has been nothing but a true pillar of strength for the Outlaw family in the past year, could not help but also hold back her own tears as she looked at her husband holding his Last Cowboy Standing buckle.
Chase Outlaw had regained the world No. 1 ranking for the second time since his career was forever changed last year.
This time, though, he did so by winning the first PBR Major of his career and $156,856.41 thanks to a heroic effort inside the same arena that almost became his career's gravesite.
"I am just speechless," Nicole said. "Some will say it is unbelievable. It is not unbelievable. Just look at what he has been doing. It is crazy. It is a lot of emotion right now."
'MY FAMILY DESERVES THIS' – Chase Outlaw
Chase Outlaw sat inside the empty locker room at Cheyenne Frontier Days underneath the grandstands just past 11 p.m. Tuesday night.
A year ago, Outlaw was being loaded into an ambulance 50 or so yards away from where his family was waiting for him to get changed on Tuesday night.
In attendance this week in Cheyenne was Chase's sister (Brittany), his wife (Nicole), his children (Chloe, Hayes and Cash), his father, Greg, and a few other close friends and family.
"Man, the last 12 months have been a whirlwind," Outlaw said. "To come back from the biggest devastation to the biggest win of my career is special."
The journey of the past year, and especially in the last 48 hours in Cheyenne, has been very much focused around Outlaw's return to the scene of his devastating wreck.
However, the emotional toll of the past year and his own storybook comeback is one that goes well beyond him.
It is also about his family.
RELATED: Outlaw understands there is more to life than being the world No. 1
It is about the worry and the fear Brittany and Nicole experienced on July 23, 2018 and those days sitting in the hospital room, waiting for Outlaw to come around and be released following 12-plus hours of surgery.
It was the harrowing phone call that Chase's father, Greg, received a year ago in the middle of the night.
The phone call every parent fears.
So as Outlaw received that Last Cowboy Standing belt buckle – one that his daughter Chloe quickly claimed as her own on the dirt – he was quick to say that his victory in his return to Cheyenne is far from only about him.
Being the Last Cowboy Standing was a thank you to his family.
For all of the people that stayed in his corner when the first thing they were greeted with in Cheyenne last year was fear, uncertainty and heartbreak.
"It was harder for them than it was for me because I knew how strong of a mindset I had and I knew how strong I was," Outlaw said. "For them to sit back and see somebody they love, and know that they really couldn't do nothing about it, I know it was hard on them. It goes back to I wouldn't be here today if it wasn't for my family getting me down the road as a kid. To have my dad here, my wife, my sister and all of my kids here means the world.
"For me to come over and push myself over the top and come back and do this. This is paying my gratitude back to them, everyone that stood beside me through the thick and thin."
'CHASE HAS BEEN TOUGH ALL HIS LIFE' – Greg Outlaw
Greg Outlaw still remembers the panic that was running through his head when the door of the family's 1982 Chevrolet 3/4 ton pickup door slammed shut.
Chase was maybe 4 years old at the time, and there was his tiny hand caught in the door.
Instead of crying though, Chase didn't even seem to care or notice.
"He didn't even cry," Greg said with a chuckle Tuesday in Cheyenne. "Oh, he has been tough his whole life. He could take anything. He has been tough all his life. Ever since diapers."
Greg readjusted his circular glasses after watching his son talk about his journey from the hospital room in Cheyenne to being crowned the Last Cowboy Standing.
He too had to wipe away some tears seeing his son come full circle.
"I about broke up," Greg said. "This is special, man. I will tell you what. It has been a long, hard road. That boy has guts, now let me tell you. He had a fire in him ever since he come off that injury, and I am telling you, it has made a bigger and better man out of him.
"He has had the eye of the tiger in him ever since, and I didn't really see it in him. He had it before, but he never had it at this level now. It is unreal."
Chase is a third generation bull rider.
Greg rode at the amateur level, joking he was nowhere good enough to ever attempt to go pro, and Chase's grandfather also rode bulls.
He always knew of the inherent risks that were associated with the sport, but that did not make anything easier for him when he received the phone call last year that Chase was about to head into emergency surgery.
"I knew when I got the call in the middle of the night that something was wrong," Greg said before pausing to compose himself. "It was upsetting, but I talked to him on the phone and he said he was alright. He said he had a little head injury, but I don't think any of us knew how serious it was at the time."
Seventy-five days later, Outlaw returned to competition, and Greg could tell his son was forever changed.
And for the better.
"When he started getting on them again," Greg said. "He started riding them and carrying the fight to them. I could see a different eye of the tiger in him."
RELATED: Outlaw: 'It took that devastating injury to put things into perspective'
'JUST THE LOOK ON HIS FACE' – Brittany Outlaw
Brittany quickly yelled at Chase and the family.
"Hey, we aren't done yet. We now need to get a photo of us!"
Chase and his family can now have a new favorite photo from Cheyenne to replace all the negative images of X-rays, broken bones, wrecks and everything else associated with Cheyenne that has been littered across their social media feeds in the past year.
"Last year was such a traumatic moment, and to have the whole family here, it is unbelievable," Brittany said. "I can't even fathom it right now. My dad came out for this. We have all the kids."
So when does Brittany think her brother developed the toughness and the perseverance that was on display in Cheyenne?
"He was a tough kid when he came out of the womb I think," Brittany said with a laugh. "He was always tough."
Chase was always causing a ruckus and fearlessly running rapid.
His cowboy boots would last three months at most, and the family's home in Hamburg, Arkansas, featured stacks of wrecked out cowboy hats.
"A cowboy hat? Maybe it lasted a month," Brittany said. "You will not believe the amount of cowboy hats stacked up at home with the tops blown out of them from him taking them and pulling them down on the top of his head.
"He was always rough and tough."
It is why Brittany knew, when she sat her brother down once they returned to Arkansas from the hospital last year, that any talk about his future was likely still going to involve bull riding.
Brittany knew her brother was going to be thinking about making a return, but she wanted him to know the family had his back if he would be unable to.
Even before Chase was allowed to leave the hospital, he was adamant that he would return to competition and qualify for the 2018 PBR World Finals, which he eventually would accomplish in only one month's work.
RELATED: Outlaw still has plans on making World Finals; says thank you to his fans
Regardless, Brittany felt she had to sit down with her brother and let him know it was OK if the best decision would be to hang up his bull rope.
His response was all she needed to know that he would be OK.
"I told him, 'You don't have to go back if you don't want to,'" Brittany said. "If you want to hang your hat, we will figure it out as a family. We will pull it together and we will figure something out."
Then she saw Chase's face.
The face that was mauled and bruised and broken was becoming hard and determined.
"Just the look on his face," Brittany said. "Whenever I asked him that question, it was just a different light in his eyes that, 'I am not giving up that easy. Nothing will hold me down that easy.'
"It is always frustrating to hear the story over and over because it was such a hard time for our family. But to make a comeback like this, we have it behind us now and are on a different path now."
'NOTHING AT THIS RATE WILL STOP HIM' – NICOLE OUTLAW
Nicole about jumped out of her seat a little bit too much Tuesday night when Outlaw rode world No. 1 bull Smooth Wreck for a career-high 93.5 points on the premier series.
A month ago, Outlaw rode Smooth Wreck for 94.75 points during Chad Berger's $125,000 Team Challenge event during the premier series break.
The 93.5 points pushed Outlaw right back into contention at Last Cowboy Standing after he bucked off American Made (5.62 seconds) in Round 1.
"I was on the edge of my seat the whole time," Nicole said. "When he rode him, I wasn't surprised. I always think Chase is going to ride. It is never a doubt in my mind, but we were so excited."
Outlaw was then bucked off by Budakon (4.3 seconds) in Round 3, but was given new life in the progressive elimination event when only Lucas Divino made the 8-second mark in Round 3.
Therefore, Outlaw advanced to Round 4 alongside Divino, Luciano de Castro and Jose Vitor Leme.
Outlaw pushed himself into the event aggregate lead for good by riding Rising Sun for 90.5 points. Divino, Castro and Leme all bucked off in Round 4, which led to Outlaw and Divino squaring off in Round 5.
Cochise bucked off Outlaw in 2.74 seconds, and Divino lasted only 5.08 seconds on three-time World Champion SweetPro's Bruiser, which led to Outlaw being crowned the Last Cowboy Standing seeing as he was winning the event aggregate.
​
Outlaw earned 875 points toward the world standings to open up a 430.84 points lead on No. 2 Leme heading into the upcoming Big Sky, Montana, Touring Pro Division Major event on Thursday, Friday and Saturday (RidePass).
"Nothing, at this rate, will stop him," Nicole said. "He is in it to win it. He just won't stop until he does."
Chase does not plan on slowing down or resting on his laurels now that he has successfully returned to Cheyenne and regained the world No. 1 ranking.
"We are still hungry," Chase said. "The wreck is gone, but that is still a possibility. It is in the back of my mind. I know each time can be your last time. Since I am a year out of the wreck doesn't mean I will slack off. You have to keep that aggressiveness, that fire, and that determination, and that will to win. If not, if you let them, these son of a guns will get you."
Nicole admits it has been hard for not only Chase, but for the entire family to continuously relive Chase's Cheyenne moment, but she also knows it has been one incredible comeback story for the history books.
The book is not done just yet, but Tuesday night was the closing of one chapter and the beginning of another.
"It is always frustrating to hear the story over and over because it was such a hard time for our family. But to make a comeback like this, we have it behind us now and we are on a different path now.
"This was the ultimate way to close the door. What better way to get started for the second half of the season than this? To close that door and open a new one toward gaining our way to a World Championship."
Follow Justin Felisko on Twitter @jfelisko