Teel heads to Days of '47 following exhausting test at Last Cowboy Standing
By : Justin Felisko
July 24, 2019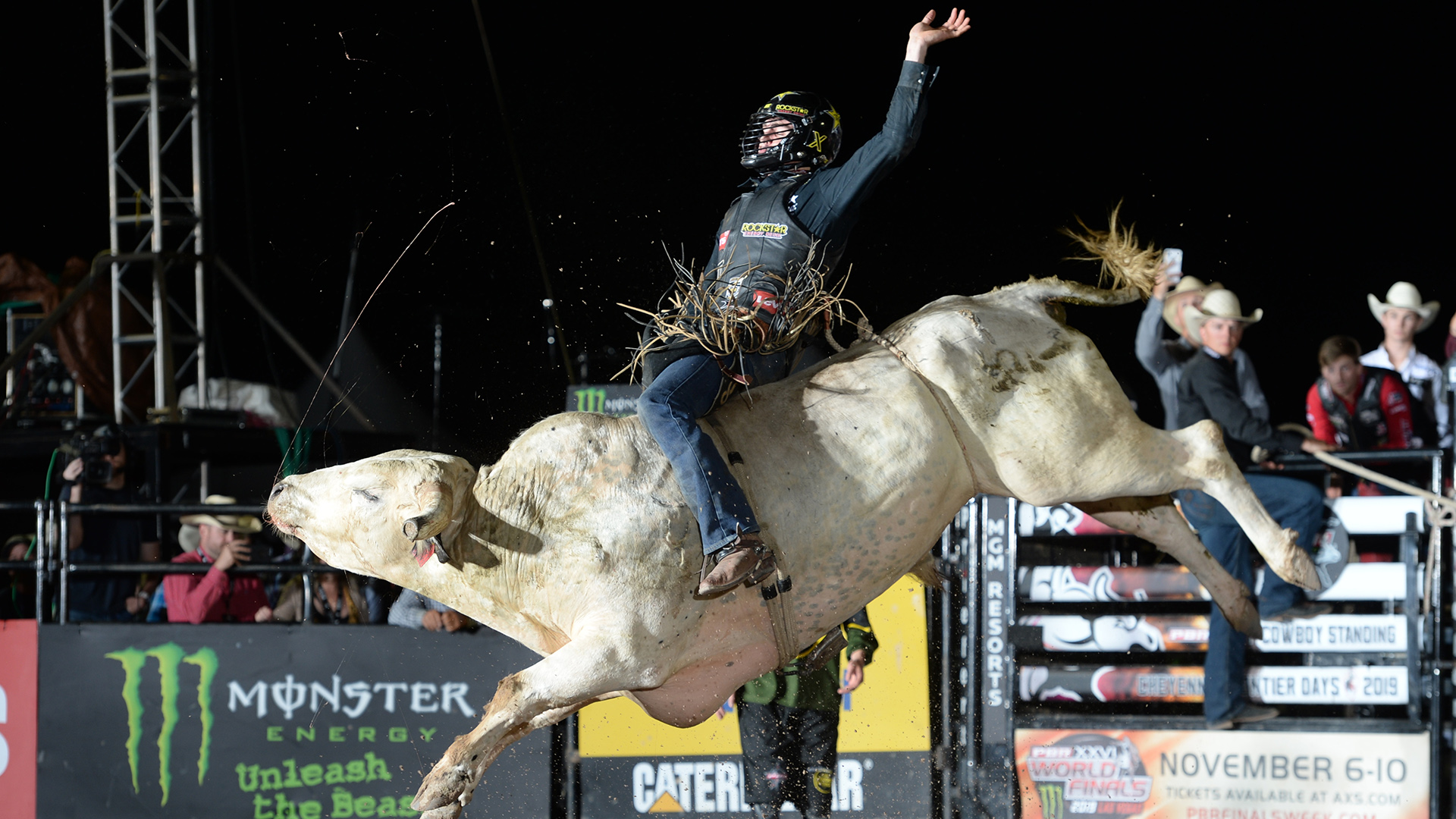 CHEYENNE, Wyo. — It was almost 10 p.m. Tuesday night when Cody Teel took a swig of water from a Dasani water bottle just past rider walkoff at Cheyenne Frontier Days.
Sweat was already dripping off the locks of his brown hair and beads of sweat were glistening on his neck.
Even the water bottle had some Cody Teel sweat residue on it once the 2012 PRCA champion put it back down.
Teel had just been offered a re-ride in Round 3 of Last Cowboy Standing after lasting 7.38 seconds on Milky Chance, who stumbled during the out.
One hour earlier, Teel had just made his best ride of the 2019 season when he rode 2019 World Champion Bull contender Smooth Operator for 91.75 points.
"I really like that bull a lot," Teel said. "I have had the opportunity to get on him twice this year. He is really special to me. Just a bull that bucks hard with a lot of intensity. He is kind of bull that you can get out of with your feet. All that momentum kind of carries you around. It gives you an opportunity to kick loose and ride him."
The No. 5-ranked bull rider in the world was set to take on Catfish John for his re-ride.
Lo and behold, Teel's night was set to go on a wild and unpredictable test of merit and physicality.
Even with the possibility of one rider having to face his Round 3, Round 4 and Round 5 bulls in a span of 45 minutes, no one could have anticipated what was in store for Teel.
Instead, what he ended up doing in Round 3 on Tuesday night was attempt three bulls in a span of roughly 12 minutes.
9:56 p.m. – Teel looks well on his way to a second 90-point ride before Catfish John swings his back left leg into the bucking chute, causing himself to lose his spin and jerk Teel down at 7.88 seconds. Immediately, a re-ride flag is thrown.
10:03 p.m. – Teel gets swung off Switchback in 4.03 seconds and heads toward the bucking chutes. To his surprise, he hears that there is a re-ride flag sitting on the ground; he will get another crack at trying to advance to Round 4. He shakes his head and looks up toward the night sky.
10:08 p.m. – Teel is standing on top of the bucking chutes waiting for Joe Frost to set his bull rope on Oz. Frost has volunteered to help Teel get his gear ready so he can try and catch his breath. Fatigue and exhaustion have set in, but most of all frustration as he knows he let two good bulls in Catfish John and Milky Chance get by him.
Teel eventually gives it a go, but his energy level was zapped. Oz is his fourth bull of the night, third of the round, and fifth in two days. He lasts 3.76 seconds.
The buckoff ended Teel's Tuesday night saga, one that was reminiscent of his 2018 PBR Major victory in Nashville when he attempted four bulls on the final night of competition.
Nashville is the final PBR Major of the 2019 season and is coming up next month on Aug. 24-25 at Bridgestone Arena. It will be the same format as Cheyenne.
Teel could see similarities between his 2018 showing in Nashville and Cheyenne in 2019, despite the slight difference in formats (Nashville was the old Music City Knockout bracket format).
"Yeah, I am (tired)," Teel said. "You never know what to expect. These formats, they call them Iron Cowboy for a reason. You've got to be able to take what comes. I had some really good opportunities on the re-rides. I'm out of a little gas but you can't blame that. Just let some get by me there.
"After Catfish John kind of bumped and drew a re-ride I was like, 'Okay.' But like I said, those last two were really good bulls, and it's just, jump up. I never took my glove off, just kept getting on one after the other, just keep it rolling. I didn't want to stop and think too much. Just kept climbing on them. So yeah, like I said, it's a different type of format. It's why they call it the Iron Cowboy."
Teel has business to attend to before then, though.
The Kountze, Texas, bull rider is headed back to Salt Lake City Wednesday for the Gold Medal Round of the Days of '47 Cowboy Games & Rodeo.
One rider can earn 170 points toward the world standings, and $50,000 at the WCRA event.
Also set to ride in the Gold Medal Round are No. 3 Jess Lockwood, No. 6 Cooper Davis, No. 11 Claudio Montanha Jr., No. 18 Stetson Lawrence, No. 21 Marco Eguchi, No. 21 Brennon Eldred, No. 31 Keyshawn Whitehorse, Trevor Kastner and Boudreaux Campbell.
Teel earned a wild card spot in the Gold Medal Round courtesy of his 87.25-point ride on Ghost Rider.
Fans can watch the conclusion of the Days of '47 on RidePass at 10 p.m. ET. CBS will air a highlight show of the Days of '47 Cowboy Games and Rodeo on Sunday at 10 a.m. MT.
"We are just getting started," Teel said. "It is a long week ahead. I am just taking it one at a time."
Follow Justin Felisko on Twitter @jfelisko