Big Sky Preview: Outlaw and Vieira look to continue push for world title LIVE on RidePass
By : Justin Felisko
July 25, 2019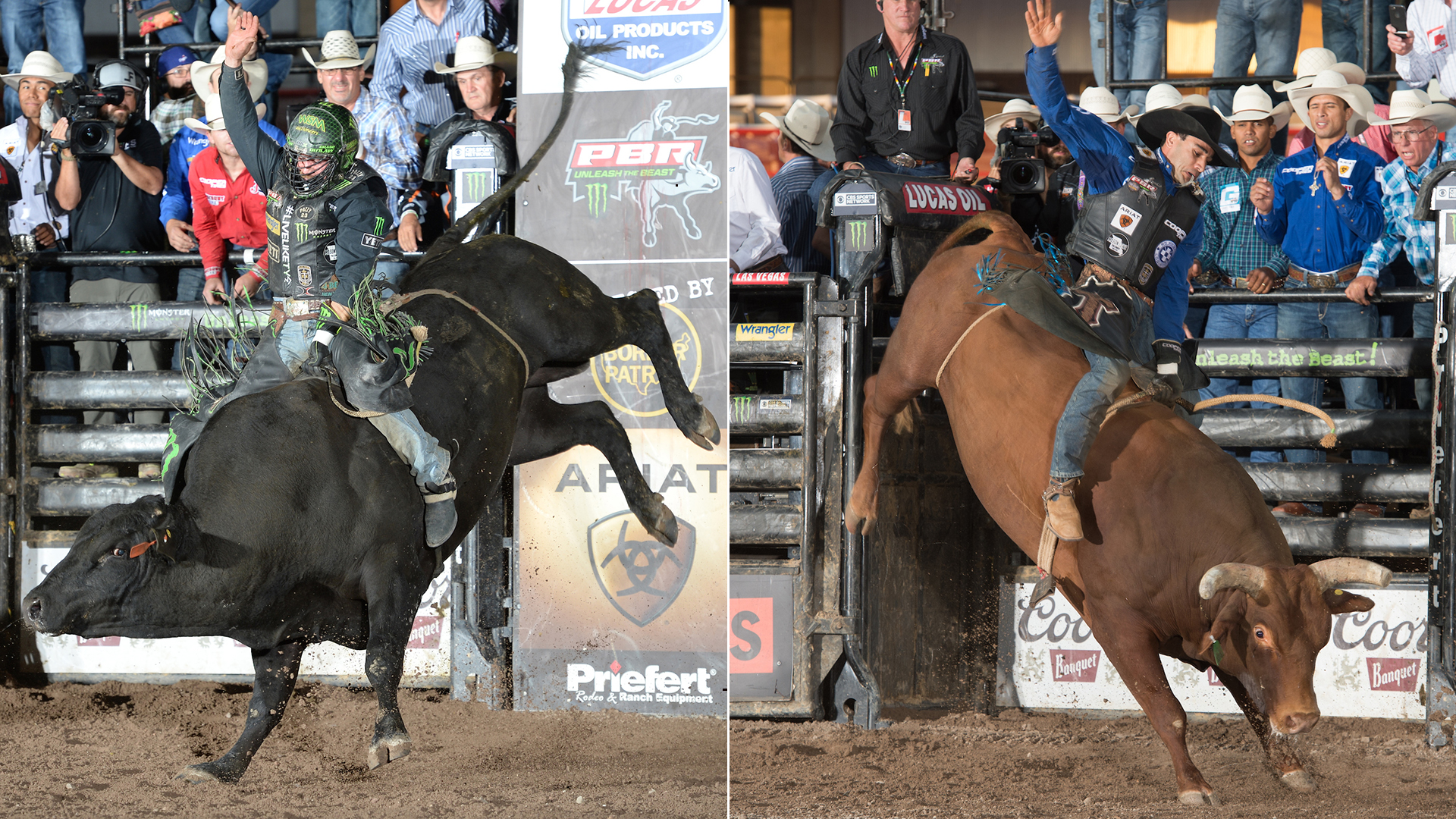 PUEBLO, Colo. – For the second time this season, Chase Outlaw is the No. 1 ranked bull rider in the world standings.
If Outlaw has his way, the top spot will remain his for the rest of the season until he is hoisting the PBR World Championship on Nov. 10 inside T-Mobile Arena on the final day of the 2019 PBR World Finals.
Outlaw regained the No. 1 spot in the world standings for the first time since April 7 when he won Last Cowboy Standing on Tuesday night, picking up a monstrous 825 points toward the world standings.
He remains hungry, though, and understands he may have won a battle but the war is far from over.
RELATED: Outlaw gives his family a new memory in Cheyenne
"I have to block all of that out," Outlaw said. "I can't worry about none of that talk. I just have to show up each time and ride the bull that is put in front of me."
The last three World Champions have won a PBR Major, and now Outlaw joins No. 3 Jess Lockwood (New York) and No. 4 Joao Ricardo Vieira (Los Angeles) as PBR Major event winners in 2019.
The final PBR Major of the season is set for Aug. 24-25 in Nashville, Tennessee, with the Music City Knockout at Bridgestone Arena.
​
​
Outlaw leads No. 2 Jose Vitor Leme by 430.84 points ahead of this weekend's Big Sky PBR, which begins on Thursday night at 7:15 p.m. ET on RidePass. Fans can also watch all the action on Friday and Saturday night on RidePass (8:15 pm. ET).
The Top 4 bull riders are separated by 963 points in the world standings with nine regular-season Unleash The Beast events remaining until the World Finals begin on Nov. 6 in Las Vegas.
"I ain't worried about that," Outlaw said about the close 2019 title race. "I am just looking to ride my bulls."
Leme actually decided to not compete in Big Sky this week. The same can be said for fellow Top 10 riders Lockwood, No. 5 Cody Teel, No. 6 Cooper Davis, No. 7 Luciano de Castro, No. 8 Derek Kolbaba, No. 9 Ryan Dirteater and No. 10 Lucas Divino.
The door is open this weekend for Outlaw to put another stamp on his spot atop the world standings with the majority of his challengers taking the weekend off.
Big Sky is a three-day Touring Pro Division Major event, which means that the event is offering riders Velocity-caliber points toward the world standings. One rider can earn potentially 320 points toward the world standings – basically the equivalent to winning a round at the PBR World Finals (300 points).
Outlaw reiterated Tuesday night that he is focusing on the finish line and nothing before then.
"I am not looking at any numbers," Outlaw told CBS Sports Network's Kate Harrison in Cheyenne. "I am not paying attention to any numbers. I don't check what bull I have. It don't matter. None of that matters right now. Come about 11 p.m. Nov. 10 is when it will matter. That is the only time I will be worried about it. Until then, I will have that pedal to the metal.
"The thing about having your foot on a tiger's throat is you better not let that son of a gun up. I got that son of a gun mashed to the floor right now."
Outlaw has drawn Willow's Warrior (5-1, all levels) for Round 1 in Big Sky, while Vieira faces Chief Petty Officer (13-5, all levels).
This year is the PBR's ninth trip to Big Sky Country, and so far no Big Sky event winner has gone on to win the world title.
However, that may change this year if Outlaw or Vieira come through with an important victory.
Other Top 35 riders competing in Big Sky include No. 11 Claudio Montanha Jr., No. 12 Matt Triplett, No. 15 Mason Taylor, No. 17 Ezekiel Mitchell, No. 18 Stetson Lawrence, No. 20 Joe Frost, No. 25 Rubens Barbosa, No. 26 Taylor Toves, No. 28 Eduardo Aparecido, No. 31 Cody Nance, No. 32 Scottie Knapp and No. 35 Danilo Carlos Sobrinho.
RELATED: Big Sky daysheet
Outlaw is not slowing down during the two-week Unleash The Beast break as he is tentatively entered in two more TPD events.
After Big Sky, the 27-year-old heads home before getting back after it in Brighton, Colorado, on Aug. 1 and Livingston, Montana, on Aug. 3.
"Each one, I will be ready to ride," Outlaw said.
Follow Justin Felisko on Twitter @jfelisko