Burtenshaw back in action following multiple injuries & will be ready for Team Australia if called upon
By : Justin Felisko
July 26, 2019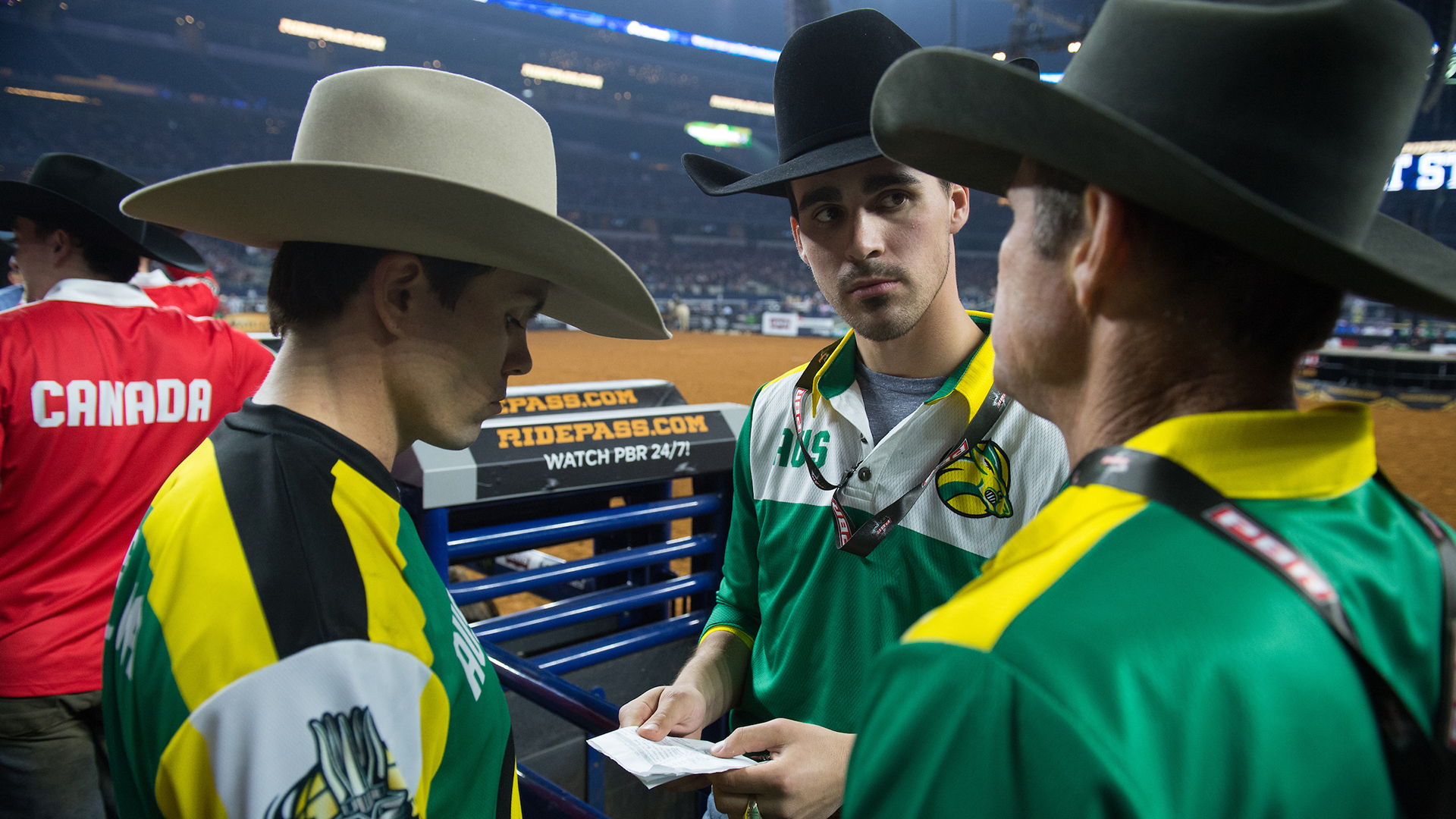 PUEBLO, Colo. – It is one thing to have a presence, and it is another to have an impact.
That was the situation Nathan Burtenshaw was in this past February during the WinStar World Casino & Resort Global Cup USA, presented by Monster Energy.
Burtenshaw was relegated to assistant coach duties in Arlington, Texas, seeing as a broken right collarbone for the second consecutive season had sent him to the sidelines.
Therefore, all Burtenshaw could do was look on helplessly as the Aussies started the Global Cup a dismal 2-for-9 before rebounding on the second night with a 4-for-9 showing.
Team Australia ultimately finished in fourth place, but it was still a setback compared to the Sydney Global Cup when they fell 0.75 points shy of defeating Team USA.
Burtenshaw believes the Australians lack of experience in the U.S. may have played a factor in their performance early on.
"Of course it matters," Burtenshaw said. "The level of bulls from here to Australia, we have some good bulls over in Australia but nothing like here."
Burtenshaw had to sit out of competition for 46 days in 2018 after Dr. Allan Jones inserted a plate and eight screws into his collarbone.
The 25-year-old now has 13 screws and a plate in his shoulder from this season's surgery after he broke his collarbone attempting to ride Strange Cargo in Sacramento, California, on Jan. 25.
The 2018 PBR World Finals qualifier is working his way back to competition in the United States this weekend in Big Sky, Montana.
Burtenshaw was bucked off by Gunsmoke in 3.41 seconds, which is his fifth straight since returning to the U.S. on July 15.
The Coonamble, Australia, bull rider is set to take on Big Black Cat (58-13, all levels) in Round 2.
Eduardo Aparecido and Taylor Toves split the Round 1 win Thursday night for 37.5 world points each with 87-point rides on Pile Driver and Crazy Horse.
World No. 4 Joao Ricardo Vieira placed third for 10 world points, to cut world No. 1 Chase Outlaw's lead to 952.5 points, with an 86-point ride on Chief Petty Officer.
Outlaw turned down a re-ride option and kept his 75 points on Willow's Warrior to finish Round 1 in 11th place.
Stetson Lawrence (85.5 points on Thunder on Hooves) and Ezekiel Mitchell (85 points on Pacer) rounded out the Top 5.
Fans can watch all the action from Big Sky on RidePass beginning at 8:30 p.m. ET.
Burtenshaw knows he can turn things around quickly.
"Everyone deals with the same thing," Burtenshaw said in Cheyenne, Wyoming, Tuesday. "It is not just me. You just have to believe in yourself and work hard. Get back into the grind and get back into the rhythm of getting on good bulls and everything will follow after that."
In fact, Burtenshaw's return was delayed this summer after he fractured his riding hand and tore some ligaments in his back in Sydney during the PBR Australia State of Origin competition.
Burtenshaw may have returned to the U.S. that much sooner if not for being sent to the sidelines for another six weeks and some visa issues.
Regardless, Sydney once again was a site of Burtenshaw's talents and why he will likely be a force for Team Australia at the 2020 WinStar World Casino and Resort Global Cup USA, presented by Monster Energy.
Burtenshaw tied with Mitch Paton for the individual event aggregate title at the PBR Australia State of Origin competition, but Burtenshaw's Team New South Wales came up short of the team victory.
Burtenshaw had only been back from his broken collarbone for less than two months after he returned to competition on April 21 at the PBR Australia Royal Easter Show PBR.
He then was injured during his final ride of State of Origin – a well-worth 89.5 points on POA Ray Ban.
"Well, after the collarbone it wasn't too bad," Burtenshaw said. "I was stuck in Australia with my visa and I had to sort that out. I did a couple of rodeos and that went alright. I went to Sydney and obviously I rode a few and done alright.
"Then in Sydney I hung my hand in the rope and I was out for another six weeks."
Burtenshaw did not let a broken collarbone slow him down in 2018, eventually qualifying for his first World Finals and finishing 27th in the world standings.
He returned to competition at the PBR Australia event in Cairns, Australia, and wound up tearing his ACL during his first event back.

Regardless, that did not stop Burtenshaw from going a memorable 3-for-3 at the Sydney Global Cup, where he almost led the Aussies to a historic victory inside Qudos Bank Arena.
Burtenshaw's 84.75-point ride on SweetPro's Enemies Everywhere almost gave the win to the home nation inside Qudos Bank Arena.
It was one of the most memorable moments so far in Global Cup history. It turned Burtenshaw into a global household name among bull riding fans in many ways.
With Aaron Kleier likely returning to Australia, Burtenshaw will be the lone Australian on the Unleash The Beast when the series kicks back up in Tulsa, Oklahoma, on Aug. 10-11.
"There is obviously tremendous pride in it," Burtenshaw said about representing his home country in the United States. "I have had Ky (Hamilton) with me this summer. I like to help these young kids that come over here too, but I am just trying to do the best for myself really."
Burtenshaw has four more guaranteed Unleash The Beast exemptions before being subject to the cutline.
He sits 440 points out of the Top 35.
"You have to keep trying hard and keep turning up and keep believing in yourself," Burtenshaw said. "The ability is definitely there."
Follow Justin Felisko on Twitter @jfelisko