Vieira leading Big Sky through two rounds; Outlaw doing well, but out of competition
By : Justin Felisko
July 27, 2019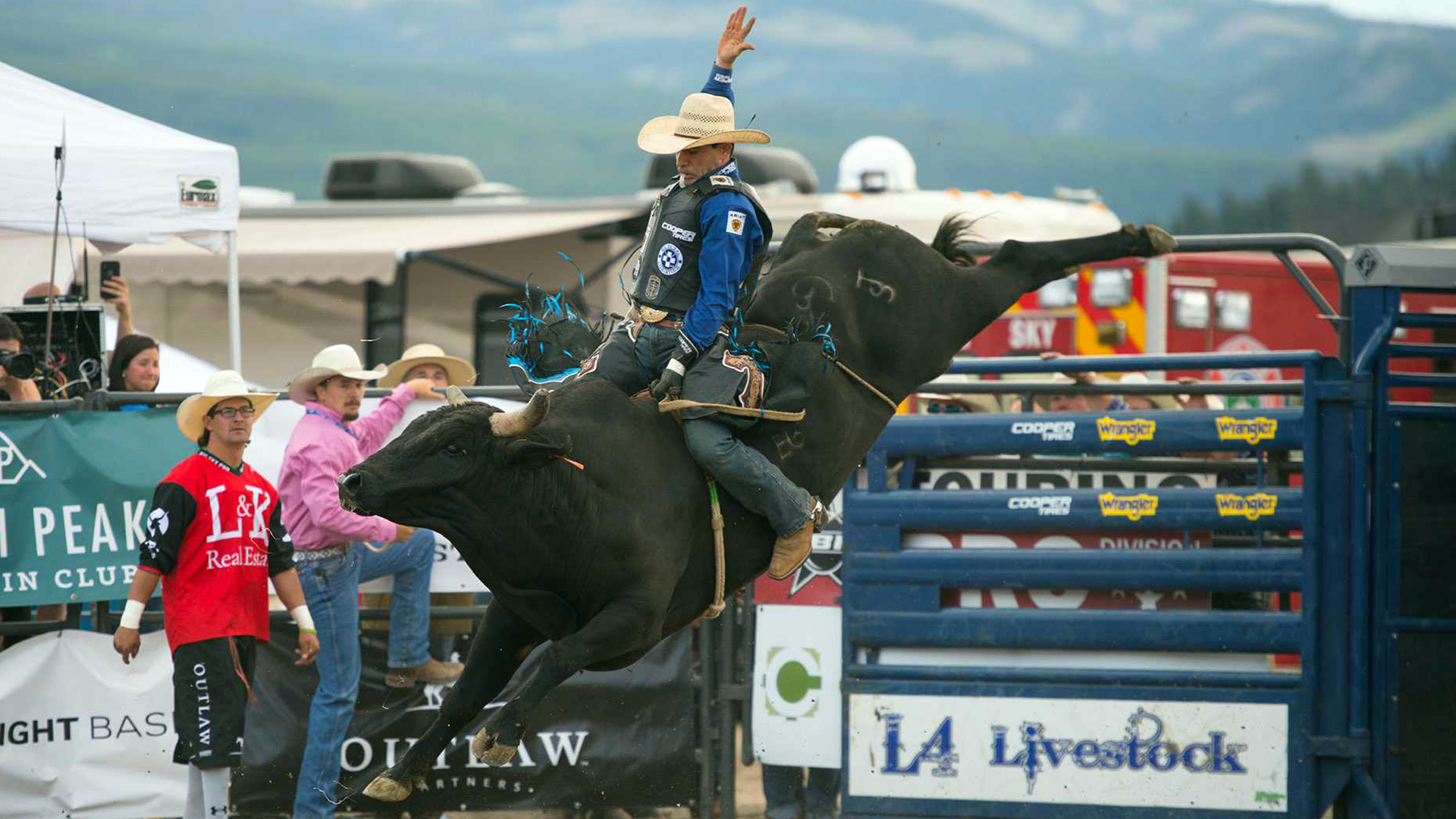 PUEBLO, Colo. – The top two world title contenders competing in Big Sky, Montana, this weekend had opposite results on Friday night.
World No. 4 Joao Ricardo Vieira rode Free Wiskey for 87.5 points to finish the evening leading the event average as one of three riders a perfect 2-for-2 so far at the Touring Pro Division Major event.
Meanwhile, world leader Chase Outlaw will be out for the remainder of Big Sky after he sustained a concussion and a laceration to his head when 4 Bears knocked him out in 2.68 seconds during Round 2.
According to PBR Sports Medicine Director Rich Blyn, Outlaw was awake and talking following the wreck. Outlaw was then sent to an emergency room to get stitches and undergo a CT scan, which later came back negative.
Outlaw has been ruled out of competition by Blyn, and he will go through the PBR's concussion protocol in Tulsa, Oklahoma, when the Unleash The Beast resumes on Aug. 10-11 at the BOK Center.
The 27-year-old told PBR.com via text Saturday morning that he was doing OK.
Outlaw just won Last Cowboy Standing at Cheyenne Frontier Days on Tuesday to take over the world No. 1 ranking for the first time in three months. He currently leads No. 2 Jose Vitor Leme by 430.84 points.
Vieira is 952.5 points behind Outlaw, and he has the opportunity Saturday night to cut a significant chunk out of Outlaw's grasp on the world No. 1 ranking. Vieira can earn 170 points with an event victory, and another 50 world points if he wins Round 3.
Fans can watch all of the action exclusively on RidePass beginning at 8:30 p.m. ET.
RELATED: Big Sky daysheet for Round 3
Cody Nance and Claudio Montanha Jr. are the other riders a perfect 2-for-2 in Big Sky behind Vieira.
Nance rode Set 'em Up Joe for 85.5 points on Friday night, while Montanha covered Shelley's Gangster for 82.5 points.
Neither rider earned round points on the night featuring six qualified rides.
Matt Triplett won Round 2 with 90 points on Quick Fire for 50 world points, moving up one spot in the world standings to No. 10 overall.
Young gun Dalton Kasel finished second in the round with an 89.5-point ride on Tested Crazy for 25 world points. Kasel is ranked No. 73 in the world standings.
Rookie of the Year Contender Mason Taylor placed third in Round 2 with an 88-point effort aboard Mac The Knife. The No. 15 ranked bull rider picked up 10 world points.
Follow Justin Felisko on Twitter @jfelisko