Looking back at J.B. Mauney's impressive feat of riding every World Champion Bull since 2007
By : Justin Felisko
July 29, 2019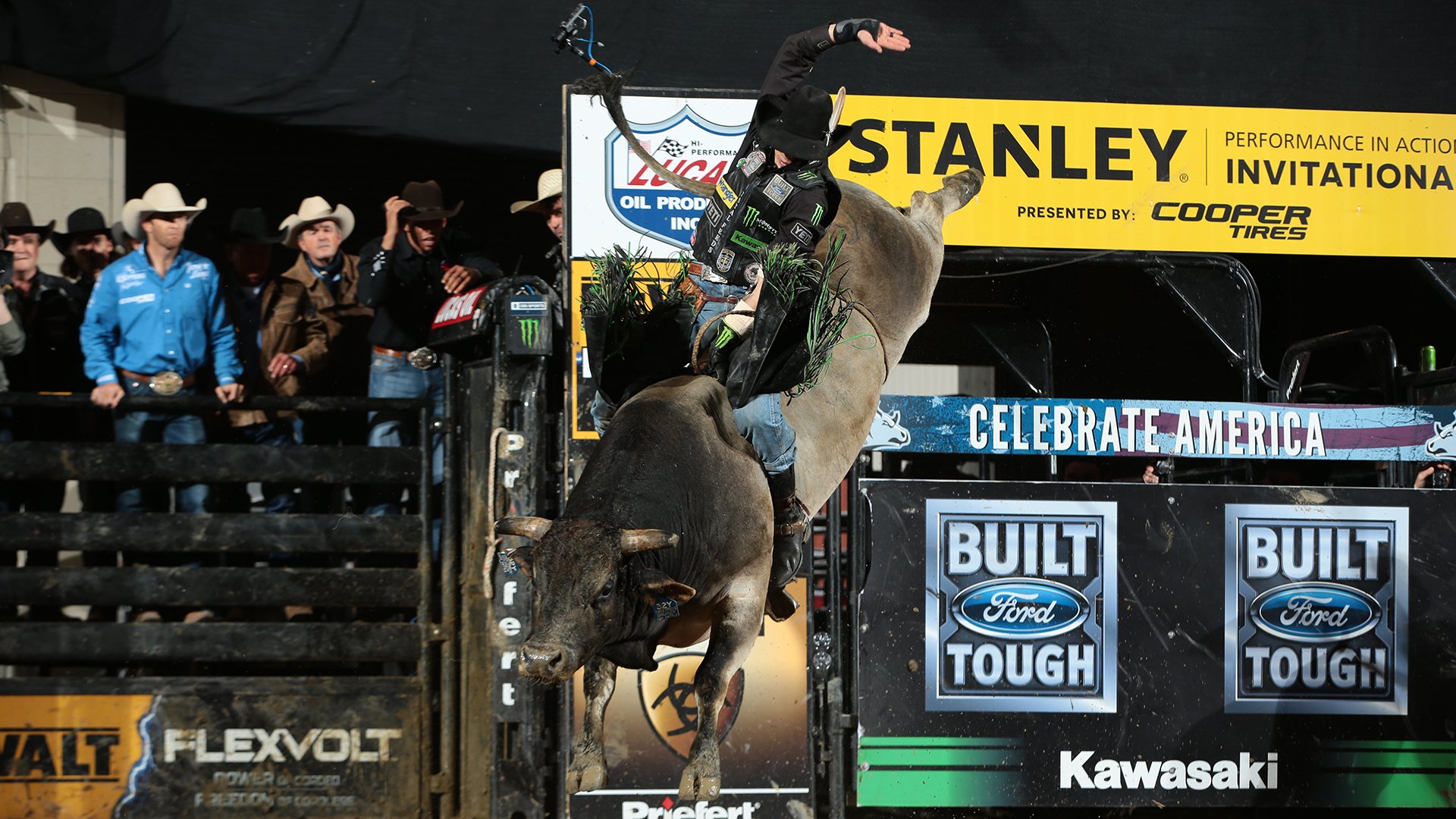 PUEBLO, Colo. – "I will probably forget a few, but I can try," J.B. Mauney responded with a shrug and a laugh before the start of Last Cowboy Standing at Cheyenne Frontier Days.
Even the two-time World Champion admits it can be hard to remember all of the World Champion Bulls he has covered since 2007.
"Code Blue."
"Chicken on a Chain."
"Asteroid."
"Bushwacker."
"Bruiser."
"Who else?" Mauney then asks before pausing.
"Ah, yeah, Long John."
"Bones."
"That should be it?"
The fact that Mauney has ridden every World Champion Bull since 2007 remains one of the most remarkable accomplishments and records held by the future Ring of Honor inductee.
In total, Mauney has 14 qualified rides in 39 attempts (35.89%) at all levels of competition aboard three-time World Champion SweetPro's Bruiser, three-time World Champion Bushwacker, two-time World Champion Bones, 2007 World Champion Chicken on a Chain, 2009 World Champion Code Blue, 2012 World Champion Asteroid and 2015 World Champion SweetPro's Long John.
Mauney – the PBR's all-time money earner ($7,365,607.12) – has won an estimated $726,689.07 with those 14 qualified rides aboard World Champion Bulls. Those winnings alone would rank Mauney 59th overall in career earnings.
"It ranks right up there with the World Championships," Mauney said. "Nobody can say they have rode every World Champion Bucking Bull – all of them – in a certain amount of time."
The 32-year-old is sitting 30th in the world standings this week, and he is looking to qualify for his 14th consecutive PBR World Finals on Nov. 6-10 in November.
Mauney is not slated to compete during this mini Unleash The Beast break before the UTB resumes in Tulsa, Oklahoma, on Aug. 10-11 at the BOK Center.
Of course, that is where Mauney famously rode Bushwacker for 95.25 points to end the bovine superstar's record streak of 42 consecutive buckoffs on the premier series.
Take a look back at the timeline of Mauney's 14 rides, as well as the North Carolina cowboy's record against each World Champion and how much money he has won with that bull.
2016, 2017, 2018 World Champion SweetPro's Bruiser (3-0, $495,471.67)
October 25, 2014 (93.25 points at the World Finals): Mauney entered the 2014 World Finals amidst one of the worst slumps of his career when he stepped into the Thomas & Mack Center with 11 straight buckoffs.
With the help of fellow North Carolina native and Team Mexico Global Cup coach Jerome Davis, Mauney debuted a new pair of spurs and put forth a remarkable 5-for-6, second-place showing in Vegas.
Mauney posted three-plus 90-point rides after beginning the Finals with just one all season. Mauney's last two rides at the Finals came after he broke his jaw when he collided with Bruiser's head at the 8-second mark.
October 24, 2015 (World Finals): Mauney was not going to hold anything back minutes after being crowned the 2015 World Champion. So how did he celebrate becoming the fifth rider in PBR history to win multiple world titles? How about by riding SweetPro's Bruiser for 92.75 points to punctuate his World Championship.
Mauney, however, was unable to continue forward at the Finals as the event leader withdrew because of a sprained left sternoclavicular joint in his riding arm.
April 9, 2017 (Billings, Montana): Mauney earned the 72nd 90-point ride of his career and 31st event win by riding Bruiser for a third consecutive time – in this instance for 94.25 points in Billings, Montana.
In other good news, Mauney escaped this ride unscathed.
"When the whistle blew, he about killed me off a couple of times," Mauney said.
2015 SweetPro's Long John (2-2, $37,060)
September 5, 2015 (92.25 points in Thackerville, Oklahoma): Mauney's march to a second world title began with his ride aboard Long John at the outdoor venue on a humid night in Thackerville. Mauney rode Long John to take over the world No. 1 ranking, and he would go on to run away with the 2015 championship.
January 24, 2016 (90.25 points in Oklahoma City): Mauney would ride Long John a second consecutive time when he picked up 90.25 points in Oklahoma City for a third-place finish. Mauney nearly rode him again two months later, but he was bucked off at 7.56 seconds in Albuquerque, New Mexico.
2011, 2013, 2014 World Champion Bushwacker (1-12; $46,604)
August 17, 2013 (95.25 points in Tulsa, Oklahoma): Bushwacker was well on his way to his second world title on that fateful night at the BOK Center. He had bucked off a record 42 consecutive riders on the premier series (and 56 overall) when Mauney brought the Tulsa, Oklahoma, crowd to its feet by selecting and conquering Bushwacker in the championship round for 95.25 points.
It is a ride that will go down as one of the greatest moments in PBR history, and it will forever be tied to Bushwacker's and Mauney's legacies.
It took Mauney nine tries, but he was finally able to conquer his nemesis. Bushwacker would go on to win the final four meetings between the two legends, but Mauney will always be able to hold his head high knowing things finally went David's way against Goliath.
RELATED: Mauney's ride on Bushwacker added to the bull's legendary legacy
2012 World Champion Asteroid (1-5; $17,650)
August 18, 2012 (93.5 points in San Antonio, Texas): It is a photo that Mauney holds dear to his heart and one that he has framed at home, and a ride that would be No. 1 in his career if not for Bushwacker. Asteroid, the eventual 2012 World Champion, was the rankest and hardest to ride bull in 2012, but that was not going to stop Mauney from riding him for 93.5 points in San Antonio.
Mauney is one of only five riders to ever reach the 8-second mark on the legendary bovine athlete at all levels of competition.
"After Bushwacker, Asteroid has to probably be right up there," Mauney said. "He was pretty smart."
RELATED: Remembering Asteroid (2007-2019)
2008, 2010 World Champion Bones (1-1; $20,000)
February 13, 2009 (93.5 points in Oklahoma City): Mauney won a $20,000 bonus challenge by riding Bones for 93.5 points after talking his way into the matchup with owner Tom Teague. Two weeks earlier, Teague had offered reigning World Champion Guilherme Marchi a shot at $20,000 to take on Bones in Winston-Salem, North Carolina. Marchi lasted less than 5 seconds, and Mauney – then the No. 1 bull rider in the world – believed he deserved the opportunity to try to become the first man to ride Bones, who was 13-0 on the premier series.
Sure enough, Mauney did just that, and it was an early sign of just what kind of mentality and future this young gun from North Carolina was going to have in the PBR.
2009 World Champion Code Blue (2-2; $26,658.40)
January 10, 2010 (76.25 points in New York City): Mauney is the only rider to reach the 8-second mark on Code Blue in 33 attempts at all levels. The first came with Mauney barely hanging on for a qualified ride inside Madison Square Garden during the championship round as his leg caught in his bull rope.
August 21, 2010 (89.5 points in Memphis, Tennessee): Seven months later, Mauney made an 89.5-point ride aboard Code Blue for a third-place finish. However, Code Blue would never buck again as an injury forced him into retirement.
2007 World Champion Chicken on a Chain (4-3; $83,245)
January 11, 2009 (91.75 points in New York): Mauney's first ride aboard a World Champion Bull came during his second career victory inside Madison Square Garden – a place that would become synonymous with his success – for the tune of 91.75 points.
February 19, 2011 (90 points in Arlington, Texas): After bucking off two straight times against Chicken on a Chain, Mauney went on to ride him for 90 points at the 2011 Iron Cowboy. Colby Yates riding Carrillo Cartel for 92.25 points in the then-bracket style event, though, would eliminate Mauney from the competition.
June 3, 2011 (91.5 points in Asheville, North Carolina): Mauney won the Asheville TPD event with a 91.5-point ride on Chicken on a Chain with his daughter, Bella, in attendance at a PBR event for the first time.
October 19, 2011 (86 points at the World Finals): In their final meeting, and seventh overall, Mauney would get one more qualified ride on the 2015 Brand of Honor Recipient at the 2011 PBR World Finals.
"Chicken felt pretty good," Mauney said. "They all feel pretty good if you do your job right."
Follow Justin Felisko on Twitter @jfelisko