Heartbreak Kid's 34 consecutive buckoffs now tied for fourth all time
By : Justin Felisko
July 30, 2019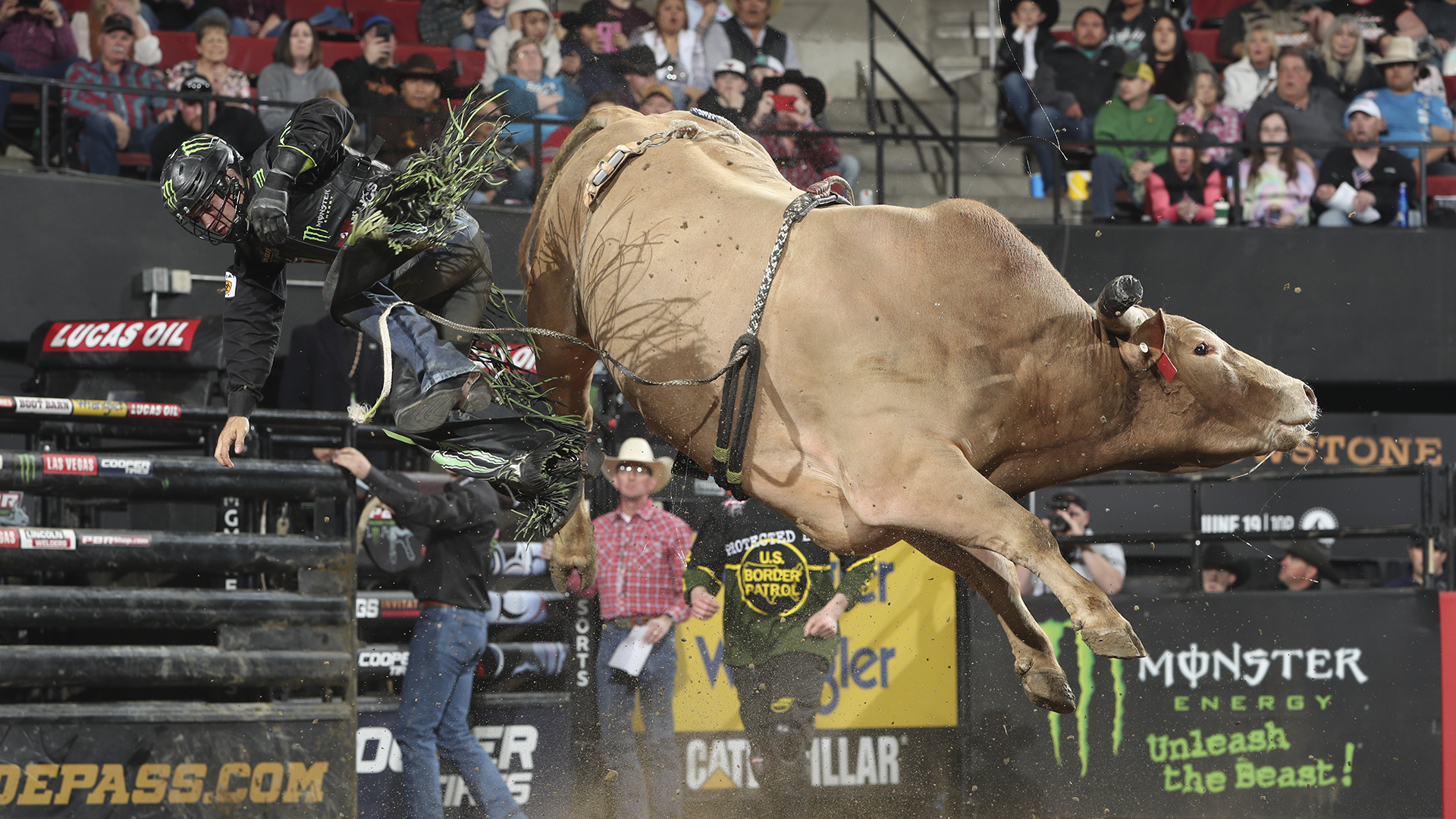 PUEBLO, Colo. – In the 20 years H.D. Page has been in the bucking bull business alongside his father, Dillon, D&H Cattle Company has won five PBR World Champion Bull titles, eight ABBI Classic Championships, five ABBI Futurity Championships, two PRCA Bull of the Year winners and six PBR Stock Contractor of the Year awards.
So when H.D. Page is willing to say a bull on his trailer this year is one of the greatest he has ever raised, and his name is not SweetPro's Bruiser – the crown jewel of D&H Cattle Company – it means something.
Of course, no bull is going to take Bruiser's spot in Page's heart, but there is another bull making Page prouder every day he bucks.
Such was the case last week as Page watched Heartbreak Kid take down his 34th consecutive bull rider on the PBR's premier series, and 54th overall, during Last Cowboy Standing at Cheyenne Frontier Days.
2016 World Champion Cooper Davis looked like every other bull rider that thought he could handle the 6-year-old rising bovine star. Heartbreak Kid left the chute full of power and strength, and it wasn't long before Davis was hitting the dirt in 3.04 seconds.
"That sucker is just so athletic," Page said. "It is like if that bull had Bruiser's heart and his ability, he would be the greatest bull I have ever raised."
It is not that Heartbreak Kid has no heart or try either, Page quickly reiterated. The thing is, Page's keen eye for bucking bulls can notice when Heartbreak Kid is not bringing everything he has in the tank.
One example of that was in Albuquerque, New Mexico, when Heartbreak Kid only earned a 42.25-point score for bucking off Luciano de Castro in 6.12 seconds.
"Oh he for sure has heart, but every once in a while he has a day where you want to throw yourself in the dirt," Page said. "Even those days he is still terrible to get by.
"Sometimes like tonight, he is just special. I thought they could have 23.5 across the board tonight."
Heartbreak Kid (10-0, UTB) was marked 45.25 points for his work against Davis to move into eighth place in the World Champion Bull race with a 44.72 average on his eight best outs.
Heartbreak Kid is now tied for fourth all time for the most consecutive buckoffs on the premier series with Mick E Mouse (34).
Mick E Mouse was the most recent bull to make a push at the all-time record before passing away unexpectedly in August 2015.
Heartbreak Kid is nine buckoffs away from breaking three-time World Champion Bushwacker's record of 42 consecutive buckoffs.
The two-time PBR World Finals and Wrangler National Finals Rodeo qualifier is also one buckoff away from joining Pandora's Box and Silver Wings for the No. 2 spot at 35 consecutive buckoffs.
MOST CONSECUTIVE PREMIER SERIES BUCKOFFS IN PBR HISTORY
Bushwacker (42)
Pandora's Box (35)
Silver Wings (35)
Mick E Mouse (34)
Heartbreak Kid (34)
Heartbreak Kid is tentatively slated to buck in Tulsa, Oklahoma, when the Unleash The Beast resumes on Aug. 10-11 at the BOK Center. Heartbreak Kid will likely be a candidate to buck in the 15/15 Bucking Battle.
Heartbreak Kid, the son of two-time PBR World Finals qualifier DaNutso and a nephew to SweetPro's Bruiser, made his PBR premier series debut on October 8, 2016, with a 6.25-second buckoff against Ty Pozzobon.
This year, Heartbreak Kid's 10-0 record has featured him taking down arguably some of the best riders currently going on the Unleash The Beast. Nine of his 10 buckoffs have come against riders in the Top 35, including No. 2 Jose Vitor Leme in under 2 seconds.
"He is a bucker," H.D. Page said earlier this season. "That first jump. He is a big, rank sucker. He follows with that kick. Not many have that kind of ability."
Leme said, "He is very unpredictable and strong. Every time he jumps different. That is what makes him different from other bulls. He is impossible to study because we never know what he is going to do."
Davis is the third World Champion to be bested by Heartbreak Kid this season, joining Jess Lockwood and Silvano Alves in the loser column vs. the stout bull.
Lockwood has come the closest (6.9 seconds) to riding Heartbreak Kid on the premier series in the past three years.
The only 8-second ride ever surrendered by Heartbreak Kid came at the January 2017 Denver Velocity Tour event when Luciano de Castro rode him for 75 points and turned down a re-ride.
So far Heartbreak Kid is 6-0 against PBR and PRCA champions at all levels of competition – Davis, Lockwood (2x), Alves, Sage Kimzey and Kaique Pacheco.
In comparison, Bushwacker already had a 14-0 record overall against champions, including a 7-0 record against two-time World Champion J.B. Mauney, when he reached 34 consecutive buckoffs.
Bad Touch – the next active bull in line with 32 consecutive buckoffs on the premier series – has bucked off a PBR or PRCA World Champion nine times – Davis, Cody Teel, Guilherme Marchi, Pacheco, Alves and Mike Lee.
The common theme?
Mauney has yet to attempt either bull.
Maybe it will take the legendary dragon slayer to end each bull's streak, doing a favor for his pal Bushwacker so that he can keep the record.
So is Heartbreak Kid the rankest bull going?
Well, Page isn't ready to go that far just yet.
"He's in the conversation for sure," Page said with humility. "There are a lot of bulls that are that type."
Follow Justin Felisko on Twitter @jfelisko