Outlaw takes time to recover and learn during Western Sports Performance Clinic
By : Justin Felisko
July 31, 2019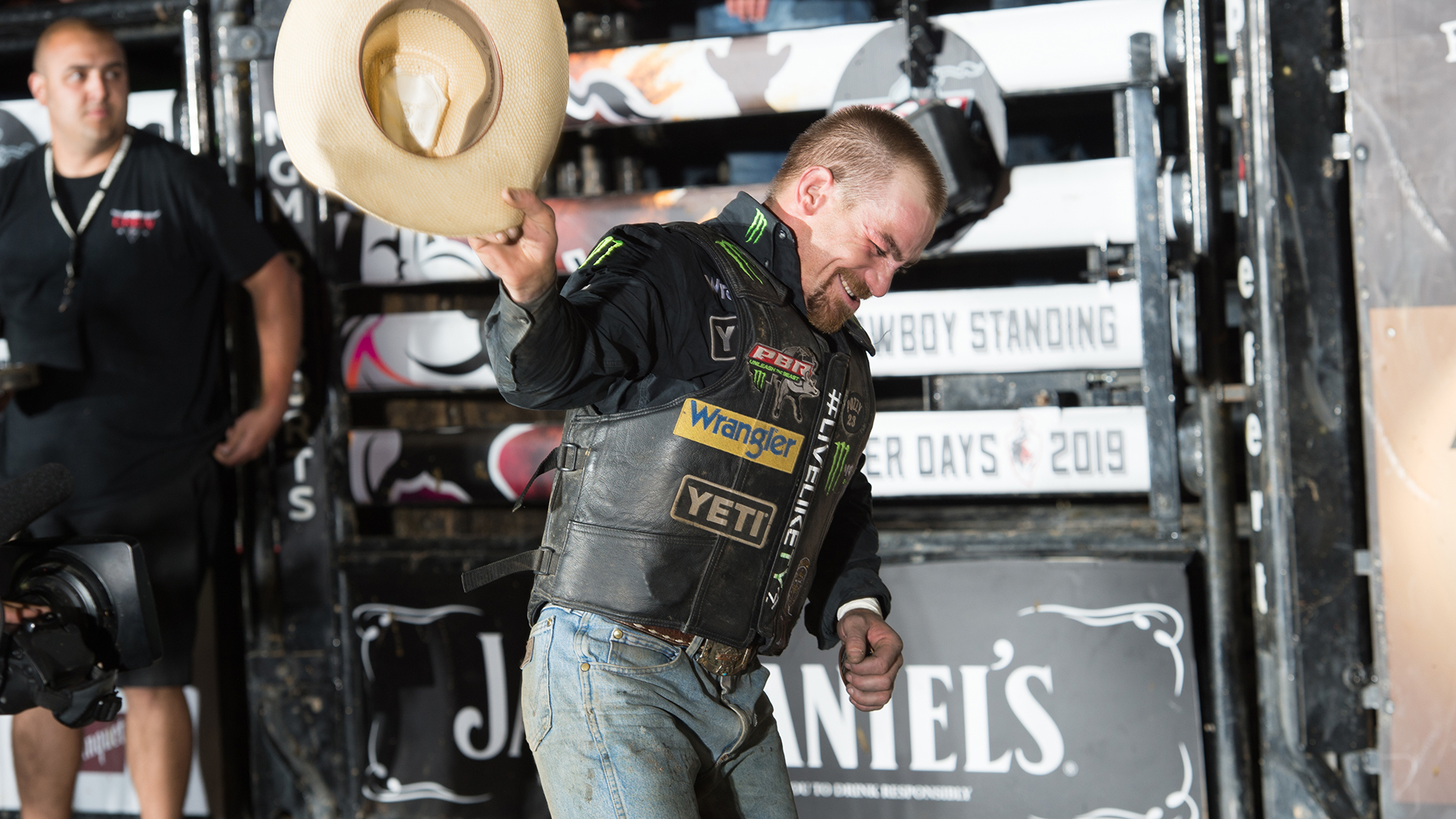 PUEBLO, Colo. – World No. 1 bull rider Chase Outlaw leaned back on the sports medicine table inside the PBR Sport Performance Center Tuesday afternoon, closed his eyes and let the pulsating NormaTec Pulse Recovery System begin to massage his legs.
"Man, I am about to fall asleep," Outlaw said peacefully. "Everything they got in here is pretty badass."
Outlaw was planning on using the PBR Sport Performance Center's cryotherapy machine and taking a dip in one of the facility's hot/cold plunge pools during his time in Pueblo this week as well.
"To come in here and just get to recover is, shoot, just about what I needed," Outlaw said. "It is good for the group of guys to come in here. They are in there right now working out. This is perfect for a group of guys to stay for a week, train up. This is a pretty badass facility."
To say Outlaw could use three days of rest and recovery as part of the Western Sports Foundation's first Western Sports Performance Clinic was an understatement.
Outlaw's 5-foot-6 frame needed treatment following the wear and tear it's gone through during the first seven months of the 2019 season.
That is not even including Outlaw's grisly wreck at the Big Sky PBR last weekend in which 4 Bears shattered his helmet during the first round, knocking him unconscious and out of the Touring Pro Division Major event in 2.68 seconds.
Outlaw has already attempted 108 bulls at all levels of PBR-sanctioned competition this season, by far the most in the PBR.
That is 25 bulls more than the next closest rider for bulls attempted – Jose Vitor Leme (83) – and Outlaw's 55 rides at all levels is also best in the league. World No. 3 Jess Lockwood is next in line at 45 in 71 attempts (keep in mind Lockwood missed three months because of a broken collarbone).
In comparison, Outlaw already has attempted more bulls this year at all levels of competition than the last four World Champions did during their entire gold buckle seasons – 2018 World Champion Kaique Pacheco (106), 2017 World Champion Jess Lockwood (100), 2016 World Champion Cooper Davis (102) and 2015 World Champion J.B. Mauney (81). Meanwhile, 2014 World Champion Silvano Alves attempted 116 bulls at all levels, a mark that Outlaw is highly likely to surpass in August.
Outlaw is in Pueblo, Colorado, this week along with 20 other bull riders taking part in the Western Sports Foundation's Sport Performance Clinic.
Not only are the bull riders participating in a workout and recovery program led by Antwon Burton, the executive director of the Sport Performance Center, but the group is also partaking in Western Sports Foundation educational workshops about financial planning, mental wellness, nutrition, life skills & brand development and mental toughness being put on through various guest speakers.
2009 World Champion Kody Lostroh and five-time World Finals qualifier Colby Yates are also on site to help work with riders on both the physical and mental side of the sport, while RidePass host Matt West is assisting the riders with brand development.
Some of the bull riders participating this week include No. 16 Daylon Swearingen, No. 17 Ezekiel Mitchell, No. 26 Rubens Barbosa, No. 32 Cody Nance, No. 34 Scottie Knapp, Gage Gay, Nathan Burtenshaw, Michael Lane, Dylan Smith, Andrew Alvidrez, Austin Richardson, Kache Mooseman, Anthony Hopen, Casey Kirwan, Johnathan Perez, Jay Kaler, Dusty Craig, Cole Skender, Robert Zapata and B.J. Roberts.
"This is my first time to see (the Sport Performance Center) besides the pictures of it," Outlaw said. "It is real nice. It is pretty legit."
Outlaw's decision to attend the clinic is the latest example of the maturity he continues to show amidst his eighth season.
He has no qualms about admitting there was no way you would have found him in Pueblo if this clinic was offered during the early years of his career.
"You definitely wouldn't have found Chase here relaxing and being in recovery three or four years ago," Outlaw said. "It is part growing up and being injured and not being wet between my ears no more.
Outlaw was so impressed by the Pueblo facility that he even said he may have to consider moving to Colorado to be able to train more frequently at the SPC. In Arkansas, Outlaw said it can take him over an hour to travel somewhere to have access to a similar experience that he received this week, or to receive the same care that is offered weekly on the Unleash The Beast by the PBR Sports Medicine Team.
Outlaw explained it was also important for him to attend the clinic this week considering how supportive and helpful the Western Sports Foundation has been for him throughout his career. Last year, he underwent a 12-hour emergency reconstructive facial surgery to repair 30 broken bones in his face following a wreck at the 2018 Touring Pro Division event.
The Hamburg, Arkansas, bull rider returned to Cheyenne last week to win Last Cowboy Standing and take over the world No. 1 ranking for the second time since that unfortunate wreck in Cheyenne.
"I wouldn't be here today if not for all they did," Outlaw said.
No one would have blamed Outlaw if he had decided to head back home to Hamburg, Arkansas, following Big Sky.
It was there that Outlaw was diagnosed with his second concussion in 10 days. Outlaw also had to be taken to a local hospital to get stitches on his head.
"I am just a little tired right now," Outlaw said. "I feel OK though. I think I got four or five stitches. It is just something. I don't know what cut me. It had to have been the helmet seeing as it shattered."
Outlaw said he is feeling better and understands the need to take some time off and not compete at Touring Pro Division events in Brighton, Colorado, or Allen, Texas, after discussing things with PBR Sports Medicine Director Rich Blyn in Big Sky.
The seven-time PBR World Finals qualifier said he does plan on returning to competition on Aug. 10 when the Unleash The Beast resumes in Tulsa, Oklahoma, with the Express Ranches Classic, presented by Osage Casino, at the BOK Center.
Until then, Outlaw will finish up in Pueblo Wednesday before deciding if he will still go watch the bull riding up north in Brighton or if he will head back home to Arkansas.
Hell, he may even take a mini-vacation.
"My wife just texted me," Outlaw said. "I might go to the beach. You never know. Maybe Pensacola."
WESTERN SPORTS FOUNDATION CHARITY EVENT SET FOR AUG 22.
Randy Little and the Western Sports Foundation will be hosting a charity event in Springfield, Missouri, on August 22, benefitting both the WSF and the Good Samaritan Boys Ranch. J.B. Mauney, Kody Lostroh, Adriano Moraes, Silvano Alves, Luke Snyder and Chase Outlaw will be in attendance, participating in a photo session and rider chat. The party will include dinner, live entertainment and silent & live auctions. To reserve a seat, contact cortney@pfiwestern.com.
Follow Justin Felisko on Twitter @jfelisko