Lostroh "working towards something bigger than myself" at Western Sports Performance Clinic
By : Darci Miller
August 01, 2019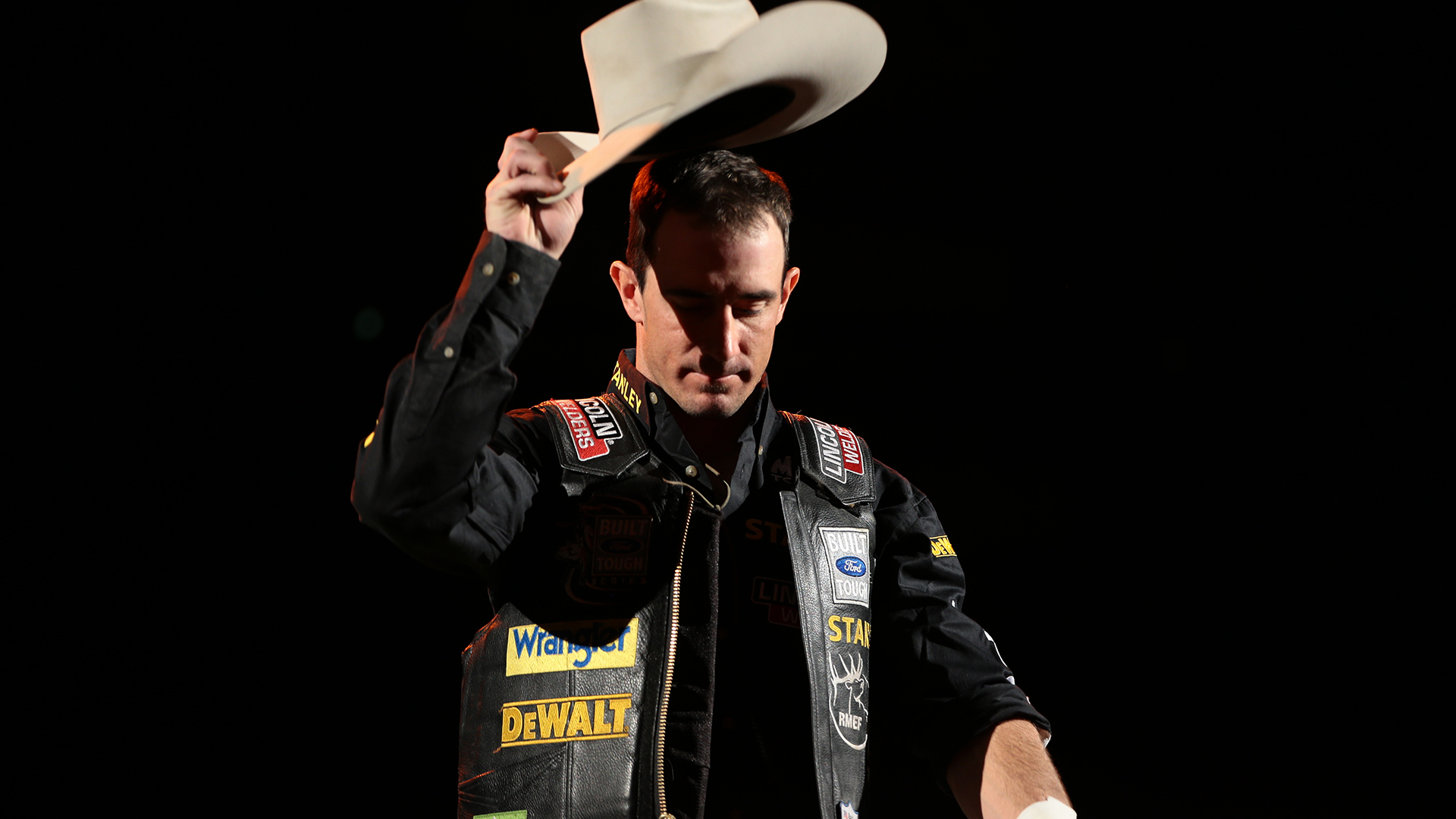 PUEBLO, Colo. – Kody Lostroh had a secret weapon that helped him win the PBR World Championship in 2009: his brain.
Early on in his career, Lostroh began reading sport psychology books to pick up tips and tricks to help him with his riding. When he eventually met with a sport psychologist in person, everything began to gel.
"I implemented some of the things that I learned from her and the different sport psychology books in 2009, which ended up being the year that I won the world title," Lostroh said. "And so I really noticed the benefit of the thing between our ears that makes a difference in sports at that time."
While the benefits of sport psychology are widely known in 2019, in 2009 it was a bit of a different story, and Lostroh believes he was one of the first in the PBR to really tap into the mental game. It's a distinction that makes him uniquely qualified to explain the ins and outs of mental toughness to a bull rider.
That's where the Western Sports Foundation came into the picture.
For the last several years, the WSF (formerly the Rider Relief Fund) has been working to better help the athletes of the PBR in five key areas of wellness: mental, physical, life skills, education and financial planning.
With the recent opening of the PBR Sport Performance Center in Pueblo, Colorado, the WSF's efforts now have a home, and the group quickly got to planning the first Western Sports Performance Clinic.
Twenty-one bull riders, including No. 16 Daylon Swearingen, No. 17 Ezekiel Mitchell, No. 32 Cody Nance, Nathan Burtenshaw, Gage Gay and world No. 1 Chase Outlaw made their way to Pueblo for three days of sessions about financial planning, mental wellness, nutrition and life skills – and, of course, specialized workouts led by Antwon Burton, Executive Director of the SPC.
RELATED: Outlaw takes time to recover and learn during Western Sports Performance Clinic
The entire last day of the clinic, meanwhile, was allocated to a workshop led by Lostroh on mental toughness.
While the specifics of the activities were kept under wraps, Lostroh hinted that the day was all about two things: being uncomfortable and working in a team.
"The exercises in the mental training don't necessarily correlate to bull riding," Lostroh said. "These exercises are basically to get comfortable in uncomfortable situations, which is kind of a lot of what bull riding is about. As bull riders, they're overmatched in nearly every way, but they can be mentally prepared to be in that uncomfortable position and thrive through it."
Lostroh promised an intense – and mysterious – day that would leave the best bull riders in the world very cold and very tired, while Burton, a former NFL player, led them through a more traditional workout.
Burton incorporated stability, balance and core work, with exercises designed to target the main muscle groups used to ride bulls.
"A lot of the guys are very athletic, can do tons of pull-ups, backflips," Burton said. "Everybody has an eight- and 10-pack, but we opened them up to some new things that are specifically geared towards riding, with their stability, their balance, their core.
"I think they're a little shocked, because when you say 'work out' and you have this nice facility, you think dumbbells, barbells. I don't even think we touched a barbell today. A lot of things were specifically for them, and I think they responded very, very well."
It was the first time he'd ever trained this large a group of cowboys at one time, and while the bull riders left impressed with their new workout routines, Burton left equally as impressed with their work ethic.
"These cowboys, it's almost like the last of a dying breed of our athletes," Burton said. "These few days have been refreshing, to say the least of the type of guys these people are. They take off their hat when they see a woman. They help take out trash. They don't complain. They're ready to work. It was refreshing and I'm very excited for the future."
Optimism for the future was a recurring theme at the clinic, with riders and WSF providers alike hoping to push the sport forward with expanded resources for riders.
Ezekiel Mitchell, who was on hand for the SPC's grand opening in May, hopes to use what he learned in the financial planning session as a way to set himself up for life after bull riding.
"I have very ambitious goals for myself as far as my future beyond bull riding," Mitchell said. "As of right now, I want to make sure that bull riding pays for my future, so if I can do anything right now to figure out how to set that up, then that's definitely what I want to take from it."
On the opposite end of the spectrum, Cody Nance, a 32-year-old veteran, is still looking to learn but wishes he'd had a similar opportunity to do so as a younger athlete.
"I would've loved it," Nance said. "I would've been here all the time. I would've definitely utilized this. Any young guy that doesn't is an idiot.
"I learned a bunch of the financial planning as experience of hard knocks. When you're a kid, you make a lot of money and don't know what to do with it all. When I was growing up, I just shoved it in a cowbell and hid it from my stepbrother, but you get older and you've got taxes and stuff like that. It's not all cash paid, and you've got to figure out how to manage that. So this is a good opportunity for young guys to get a head start and also be planning for the future."
In addition to bettering themselves, all the bull riders wanted to be on hand to give back to the Western Sports Foundation.
Many of them will get an additional chance to do so in Springfield, Missouri, at the BootDaddy Benefit Bash. Hosted by Randy Little, the event on August 22 will benefit the WSF and the Good Samaritan Boys Ranch, which helps troubled youth in Missouri. Lostroh and Outlaw will be in attendance, in addition to J.B. Mauney, Adriano Moraes, Silvano Alves and Luke Snyder, to participate in photo sessions and a rider chat.
"It means a lot to me to be able to help out with the Western Sports Foundation," Lostroh said. "I was just telling the guys earlier, a lot of what I remember most about my career wasn't necessarily the accomplishments but about helping people along the way and working towards something bigger than myself. And I believe this is that opportunity for bull riding. Just super honored to be a part of it."
RELATED: Get your tickets to the PFIWestern.com Invitational in Springfield on Sept. 13-15
Lostroh announced his retirement from bull riding in early 2018 after struggling with health issues since 2015, so he never got to take advantage of the SPC or the full spectrum of the WSF's resources while he was still competing.
Now that he's on the other side of his career, he sees more than ever how important it is to have an organization looking out for riders' well-being.
"I think one of the most important things for people to know is how much these guys put into something," Lostroh said. "Bull riders are doing something that is risky. Everyone knows that. You can do things perfect and still lose your life. And so these guys work extremely hard at what they do, and the people that support the sport and support the Western Sports Foundation, all the contestants are super thankful for what they do and thank them for the support."